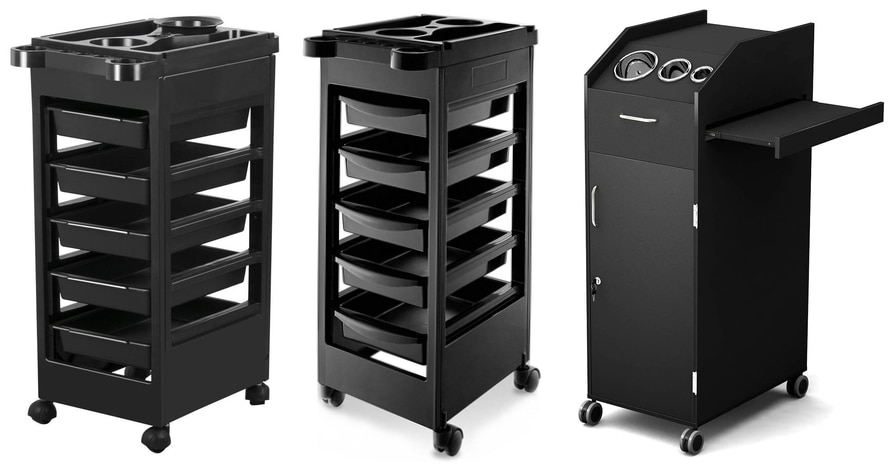 The way your beauty salon looks is what forms your clients' first impression of your business — and in many ways determines whether they'll be coming back for more of your services or not. Attention to detail is vital when it comes to creating a client-friendly atmosphere in your beauty salon. If you choose to skimp, say, on your salon styling stations, everyone will notice.
Are you currently in search of the best salon trolleys for your needs? Today's your lucky day. My name is Monica. I'm a successful hairstylist and founder of this blog. I've put tons of salon trolley carts through their paces. In this post, I'm going to share my unbiased reviews of the best salon storage cabinets for both office and home use. Read on and enjoy choosing what suits you best.
Top 6 Salon Hairdressers Trolley Reviews: Comparison & Buying Guide
Saloniture Beauty Salon Rolling Trolley Cart
Giantex: Excellent Portable Stylist Station
Jaxpety: All-White Salon Storage Cabinet
Yaheetech Rolling Trolley Cart
Barberpub Locking Rolling Beauty Salon
K-Salon Trolley Rolling Cart
1. Saloniture Beauty Salon Rolling Trolley Cart: a Great Way to Stay Organized
If you're on the hunt for a wallet-friendly hairdressers trolley, this smart organizer might be exactly what you need. As a matter of fact, this versatile 5-drawer salon trolley is a great choice for homes, as well as hair salons, tattoo studios, dog grooming services, nail salons, and a multitude of other similar personal care businesses.
This is a sturdy salon caddy on wheels which can also be used as a makeup organizer. Crafted of the featherweight-yet-long-lasting plastic, this trolley cart weighs a bit over ten pounds. Plus, it features smooth rolling wheels and a pull handle for maximum convenience. Thus, storing and rolling it around is a piece of cake.
There are two color bowl holders at the top of the Saloniture trolley cart, which makes it a great option for hair stylists and colorists. Their customer service is top-notch. So in case you come up with any issues with the received piece, they will solve them for you in a snap. And you will love the possibility to place any drawer you need on the side for easier access.
In addition to this, the trolley features holders for hanging your blow dryer. These holders are also the perfect solution for everyone who doesn't know how to store curling irons in the most efficient way possible. Bear in mind that these holders are not heat-resistant, so make sure you don't use them when your tools are hot. Overall, this storage cart is perfect for both salon and home use.
Pros:
multipurpose, convenient, and mobile;
great cost-effective hair salon trolley;
lightweight, rolls smoothly, and easy to move around;
keeps all your equipment at the ready.
Cons:
it doesn't lock;
the color bowl holders are quite small.
2. Giantex: Excellent Portable Stylist Station: It Rocks! (And Rolls)
If you want your beauty salon storage cabinet to resemble part of the furniture, the Giantex organizer is exactly what you need. From its sleek, black matte finish to its impressive versatility, the item is definitely going to tickle your fancy. And it's going to look good in a wide array of settings, from hair salons to pet grooming shops and dental centers.
Are you on the prowl for a multi-functional organizer for your vanity area at home? The Giantex 4-drawer cart trolley will fit like a glove to your lifestyle. It looks very good right out of the box, and it comes pretty much assembled — with just a few extra bits to attach. The item features 3 stainless steel holders for all your hot styling tools.
Another nice perk is that this rolling trolley cart comes with a rust-proof-handle door, as well as a lock and two keys. Therefore, you get the possibility to store your stuff without worrying that it will be used (or get stolen, God forbid!) while you're not around. Make sure you keep the second key outside your stylist station for better functionality reasons.
The construction of the piece is solid and sturdy. And you will find the pull-out side tray with even more storage space especially endearing. Cutting to the chase, the Giantex organizer is a solid step up from your average storage bins — that is, if your salon organizer doesn't need to look super luxurious. Overall, the piece is a great buy.
Pros:
сompact mobile organizer with clean design;
exceptionally easy to put together;
features 3 hair dryer holes;
wear-resistant and rolls very well;
the station locks (features two keys).
Cons:
people who are especially fond of the pull-out shelf complain that it only slides in one direction;
some beauty salon owners say the unit is a bit bulky.
3. Jaxpety: All-White Salon Storage Cabinet
If you're rummaging tons of online stores for multi-functional hair salon cabinet stations that are also stylish and beautifully-looking, the Jaxpety all-white salon storage cabinet will fit the bill like nothing else. It's definitely going to meet your salon tool storage and aesthetic requirements to a tee.
The piece features a spacious bottom cabinet to store heavy tools, two slide drawers (one of them locks), as well as six heat-resistant holders for your pro blow dryers, curling irons, and flat irons. The Jaxpety salon storage cabinet doesn't arrive fully assembled, but you won't face any difficulties putting it together.
So if you're still flip-flopping on whether or not you want to spend money on this baby, I'd recommend researching its specs a little deeper. And if everything suits your specific needs well, don't hesitate to invest in this fantastic beauty salon styling cabinet. It's worth every penny it costs.
Pros:
assembly is as easy as ABC;
looks fine and is designed to last;
features a slide drawer and a drawer that locks;
cleaning it is a walk in the park;
perfect for stylish hair salons and spa centers.
Cons:
the instructions on this item are somewhat confusing;
doesn't have wheels (some people consider it a disadvantage).
4. Yaheetech Rolling Trolley Cart: Great for Home and Salon Needs
This multifunctional 5-drawer rolling beauty cart is a great option if room to organize is what you need most. It features five same-sized interchangeable drawers, four smooth swivel casters, a solid top work station with tool holders, and a push handle for maximum convenience. The piece is perfect for business use. On the other hand, if you have a ton of makeup at home, the Yaheetech trolley cart will effectively help you keep it well-organized.
With regard to the design of the item, it's more than decent. The stark black minimalist drawers will look fine in many environments, including beauty salons, nail studios, pet grooming shops, and home vanity areas. However, if you need posh-looking rolling beauty carts for a high-end salon or spa center, you may want to focus on fancier designs.
Overall, the Yaheetech rolling trolley cart is everything a beginner beauty salon owner needs. Furthermore, it has just enough space to store your beauty stuff at home, while keeping it ready for use. No more cluttering your vanity space! This sleek-looking honey will help you stay all organized and ready for your next client (or your out of the blue date). Definitely a game-changer.
Pros:
sturdy, versatile, and rolls very smoothly;
doesn't take up a lot of space;
lots of storage;
great for business and personal use;
satisfyingly affordable.
Cons:
wheels might be a challenge to put on.
5. Barberpub: Among the Best Salon Equipment Stations
This piece looks a lot more solid compared to a great deal of other beauty salon stations. It's made of stain-, heat-, and scratch-proof material called laminated melamine. It means you won't have any complaints about the trolley's durability and reliable service.
The Barberpub trolley cart provides plenty of compartments for storing your beauty and grooming supplies. In its two slide drawers, you can store your lightweight tools, while its spacious bottom cabinet is perfect for your larger-sized (and heavier) equipment.
This stylish baby comes with flexible wheels, which lock for security (imagine that!). No leaning, no wobbling. This wonderful unit moves around like a champ. And it's a pleasure to move it around, by the way. In addition to all this, the Barberpub trolley cart features two heat-proof holders for your styling tools. They're located at the very top of the cart, which makes them a breeze to access.
A friend of mine has bought the Barberpub trolleys for her hair salon. She couldn't be happier! She says that this smart, mobile, and stylish salon work station makes her business look fancier than it really is. Overall, it's great value for the money. Highly recommended.
Pros:
the piece is built to last;
stylish, well-crafted unit;
top-notch customer support;
cleaning it is a child's play;
affordable price.
Cons:
assembly instructions are rather confusing;
some stylists mentioned it was too short — make sure you research the measurements before you buy.
6. K-Salon Trolley Rolling Cart: the Workhorse of Salon Stations
If you're a beginner beauty or pet grooming salon owner, this trolley is a great solution for your major storage needs. It's made to last, multipurpose, easy to put together, and a breeze to clean. And this baby provides lots of storage space, which means it literally has everything you need for both home and office use.
Speaking in more precise terms, the K-Salon trolley features four pull-out salon drawers, two pretty sizable multipurpose pockets, and six integrated slots for hair brushes. This salon styling cabinet rolls on four swivel casters in a silky smooth manner. In my humble opinion, this baby will make a good portable station for your beauty and grooming supplies.
That being said, this salon rolling cart combines style with functionality at a more than reasonable price. And you can easily roll it off into a corner whenever you need. Definitely a great find.
Pros:
provides tons of storage space;
looks nice and sleek;
well-built and durable;
assembly is fast and easy;
more or less affordable.
Cons:
doesn't lock;
not the best choice for high-end beauty salons. But in the end, it's all about your needs.
Salon Cabinet Stations FAQ

How to Choose the Best Beauty Salon Styling Station?
If you've read this post up to this point, then you pretty much know the answer to this question. Just to summarize the whole thing for you, here's a brief overview of the parameters you need to take into consideration when making your decision:
Size. Planning to store hair dryers and curling irons in your salon cart? Then you're going to need a large unit. If your salon is not too spacious though, then you're going to have to stay with smaller pieces.
Mobility. Clients don't like waiting, that's why you need salon trolleys that are easily movable.
Drawers. Decide how many drawers you need. Look through the pictures of the item that has caught your eye. Make sure the drawers are the right size and are positioned right where you need them.
Design. The overall look and feel of your salon in many ways determines its popularity. Make sure you take each and every detail into account when enhancing and modernizing your salon space. That implies choosing the best-looking salon trolley carts, of course. I personally prefer the ones that resemble elegant pieces of furniture.
Stability. You're going to store a lot of expensive stuff in your hair salon trolley. An unstable item runs the risk of losing balance and tipping over. Believe me, you don't want that to happen.
Material. Usually, salon trolleys are made of plastic, steel, and other materials. Read the description of each trolley you evaluate and stick with the material in accordance with your needs.
Durability. Some pieces of the beauty salon equipment (salon trolleys included) are utilized on a daily basis. Therefore, you need a sturdy, well-made item capable of withstanding rough long-term use. The durability of a salon styling station is determined by the quality of the materials used. So make sure you purchase the salon storage cabinet that's crafted of high-quality materials. That way, you will invest in a reliable product that will serve you for years to come — and won't have to endlessly research ideas for businesses you can launch without spending a dime.
What Supplies Should I Store in My Rolling Cart?
Everything you need to keep you organized and ready for the next client: scissors, razors, brushes, hot combs, other thermal equipment, hair coloring bowls and tools, etc. Of course, the exact selection of tools you will store in your salon rolling cart depends on your priorities and needs.
That being said, your choice will determine the size (and the price) of the piece you need. In case you want your stuff to be stored in absolute privacy, make sure you opt for a trolley that locks. Don't forget to take into account that some salon rolling carts have wheels, while others are a bit less mobile.
Wall-Mounted or Freestanding Salon Storage Cabinets: What's Best?
It depends on your needs, as well as your budget. Wall-mounted styling stations are ideal for tight spaces (and tight budgets). Also, they won't stand in your way whenever a daily cleaning session is planned — simply because they tend to hang on walls.
Just like freestanding salon storage cabinets, wall-mounted pieces come in an array of designs, colors, and sizes. So make sure you evaluate your requirements wisely before you start making further steps towards choosing the exact salon storage cabinet you need.
Cutting to the Chase: Are You Ready to Choose?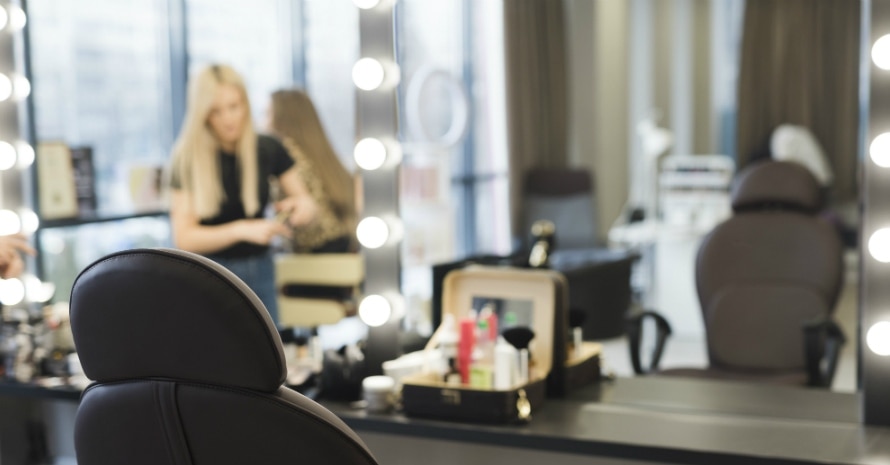 Storage is an important need for any beauty center irrespective of its size and services. Choosing the right salon trolley can feel both like bolstering efficiency and facing the challenge to lay your hands on the exact piece you need. You want your salon equipment carts to look appealing, be easily movable, and store all your equipment.
A lot of factors should be taken into consideration when choosing the best salon styling station. Some of them are: the trolley's design, size, measurements, the required storage space, lockability, heat-proofness, etc. Make sure you research the detailed description of the piece you want to purchase. Find as many reviews about it as you can. Don't forget to take your budget into consideration.
Consider the number of salon styling stations you need for your space. And don't forget that ease of assembly is also a very important criterion. I'm here to assist you in analyzing all the specs and making your own conclusions. So, what about you? Have you already made up your mind as to which salon trolley is best for you out of the ones I've reviewed above?
Perhaps, you've already purchased the best rolling carts for your salon? I'm always eager to hear my readers out. Feel free to share your thoughts with us on the units you've bought in the comment section below. Or, if you have any questions about salon storage carts, you're welcome to ask them below. I appreciate your feedback greatly. Don't forget to bookmark this post and browse my other blog posts for more tips on how to start a beauty salon.
Last update on 2022-12-11 / Affiliate links / Images from Amazon Product Advertising API