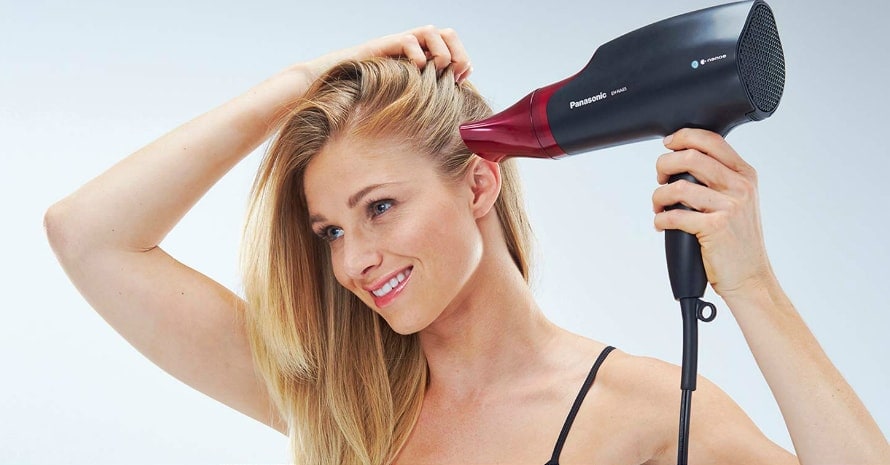 Hi! It's Monica. As usual, at the end of the year, I prepare the reviews on the most interesting and impressive styling products. However, throughout the year I always try to keep you up to date with the latest innovations in the style industry and inform you about new and unusual style products.
Not so long ago, I faced the problem that a lot of girls cannot choose hair dryers correctly. They do not know what criteria to focus on, which companies to trust, and which prices are the most optimal. Therefore, I decided to write an article about a professional blow dryer.
Pros
Six heat and speed settings
Best Budget Pick
Pros
Six heat and speed settings
The modern blow dryers vary by heat settings, speed, additional features, and other characteristics. Hence, if you are not a professional stylist, you simply do not know how the ionic dryers differ from the ceramic ones, what features are really useful and can make your hair healthier, and which of them are just means of marketing.
If you asked similar questions but did not find the answers to them, then you are in the right place. Today, we will discuss the ways to pick up the best professional hair dryer, and how the professional hair styling tools differ from non-professional versions. Is it really worth investing more money in buying a professional blow dryer, and how much does it actually cost? Interested? So, keep on reading!
8 Best Salon Hair Dryers: Reviewed
Imagine the situation. You are on the market and looking for a salon dryer. What will be your start point? Maybe, you will look at the prices or start reading the descriptions of the tools, feeling confused. Let me help you. Your start point should be a clear understanding of the type of hairdryer you are looking for. There are four main kinds of these devices:
Ionic
Titanium
Ceramic
Porcelain.
How to choose a suitable type for your home use? It is very simple. Look at yourself in the mirror, or rather examine the structure and the type of your hair. If you see dry and weak locks, your choice should be porcelain or ceramic salon professional hair dryers with additional infrared heat. If your hair lacks shine, then consider buying an ion or tourmaline hair dryer. The titanium dryers were created to speed up the drying time. So, if your hair is quite long, opt for this type of dryer.
Also, your hair dryer should have adjustable heat and speed settings. In addition, make sure that there is a cold blow button.
Has it become a little clearer? If not, don't worry, below I have selected the top-8 professional hair dryers. Describing each of them, I will clarify in more detail what type of hair it is suitable for and why. So, if your goal is to choose a hair dryer for a purchase now, then by the end of this article, you will definitely know what particular hair dryer you need.
1. BaBylissPRO Nano Titanium Hair Dryer, 2000 Watt – the Best Professional Blow Dryer for the Money
BaByliss hair styling products are one of the most reliable and popular tools on the market. The company was established in 1961 in Paris, the heart of the fashion industry. Today, it operates in 12 countries around the world and has more than 60 distributors in a single country.
Initially, BaByliss PRO was the brand creating the professional hair styling tools that were only available for hair stylists. But not so long ago, they started to sell their products in the usual stores and at affordable prices.
BaByliss hair dryers are well-known for their great combination of quality, power, and portable design. BaBylissPRO Nano Titanium Hair Dryer is the best-seller in the company's assortment of professional hair blow dryers. This tool provides a wide range of styling options, among them:
Six different heat and speed settings
2000 watts of power
Ionic technology
Lightweight.
The wide range of available styling options will allow you to make various hairstyles. The item matches all hair types including even thick and shineless hair. Among the disadvantages of the product, it is important to mention that it is quite an expensive tool. If you are on a budget, I recommend you to read further and choose another affordable blow dryer.
Wattage: 2000
Temperature settings: three
Noise level: quite
Weight: 1.8 pounds
Accessories: one nozzle.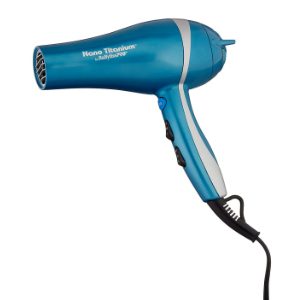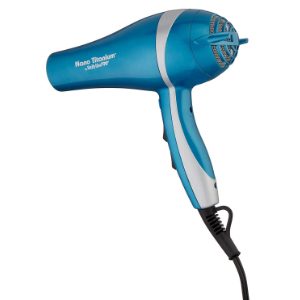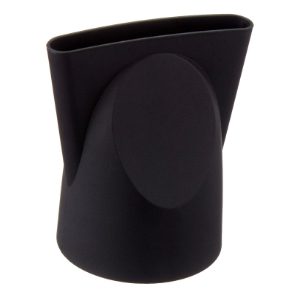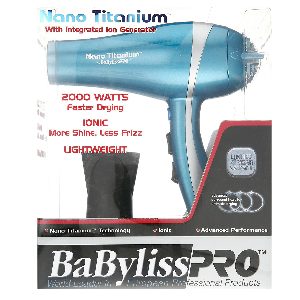 This blow dryer has an attractive design: the combination of blue and white colors. Unfortunately, it is sold only in one color, with no variations. In addition, there is a cool shot button. Due to the ionic technology, your hair will dry faster and with less frizz. Also, it is very easy to clean the dryer: just pull off the filter.
PROS:
One of the leading professional hair styling tools
Six heat and speed settings
Ionic technology.
CONS:
Expensive
Short warranty term
It is available only in a single color.
2. Drybar Buttercup Blow Dryer – Ultra-Light Salon Blow Dryer #My Top Pick
Drybar was founded by an American entrepreneur and author — Alli Webb. It is a chain of first-class salons that are based in California, USA. By 2019, there were more than 100 locations. After 5 years of salon operations, Alli Webb decided to develop her own line of styling tools and products.
As for me, it is a reasonable approach! Having the opportunity to test millions of styling tools and remedies, Alli realized all their advantages and disadvantages. This is precisely what caused the foundation of her own production of styling tools.
To tell the truth, our community is so close and connected that I have several friends who are working in Drybar salons. Therefore, their products are well-known among professional stylists. Every time, the company launched a new tool, it means that they have already tested it in their salons and by their professional stylists. Such a system allows Drybar to get swift feedback from practicing stylists and fix all the flaws immediately.
As for Drybar Buttercup Blow Dryer, it is ultra-light and super-powerful, although the BaByliss dryer is a winner in terms of the power. This dryer features only 1875 watts but it is sufficient for thick and curly types of hair. In addition, Buttercup provides you with infrared and negative ion technologies.
Wattage: 1875
Temperature settings: three
Noise level: quite
Weight: 2.91 pounds
Accessories: one nozzle.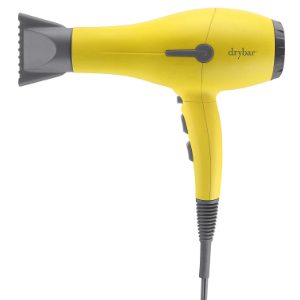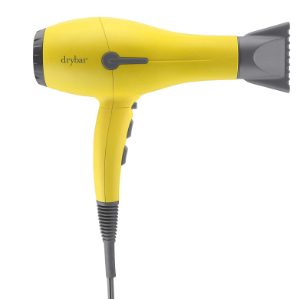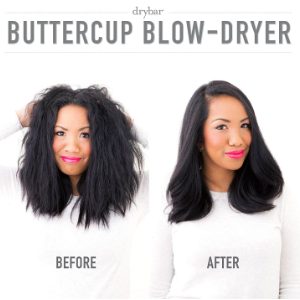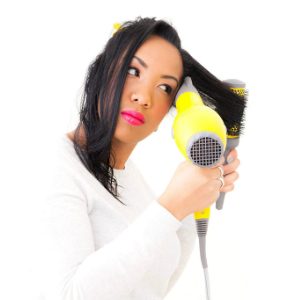 It is a best-seller among all Drybar's top professional hair dryers that you can find in almost every American salon. It is worth mentioning that Drybar is not a very popular company in European countries, so if you live there and decide to buy a dryer by Drybar, some difficulties may arise.
PROS:
Lightweight
Nano-ionic technology
Several heating and speed options.
CONS:
Expensive
Hard to find on the European market.
3. Hot Tools Professional Tourmaline Tools 2000 Turbo Ionic Dryer – One of the Best Salon Professional Hair Dryers
Hot Tools is the American producer of professional hair dryers. Unlike BaByliss, it has specialized in salon tool sales from the very beginning of the company's foundation. By the way, today the brand is more than 25 years old. The company has an exciting story of its creation. In the early 80s, there was a large shortage of professional and high-quality products for styling in the world.
More precisely, they were of high quality, but completely uncomfortable in use. For example, to curl the locks, you needed to use special tweezers, which had to be preheated in an oven before. Hot Tools decided to make the same item, but an electric one. Five years had passed from the moment this idea appeared to the presentation of the finished product.
Further, everything became even more interesting. Having successfully selected its niche (production of hot styling tools), the company quickly occupied a leading position on the market. Until 2017, they were sold only in America. However, in 2017 the brand entered the European market, and in 2019 – the Russian one.
This salon dryer combines ionic and tourmaline technologies to dry your hair very fast. In addition, it makes your locks more shiny and smooth. Despite the tool is lightweight and very compact, it features 1875 watts of power and three different nozzles. By the way, this blow dryer is cheaper than the previous model. I recommend you to consider purchasing this Hot Tools professional hair dryer if you have thick, brittle, and pale hair.
Wattage: 1875
Temperature Settings: three
Noise level: quite
Weight: 2.3 pounds
Accessories: three nozzles.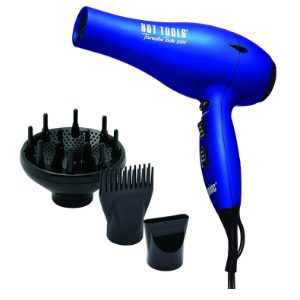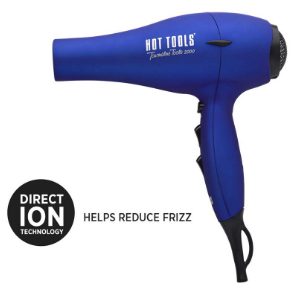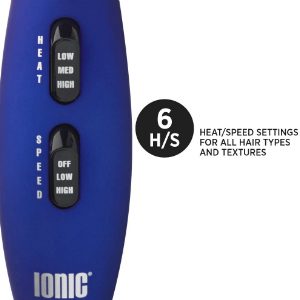 If you are interested in Hot Tool's story, you can read more on its official website. As for now, I want to dwell on Turbo Ionic Dryer which I consider as one of the best tourmaline hair styling tools.
PROS:
Ionic and tourmaline technologies
Affordable price
Three nozzles.
CONS:
It is less potent as compared to the dryer by BaByliss
Commonly, this item is shipped only within the US market.
4. Dyson Supersonic Hair Dryer – Design-Portable Salon Style Hair Dryer
Unlike in the case of BaByliss or Hot Tools, the production of hair styling tools is not the specialization of Dyson, the manufacturer of this Supersonic Hair Dryer. But even then, this company as well as the hair dryers it provides, deserves your attention. But first things first. Now, I want to discuss Dyson.
It is a British company that was established in 1992. The story that preceded the foundation of this brand began about 15 years ago, when James Dyson used a cyclone separator to trap powder particles. After that, in 1992, based on its technology and the experiment results, Dyson established the company for production household electrical appliances.
I like this brand and the company because they have a laboratory and scientific research center, where scientists can conduct their surveys and test new technologies. As the practice shows, this approach to creating companies always wins. Now, let's look closer at the hair dryer.
When people see this item, their first impression is something like: "Is it a hair dryer? Why does it look like this? Where have you bought this tool?" Dyson Supersonic Hair Dryer has an unusual design with three nozzles. Dyson decided to place the motor in the handle, instead of the dryer's head.
Therefore, it prevents your hair from heating and allows the strands to save their natural shine. This lightweight professional hair dryer has four heating options:
Regular drying
Fast drying
Gentle drying
Constant cold.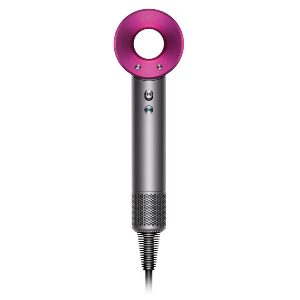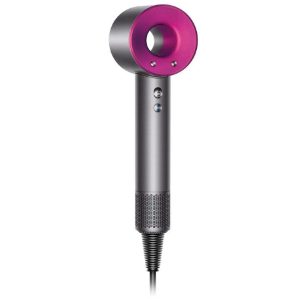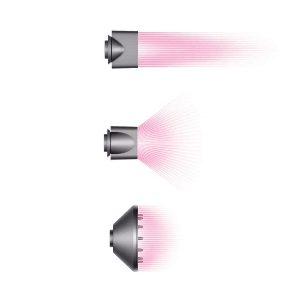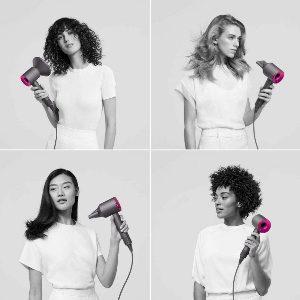 In addition, there are three speed settings for fast, regular, and gentle drying. Dyson's hair dryer suits all hair types professionally, but I do not recommend you to buy it if you have thick and curly hair, because the power of the dryer is 1600 watts.
Wattage: 1600
Temperature settings: four
Noise level: quite
Weight: 4.65 pounds
Accessories: three nozzles.
The dryer is well-known for its temperature control. Usually, when you set up the temperature, a dryer measures it several times during the blowing. But it is not the case with the Dyson's dryer. This device measures the temperature 20 times every second!
PROS:
Unusual design
Four heating options
Good temperature control.
CONS:
Very expensive
It is not recommended to use the dryer if you have thick and curly natural hair (as the model is not powerful).
5. Infinitipro by Conair 1875W Ion Choice Hair Dryer – One of the Best Conair Professional Hair Dryers
According to my previous professional hair dryers reviews, most probably, you have got the impression that salon tools cost too much. But it is not true. Even if you have a very limited budget, you can still find a high-quality tourmaline professional ionic dryer.
Infinitipro by Conair is a confirmation of this. Conair Corporation is the company that produces and sells personal care tools, small appliances, and style products for both consumers and professionals. The company was founded in 1959 in a garage. It is not a joke! Indeed, the company was established in the garage before it became mainstream. Its first product was hair rollers and the second one — hair dryers.
By the way, BaByliss is a subsidiary of Conair. Also, there are dozens of other popular brands that the company owns. Among them are Rusk, One'n Only, and Interplak.
Despite its relatively low price, the hair dryer has a professional AC motor to adjust your hair two times faster than a regular blower. Also, it uses ceramic and ion technologies to make your locks smooth, shiny, and sleek. Drybar Salon Dryer features three heating modes and two speed options.
Wattage: 1875
Temperature settings: three
Noise level: quite
Weight: 2.1 pounds
Accessories: two nozzles.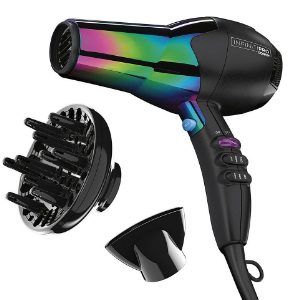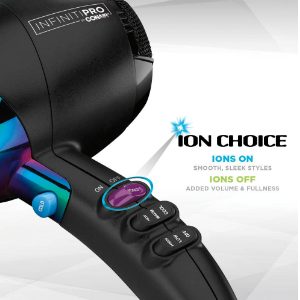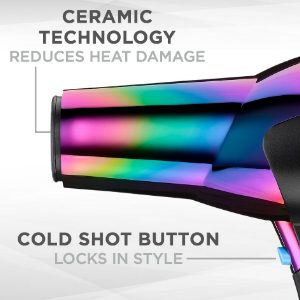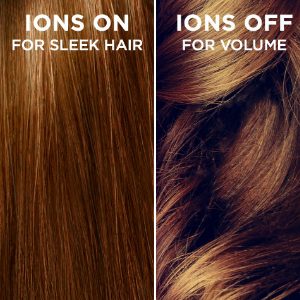 Unlike other salon hair dryers on my list, Infinitpro costs less than $50. Moreover, Conair offers discounts on this tool very often. So, you can buy a dryer at even less than $40! It has two nozzles: diffuser and concentrator to make different hairstyles.
PROS:
Ion and ceramic technologies
Three heat settings
Professional AC motor
Affordable price.
CONS:
Only two speed modes present
Two nozzles (concentrator and diffuser attachments).
6. Rusk Engineering Super Freak Professional Dryer – Salon Blow Dryer 200W
Rusk is a popular brand that sells hair care tools. Unlike Conair, this company is only specialized in producing salon hair products. Besides electrical tools, they also sell shampoos, conditioners, brushes, and so on. Rusk was founded by Rita and Irvin Rusk. No wonder why the company bears this name now.
The brand quickly gained popularity on several markets, but the most notable among them are placed in Europe and North America. It is not commonly known that now Rusk is a part of Conair Corporation. After they assigned a deal, the Conair management decided to continue selling the products and tools under Rusk name.
I started to use their hair styling tools long before the company announced a merger with Conair Corporation. It often happens that after a merger with some major brand, the company tends to lose its uniqueness, and the quality of the products deteriorates noticeably.
Engineering Super Freak Professional Dryer is a great example of such effective cooperation between two companies. The dryer uses both ionic and tourmaline technologies to make your locks shine bright. In addition, it is very powerful. This salon blow dryer uses an Italian motor and offers a 2000-watt potency. These factors make the dryer ideal for all hair types, lengths, and textures.
Wattage: 200
Temperature settings: three
Noise level: quite
Weight: 1 pounds
Accessories: two nozzles.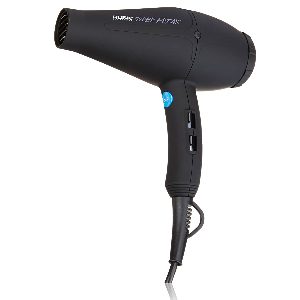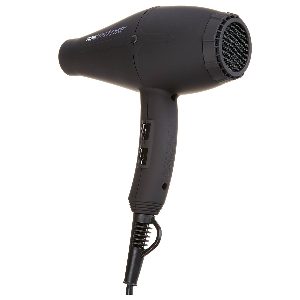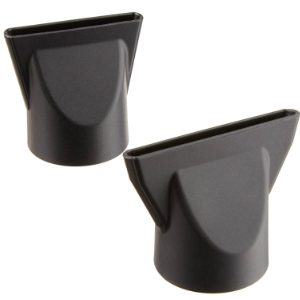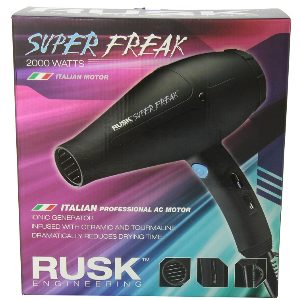 However, this did not happen to Rusk. Rich sales experience and a huge amount of developments from Conair helped Rusk to conquer new markets and increase sales significantly.
PROS:
Very powerful: 2000 watt
Ionic and tourmaline technologies
Dry hair very fast.
CONS:
Only one nozzle present
Expensive.
7. Turbo Power Twin Turbo 3200 – Lightweight and Ultra Powerful Professional Hair Dryer
Turbo Power Twin Turbo is the most powerful hair dryer on my list. It features 3200 watt! This blow dryer was manufactured by the Italian company Turbo Power that is one of the leading Italian brands of hair styling tools. The founders explain such a huge success very simply: the whole reason lies in the Twin Turbo's mission and the main two principles. The first one is the quality of the products. Turbo Power uses only the best details and materials.
The second one is the durability of the items. Every dryer utilizes high-performance A/C motors, and, according to the results of the experiments, you will not have the problems with a dryer for a minimum of 2000 hours. And this is not marketing, as some customers may think.
Twin Turbo 3200 is very small and lightweight, so you can take it on a trip. Despite its portable size, the tool is really powerful. As I have mentioned above, it has a power of 3200 watt which makes it the most potent dryer in my current review. However, the product is available only in one color, black. There are three speed and heat settings:
Fast drying
Regular drying
Gentle drying.
The blow dryer can be used with all hair types. Even if you have thick and curly locks, with this item, you will need only ten-fifteen minutes to dry your hair.
Wattage: 3200
Temperature settings: three
Noise level: quite
Weight: 1.81 pounds
Accessories: one nozzle.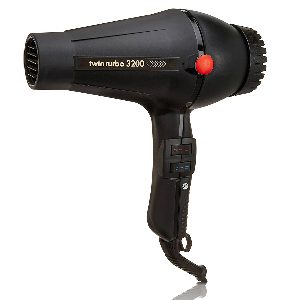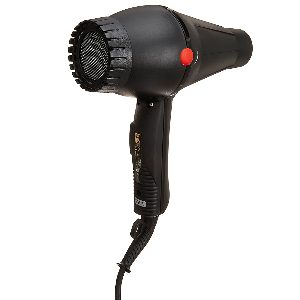 I also believed that it was just a good advertisement of the product, so I decided to face a risk and bought one. Now my hair dryer is more than 5 years old; and in terms of its appearance and work, it feels like the item was bought just yesterday.
PROS:
Very powerful
Three speed and heat options
Portable, so you can take it on a trip.
CONS:
Available only in a single color
Expensive.
8. Panasonic Nano Dryer, Professional-Quality – Professional Hair Dryer at Affordable Price
It seems that a company like Panasonic doesn't need to be introduced. Still, I would like to say a few words. For some reason, many people are used to thinking that Panasonic produces only a line of products for a general use, but this is far from the case. Among their assortment, you can find the products for both ordinary consumers and professional hair stylists.
However, due to the fact that the company is more specialized and well-known on the consumer market, Panasonic spends a lot of money and effort on various studies and tests to create convenient and intuitive-to-use devices. And, as it is known, one of the main disadvantages of all professional products is that they are difficult to use for people outside the industry.
Panasonic Nano Dryer has not only an attractive design but it also provides a lot of useful features. The most notable among them is a unique nanoe technology that allows you to dry hair without damaging it. This Panasonic dryer has two speeds and three heat settings. In my opinion, two speed modes are not enough for a hair dryer.
Wattage: 1875
Temperature settings: three
Noise level: quite
Weight: 1.29 pounds
Accessories: three nozzles.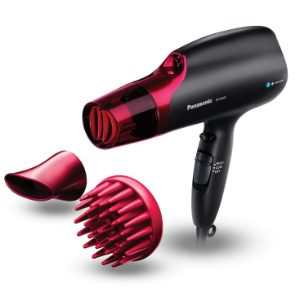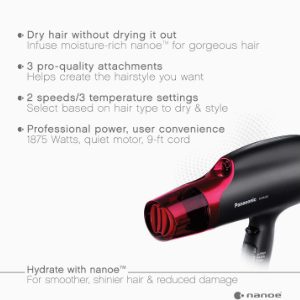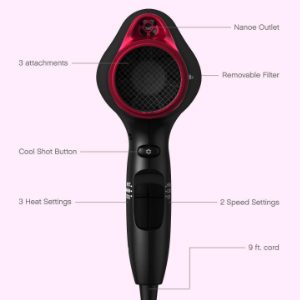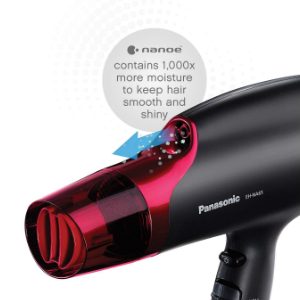 Panasonic salon tools are very intuitive and practical to use. Despite the fact that each product has a lot of settings and various options, you will understand how to use it in no time.
PROS:
Affordable price
Two nozzles
Small
Unique nanoe technology
Comfortable in use.
CONS:
Has only two speeds
It is a best-seller so you need to hurry up if you want to buy this dryer. Otherwise, other consumers will purchase it in a glance.
Buyer's Guide and FAQ
Now you know what hair dryers can help to make salon-level hairstyles every day. In the reviews above, I have evaluated the hair dryers based on the combination of price and quality, the features that a certain device possesses, and its durability. In this section, I want to share how you can select the best product by answering top-5 commonly asked questions about hair dryers.
What Is the Difference Between a Professional and Consumer Hair Dryer?
It is the most popular question. Do we know that salon hair dryers cost much more than a regular one, but are they really worth their money? Definitely, yes! One of the biggest myths about hair drying is that blowers damage your hair. As a result, your strands may become brittle and dry.
And many people tend to blame a hairdryer, when they ask themselves a question: "Why has my hair become dry and stiff?". However, this is partly true. But I'll tell you a secret that the task of a hair blower is to dry the surface of the hair exclusively, without drying the hair core itself.
Beauty salon hair dryers use a lot of innovative technologies, such as ionic or tourmaline. They moisturize your locks and do not allow them to dry excessively. In addition, professional hair dryers have several attachments that let you style your hair differently.
Another advantage of such type of dryers is the existence of several heat and speed options. All these factors make them significantly more expensive as compared to regular ones. But the health of your locks is worth the money spent.
Read More: Best Chi Hair Dryers Reviewed
What to Look for in a Professional Hair Dryer?
In this article, I have told a lot about how to choose a blow dryer according to your hair type. Therefore, now I just want to summarize and structure these thoughts. The first thing you should pay attention to is the material. I recommend you to dwell on the tourmaline or ionic dryers.
They suit all hair types and help you to make your locks "shine bright like a diamond". One note, the ionic dryers are not very efficient at building volume; hence, if your locks are fine and thin, consider buying a tourmaline, ceramic, or porcelain dryer.
The next factor is a dryer's power and weight. As for me, I am not purchasing the items with less than 1500 watts. Otherwise, you will have to dry your hair very long. By the way, take a look at how many speed and heat options this hair dryer has. My advice: it should be a minimum of 2 speeds and heat settings.
Thirdly, check whether your hair dryer has a cool button. This option will allow you to reduce frizz. I recommend you to press the cool button when your hair is about 80% dry. Finally, observe the attachments. If you have curly thick hair, you should purchase only a dryer with a diffuser. If your hair is straight — buy a concentrator nozzle.
How Hot Are Salon Hair Dryers?
There are two main settings every professional hair dryer must feature: heat and speed. The first one makes the air hotter, and the second setting just increases the amount of air blowing on your locks. I don't know why but a lot of people, even the stylists, think that the hotter your dryer is, the better and faster you will dry your hair. It is a misconception.
By using an excessive hot air mode, you may overheat your hair and damage it. Therefore, I caution you not to use extremely hot air. If you want your hair to dry faster, then increase the speed. By the way, do not forget to use hair cosmetics that protect your hair against high temperatures.
In one interview to Huffpost, Ryan Richman, a celebrity hairstylist, commented:
"A blow dryer that falls within the 1300 to 1875 watts range is great for anyone to use at home. Personally, I like to feel my dryer blow the hair and feel like my tool is working. You can always turn down the heat, but still maintain power."
What Wattage Are Salon Hair Dryers?
The higher wattage option you choose, the faster your hair dryer will work. Everything is simple. As a result, the drying process fastens too.
But remember: "Too much of a good thing is good for nothing". Therefore, the optimal level of wattage is about 1800 to 1850. However, a lot of salon hair dryers provide much more wattage. This is because different people come to salons.
There are clients with waist-length and thick curly hair. Sometimes, you have to work in extreme conditions. For example, I had an experience when it was necessary to do the styling in 15 minutes. In such cases, professional hair dryers with the power of 3000 watts are very helpful.
Related Post: Best Professional Hair Dryer Stands Reviewed
What Type of Professional Hair Dryer Should I Choose?
The main thought I want you to remember after reading this article is that there is no concrete and the best professional hair dryer. Every girl has her own best salon dryer. Why? Because your choice should depend on a lot of different factors. Among them:
Hair type
Price
Shipping area, etc.
Therefore, your best hair dryer can be useless for another girl. And the reason does not lie in your bad taste, it is because your hair is thick and curly, and another girl has straight and weak locks. I hope that my article and recommendations will appear useful when you decide to purchase a blow dryer.
Let's Talk!
Choosing a suitable hair dryer may seem a difficult and comprehensive task. There are many factors that influence this, the main one being your hair type. If you cannot determine it yourself, then consult your hairdresser. Then, you may browse the Internet or go to the nearest electronic store. Be sure your hair dryer features:
Ionic or tourmaline technology (better both of them)
Several speed and heat options
Cool button
Several attachments.
Also, select a lightweight hair dryer. Have you found something new after reading my article? What is it? Also, do not forget that below is a comment box where you can leave any questions. I will answer all of them as soon as possible.
Last update on 2022-12-11 / Affiliate links / Images from Amazon Product Advertising API