During my one year quest, I checked many professional hair straighteners to find the best of the best. I also considered a broad range of features, including heating speed, total performance, affordability, and above-average customer feedback.
I had started out with basic straighteners. The main issue was that those never fully heated up, which means my hair never really got straightened. I can still clearly remember that one day when I got sick of wasting my money on the tools that did not actually work. That's when I found Karmin G3 Flat Iron!
Karmin G3 Straightener was the first tool that had no negative comments. That really impressed me! I've heard a lot about salon hair straighteners, so I ordered the set online and have tested it for a year! Bottom line: It didn't matter where I lived, I just wanted to have glowing hair! Whether I was in dry tropics or humid areas, I wanted to have an ideal hairstyle.
I often face challenges with my frizzy hair, and I used to have even more concerns after reading 7 biggest curly hair mistakes. I got to know about the Karmin product through my mom. By using this straightener, I'm gradually learning new things about my hair.
Hence, I have created a simple, easy-to-read review that summarizes the most important things you should know about Karmin G3 Salon Pro. Let's get to it!
Review of Karmin G3 Salon Professional Ceramic Flat Iron
If you often experiment with hairstyles and need a ceramic pro straightener, buying this product is a great starting point. Here's a full description of the straightener.
Model Name: Karmin Professional Salon Pro G3 (Limited Edition)
Color: It comes in five different colors: black, blue, pink, purple and white.
Size: The size and weight vary from small and medium to large. Don't worry, I will shed more light on how sizes work for different hair in the latter sections!
Brand: Karmin is a UK-based company that deals in the line of high salon-quality hair tools. They aim at providing clients around the world with professional hair tools and reliable customer service. These guys base their products on in-depth research to find exactly what customers want. They craft products according to both genuine standards and affordability.
I will now take you through the steps of how Karmin hair straightener helps in hair care; the parts of the tool; the usage of the tool and the pros and cons.
Hair Care Facts
The Karmin G3 Salon Hair Straightener set uses ceramic as the main finish, rather than titanium or tourmaline, as you'd have on other straighteners. As a matter of fact, ceramic plates allow three times more heat (240) distribution than other flat iron setters, which means the Karmin G3 Salon Pro heats faster, and your curls straighten way more quickly.
The plate type is dual floating, which allows you to grip the hair in between; you can, at the same time, ensure that your hair strands are evenly compressed and not just rubbing the irons. Usually, you will have to hold up the hair only for 15-20 seconds to make sure that it's fully straightened.
The hair straightener offers exceptionally smooth, glossy results. Additionally, it is safe to use on both synthetic wigs and hair extensions. According to each hair texture, Karmin G3 Flat Iron can take as short as 6 minutes to straighten the curls, and the hairstyle usually lasts all day. Even though I experienced a bit of hair breakage, it was only my fault as I chose the wrong setting.
This can be prevented by setting the right temperature for your particular hair texture.
With a few different settings to choose from, it's not as hard as you think! Straighteners are generally pretty intuitive; however, specific products like Karmin G3 Salon Pro come with special buttons for choosing the right temperature; this definitely enhances the overall performance.
Parts of a Karmin G3 Salon Hair Straightener
Here are the main parts of the tool, together with their unique functionalities.
Flat Straightening Plates
Karmin G3 Flat Iron has two plates on each side, and they are both made of copper iron.
Some plates are auto controlled by batteries, and all you have to do is turn the start knob on. On the other hand, you may have an electric flat iron. In this case, you need a switch box (socket) to switch on the straightener.
There are heating elements internally installed in each flat iron compartment. This is where the heat you apply to your hair comes from. Heating elements are mostly regulated by electric motors to avoid overheating of the plates.
If you didn't know the difference, having two flat irons is an advantage. Some products have one heating plate and a base to hold the hair. Such straighteners aren't as efficient as a professional hair straightener from Karmin.
When two plates are working effectively, it reduces the strain on the hair and the time spent on stretching out the hair strands.
Heating Elements
So, I have mentioned previously that these flat irons straighten hair with the help of heat from metal conductors. This part is one of the many reasons I consider Karmin G3 Salon Pro as the best tool on the market! They are built with ionic technology to steadily produce heat that your hair needs. The heaters are in place to lessen the amount of frizz in your hair.
Clamp and Body
The next great parts of a Karmin G3 Salon Pro Flat Iron are the body and clamp, which literally work as a handle and base, respectively. Unlike the plates which have separate elements, the elements of this hair straightener are joined by the clamp on one end and the body on the other end. The clamp is somewhat flexible and can be turned to different angles to suit the user.
You should hold the clamp as soon as you lodge hair strands in between the flat iron plates.
Carrying Case
These fantastic sets of pro straighteners are bagged straight from the manufacturer's stores. The carrying case has inner pockets to hold small combs. Also, using a velcro closure, you can snap it on/off the tool in just a few seconds. All cases are black regardless of the color of the straightener you choose. In my opinion, the casing is essential for professional hair tools, whether you're a hairdresser or not. They secure the device and also make it portable and easy to travel with flat iron.
360 Degree Swivel Cord
A great advantage of buying a ceramic hair straightener from Karmin is the 360-degree cord. It is conferred with high flexibility and is 3 meters long. Considering this cord length, both personal and business owners would enjoy working with the straightener. You may stretch your hair from the comfort of your bed, chair and sitting room without any strain.
For salon owners, your clients will not need to constantly twist or bend their necks. To top it off, the cord features a sleek and smooth design, which makes it almost impossible to tangle when in use or packed away.
Variable Control
Thanks to this technology of the Karmin hair straightener, you control how much heat to supply onto your hair. This is necessary because too little heat leaves the hair unstraightened, while too much leads to the hair strand and root damage (excessive heat destroys keratin— the protein that ensures growth and maintains hair texture).
Instructional pamphlet
This is where you learn how to operate Karmin G3 Salon Pro Flat Iron properly. Here, you will find the steps to unbox and repack the tool. It also offers a rundown of the "DON'TS" of using the hair straightener. Without such provisions, you may have a hard time with the flat iron, and in difficult cases, you may end up breaking a tool even without knowing it.
As soon as you're ready to unpack the goodie and start straightening, go for the pamphlet and read it before you deliver magic to your hair.
The Usage
Start by washing your hair and drying it. This will help to remove loose root hair that awfully spikes out of your hair. As soon as your hair is wholly dry, split it into 3 sections. Divide each into 3 more parts. What I use for this stage is a one-end divider comb. It makes it simpler to go through the entire hair. Set your straightener to heat up.
Blow-dry and cool: If you want a quickie, then I suggest you blow-dry to warm before straightening. This helps to make the hair compact and less all over the place. Do this for 10-15 mins and let your hair cool down. Apply some hair oil.
Begin straightening: Slightly touch the straightener with a finger to be sure that it's not overheated. Unclamp the ends. Pull up each hair segment, and clench with the straightener. Go down the hair length gently. Repeat the process 3 to 4 times.
P.S.: Some of my friends complained about using this particular straightening tool for making emo bangs. First, you have to know the real difference between how to get emo bangs and how to use a flat iron for basic straightening. Karmin G3 still works for me perfectly well!
Pros and Cons
So why would anyone use or not use Karmin G3 Salon Hair Straightener?
Check the table below.
PROS:
It can be used both for straightening and creating curls, waves, and twists;
A 3-year warranty protocol is available for all products;
There are free shipping privileges alongside buying the tool;
A variety of size options is accessible for any hair;
It has a long-lasting quality.
CONS:
You may consider this expensive when compared to other brands;
Using partly ceramic straighteners hardly lasts. The ceramics finish pills off sooner than you'd expect. Full ceramic straighteners are better.
Buyers' Guide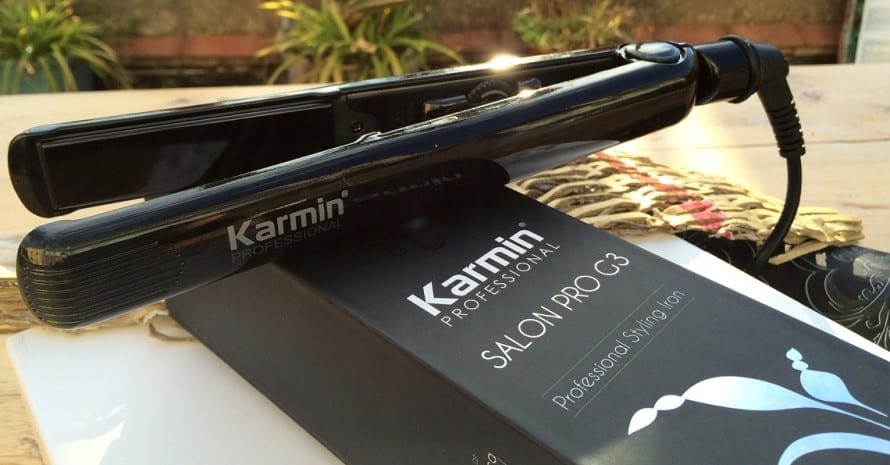 Here I will discuss the main aspects to pay attention to while choosing pro straighteners. For example: whether there are different types of products for different needs and how to use each of them.
What Is the Difference Between Salon and Home Flat Irons
Professional ceramic flat iron offers a controlled application of heat and is less prone to hurt you. Many skilled hairstylists use them; profesional tools are widely spread among both professional stylists and amateurs. In other words, you will find these tools in salons, beauty rooms, and hair treatment clinics.
Titanium/tourmaline plates (home flat irons) disperse heat as quickly as possible. When it is used correctly, it performs an outstanding job. When left on your hair for too long, it does real harm. Tourmaline is a crystalline stone that is used to cover flat iron plates. These types are used by people who do not necessarily have skills for hair styling. So, you can keep these tools for private usage.
What Are the Main Features of Karmin G3 Salon Pro Flat Iron?
Besides the parts of this product that I have reviewed, here are the basic features you would like to check before buying Karmin G3 Salon Pro Flat Iron.
Body and Dimensions
Standard Size: Karmin hair straighteners regularly come in 1-inch plate sizes. This is the standard size. Fortunately, it is non-specific of hair lengths and works well for both long and short hair.
Small size: All 0.5-inch plates and those under 1-inch fall here. They're suitable for short hair. Regardless of whether it is a thin or thick texture, it doesn't impact the performance.
Big size: Anything bigger than a one-inch plate is viewed as a large-sized straightener. The sizes run from 1.25, 1.5, 1.75 and 2 inches. These are used for long, thick hair.
Device Power and Hair Style
Small and standard-sized hair straighteners are preferred over the big-sized ones when you're considering careful hair straightening. Big-sized tools are a bit more difficult in maintenance and overall usage. So, I, personally, would recommend you to purchase a standard-sized straightener.
If you need to utilize the iron for hair twisting or other usages, at that point, big straighteners work better. The main drawback is that you need to have long hair to get the full effect.
Is Karmin G3 the Right Flat Iron for You?
Karmin G3 Flat Iron is perfect for you! I mean, there are tons of other products out there. But have you checked word-of-mouth — customer feedback?
Is Karmin G3 a good flat iron for fine hair? Yes, this ceramic hair straightener will straighten curls perfectly well if you have fine hair texture. How about frizzy, unruly hair? Yes, Karmin G3 Salon Flat iron helps in that aspect as well. How do I know this?
I tried many things― the finest quality Aloe Vera hair treatments, thongs, and hot combs, but the Karmin straightener has the best glow effect. Apart from testing, I believe a fair way to judge how good products are is to research what other users say or feel about particular tools.
The last aspects you want to consider are the features and technology. Karmin G3 Salon Pro is simply great if I'm being honest. Go for high-quality professional tools to see the difference.
Final Words
If you're trying to create a state of the art styling with hair straighteners, I recommend using Karmin G3 Flat Iron to really get hair to where you want it.
Karmin products are efficient, and this doesn't depend on your goals and hair type — it does perform great on every hair type. Do you want sleek hair with no curls? Go for medium 1-inch straighteners. Do you want twists and curls in addition to smooth texture? Go for large-sized options.
Let's not forget about the basic features: heating elements, body, and clamp, variable controls, hyper-conditioned flat irons, carrying case, instructional pamphlet, etc.
Finally, it is great to have a tool that can do both perfectly straight, glowing hair and glossy curls!
The most crucial things for me when I purchased this hair straightener were ease of use and high quality. Personally, I love using the bigger sized pro straighteners because they give me sleek, bouncy hair without damage.
Thanks for reading this article! I hope you find it useful. Also, I'd like to know your thoughts about Karmin G3 Flat Iron: would you buy it? Have you or your friends used it before? Share your experience and ask questions in the comments below.
Last update on 2022-12-11 / Affiliate links / Images from Amazon Product Advertising API