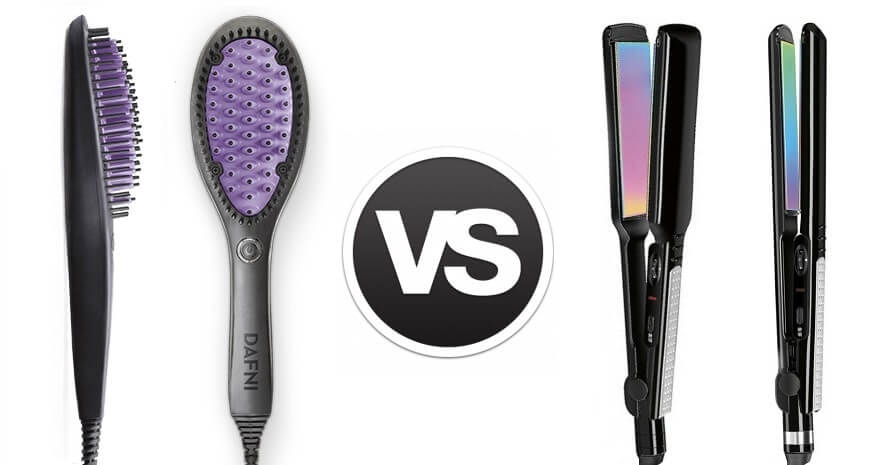 The trendy hair straightening procedure has become immensely popular among women of all ages. But eventually, this modern treatment may cause hair breakage, loss of moisture, and split ends. These disadvantages depend on which tool you use.
You have to choose between a flat iron and a brush straightener. This article will help you weigh up the pros and cons and opt for what you need.
First of all, I would like to note that flat irons have become the solution for many women and these devices are really amazing. So, that is why many of us wouldn`t even think about using something different even if this item is more modern and upgraded.
But there are a few good reasons for this. If you have ever thought about changing your hair iron to a hot brush, then you may probably have a few questions about what the second one represents. And somebody has to answer these questions before you take a final decision.
Both tools are used to make your locks smooth and glossy, straighten your curls and give your strands a beautiful appearance. Despite the fact that the flat iron has been the market leader for many years, today most trendy girls give preference to the hot brush because it works faster. And what is more, it is far easier to handle. But it has some more advantages that I`m going to tell you about.
Let`s compare these two straighteners according to the following characteristics.
Flat Iron and Brush Straightener Comparison
1. Hairstyling Time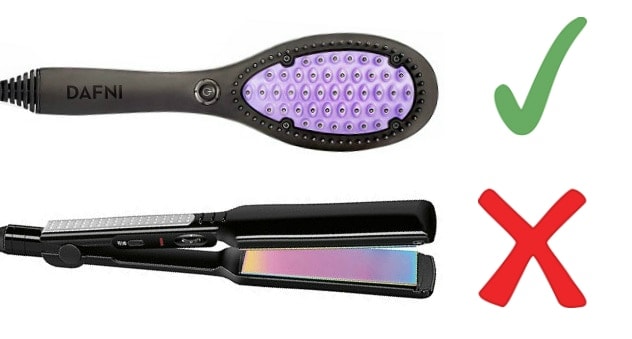 Flat irons take more time to reach a certain operating temperature. Their plates are narrow. This means that the working surface is less. So, you will have to spend more time on creating your hairstyle.
Straightening brushes heat up quicker. Moreover, it will take you about 5-15 minutes to put your hair in order as the procedure of styling with the hot brush is a bit slower than usual combing. Some girls say 3 minutes are enough.
In addition, there is no need to section your hair into several small strands and use clips while straightening as with ironing. The brush also combs and detangles your locks.
2. Efficiency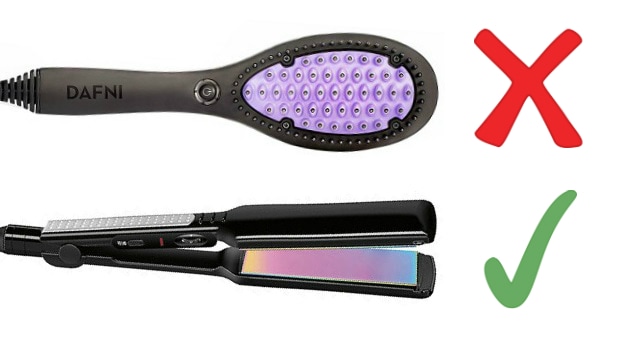 The flat iron will easily straighten thick hair, unruly, coarse locks or tight curls. In this situation, the hair straightening brush may fail. But it is quite good for wavy hair. Besides, this device is useless if you have afro-textured hair.
3. Safety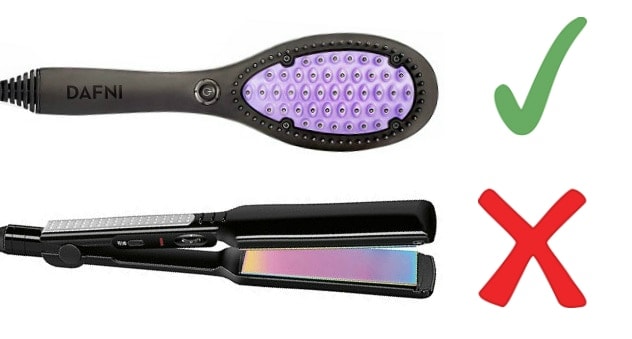 The flat iron is not safe enough for your skin. Due to its barely heated flat plates, you can easily burn your fingers or face. Your scalp may also be injured by accident.
As for straightening brushes, they recently went on sale. This means that they are redesigned for more convenience, safety, and less damage. The rounded edges of the plate and the silicone tips of the bristles that form a so-called barrier between the heated element of the brush and your skin will protect you from burns while styling. So, this new development is safer. You may even straighten kids natural hair!
Most modern flat irons and straightening brushes are equipped with the function of automatic shut-off if they are not in use within a certain period of time. I`m sure forgetful girls will be just happy. No more worries about whether you have turned your straightener off or not. Try to choose a tool with this safety feature.
4. Hair volume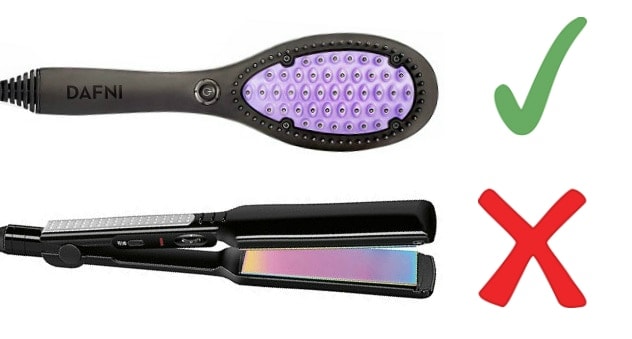 The hot brush will make your hairstyle look more voluminous and natural. It is a perfect device for everyday use just to make your hair look pleasant.
5. Damaged hair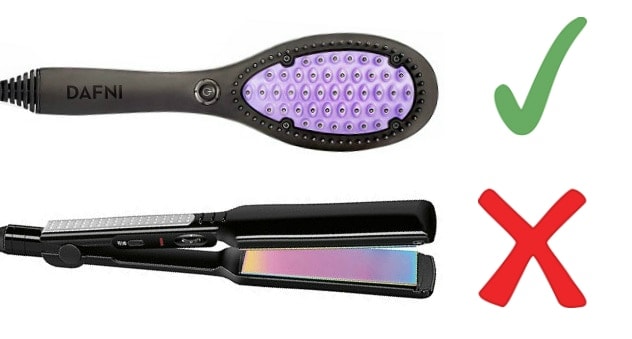 While ironing, your strands are clamped between two hot plates. Therefore, the flat iron can be harmful to your hair if you decide to style your locks day by day. This will lead to lack of luster and unhealthy appearance of your hair.
Moreover, the flat iron is not appropriate for each hair type because its plates are too hot for week, fragile hair. But the hair-friendly ceramic coated bristles of the hot brush with silicone tips barely touch your strands.
Besides, many straightening brushes provide adjustable heat levels. That is why they are suitable for various hair types – you may use lower temperatures for weak hair and higher temperatures for coarse, unmanageable locks.
6. Functions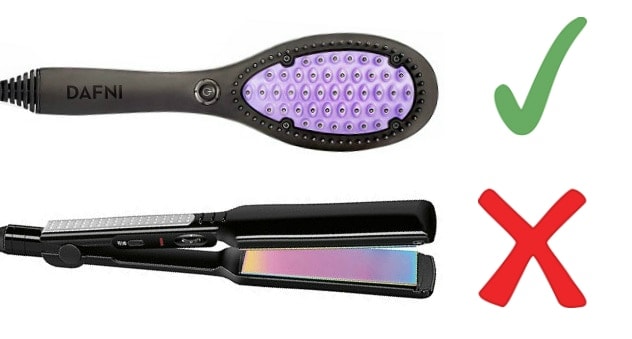 Thanks to its silicone bristles, the hot brush will also gently massage your skin, thus influencing your blood flow. This procedure will make you feel better. It is so cool to massage your scalp with the warm brush. Flat irons perform a single function – they just straighten your locks and nothing more.
Moreover, the hot brush leaves no creases as flat irons do. As manufacturers say, it does not pull your hair out. And you will forget about the difficulties related to styling on the back of the head.
7. Preparation before use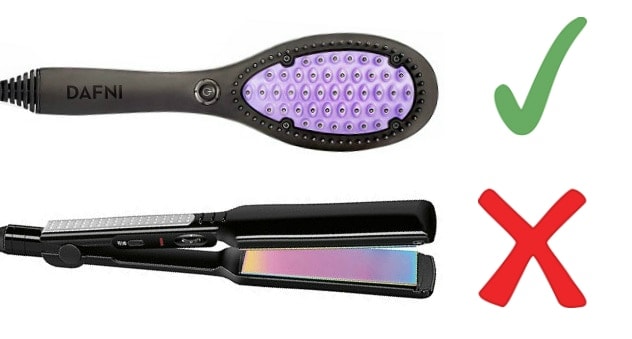 If you prefer ironing, first you will have to comb your locks carefully after washing. Then you should section them into several small strands and pull each strand individually. There is no need to section your hair when using the hot brush, but it is advisable if your locks are too thick and woolly. This is in accordance with your wishes.
8. Daily use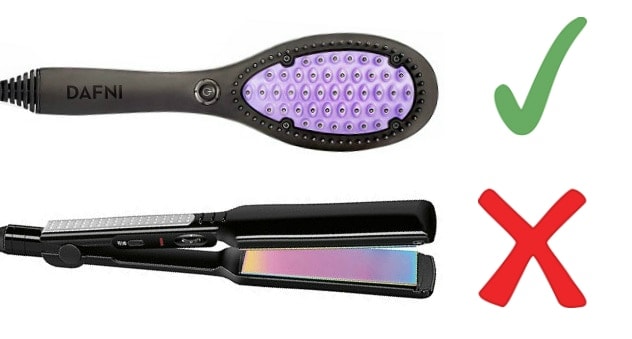 Professionals do not recommend using flat irons daily in contrast to straightening brushes. So, if your goal is to style your hair regularly, you better purchase the hot brush. But if you want to use a straightener from time to time, I recommend buying a flat iron such as CHI straightener.
It can be summarized that the flat iron will straighten even the most rebel hair. It will definitely improve the appearance of your locks and make them look well-groomed, shiny and healthy. But don`t forget that you may use this wonderful device only from time to time. If you do it every day, your hair will lose moisture and eventually become dry, lifeless and dull.
My Favourite Hair Straightening Brush & Iron
Once you've picked your hair straightener type, it's time to review tons of models available on the market. If you ask me, I've never gone wrong buying and recommending tools from GHD.
GHD Professional Hot Brush for Hair Styling – Best Hair Straightening Brush
The hair straighteners with the wrong design may cause hair breakage – the most common mistake among manufacturers is hot brushes that work at way too high temperatures. Good Hair Day has found the golden mean. Its brush straightener has the highest heat of 365°F that provides perfect styling but doesn't damage your hair. Also, it will make the second-day hair look great too.
This brush will suit people with long, medium, and short hair. It combines bristles with a different length that allows you to style large sections and make your headdress more persistent. A device is lightweight. Thanks to this, straightening your hair gets really easy and enjoyable.
Good Hair Day provides safety using ceramic technology with an ionizer. Such design tames hair and reduces frizz in a few strokes. You don't have to spend a whole morning to style your hair. It takes up to two minutes to warm the brush and up to ten to make the perfect hairdo – it's a truly great solution if someone invited you to the party this evening, and you want to look fabulous in a short time.
PROS:
Optimum temperature;

Suits all hair types;

Lightweight;

Turns off after an hour of nonuse.
GHD Gold Hair Straightener – The Best Flat Iron That Suits All Hair Types
Every person needs individual hair care, so it may be problematic to find the flat iron that fits you. It's way easier to choose a Good Hair Day straightener that suits all hair types. No matter if you have short or long, curly, or slightly wavy hair – this iron will make a perfect hairstyle anyway.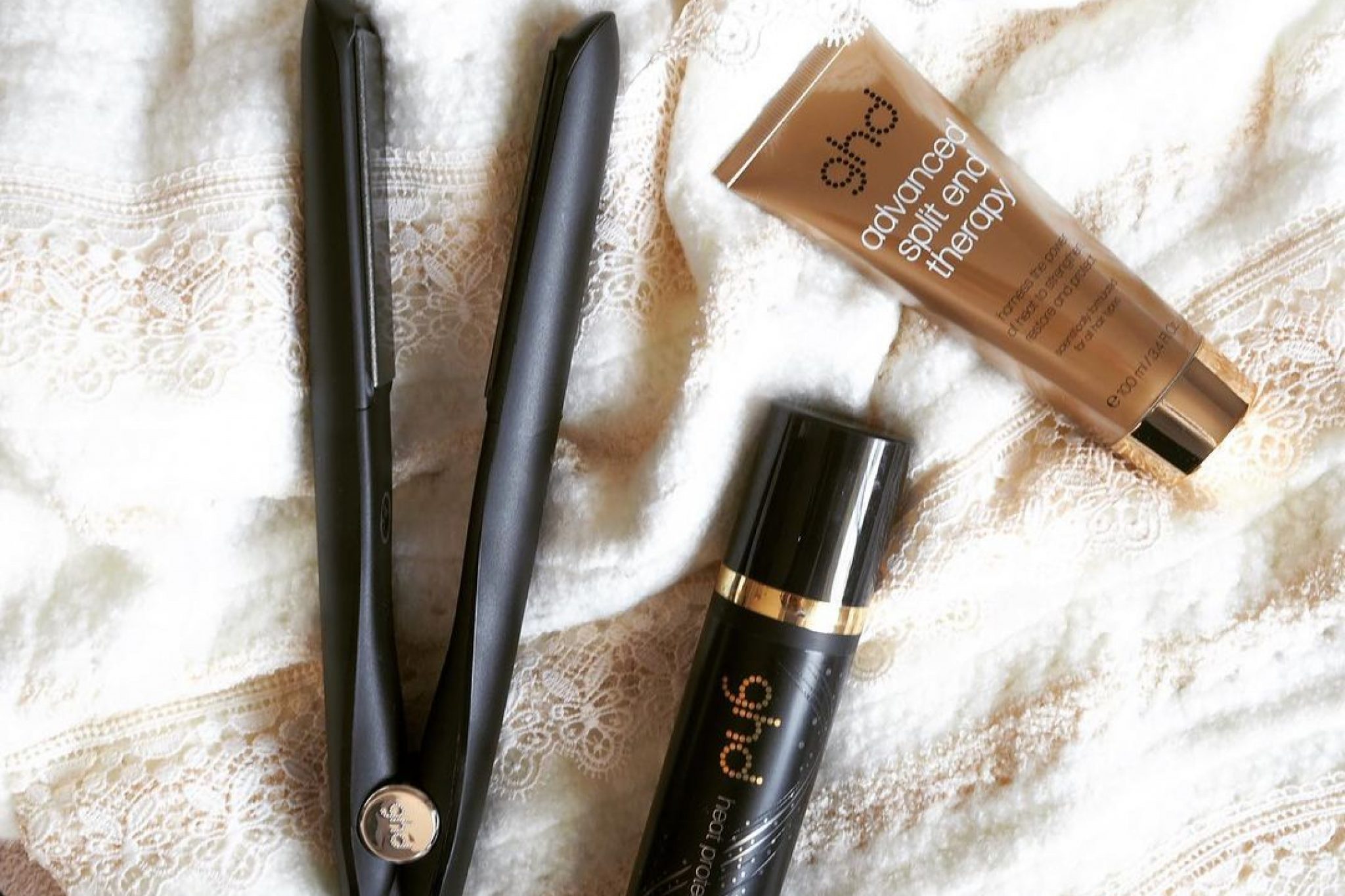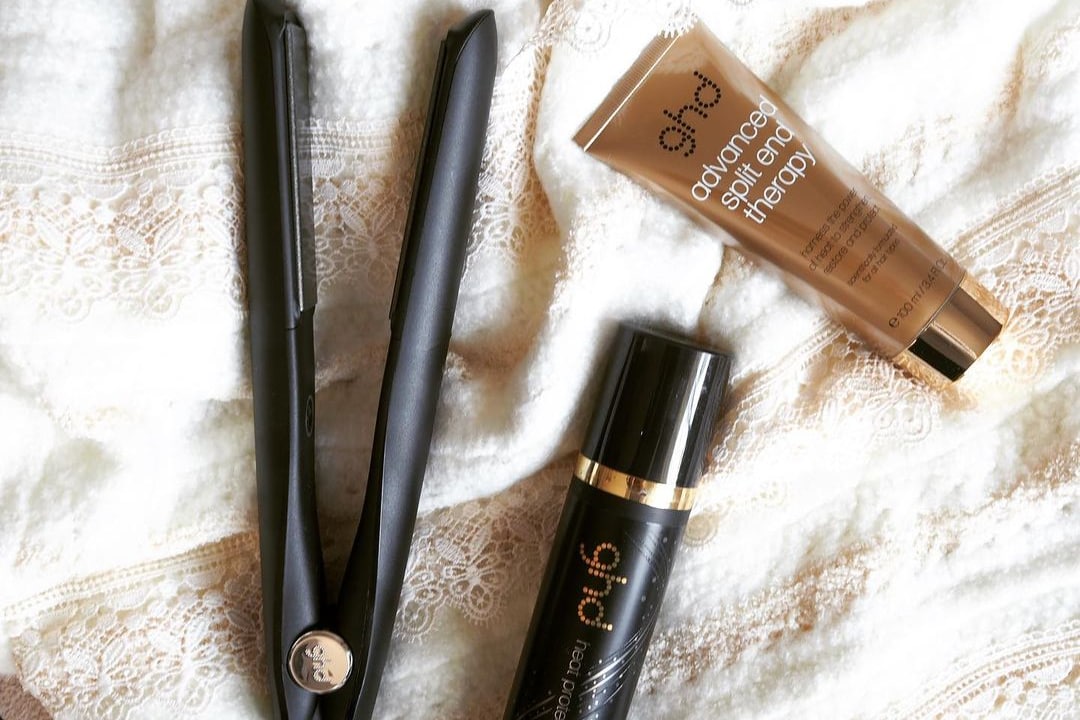 It maintains the 365°F temperature that doesn't really damage your hair but is more than enough to straighten it quickly. The flat iron warms up smoothly over the entire surface. Two new-generation heat-sensors with predictive technology monitors help to keep the stable temperature all the time. It will turn off automatically after thirty minutes.
This model heats up extremely quickly. You only need to wait for twenty seconds, and the iron is ready to use. If you have colored hair, the brush will provide two times stronger color protection than other devices. In addition, it has a unique round barrel design. It allows versatile and snag-free styling in one stroke. With GHD flat iron, you can make the hairdressing you want, and you will feel confident at any time.
PROS:
Keeps the stable temperature;

Doesn't damage hair;

Unique round barrel design;

Heats up pretty quickly;

Suits different types of hair.
Conclusion
Hot brushes are safer. Also, they are healthier since negative ions are good for damaged hair. The styling process is easier if compared with ironing. The hot brush will help your hair keep shape all day long. It will not look flat but more natural. Furthermore, a scalp massage will increase your blood circulation and improve hair growth.
It`s up to you to decide which tool to use to straighten your curls. Maybe the information provided above will help you come to a decision. In any case, the flat iron is great, but if you want to style your hair even quicker and easier and to keep it healthy, the hot brush will suit you the most.
And how do you think, which tool is better in which situation? Feel free to share your opinion in the comments below.
Last update on 2022-12-11 / Affiliate links / Images from Amazon Product Advertising API