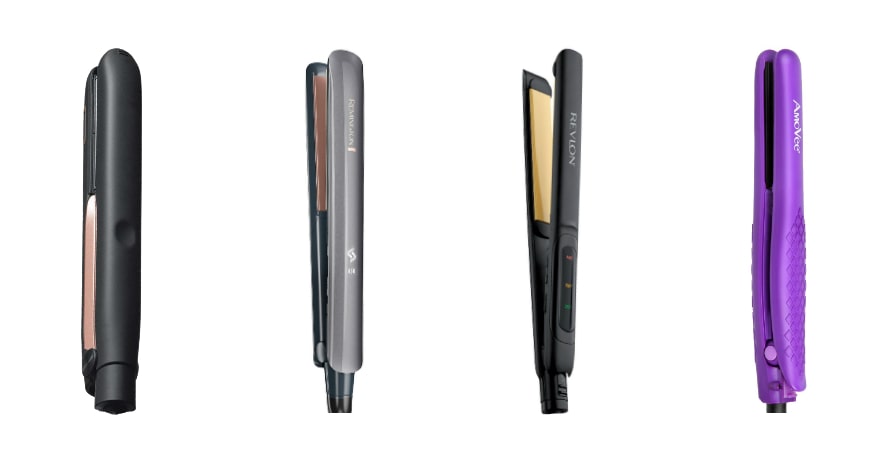 It is no doubt that with the best flat iron for thick curly hair, you can attain that elegant curly look. It will take some effort to get your hair straightened, but believe me, it is worth the effort. The primary task of flat ironing thick hair is finding the best flat iron for coarse, thick hair. There exist various materials with different coatings and plates, but they are all not appropriate for thick hair.
Confusion also arises when friends and family tell you about the newest hair straightener in retail stores and how amazing it is. Unfortunately, a lot of people fail to understand that hair texture and density are unique to only them.
Thus you should choose wisely and consider all underlying factors before buying the equipment. I am not discouraging consultation from friends and family, but try to keep up with trends.
However, your type of hair should be the key determinant factor regarding hair products and appliances. I have gathered the information that can be useful and guide you when shopping for the best hair straightener for your hair.
Pros
Wide range of temperatures
Premium Pick
Pros
Wide range of temperatures
7 Most Suitable Flat Irons for Hair That Is Thick
ghd Gold Hair Straightener – Best Premium Flat Iron
BaBylissPro Nano Titanium Ultra Thin Straightening Iron – Top Pick
Remington S8598s with Smart Pro Sensor Technology – Budget Pick
Panasonic Nanoe Hair Styling Iron
Revlon – Perfect Straight Smooth Brilliance Ceramic Flat Iron
Amovee Mini Flat Iron
HSI Professional Ceramic Tourmaline Ionic Flat Iron
Below are the straighteners I consider best for thick hair. Each of them can enable you to attain your desired results. Go through the reviews while noting the benefits and drawbacks of each brand to facilitate your selection process.
This ceramic flat iron was originally created for professional hair care. It is popular among stylists and has been named the best selling product on the market. You can choose the coloring of the straightener. However, the black and pink coating is weirdly less expensive than neo-mint and silver moon.
I use black iron which looks as stylish as other options and has the same features. This is still a limited collection from ghd. Its gold hair styler was highly praised by critics because of its simplicity and extra benefits.
The temperature of the iron is 365F in its hottest, which is optimal for hair health. This temperature allows you to change your style often leaving the hair unharmed. Besides, there is a dual-zone ceramic technology that takes care of possible damage. ghd hair iron with 2 heat sensors works faster and more professionally.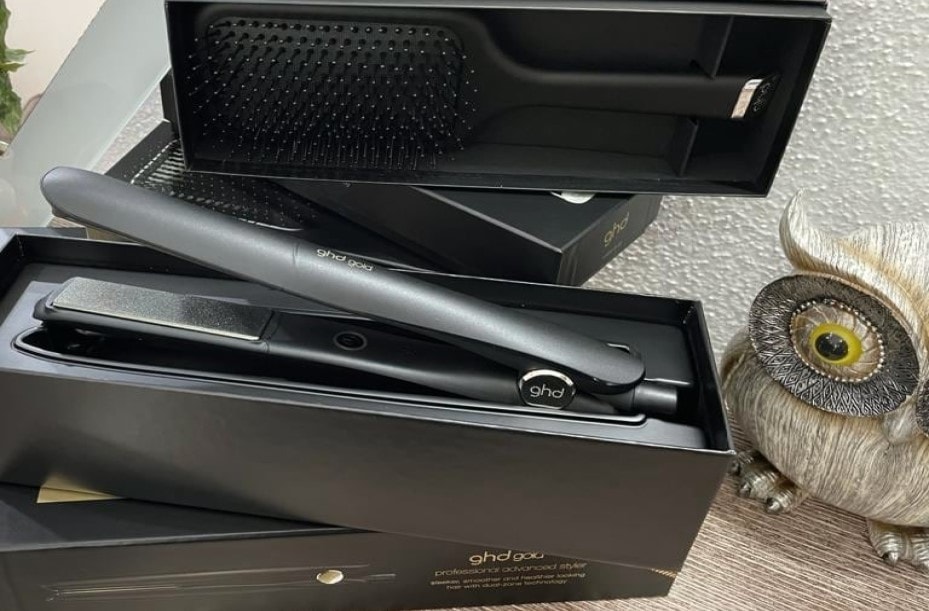 To make your hairdo look fabulous, all you need is turn on the flat iron, place it close to the roots, and move down to the tips. Do not take wide sections of your hair. Slightly round the tips towards the head. Smart technology inside will monitor the level of heat, so you will not burn the hair. After 30 minutes of non-use, the sleeping mode is on.
---
PROS:
Ceramic coating;

Monitors the level of heat;

Optimal temperature for healthy hair;

Stylish design.
---
2. BaBylissPro Nano Titanium Ultra Thin Straightening Iron – One of the Best Flat Irons for Long Thick Hair
This iron is available in 1 inch, 1.2 inches, and 2 inches size. If you don't have any specific preferences, I recommend you to use 1-inch iron. It is made in. The first glance at the design of the product and its light-blue color reminds you of BaBylissPro signature style.
I can praise their hair products for hours, but you may already be familiar with their hairdryers and straighteners. The company produces high-class tools for professional stylists and amateurs who want to reach the salon's look at home.
To be fair, I love this tool not only because of its slim design and color, it also has a pleasant bonus. This thin straightener can be easily placed in your travel bag. Besides, it is lightweight, and your hands will not be tired while you are working on your hairdo.
The hair is protected from damage by nano titanium modern technology. It also allows the hair to dry faster. The maximum heat is 450F.
There are 50 heat settings available. Titanium plates are smooth and resistible to corrosion, which means that the iron is durable. The 5 inches extended plate is there for a quicker hair straightening.
---
PROS:
Simple in use;

Slim plates;

Nano titanium technology;

Well-known brand;
CONS:
One color only;

Many people report getting fake and used products, so be careful and buy only from trusted sellers.
---
3. Remington S8598s with Smart Pro Sensor Technology – Best Budget Flat Iron for Thick Frizzy Hair

When ironing hair, temperature matters since it can be damaged within a flash of a second. So if heat bothers you, leave it to Remington iron to sort you out. The item has a smart pro sensor incorporated in the plates to monitor the moisture in hair and adjust to appropriate heat.

It regulates itself to the temperature suited for your hair. This feature makes it perfect for thick Asian hair since such hair is sensitive to temperature.


The ceramic infusion and keratin with an unending almond oil conditioner help fight frizz with ease.

The good characteristics don't end there. It gets heated within 15 seconds. No waiting, especially if you have limited time to make your hair. The swivel cord does not tangle and moves easily, making styling easy and fast. In addition to these features, it has a silicone sleeve for proper storage and offers convenience when traveling. Besides, it protects the plates from being damaged.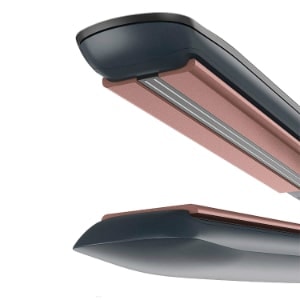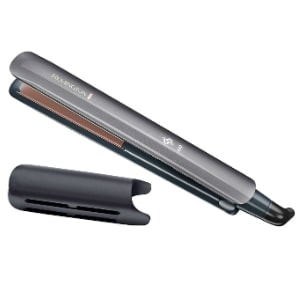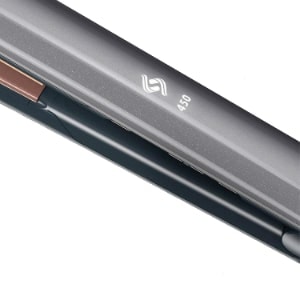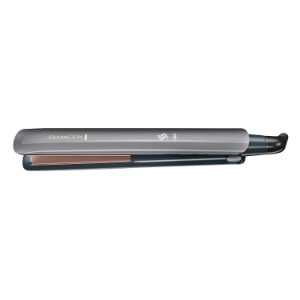 Furthermore, it has five preset temperatures suitable for different types of hair. Hence, it enables ironing hair using the perfect heat level. If nothing pulls you to purchase this iron, consider the digital hotness adjustments and its benefits. Also, when left for 60 minutes without being used, it switches off and prevents accidents and shooting electricity bills, particularly when one forgets to switch it off.
This item performs a variety of functions, including curling and straightening.
If you were wondering what is the best flat iron for thick hair? I'm sure the features of this straightener will help answer the question.
---
PROS:
gains heat fast;
tangle-free cord;
LED feedback;
affordable;
allows for proper heat control;
durable.
CONS:
It is not dual voltage, therefore, cannot be used worldwide.
---
4. Panasonic Nanoe Hair Styling Iron
Being able to straighten or curl your thick, coarse hair should not be a tedious task, mainly when you use the right tools. The Panasonic Nanoe Iron comprises of ceramic plates that measure four inches. Also present is the patented nanoe technology that is responsible for making hair smooth and shiny. Its plates glide over hair without tugging on it, thus, straightening it uniformly.
With an approximate weight of one pound, this item is easy to use even with only one hand. Its cord is 8.5 feet long, and thus it is stress-free to work with since you can access hair from any angle. The Panasonic styling iron contains five heat settings, which range from 270 to 395 degrees, hence cannot damage hair easily.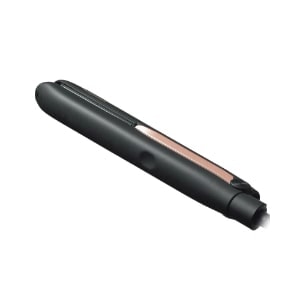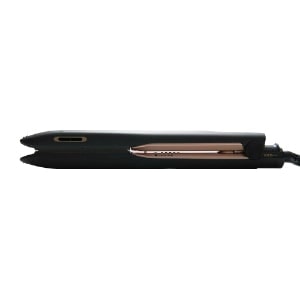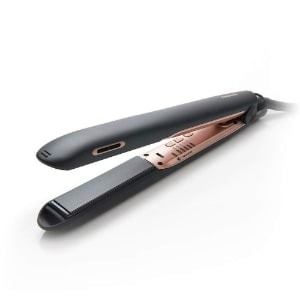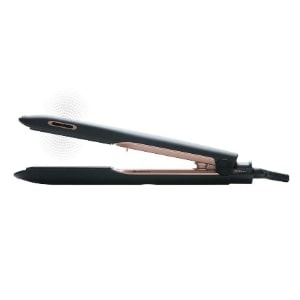 The equipment automatically switches off after reaching a certain temperature. This prevents overheating, which can damage the iron and result in snuggling on hair. Additionally, it has a high heat recovery, which enables it to maintain temperature during styling.
The hotness is spread uniformly in the plates and thus makes the equipment to work fast. The slim design fits well in hand to enable you to style your hair without using much effort. It also has a thumb groove that provides a perfect grip.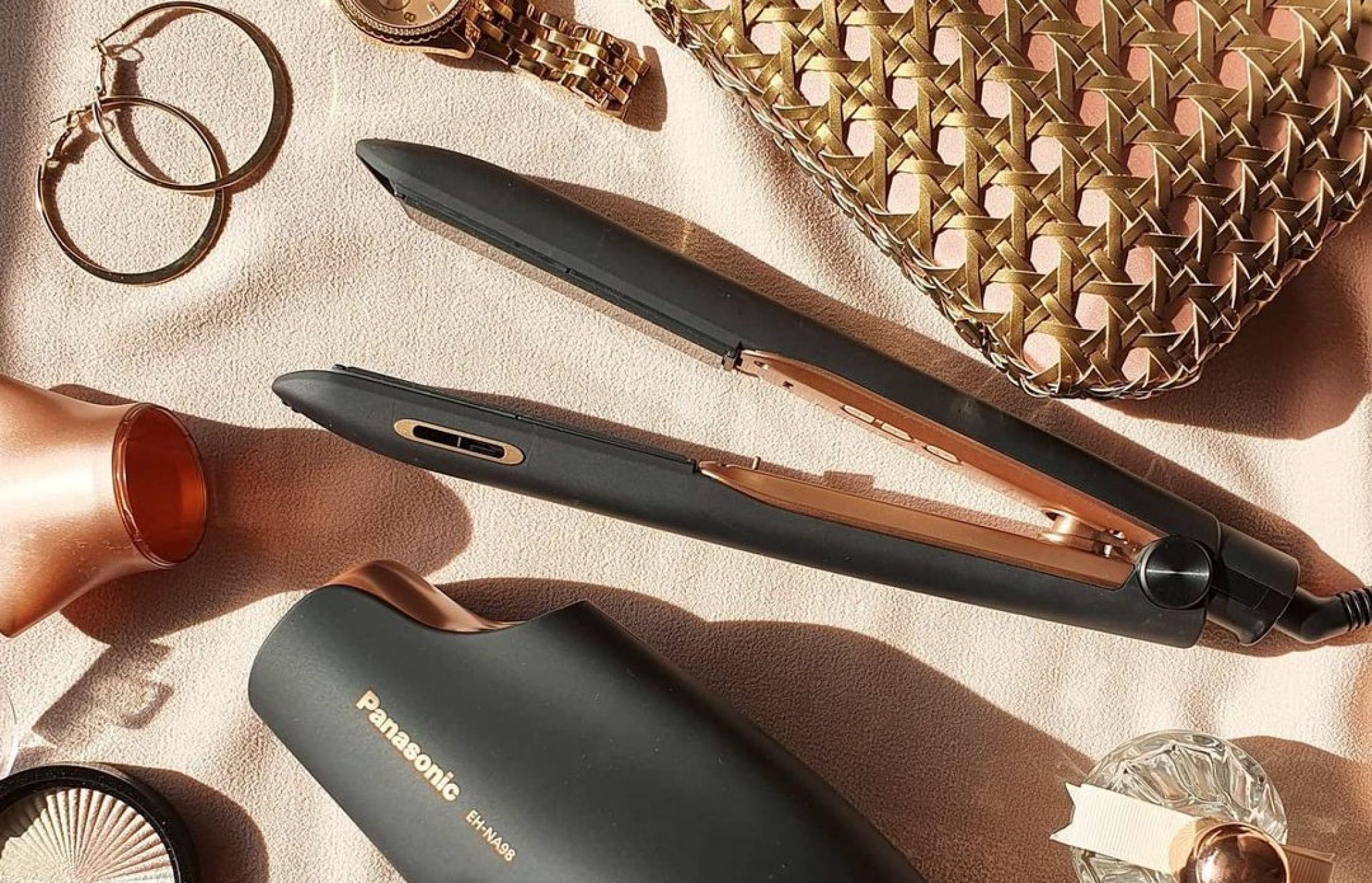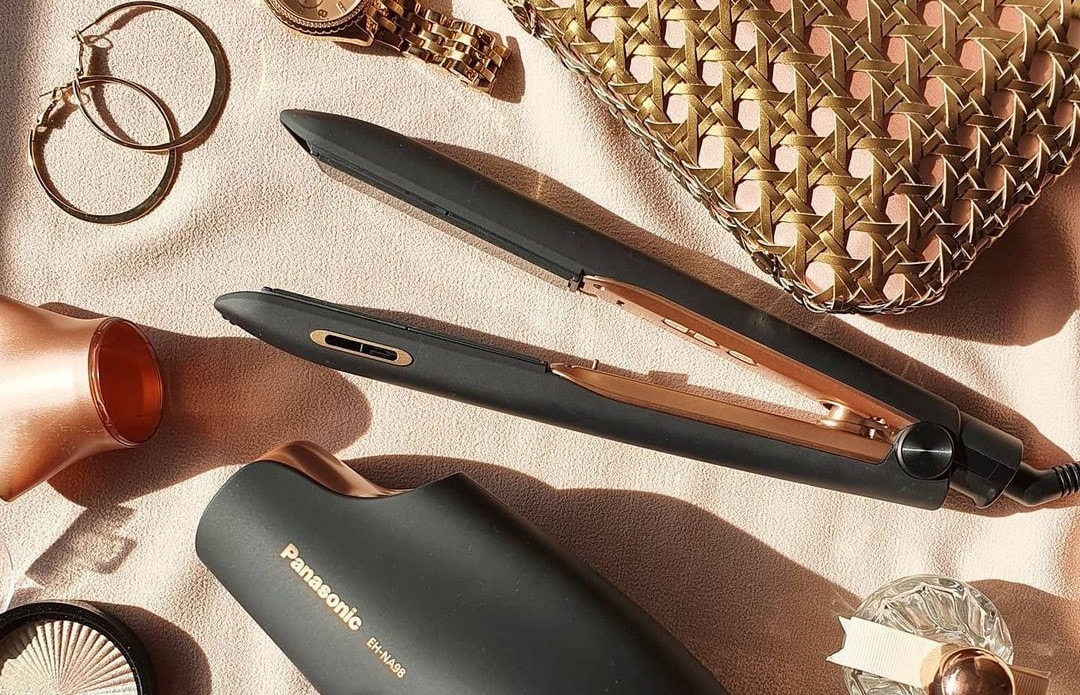 Additionally, it has an open and close lock that makes it perfect for traveling and stress-free to store. Moreover, it has openings that let in moisture from the air to hair to make smooth and shiny. It is majorly used by professional hairdressers, but it is also suitable for home-usage.
---
PROS:
even heat distribution;
wide range of temperatures;
automatically shut off feature;
fast styling;
heat retention.
CONS:
weak gaps between the plates and thus doesn't grip hair properly.
---
5. Revlon – Perfect Straight Smooth Brilliance Ceramic Flat Iron
Revlon has a variety of tools for women to advance their looks. One of them is this flat ceramic iron that you can use to achieve that enviable look. It makes hair look fresh, silky, and smooth. If you love to step out looking dazzling from head to toe, this is the best hair straightener for you. Its heat line and ceramic plates are made to protect hair from being damaged.
With this item, you can create some nice curls or straighten your hair neatly. You get two functions in one flat iron. I love it because it's slim and 1- inch long with longer plates to provide enough styling space for your hair so that the hair is covered thoroughly and styled well.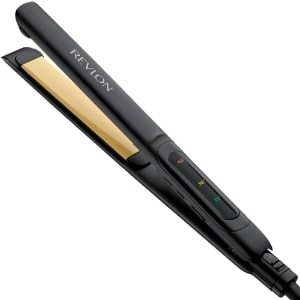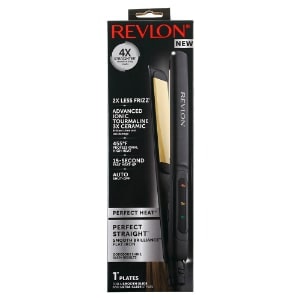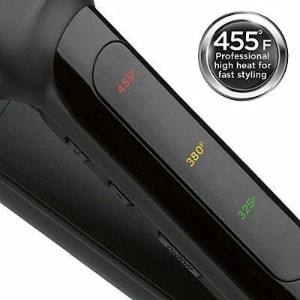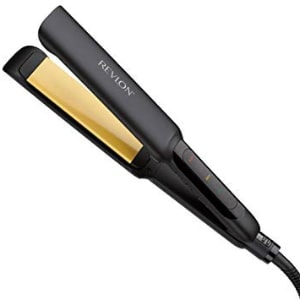 I know you probably think that it takes more time to style thick hair as compared to other types. Well, this is not the case when using this product. It heats up to 455 degrees, which is more than the other flat irons. The iron also heats up fast, within 15 seconds, it will be ready to use. Additionally, it has a big grasping area that ensures your hand is stable, thus making it stress-free to work with.
Furthermore, it is designed to shut off after 60 minutes of no use. Therefore, you will be at peace if you forget to turn it off. Correspondingly, it has built-in counter buttons that prevent it from shutting off while in use. Imagine being in the middle of styling your hair, and the equipment goes off.
It can be irritating, mainly if time is limited because you have to switch it on and wait for it to become hot. You cannot encounter this when using Revlon brand. Lastly, it has a plate-locking switch, which makes it easy to be stored after you are done.
---
PROS:
heats up fast;
lightweight design;
ten different LED settings;
affordable;
durable.
CONS:
the top can become hot. So it should be handled with extra care.
---
6. Amovee Mini Flat Iron – Smart Ceramic Tourmaline Hair Straightener
Can you believe that for as low as $15, you can get a perfectly functional straightener? The tool is suitable for people with a bob or short hair. If you just want something for little touch-ups, then this is what you need. It is small and very convenient for traveling.
Despite being small, it is highly efficient since it has no gaps. Although heat is not adjustable, if it is used properly, the results will be amazing. Additionally, it allows uniform distribution of hotness to ensure hair becomes smooth and lacks frizz.
The manufacturer also cares about the safety of users. A heat resistant glove is present to reduce the chances of burning yourself, especially if you are clumsy.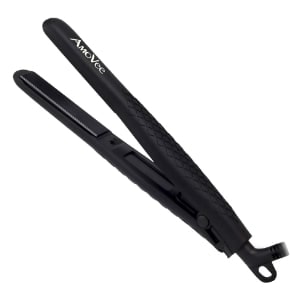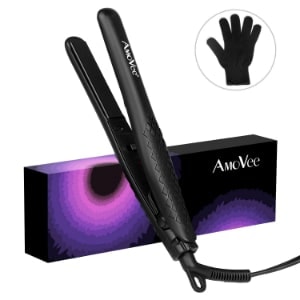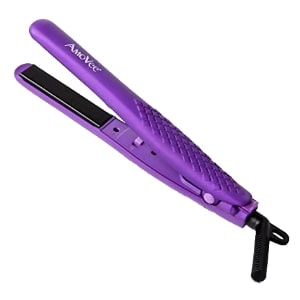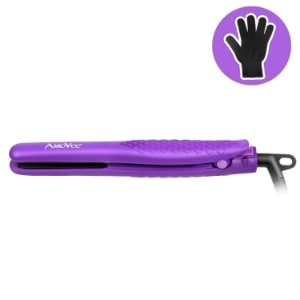 The swivel cord can rotate up to 360 degrees, which makes it easy to flat iron your hair from any angle to create any hairstyle you want without straining your hand. This flat iron makes more visible curls that can be achieved when the tool makes full turns instead of half. The fact that it is mini enables it to be flexible to go round hair to form some amazing curls. Coarse and thick hairs need much effort to be curled.
Therefore, if you have such hair, spray it first to make it smooth to get polished curls results of this tool. So, if you are looking for a straightener to boost your curly look, this has got to be the eight choise.
The iron has floating plates that eliminate pulling or damage of hair. It gets hot quickly, which in turn allows you to spend less time styling hair. Lastly, it has a 12-month warranty, which is an indication that it can serve you for a long time.
---
PROS:
compact size;
easy to travel with;
heats up and works fast;
durable due to the V-shape design.
CONS:
temperature cannot be regulated.
---
7. HSI Professional Ceramic Tourmaline Ionic Flat Iron – Perfect for Coarse and Curly Hair
Do you know the feeling you get when people compliment your hair? I know how good one feels when their hair stands out. You can experience that by using the HSI professional flat iron. The brand is solely devoted to bringing nothing but the best hair products and tools for making your hair look good.
A good thing about this item is that it can be used both at the hair salon and at home. Therefore, if you are among those who think that flat ironing can only be done by a professional hairdresser, then you are wrong. Get yours and use it to achieve all the hairstyles you have always wanted. This item also has some appealing design features.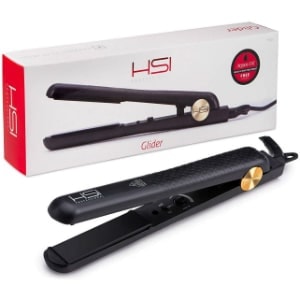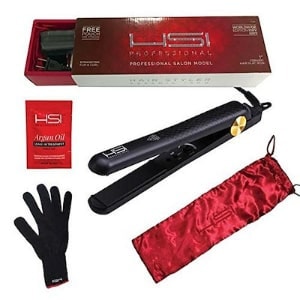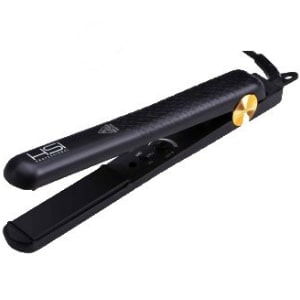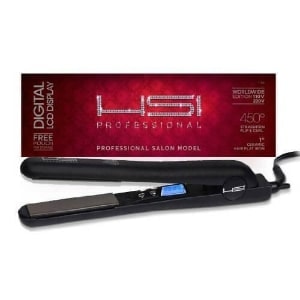 First, it is built with real ceramic tourmaline plates and advanced heat technology whereby negative ions are released, and moisture is allowed to be sucked into hair to minimize frizz and humidity. As a result, the hair looks smooth and glowing. Second, its floating plates can adjust depending on the thickness of your hair. You thus gain more control when working on hair.
It does this smoothly without pulling hair, and this feature makes it a perfect flat iron for thick wavy hair. Some people prefer straight and sleek hair, specifically for the office. If you are among them, then this equipment has been made for you.
Why do I say this? Because it straightens hair perfectly since it has eight micro sensors that are responsible for distributing heat uniformly while regulating temperature depending on hair moisture and thickness. This is a bonus as it saves you from frequently adjusting temperatures.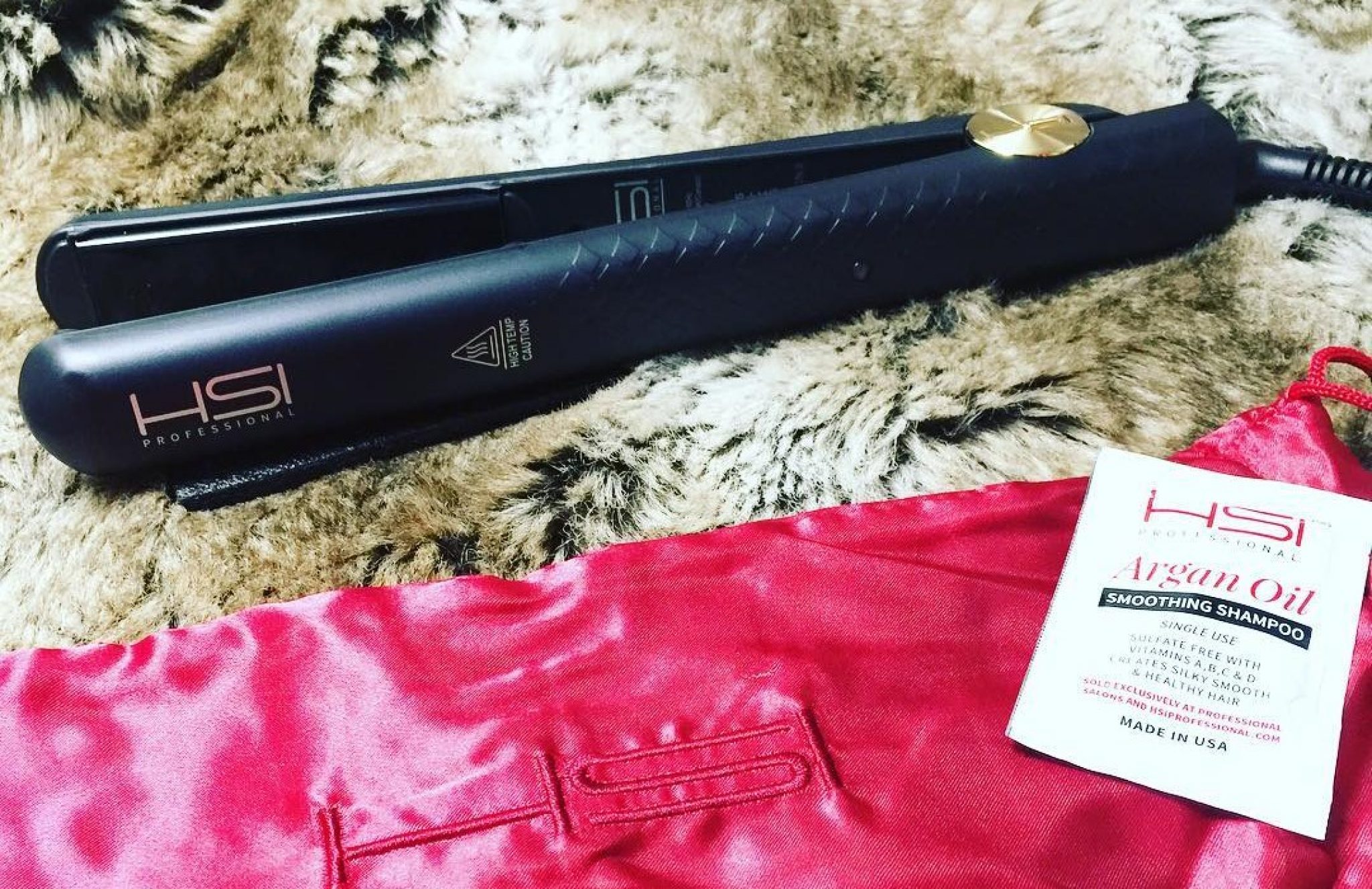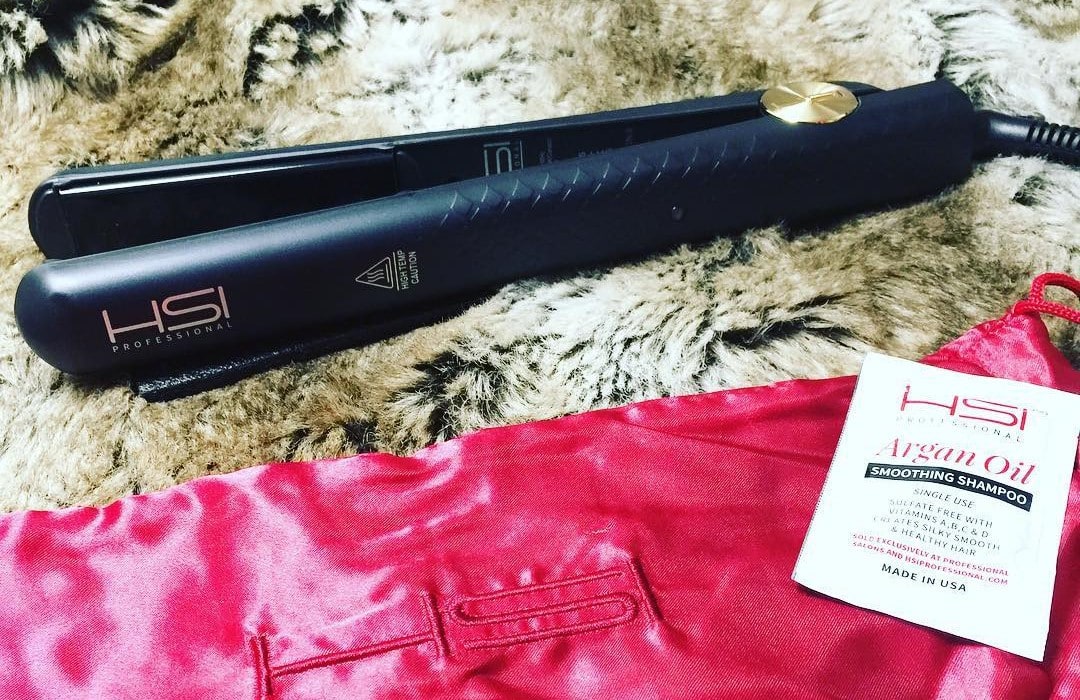 The iron's temperature gauge ranges from 240 to 410 degrees. This is wide enough to give you full control of choosing a preferred level of heat. Most of us dislike feeling the heat on our scalp, and this is the perfect iron for getting rid of that. As well, it has a heat resistant glove that protects you from being burnt.
You can carry your flat iron anywhere you want because it is a dual voltage type of iron, which makes it functional in any part of the world. This tool can be used to perform three functions that include straightening, curling, and giving your hair a flip.
---
PROS:
adjustable temperature;
dual voltage;
lightweight;
100% real ceramic;
versatile – can be used to perform different functions on different types of hair.
CONS:
does not switch off automatically.
---
Frequently Asked Questions And Buyers Guide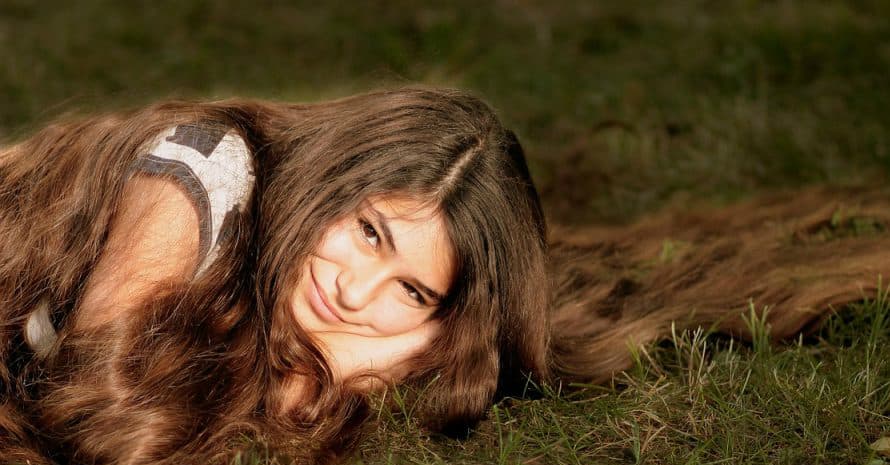 Many users always have questions on how they will get maximum benefits from the straighteners. I have managed to answer most of their concerns and gone further to provide extra tips.
How do I know if I have thick hair?
This may look like an easy thing to identify but do not confuse dense and thick hair. The thickness of the hair is measured by the diameter of one's individual hair strands. Therefore, it is essential to know the difference between dense hair and thick hair to avoid making mistakes when you are purchasing a flat iron.
You can know whether your hair is thick by placing a single strand between your fingers then pull it. If you feel the impact, then your hair is thick. If you do not feel anything, you probably have thin hair. So make sure you identify your hair type first before proceeding to buy a flat iron.
What features should I consider when buying flat iron for thick hair?
With so many hair straighteners in the market, it gets hard to find the best one for thick natural hair that does not damage your hair, has a perfect range of temperatures, and is perfect for styling your hair. Maybe you once compromised some of the qualities you were looking for in flat iron.
This should not be the case at all. You should be able to find an iron that checks all your requirements. You need to determine the hairstyle you want. Is it curly, straight, or flip? This way, you will specifically look for a flat iron that performs these functions. Also, be aware of the level of heat your hair can withstand so that you can know the temperature range you want the flat iron to have.
Additionally, you should find a flat iron that can reach a maximum heat of 400 to 450 degrees. Negative ion technology is an added advantage for any flat iron as it leaves hair looking smooth and shiny.
Lastly, check whether the plates are ceramic or titanium covered. These materials relay heat fast, and therefore you will do your hair quickly. If you have been asking yourself, what is the best flat iron for thick curly hair? Then these features directly answer your question.
What are the best hairbrushes to use while straightening my hair?
Many brushes talk significant about their perfect performance, but they do not work according to the given description. You can get the following brushes to straighten your hair. Remington Pro 2-In-1 Heated Straightening Brush, InStyler Straight Up Ceramic Straightening Brush Glamfields Hair Straightening Brush, and Revlon XL Hair Straightening Heated Styling Brush are my top four brushes for straightening hair.
How do I curl thick hair with a flat iron?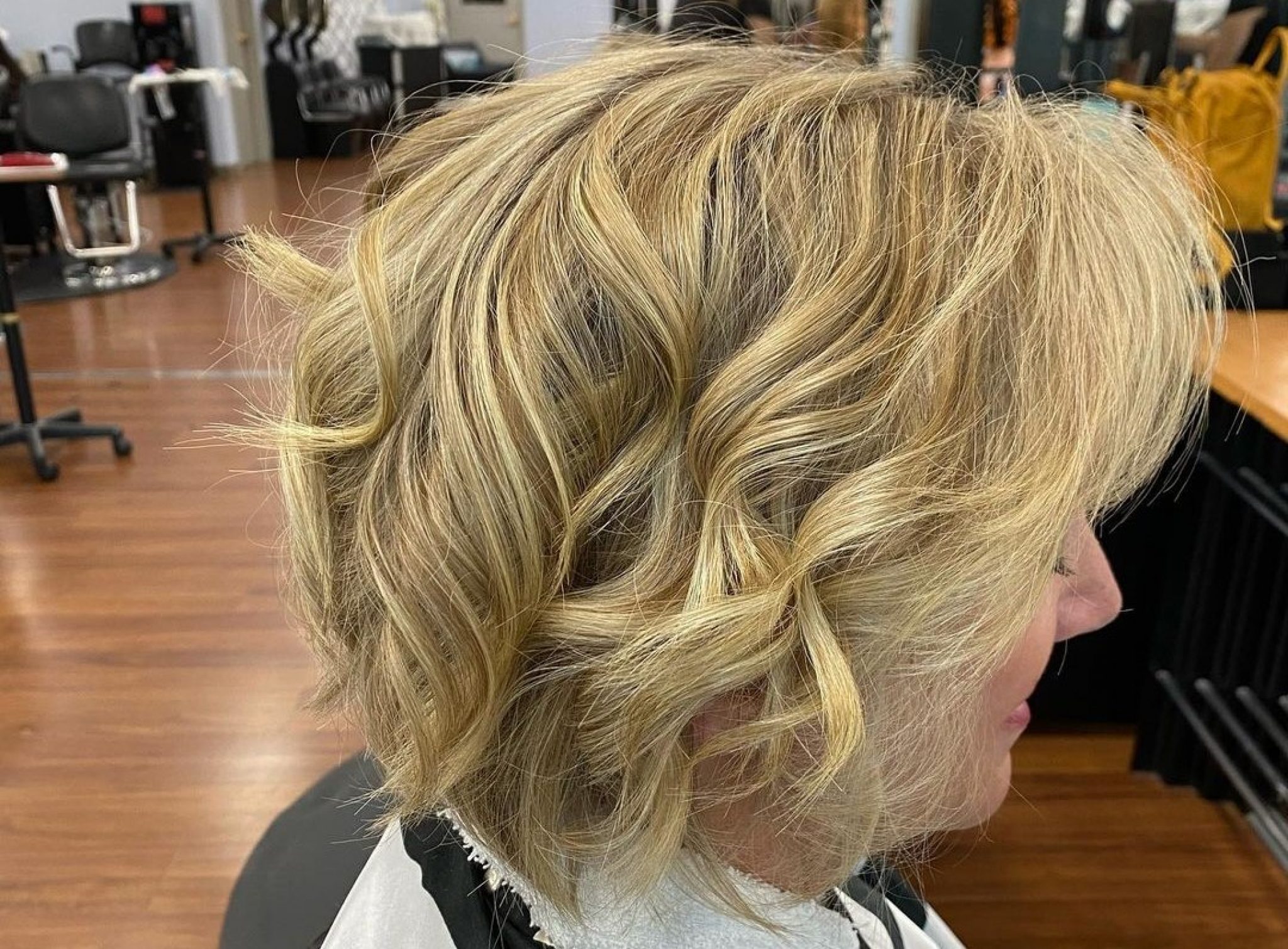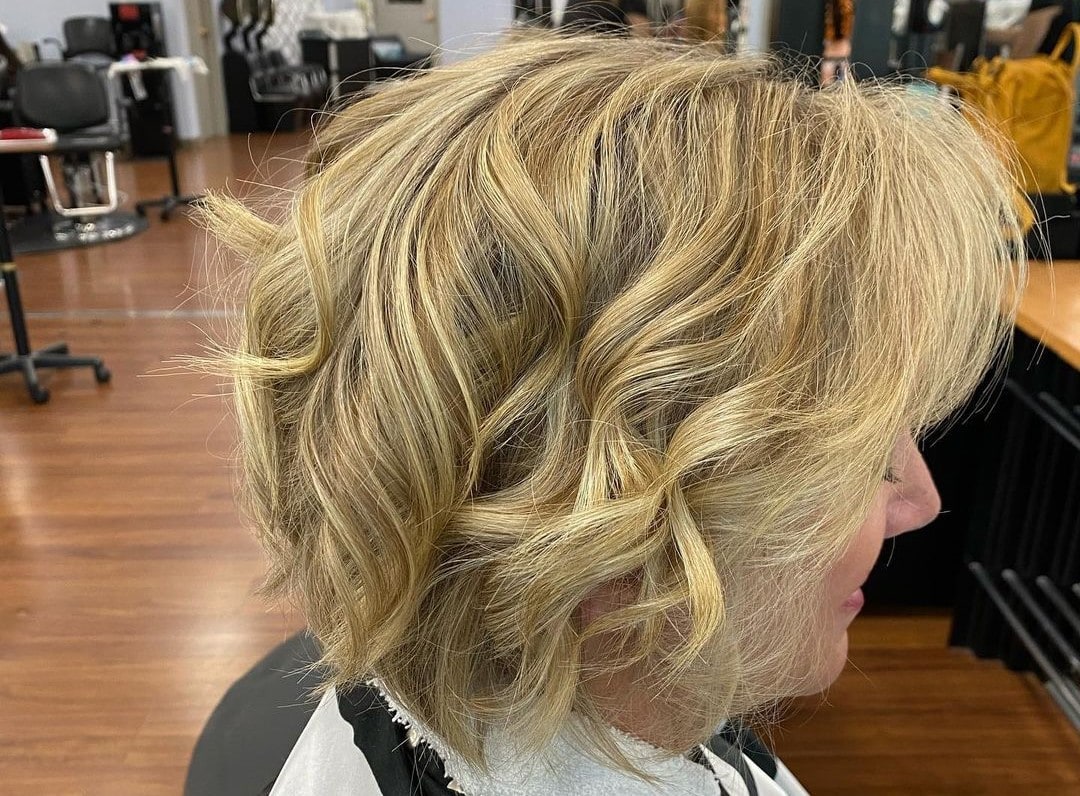 Using a straightener to curl hair should create full, bouncy curls. It takes a little practice and effort, but you will get around it soon. You can follow this procedure to get the curls you have always desired.
First, wash and dry your hair. Damp hair will not curl perfectly, while dirty hair will not hold the curls well or for long. Go with the 1-inch flat irons.
Anything more than this is suitable for straightening hair. Also, choose the ones with round edges to get those circular curls. Divide your hair into sections and start from the back. Hook your comb on the hair then follow it carefully behind by clasping the flat iron on the hair right from the roots. Ensure you do not get too close to the scalp to avoid being burned.
Twist the hair in the opposite direction to get the volume you want. Release every curl and let them fall loosely. The secret to getting good curls on thick hair is to keep the iron moving and avoid wrapping hair around it. After you are done, brush your fingers through to ensure the waves are even.
What Product Is the Best for Me?
Although it wasn't in my top five list, CHI is among the most popular brands in the market for hair styling products. So, according to the characteristics mentioned above, you can get yourself the best CHI flat iron for thick hair if you are a loyal CHI customer. Your hair should not let you down, especially after you have had your nails and makeup is done, and you are rocking in that nice dress.
The least you can do is to give your hair some life with one of the flat irons discussed above. You cannot go wrong with them as they have the right temperature for your hair and other advanced features that still protects your hair from damage. They are versatile and accommodate any hairstyle you want.
These flat irons will maintain the health of your hair as they strive to give you a smooth, silky, and shiny look. Have you ever used one of the brands mentioned above? What was your experience? Which other brands do you prefer? Share your opinions with us through the comments.
Last update on 2022-12-11 / Affiliate links / Images from Amazon Product Advertising API