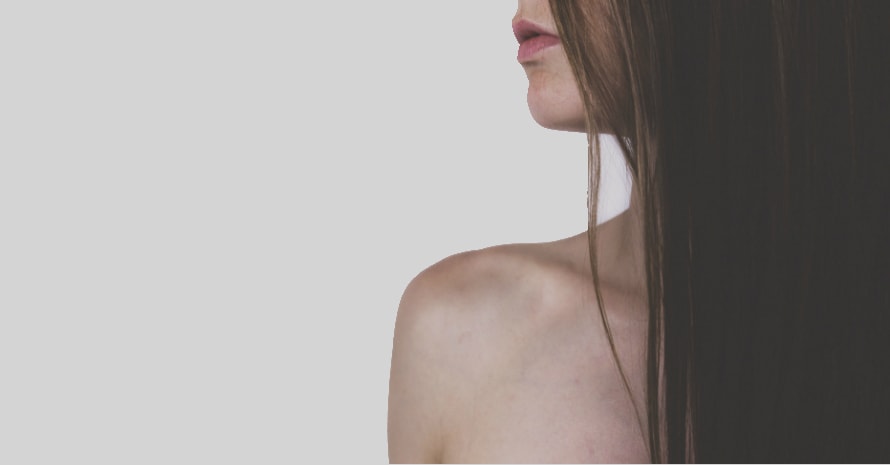 At times we all crave sleek straight hair, but very few are blessed with nature-given smooth and shiny strands – the rest have to depend upon the help of tried-and-true flat irons. Having your locks pressed between two scorching hot plates is a risky business, so make sure you choose the best professional flat iron there is.
While preparing this review, I weeded through tons of modern hair straighteners and selected the top seven most reliable and easy-to-manage models that will suit all your hair needs. Read on to find out which hair tools are considered the very best in 2023!
Pros
Wide range of adjustable heat settings
Adjustable temperature settings (from 235°F to 450°F)
Ultra-zone, predictive technology
Top Pick
Pros
Wide range of adjustable heat settings
Great Value
Pros
Adjustable temperature settings (from 235°F to 450°F)
Premium Pick
Pros
Ultra-zone, predictive technology
7 Best Professional Flat Irons Reviewed
Bio Ionic Magical Stone 10x Pro – Top Pick
RUSK Heat Freak Straight Iron – Great Value for Money
GHD Platinum+ Pro Hair Straightener – Premium Pick
SUTRA Ionic Infrared 2 Salon Flat Iron
CROC Classic Silver Flat Iron
Solano Sleekheat450 Professional Flat Iron
Paul Mitchell Pro Tools Flat Iron
Below is the list of top-7 top-rated professional flat irons I was able to discover through in-depth research and testing. All of the products mentioned therein are reliable and easy to manage tools that you may want to have in your hairstyling arsenal.
1. Bio Ionic Magical Stone – Best Professional Flat Iron Overall
The Bio Ionic Magical Stone 10x Pro model is a beautifully designed salon-grade flat iron with 1-inch wide sonic vibrating plates and Volcanic MX infusions that provide stunning hair straightening results in under 10 minutes. With it, you can enjoy immense hair styling versatility and switch easily between all-straight hair, romantic curls, and elegant waves.
The innovative sonic vibration technology is used here to make gliding through the thickest hair easy, without pulling or tugging. It also helps reduce the overall styling time and arrive at your finished look sooner. The Bio Ionic Moisturizing Heat technology helps condition your hair while you style it by sealing hair cuticles and locking in moisture. It gives your strands a healthier and glossier look.
The tool comes with a wide range of adjustable temperature settings that allow you to heat the styler to 450°F in just 40 seconds. Being fast and effective, the appliance is usually a top pick for users who are willing to invest in a reliable, multipurpose frizz-free styler.
PROS:
Attractive design;
Innovative vibration technology;
Wide range of adjustable heat settings;
Provides a super-sleek finish;
5-year manufacturer warranty.
2. RUSK Heat Freak – Best Pro Flat Iron of Great Value
The RUSK Heat Freak Straight iron is a reliable heat styling tool suitable for everyday use on long and delicate hair. The 1.5-inch tourmaline and ceramic plates of this professional-grade flat iron utilize dual technology – ionic and infrared, which allows effectively managing stubborn frizz of fine hair and smoothening your strands with much more precision.
Its compact size and small weight make this hair straightener an ideal travel companion that effortlessly fits into your luggage and can accompany you on your trips. Finally, this affordable flat iron model comes supported with a 2-year warranty from the manufacturer.
The appliance heats up quickly and evenly. The ergonomic design of the handle offers a comfortable and safe grip on the tool, and the controls are positioned nicely for easy reach. What is more, the Rusk Heat Freak model boasts an adjustable temperature dial, which means you can choose the right temperature for almost any hair type.
PROS:
Ergonomic handle with well-positioned controls for added comfort;
Adjustable temperature settings (from 235°F to 450°F);
Designed for heavy-duty exploitation;
Affordable price.
CONS:
No automatic shut-off feature.
ghd Platinum+ Hair Straightener is one of the priciest picks on the list, though its cost is justified by the superb functionality, luxurious design, and a bunch of innovative hair care technologies. This sleek ceramic flat iron is capable of adjusting its temperature to the type of hair that you have. The predictive technology continuously monitors the temperature of the plates to ensure the best possible results are achieved with a single pass.
The wishbone hinge feature prevents trapping of hair and ensures a perfect alignment of the plates throughout the entire styling session. To avoid any accidents, the new ghd hair styler shuts off automatically and goes into sleep mode after 30 minutes of non-use.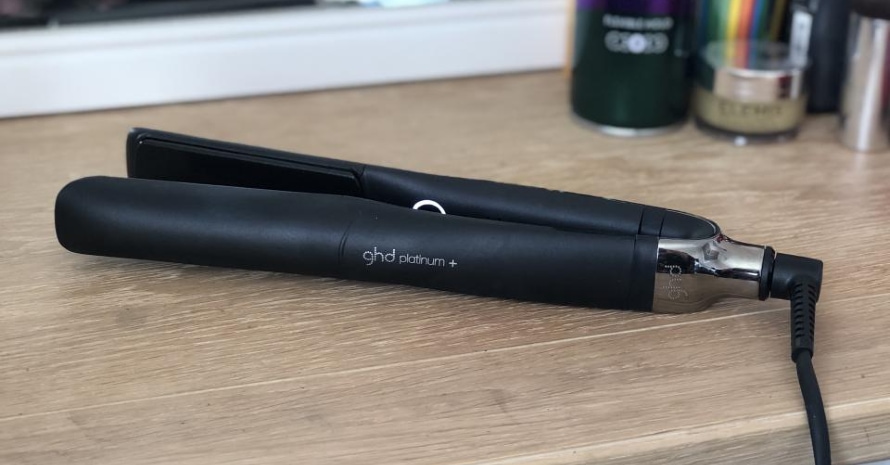 The appliance works equally effectively on all hair types – from coarse and thick to thin and fine.
The 1-inch wide floating plates have a dual purpose – they can straighten your hair in quick and easy passes as well as curl it, creating elegant waves and tight locks with the help of the built-in roller barrel.
PROS:
Exquisite and modern design;
Ultra-zone, predictive technology;
Floating plates for added flexibility;
Universal voltage;
3-year warranty coverage.
4. SUTRA IR2 – Hair Salon Flat Iron for Coarse Hair
In the SUTRA Ionic Infrared 2 flat iron, the inch-wide titanium plates work together to deliver uniform heat to the hair and heat it from the inside out, thus minimizing the damage to the external layers. The Negative Ion Projector seals cuticles with each stroke, ensuring a frizz-free and shiny look of your hair.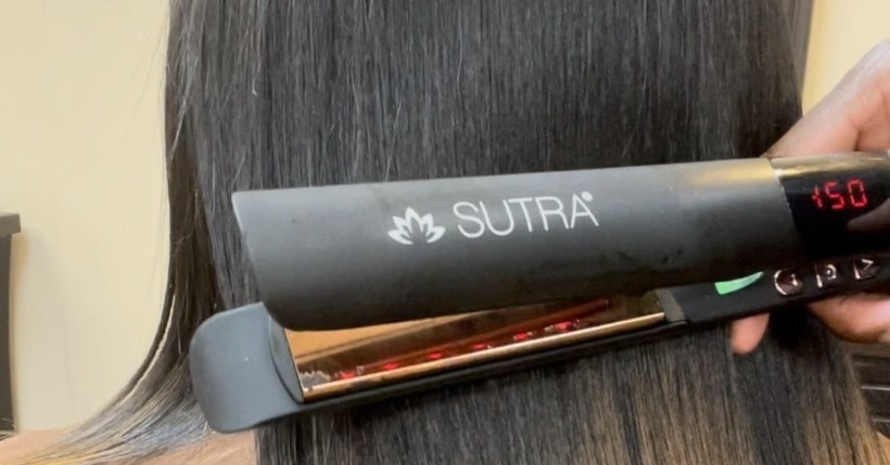 The energy-efficient MCH technology utilized in this model allows you to save time by offering an almost instant heat recovery from 170°F to 450°F. The dual functionality of the device makes it possible to use the SUTRA flat iron as a hair curler. Its round-edge design facilitates curling, and the impressive variety of heat settings allow the curls to last as long as you want them to.
PROS:
Infrared technology minimizes hair damage;
Adjustable heat;
Travel-friendly, dual voltage appliance;
Automatic shut-off feature.
CONS:
Some may find it a bit expensive.
5. CROC Classic – Best Salon Flat Iron for Straightforward Use
The CROC Classic Silver Flat Iron is a salon-quality hair straightener that makes it possible to manage your hair like a professional stylist. The model comes with silver titanium floating plates that have a 1.5-inch surface area for maximum straightening efficiency. The choice of temperature settings is rich, ranging from 200°F – 450°F.
The nano-silver technology not only ensures that your hair retains its moisture and looks shiny and healthy but also makes the CROC Classic Silver flat iron a low-maintenance option with less cleaning effort required. The innovative venting system helps avoid overheating and prevents unnecessary damage to your hair.
It is a lightweight tool with an ergonomic and attractive design, though some users may find it too bulky for travel. However, with all the added technologies, dual voltage capability, a variety of adjustable heat settings, the CROC Classic Silver model makes a great everyday straightening choice for all hair types.
PROS:
A low-maintenance option due to innovative nano-silver technology;
Auto shut off;
18 temperature settings;
Heats up relatively fast.
CONS:
A bit bulky.
Pricier than other options in its class.
6. Solano Sleekheat450 – Professional Grade Flat Iron for Curly Hair
The Solano Sleekheat450 model is a top-quality heat styling tool trusted by professional hairstylists. With five different temperature options ranging from 170°F to 450°F, you can easily find the setting that will match your preferred heat level. The Solano Sleekheat450 is a multipurpose tool that can be used as a hair straightener, a roller, and even help change your naturally tight curls into a more playful wave.
The 1.25-inch ceramic plates work most nicely on medium-to-long thick hair, offering sleek and elegant styles without any damage. The ceramic material heats quickly and evenly and stays consistently hot. The tourmaline crystal infusions prevent frizz and help your hair retain moisture, making strands look shiny and smooth.
The ergonomic, rounded-edge design of the appliance is very user-friendly, and the extended 9-foot power cord gives you more flexibility with your movements. Weighing only 12 ounces, the Solano Sleekheat450 straightener is a travel-ideal option.
PROS:
Easy temperature control;
4-sided beveled plates ensure smooth gliding;
Lightweight model;
Far-infrared ion technology;
Dual voltage.
CONS:
Pricey;
No auto shut off.
7. Paul Mitchell Pro Tools Express Ion Smooth + – Best Professional Straighteners for Short Hair
The Paul Mitchell high-end flat irons utilize an advanced Express Ion Complex Technology that guarantees a gentle effect on hair and ensures its incredibly shiny and healthy look.
For further convenience, the tool has an LCD digital screen that allows users to adjust temperature settings according to their immediate needs. Another positive feature worth mentioning is the dual voltage function that, along with the straightener's compact size, makes it possible to use the appliance on your foreign trips.
Equipped with 1.25-inch cushioned ceramic beveled plates, the straightener can heat up to 410°F in under a minute, requiring only 5 seconds to recover heat.
PROS:
Comes in a travel-friendly size;
Versatile functionality;
Express Ion Complex technology gives your hair a healthier look.
CONS:
No automatic shut off;
Not very durable.
Professional Flat Iron Buyer's Guide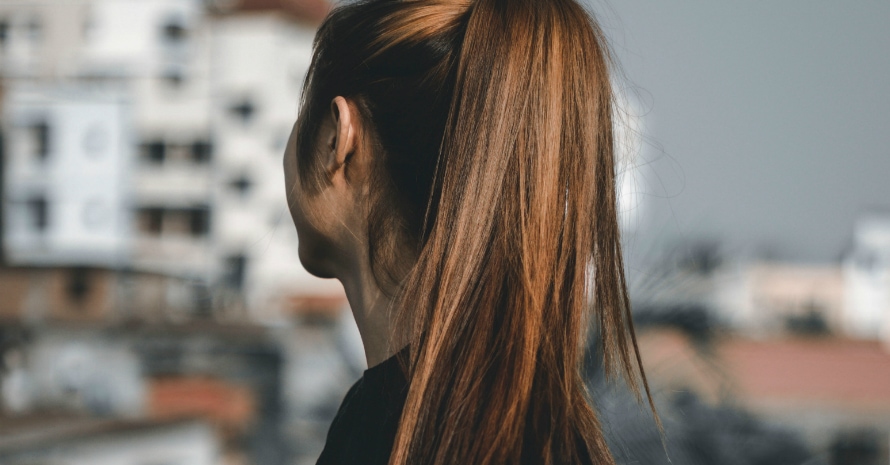 When shopping for an easy-to-manage and reliable hair straightener, one may feel completely overwhelmed with the number of options available. There are dozens if not hundreds of flat irons that differ in size, shape, plate material, number and variety of heat settings, etc.
This buyer's guide is designed to help you find out what it is that your hair needs. I will share my smarts on the subject and teach you to choose the one professional grade flat iron that meets your every need and turns your hairstyling routine into an exciting experience. Read on to make sure you invest your money, time, and efforts into the right product.
How is a salon-grade flat iron different from the ordinary one?
Compared to more costly hair salon flat irons, consumer-level products often do not provide enough staying power to keep your styled hair straight throughout the day. If a hair straightener fails to produce enough consistent heat, your hair will quickly get back to being frizzy, especially on a damper day.
Professional products usually require you to apply minimum heat on your hair to get a perfect and consistent result, whereas, in cheaper flat irons, the heat level will often fluctuate, causing irreparable damage to your locks.
What to look for in a professional flat iron?
It is essential to know what to look for when picking a new flat iron if you want this appliance to last you for years and protect your beautiful locks from unwanted damage. Here are some of the most crucial aspects you will need to consider when you shop for a hair straightener.
Overall shape
Despite what the name suggests, not all professional straightening irons are flat. Their versatility depends on their shape. Thus, mildly rounded plates can turn a traditional hair straightener into a curling iron if needed, and sharp edges will give your hair a very straight look.
Plate size and width
The right size and width of plates depend on the length and thickness of your hair locks. Wider plates will get the job done faster, but if your hair is fine and short, you should probably opt for a flat iron with plates of just 1-1.5 inches. Narrower plates are also handier when trying to reach hard-to-access places.
Plate material
Considering your hair texture, you can choose one of the three most commonly used materials – titanium, ceramic, and tourmaline.
Ceramic plates work most nicely on fine hair, both light and coarse. They distribute heat evenly and can keep a reliably hot temperature for as long as you need. However, flat irons with ceramic coating tend to wear down with time.
Titanium plates will easily manage even the most unruly hair. Quickly heating to higher temperatures, these flat irons can make short work of very coarse and thick hair.
Tourmaline is a material that belongs to the boron silicate mineral group. Ground down to fine powder and infused into ceramic plates of a flat iron, tourmaline produces more negative ions and helps protect damaged hair by trapping the moisture within the hair.
Temperature control options
Higher heat means faster results, but not all types of hair will benefit from too hot irons. If you want to minimize the damage to your hair, choose an appliance that comes with adjustable temperature settings, and then use the lowest heat option that produces the intended effect.
Price vs value
There is no denying that miracles do happen, and you may be lucky enough to purchase a $20 appliance with premium-grade functionality. Most of the time, however, you will find the quality of a cheaper product to be in direct correlation with its cost, and at some point, you may regret not opting for a higher-priced pick.
Professional Flat Iron FAQ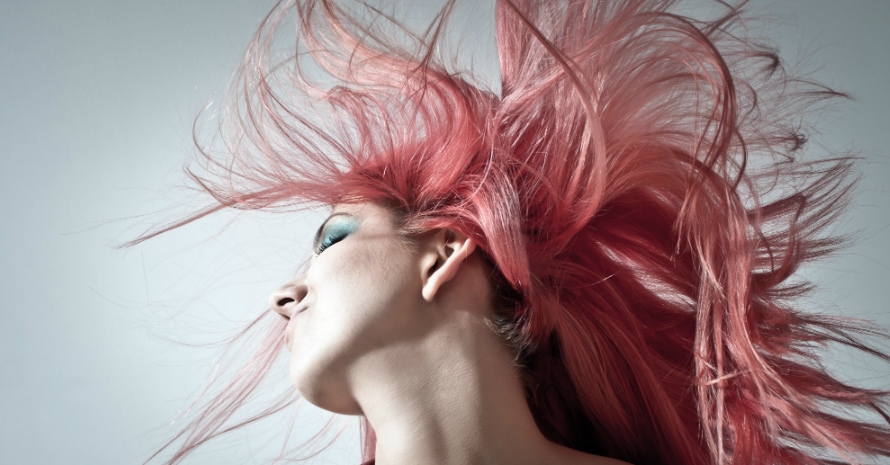 Below, I'd like to provide you with the most common questions people have when buying a flat iron.
Do I need professional flat iron?
While they are a costlier option, professional straightening irons can give you salon-grade results without the need to use chemicals or expensive products for styling your hair. Besides, these appliances are usually made to treat your hair with more care and delicacy, so damage from long-term use will be minimal.
How will I know if the temperature setting is correct?
Professional flat iron reviews say that the secret to gorgeous-looking straightened hair is choosing the right heat setting. Do opt for straighteners with adjustable heat controls rather than fixed ones.
Stick to the lowest possible temperature setting that allows you to get the desired result in one quick pass. Many stylists claim the most optimal temperature for a flat iron to be around 365° F.
How often can I use a flat iron?
Even the best pro flat iron can harm your hair if used incorrectly or too often. Experts agree that there ideally has to be a 24-hour gap between the two sessions. If styling your hair every other day is not an option, you can minimize the damage by choosing the right type of straightener and using a suitable heat protectant.
When All Is Said and Done
Finding a reliable and safe salon-quality hair straightener today is not as difficult as it once used to be. The choice is immense, and the functionality of such appliances keeps improving steadily.
Having spent enough time researching the subject, I highly recommend paying attention to the innovative Bio Ionic Magical Stone model, which offers a perfect value/price balance and can suit the needs of all types of users.
What characteristics of a professional flat iron do you find the most crucial? How often do you use a straightener to style your hair? Feel free to join the discussion in the comments section below and share your thoughts on which flat iron models should make it to my next year's top-7 list.
Last update on 2022-12-11 / Affiliate links / Images from Amazon Product Advertising API