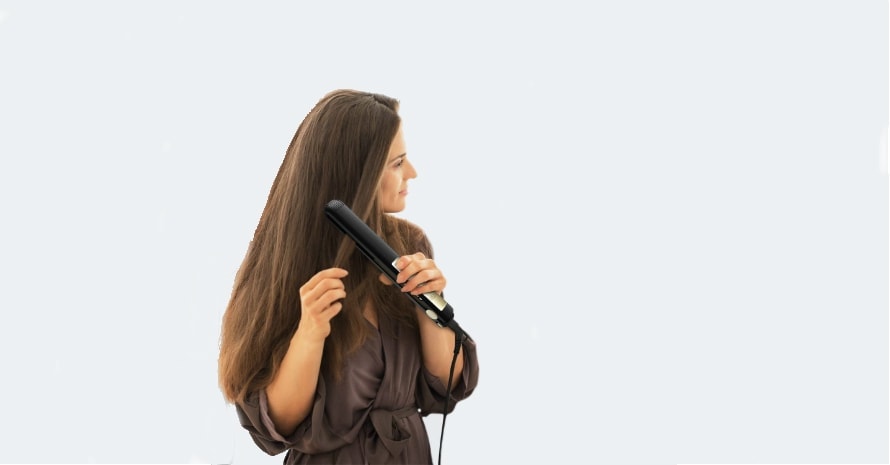 Whether you want to change your style with a new style or get a shorter haircut, the silk press is perfect for this purpose. The main thing is to choose the right flat iron, which will take good care of your hair. Choosing the wrong tool can damage and ruin your naturally curly hair. No hairstyle is worth it.
In this piece, I will tell you how to make a silk press without damage or brittleness. Here I have the seven best flat iron for silk press to help you to choose the perfect one for your hair.
Pros
Tourmaline and ceramic plates
Runner Up
Pros
Tourmaline and ceramic plates
Top 7 Best Flat Irons for Silk Press Reviewed
ghd Gold Hair Straightener — My Top Pick
RUSK Engineering Heat Straight Iron — Runner Up
BIO IONIC Onepass Straightening Iron — Premium Pick
CHI PRO Straightening Hairstyling Iron
BaBylissPro Nano Titanium Straightener
INFINITIPRO BY CONAIR Flat Iron
KIPOZI Professional Flat Iron
Finding the best flat iron for natural hair silk press is not an easy task. You are welcome to take a look at these some of the best styling tools I recommend.
1. ghd Gold Hair Straightener — My Top Pick
It is the perfect silk straightener, and it's my top pick because it can manage even the thickest hair. This ghd flat iron is made with high-quality materials to be robust and durable. This tool does not overheat, which means you can not be afraid of burns and hair damage. It also protects your color, so you don't have to worry about too frequent hair coloring. It's also a good option if you want to find out how to straighten natural black hair without damages.
The model is lightweight and provides convenient work. Furthermore, it's one of the safest straighteners to use because it has a sleep mode. If you don't use it for half an hour, it automatically turns off.
A. Power and temperature conditions
Instead of relying on one heat sensor per plate, the Gold Styler has two, which ensures even heat distribution throughout the hair. This factor helps to speed up and simplify the straightening process. It takes 25 seconds to heat Gold Styler, and you can quickly start styling your hair.
This flat iron has a ceramic coating. Thanks to the uniform temperature distribution on the ceramic plates, all hairs are subject to the same temperature regime. Ceramic also glides perfectly through the hair without damaging its structure.
The plate size of this straightener is 1 inch. Dimensions: 4.02 x 5.98 x 5 inches.
PROS:
Ceramic coating;
Fast heating;
Turns off automatically.
2. RUSK Engineering Heat Straight Iron — Runner Up Silk Press Hair Straightener
Engineering Straight makes hair shiny and leaves its natural look. Like all high-quality Rusk tools, this flat iron is convenient for salon professionals and home use. This device is an excellent option for the creation of smooth styling without frizzy hair. This Str8 ceramic and tourmaline iron is easy to use, and you don't have to waste a lot of time to get the perfect result. You can get more volume, moving from the roots, and the tool will gently straighten your hair.
A. Power and temperature conditions
One of the main advantages of the Rusk Flat is its adjustable temperature scale, which makes it suitable for all hair types.
Its tourmaline ceramic plates provide precise and instant heating every time. Besides, it also distributes natural ions and far-infrared heat for optimal hair straightening.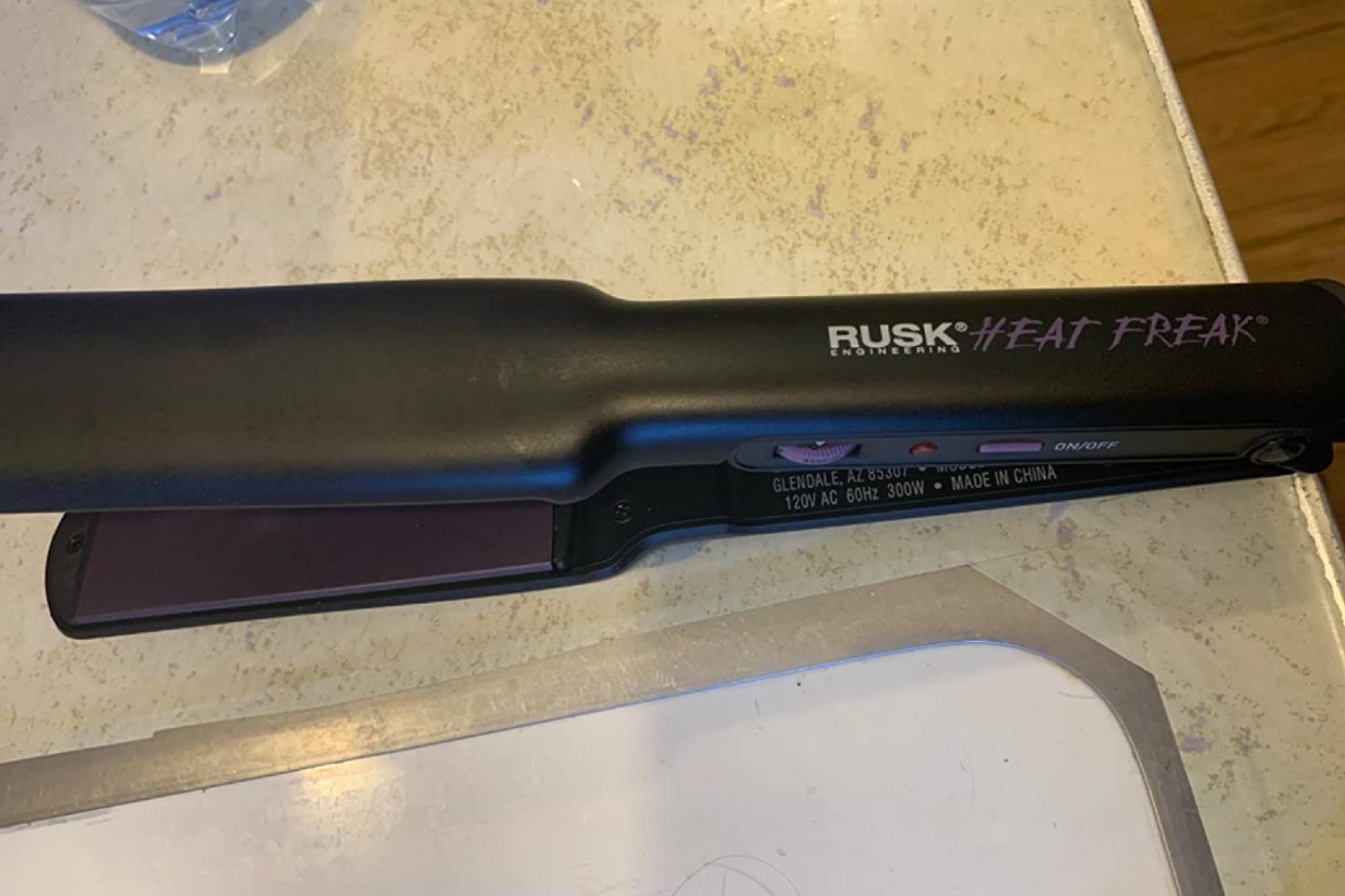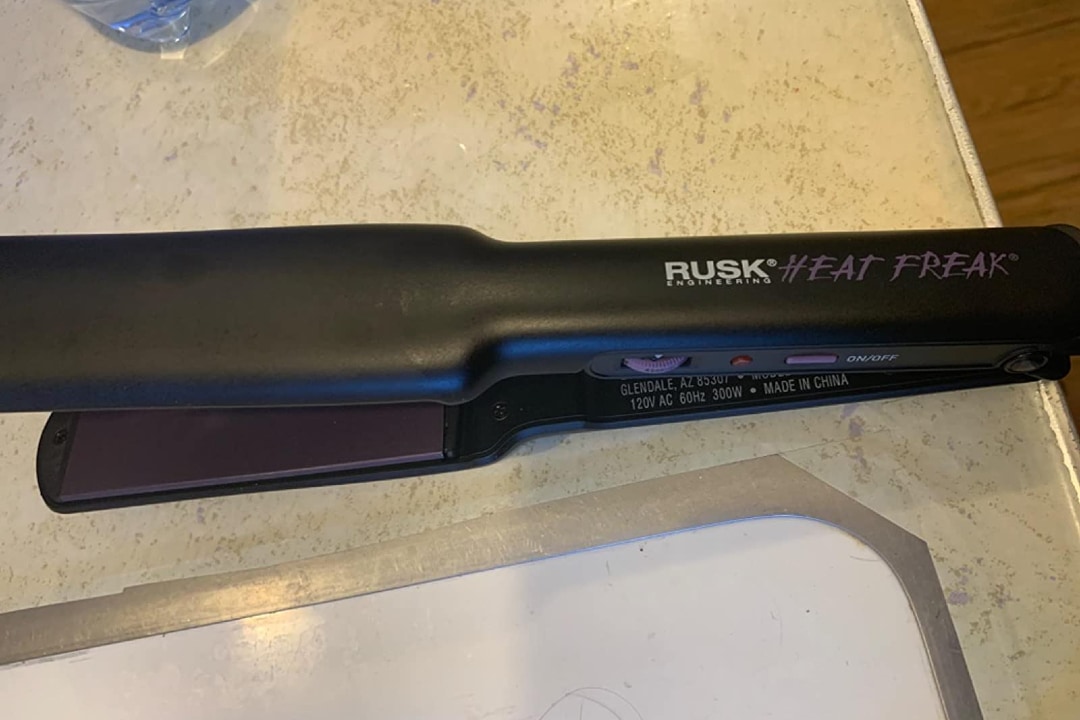 The plate size is 1.5 inches, and the width is 1 inch. The plates are wide enough so you can get the best results with less hair care.
PROS:
Tourmaline and ceramic plates;
Adjustable dial;
Easy-to-use.
Bio Ionic OnePass is the professional's choice that you can also use at home. It's all about the ions. They are in this iron and will make your hair shine. The long, professional cord, rounded edges of the tongs will provide you with fast and effective styling. This Straightening Iron perfectly straightens hair and also has a temperature control function and LED display.
The tool does not cause damage or dry hair. Negative ions and infrared energy condition the hair, giving it not only shine but also softness. Another feature of Bio Ionic OnePass is the patented NanoIonic mineral that moisturizes and repairs dry, damaged hair.
A. Power and temperature conditions
The device has a heating function in five seconds. Multi-level heating control makes it easy to select the ideal temperature to create a durable silk press. The iron heats up to 400 degrees Fahrenheit so it can handle even the thickest hair.
The heating plates are impregnated with silicone and allow for jam-free straightening. The plates are made of ceramic, which means the hair will slide between them without jamming or overheating.
There are 1-inch plates, and the width of the plates is 2.75 inches. Since the plates heat up evenly and are wide enough, styling won't take much time.
PROS:
Hair recovery;
Ceramic coating;
Fast heating.
CONS:
The most expensive model.
4. CHI PRO Straightening Hairstyling Iron — Super Customizable Straightener
This iron is equipped with various advanced features. For example, there are color-coded digital temperature settings here. You can easily adjust the temperature for the safe silk press. Display blue is suitable for delicate hair, green for medium to wavy hair. In case you have coarse and unmanageable hair, you need a red heating level.
During work, the CHI straightener tends to emit moist heat and a stream of positively charged ions, which do not dehydrate the hair, so it does not dry out or burn out. With this titanium device, your hair becomes incredibly smooth and manageable.
A. Power and temperature conditions
This iron is incredibly easy to operate and tailor to your hair type, so it stays natural and healthy after straightening. The device is equipped with a 60-minute automatic shutdown function. Heating takes place in 40 seconds and LED adjustable heating parameters.
Titanium plates are durable and provide tangle-free and gripping styling. Like many modern models, this device is equipped with ionic technology that takes care of your hair during the straightening process.
Plate width 3.25 inches, plate size 1 inch. These parameters are optimal for fast and smooth heating and easy styling.
PROS:
Adjustable heating;
Easy-to-use;
Ionic Technology.
5. BaBylissPro Nano Titanium Straightener — Ultra Slim Flat Iron Press
It is one of the best titanium silk press irons and is ideal for hair over 10 inches as it glides smoothly over longer strands of hair. The device smooths out curves and gently removes frizz. Babyliss will give your curly natural hair a salon-quality silk press that will resist wet climates for a long time.
Besides, this model is one of the lightest. Despite its thinness, the device is made of durable materials: which also resist corrosion. Ionic technology to protect your hair is also present.
A. Power and temperature conditions
This appliance has 50 heating options—maximum temperature of 450 degrees Fahrenheit. You can choose the temperature range that suits you. It is excellent for those who are afraid to ruin dry hair or hair prone to breakage.
The ceramic coating on the plates will help you give your hair its natural shine and keep it healthy. You can simply run from roots to ends with iron and get a straight, beautiful strand.
The iron has wide 2-inch plates. The plate size is 1 inch for fast heating. The parameters of the plate allow you to capture larger hair sections when straightening and make styling faster.
PROS:
LED settings feature;
Durable materials;
Slim design.
CONS:
Not the best option for thin hair.
6. INFINITIPRO BY CONAIR Flat Iron — A Budget Option of Ceramic Iron
The Infinity Pro Conair iron is equipped with a heat shield. It can be put on over the straightener after use. It is convenient because you may not have to worry that the device will ruin the surface on which it lies. There is an automatic shutdown function that also works to protect your home from fire.
A. Power and temperature conditions
The Infiniti Pro offers five heating modes and auto shut off, moisture protection, and fast heat up. You get the smoothest straight hair because the floating plates provide the best contact with the strands. This way, your hair will stay healthier as you don't have to straighten the same section over and over again. The maximum heating of the device is 450F.
The heating material is made of tourmaline ceramic that gently heats each strand of hair. It also eliminates static electricity and eliminates tarnishing.
Appliances with thin heating plates are ideal for making silk presses. Simultaneously, the slightly wider 1.5-inch plates of this iron allow you to work on large hair sections.
PROS:
Fast heat-up;
Tourmaline coverage;
Ionic Technology.
7. KIPOZI Professional Flat Iron — The Safest Option For Your Silk Press
This device can be considered the safest to use the most advanced thanks to the automatic shutdown function. The automatic shutdown time is 60 to 90 minutes. You will have enough time to do the styling, and at the same time, nothing terrible will happen if you forget to turn it off.
Furthermore, the device is made of robust, high-quality materials that make it durable. This flat iron is also a good option if you wanted to find out how to flat iron short natural hair silky straight.
A. Power and temperature conditions
The tool heats up quickly. Thanks to the advanced PTC heater, it happens in 30 seconds. Select the temperature, and it will appear on the digital display. You can also choose a mode for healthy or brittle hair. It is a great feature that you can use if you don't know what temperature you want.
Nano-titanium plates work with negative ion technology. It means that your hair will be hydrated, even without the use of additional products. This factor makes KIPOZI an excellent silk press option, as the hair will have a natural shine and smoothness.
The plate size is 1 inch, and it's three inches wide. These are the optimal parameters for the iron to be easy to use. Start at the roots for longer styling.
PROS:
Suits for short hair use;
Heats up quickly;
Super safe.
Buyers Guide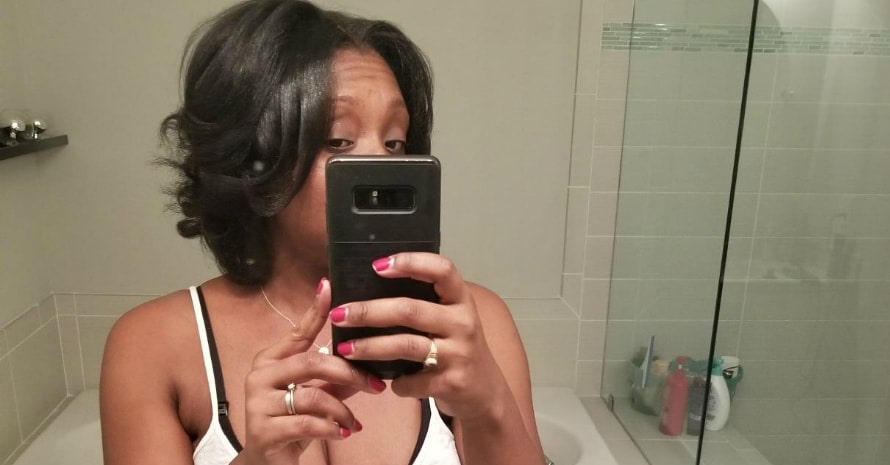 In this section, you get more information about the best silk press flat iron and the procedure itself. I also have a few tips for you.
What is a silk press?
A silk press is a hair straightening without the use of additional substances such as keratin and so on. Unlike any other type of straightening, silk pressing focuses on a smooth, shiny finish. At the same time, the hair must maintain its color and elasticity. It means that your hair will look more natural without sticking or tangling.
The origin of this technique is not precisely known. But this gives an excellent chance to change your hairstyle without damaging your natural hair and without damaging the pattern of natural curls.
How to choose the best flat iron for silk press?
The classic silk flat iron is a tool with two flat plates. You need to wait until the plates are heated, place a lock of hair between them, and draw from top to bottom. The power of the tool affects the plates' heating rate and the limiting temperature with which it can operate. The higher the power rating, the faster the plates will heat up to the set temperature. The power of flat irons ranges from 20-60 W, and professional rectifiers are 60 W and above.
The look and health of your hair depend on the coating of the plates. It also mainly affects the price and durability of the tool. The main types of coatings that you can find on the market are:
Titanium
Ceramic
Tourmaline
You can get a budget hair straightener with titanium plates.
Even though such straighteners have an enjoyable price, the consequences of their use may not be the most pleasant.
Ceramic coating is the most common and convenient to use. The plates of this material are safe and don't cause damage to your hair. They also can save you a lot of time, because this material heats up quickly and evenly. Ceramic plates are also easy to clean, which is also a great advantage. It is enough to wipe them with a napkin or a piece of cloth from time to time.
Tourmaline allows you to straighten your hair very quickly without causing any trouble. The procedure will be easy and enjoyable, even with the thickest hair. Furthermore, this material removes static electricity. Due to this fact, you'll never find stuck hair on the plates of your flat iron, and your hair will stay shiny.
Thanks to the beneficial properties of tourmaline, which smoothen the hair cuticles, harmful substances from the outside do not penetrate the hairs. Besides, even with daily exposure to the iron on your hair, it will remain healthy and smooth.
The sizes of the plates can range from 0.5 to 1 inch. Accordingly, wider tools are designed for long hair. Choosing an iron, you should take into account the type of hair. For example, plates up to 0.7 inches wide are considered to be the best option for short haircuts. If the hair is thick and heavy, increase the width to 1 inch. If it's not enough, you have to pay attention to the plates from 2 to 3 inches.
Before buying, it is essential to pay attention if the product has detailed instructions for its use. It is one of the main signs that the manufacturer cares about its customers and delivers a high-quality product for sale. Besides, it will be much easier to understand the intricacies of its use thanks to the instructions.
Main selection criteria
Plate material
Plate width
Form and type of plate attachment
Clearance between plates
Maximum temperature and thermostat
Heating time to maximum temperature
Tips to silk press your hair
First, you should wash your hair using cosmetics like shampoo and conditioning. It's very important to have your hair moisturized before you start silk pressing. Then, apply a special styling along the entire length of the hair, among which thermal protection functions are also noted. It is best to choose cosmetics from trusted manufacturers.
Next, dry your hair. Better to apply a hairdryer using brushing. It is essential to dry your curls with high quality and use the iron exclusively on dry hair. Otherwise, you can seriously spoil their appearance and the health of your hair.
Straightening should start from the back of the head, after dividing the hair into several small strands. To make it more convenient to act, you should stab all the remaining strands on the back of the head and then gradually get out of them one by one. The thinner the straightened strand, the smoother and more attractive it will be as a result. The styler should be moved from the roots of the curls to their tips. You can read the full guide on how to silk press your hair if you need more information.
If you want to keep styling for as long as possible, I recommend handling them carefully, even in sleep. For example, you can neatly fold and pin your hair around your head, keeping its straight structure, and wrap it overnight with a piece of silk fabric. This way, your hair will not frizz and wrinkle while you sleep.
FAQ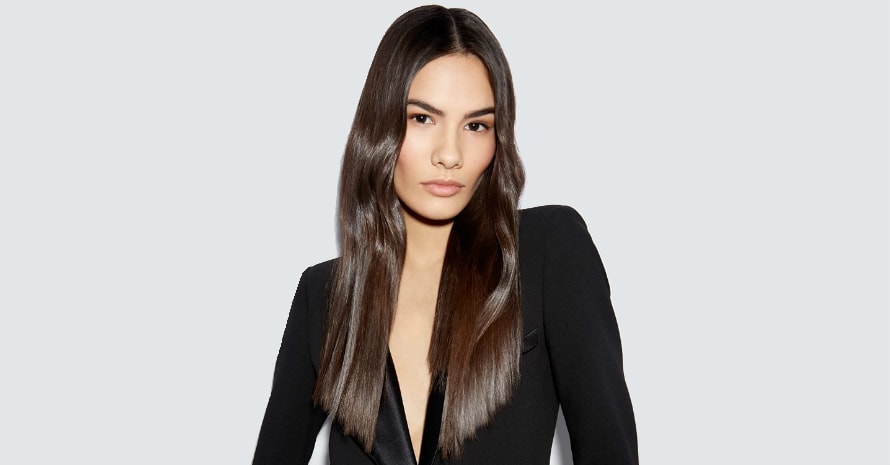 Here I have the answers to the most popular questions about silk press iron. I hope this will make your idea of ​​this procedure complete.
What type of flat iron is best for silk press?
The most suitable coating for silk press plates is tourmaline ceramics. This material is most delicate to hair, even if it is brittle or colored. It's all about the negative ions that this material produces. They give the hair a healthy look and leave a shiny finish.
How do I keep my silk press from frizzing?
You can use several different means to keep your silk press looking neat for as long as possible or to repair it on the go. It would be great if you have a hair oil that adds smoothness and maintains shine. I also recommend using humidity-resistant hair spray, which will protect your styling even if it rains.
What is the difference between flat iron and silk press?
The silk press can be classified as flat ironing methods. It makes hair look natural and shiny. The main difference is that the only difference is that the result of a silk press is straight and shiny hair, and after flat iron, hair may have a various look.
Silky Press Tools Verdict
As you can see, there is no problem to choose an excellent flat iron model for any budget. Any of these models can be used for straight, shimmery hair that looks natural. The best option is ghd Gold Hair Straightener.
This tool has all the necessary functions, heats up quickly, automatically distinguishes, and takes care of the hair. With it, you can quickly get a result that will last long enough. Are you doing a silk press? Which model do you think is the most suitable for this procedure? Share your thoughts in the comments section.
Last update on 2022-12-11 / Affiliate links / Images from Amazon Product Advertising API