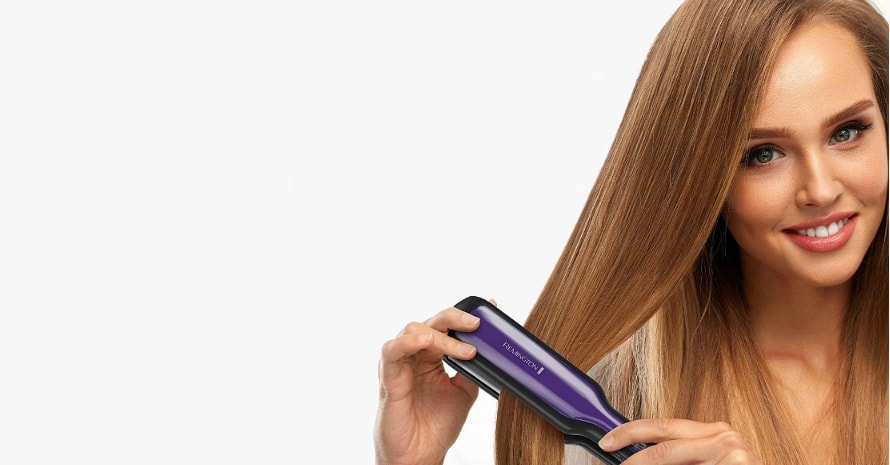 When it comes to beauty technology, Remington is a brand that hardly needs to be introduced. The company offers a wide selection of affordable yet well-built devices for various purposes with a special focus on hair care. That's why you're bound to come across highly competitive models by this brand when shopping for a hair straightener. But what is the actual best Remington flat iron?
This article will guide you through 7 outstanding representatives of the company's wide product range, each boasting a unique set of features that makes it perfect for certain settings.
Pros
30 heat settings with a max of 450°F
High maximum heat with 5 settings to choose from
Runner-up
Pros
30 heat settings with a max of 450°F
Great Value
Pros
High maximum heat with 5 settings to choose from
Top 7 Best Remington Flat Irons
Remington S8598S – Top Pick
Remington S9520 – Runner Up
Remington S9130S – Great Value
Remington S5520
Remington S9520
Remington 8510
Remington S7330A
Below are my first-hand reviews of some of the best Remington hair straighteners and what's so good about them. Make sure you pick the right model for your situation!
1. Best Remington Hair Straightener S8598S: Top Pick
This model prioritizes damage control, which is good news for everyone who tends to abuse their beloved styling tools. From straightening to beach waves and everything in between, frequent heat styling does harm our locks. Remington S85985 uses the company's proprietary SmartPRO sensor to measure how much moisture there is in your hair and adjust the heat that it applies to it accordingly.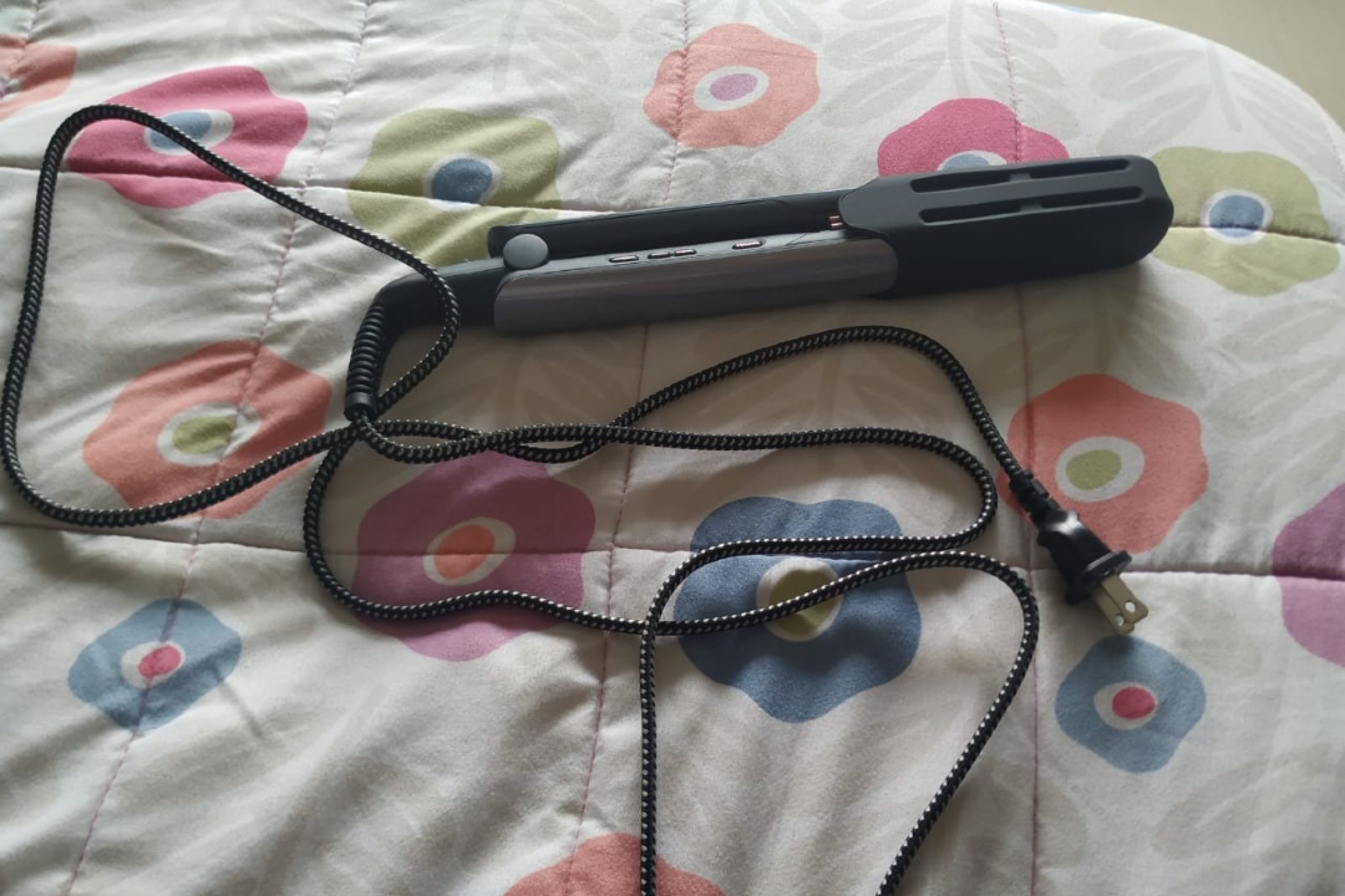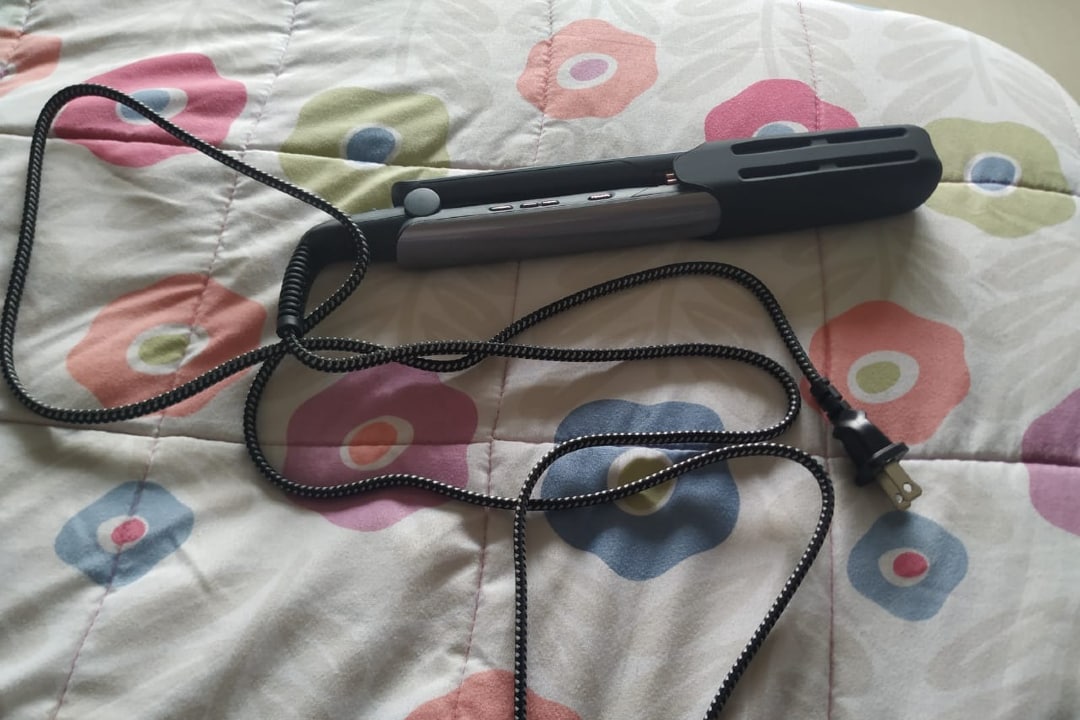 The versatile 1-inch heating plates in this model use a floating design. This enables them to stay in contact with the strand they are working on, making it a foolproof styling experience. They are made of ceramics infused with keratin and almond oil. The substances act as micro-conditioners, giving the hair an even sleeker appearance with no sign of greasiness.
This iron has a maximum heat mode of 450 degrees Fahrenheit. This is more than enough for most hair types and nears salon standards, but don't fret if this sounds like too much — you'll have 5 settings to choose from, and then there's the SmartPRO feature. The pre-set temperature is generally achieved within 15 seconds.
Complete with a tangle-free cord, S85985 is the easiest to use and safest flat iron by Remington currently on the market, although surely not the cheapest one.

PROS:
Uses a smart sensor technology to adjust the heat based on hair moisture content;
Floating 1-inch heating plates make it quick and easy to use;
Ceramic plates infused with keratin and almond oil for conditioning and protection;
High maximum heat with 5 settings to choose from;
Quick heat-up.
2. Best Remington Straightener for Flexibility S9130S: Runner Up
Another 2-inch model on our list, this flat iron has an almost infinite potential for fine-tuning. It offers no less than 30 heat settings, the maximum being as high as 450°F. Complete with a heat-up time of just 15 seconds, this makes it a quick enough model for home users looking for salon-quality styles.
The heating plates boast Remington's floating design for smoother passes and contain 10 times as much ceramics as the average straightener by this brand. This material is valued for even heat distribution, making it unlikely to burn your hair. The Thermaluxe™ heat technology used in this model helps create styles that last throughout the day.
S9130S is not especially budget-friendly but offers a lot of protection and will surely appeal to those who tend to get control-freaky when it comes to their locks.

PROS:
Big plates offer a lot of coverage for long and thick hair;
Floating plate design for smooth gliding;
Lasting effect;
Protective Thermaluxe™ ceramic plates;
30 heat settings with a max of 450°F.
CONS:
Not particularly affordable;
2-inch plates are suboptimum for short hair.
3. Remington Ceramic Flat Iron S9520: Great Value
Shoppers on a budget will appreciate how much this affordable hair straightener has to offer. Despite its moderate price, it features floating plates with a generous addition of ceramic in them as compared to regular Remington models to prevent hair damage.
They are also enhanced with crushed pearls for quicker straightening. Depending on the technique you use, chances are that you'll get a strand done in a single pass. The combination also reduces potential frizz.
Unlike the top pick above, this flat iron comes with 2-inch heating plates, which make it perfect for long straight hairstyles. The size is less versatile than 1 inch and might be inefficient if you have short hair.
This model offers you as many as 9 heat settings with a maximum of 450°F for extra thick and coarse locks. It only takes the device 15 seconds to heat up, and the digital controls are simple yet intuitive. I recommend S9520 to anyone with longer hair who wants a quick, safe, and affordable solution.

PROS:
Affordable price;
Great coverage for straightening long hair;
15 seconds' heat-up;
High-ceramic smooth-gliding heating plates;
9 heat settings with a high maximum heat setting.
CONS:
Not the most versatile plate size.
4. S5520: Numerous Positive Remington Flat Iron Reviews
This affordable model is popular for a reason. Firstly, it comes with versatile 1 ¾-inch floating plates that are elongated to offer good coverage for increased styling efficiency without being too big for not-so-long hair.
Secondly, the ceramic plates come with titanium protection coating for even heat-up. It takes the iron 30 seconds to reach its maximum, which is 410 degrees Fahrenheit, with a total of 6 settings in between. Anti-static technology is used to prevent frizzy hair.

PROS:
Relatively affordable;
Great plate coverage for medium-length to long hair;
Decent protection with ceramic + titanium coating;
Reduces frizzing.
CONS:
410-degree maximum heat setting;
Takes some time to heat up.
5. S9500PP: One of All-Size-Fits-All Remington Irons
You might love this model if you're not sure which style you prefer and would like to have the freedom of experimenting without investing too heavily.
Made with 1-inch heating plates that utilize the company's easy-glide floating design, this flat iron takes 30 seconds to heat up to as much as 450 degrees Fahrenheit in case you have coarse, unruly hair, starting at just 300 with 9 settings overall. You can then "lock" your preferred temperature.
The pearl-infused ceramic plates heat evenly for minimum damage and leave the hair really smooth. The model requires next to no skill and is good for most common styles and hair types.

PROS:
Constant heat performance;
Versatile plate design;
High maximum heat setting;
Protective ceramics with crushed pearls.
CONS:
Not the quickest heat-up;
The plates could be longer for better coverage.
6. 8510: Raving Anti-Frizz Remington Hair Straightener Reviews
Remington 8510 Anti Frizz Therapy Hair Straightener
Ditch the frizz with Remington's Anti-Frizz Therapy Straightening Collection.
This model is especially popular with users whose mane is frizz-prone. The problem is common with some hair types and becomes even more persistent in humid conditions, with freshly straightened hair looking limp after a very short time. Fortunately, the micro-conditioners infusing this flat iron's ceramic floating plates reduce frizz to a bare minimum. The effect lasts longer than with average straighteners even on a wet day.
Apart from making the hair silky smooth, the versatile 1-inch floating plates are made of ceramics and thus heat evenly without burning. The device reaches 450 degrees in 30 seconds, with 9 settings overall and a digital display to facilitate navigation.
The temperature lock prevents heat fluctuation for consistency. Those with thick hair might find the heating plates somewhat too short to save their time.

PROS:
Effective and lasting frizz reduction;
Minimized hair damage;
General-purpose easy-glide plates.
CONS:
Relatively slow;
Shorter-than-ideal plates.
7. S7330A: A Wet-Hair-Friendly Remington Titanium Flat Iron
Styling your hair when it's wet is generally considered bad practice due to potential overheating. S7330A deals with this problem by implementing a specially designed heat vent system that enables excess heat to escape, keeping your damp locks safe. The manufacturer straights that it inflicts 60% less damage than blow-drying then straightening.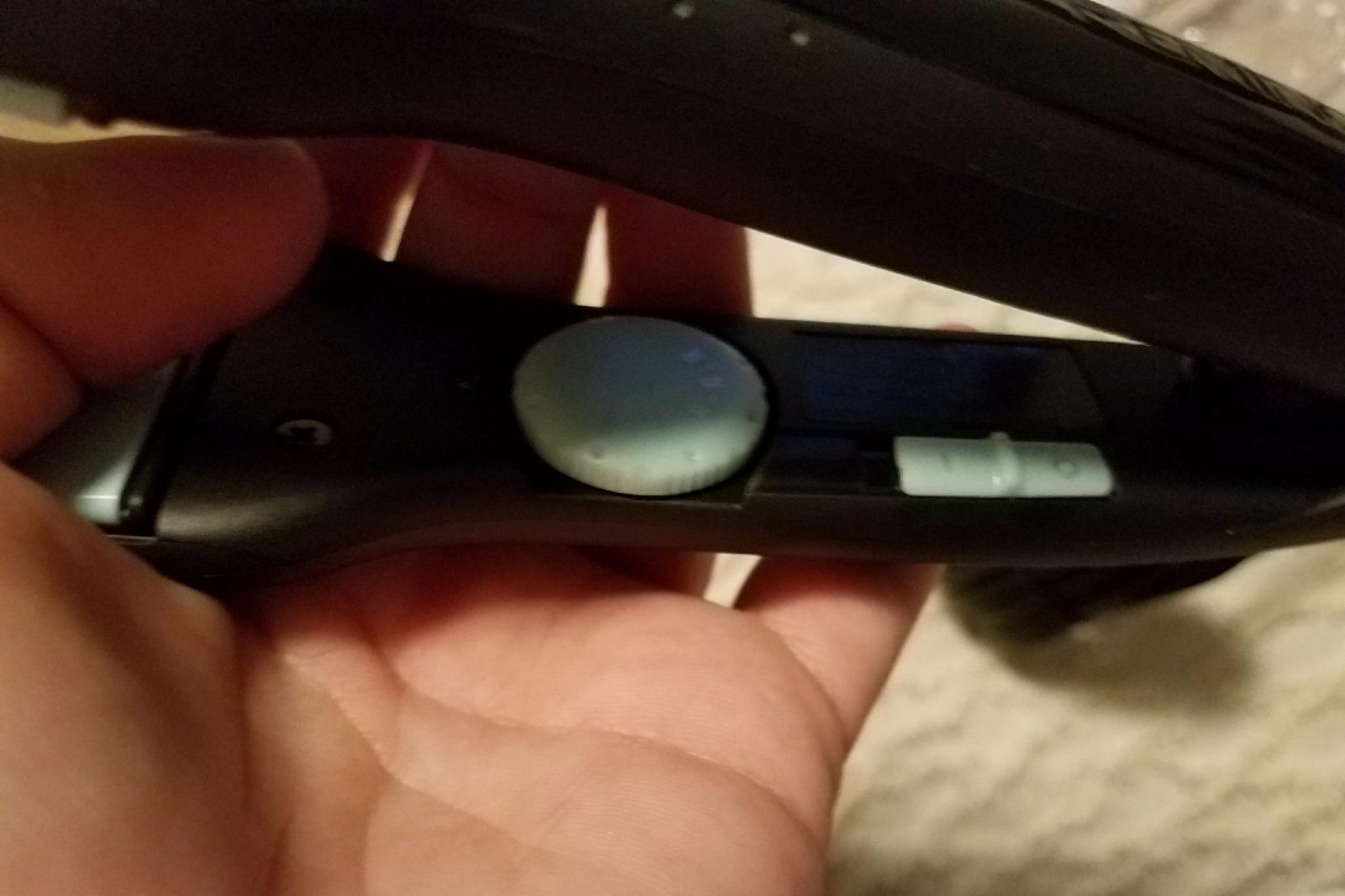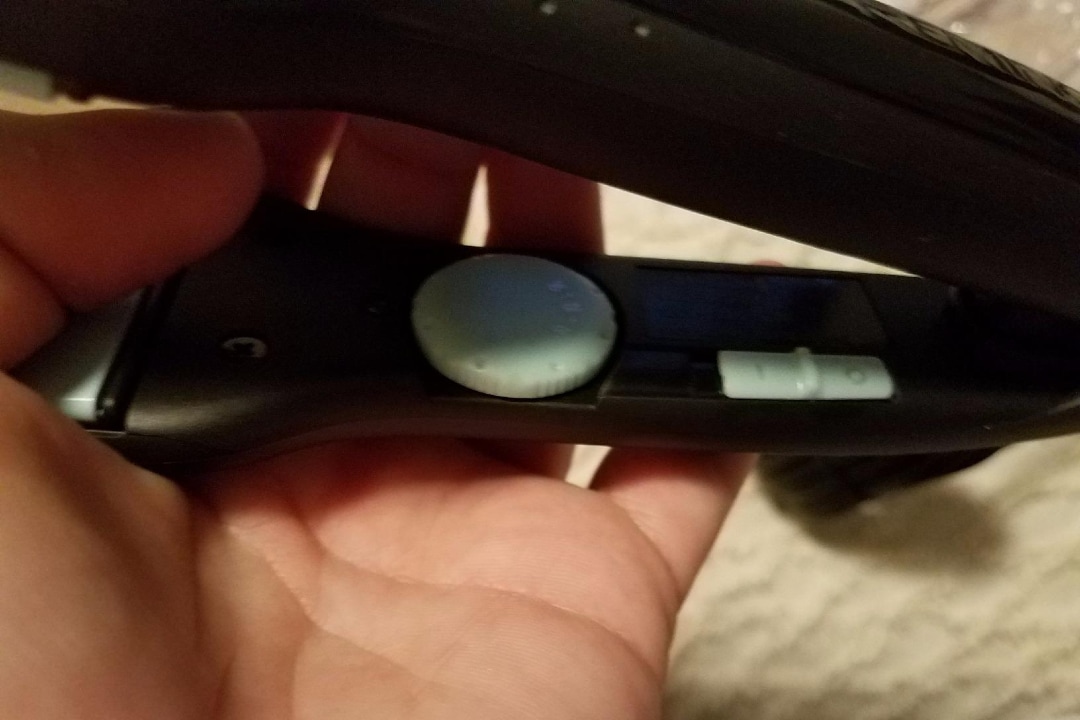 The 1 1/3-inch ceramic plus titanium heating plates reach 420 degrees Fahrenheit in 30 seconds, with as many as 30 heat settings on the way. There's a color light indicator to tell you if the current setting is best for wet or dry hair.

PROS:
Saves time;
Reduces damage when styling wet hair;
Versatile plate size;
Reduced heat damage;
30 heat settings.
CONS:
Plates should be a bit longer;
Not the hottest maximum setting.
Hair Straightener Buyer's Guide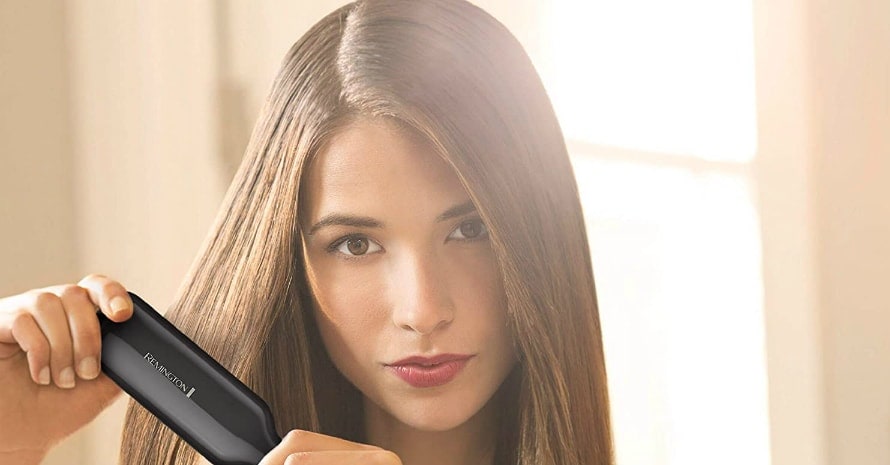 This section will tell you what to look for in a Remington flat iron and how to get the most out of your pick.
How to choose the best Remington flat iron
Which of the many straightener models to choose depends on your preferred application, as well as your hair type.
Ceramic is the preferred heating plate material for fine, thin hair. Tourmaline coating is also a viable option for frizzy thin hair. On the contrary, those with coarse manes normally prefer high-heat titanium.
Hair quality also determines the maximum heat setting you'll need. Remember that there's always a trade-off between styling speed and loss of moisture — the hotter your tool, the more it dries your hair. Chances are that you don't need a 450-degree setting unless you were blessed with a shock of hair.
Finally, consider what plate size you might need. If your hair is long and thick and you want to straighten it quickly, opt for bigger 2-inch models. 1-inch plate size is the most versatile. Elongated plate size can quicken up the process.
Features of Remington flat irons
Remington uses a number of special features that make its straighteners stand out.
Floating plates are a design feature that enables the heating surface to stay in contact with your hair, which feels like smooth gliding.
Automatic switch-off is a safety feature that's become ubiquitous, so I think I needn't dwell on it. Instead, let's focus on what influences the state of our hair.
Plate Technology
Flat irons by Remington use some proprietary technology to improve the performance of plate material. These include adding crushed pearls to ceramic, such as in S9520 and S9500PP, micro-conditioning like keratin infusion in our top pick S8598S, and the SmartPRO moisture-based adjustment system, which also appears in S8598S. Thermaluxe™ is an increased-ceramic protective technology for lasting styles.
How to clean and take care of Remington flat iron
Flat irons require little care apart from cleaning. A damp washcloth is generally enough to remove any build-up. You might need a pin to lift the floating plates, too.
Hair Straightener FAQ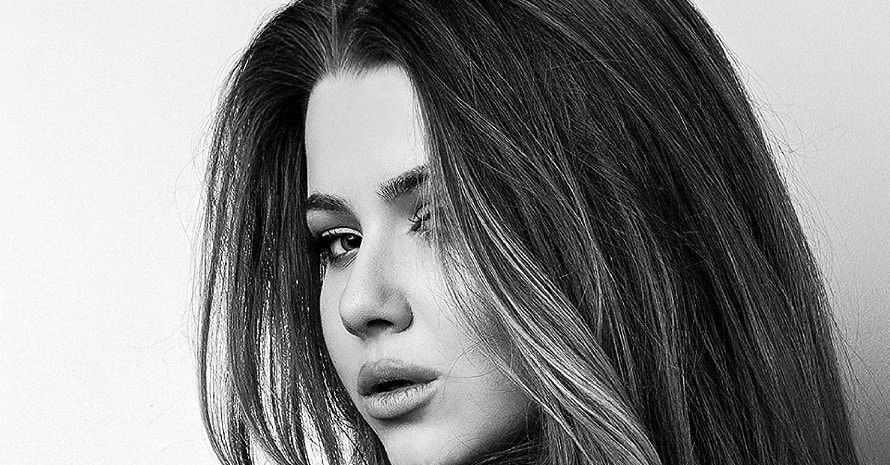 Here are the concise answers to some questions that people often ask when looking for a flat iron or using one.
What heat setting to use on a Remington flat iron for natural hair?
Try to stay below 302°F if you can afford the time. Higher heat settings will save you time at the cost of moisture, temperatures of 419°F and up potentially damaging the keratin in your hair.
Can I curl my hair with a Remington flat iron?
Yes, you can. A straightener won't give you extra tight curls but rather loose, beech-style waves that look edgy and natural. Choose one with smaller heating plates and use your fingers rather than a brush afterward to avoid fluffiness.
What plate material do Remington flat irons have?
Most straighteners by Remington use ceramic plates, sometimes enhanced with crushed pears or infused with micro-conditioners. Some come with added titanium coating. Anti-static tourmaline is used in a small number of models.
Remington Flat Irons: Summing It up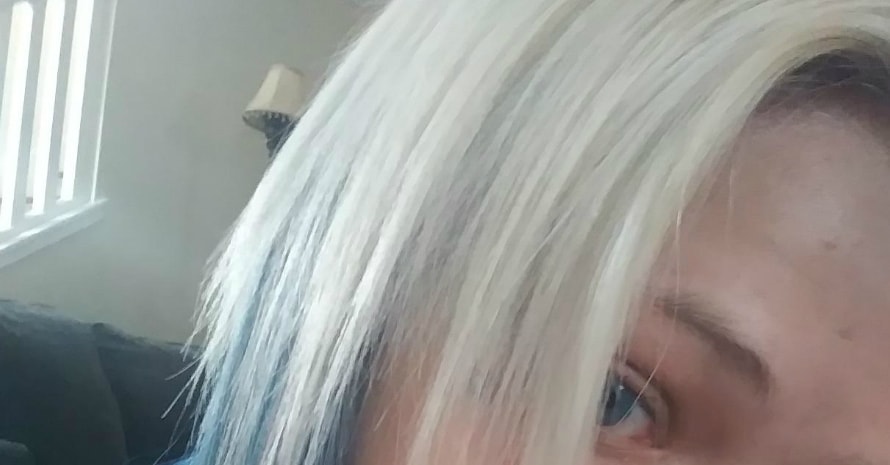 Hair straighteners by Remington come with different proprietary plate coatings. They differ in plate size and shape, too, and the range of possible heat levels isn't the same depending on the model.
If your hair's health is your biggest priority, I suggest investing in an S8598S iron that automatically senses moisture content in the strand to adjust heat accordingly, as it can save you an immense amount of effort repairing your mane. Alternatively, though, you can choose more budget-friendly or specialized options.
What's the most important thing about a hair straightener for you? Tell us in the comments section!
Last update on 2022-12-11 / Affiliate links / Images from Amazon Product Advertising API