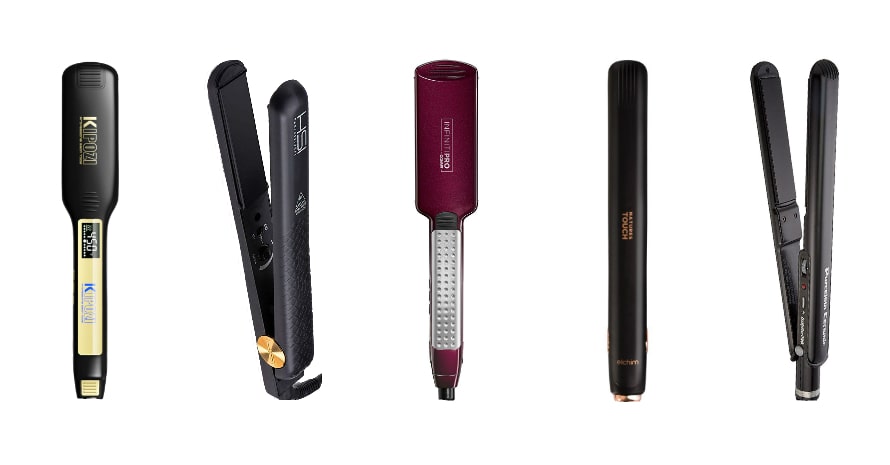 Getting the most effective products may sometimes be troublesome, as you have to go through piles of commodities. As you assess the available brands, you may waste your time and money. Nevertheless, you cannot underestimate the role a perfect flat iron plays in making you look good.
For those with curly hair, learning how to curl long hair with flat iron is a crucial skill. Things are easier when you have purchased the right tools. Technologies keep changing, and so does the designs used in making flat irons.
Have you been looking for a professional who can take you through the different flat iron brands, their features, pros, and cons? You are in the right place. I am Monica. A proficient and trusted hairstylist. I have written content about numerous hair styling tools and beauty products.
Pros
Unique dual-zone ceramic flat iron technology and heat monitoring
Has an automatic shut off system
Easy to handle as it is light in weight
Top Pick
Pros
Unique dual-zone ceramic flat iron technology and heat monitoring
Runner Up
Pros
Has an automatic shut off system
Budget Pick
Pros
Easy to handle as it is light in weight
I know everything about flat irons, the way they work, and methods to get the best brand. With the wealth of experience, I know how to make wavy hair straight and understand the products that work for you. Here is a review of the flat irons, essential features that you should never overlook some pros and cons. It is necessary to be informed before making any purchasing decision.
The 8 Best Flat Irons for Curly Hair to Buy
Everyone aims for that classy, provocative, and confident look. Making hair curly and attractive is not easy, but I want to prove to you that this process can be pleasant and simple. Today, there are many brands available. They are availed by different manufacturers. If unsure of what to buy, it is crucial to rely on a professional who can offer guidance on how to distinguish one brand from another.
Do you know the critical features of the top-rated brands?
As a professional in this area, I provide a review of the top-rated flat irons for curly hair on the market. Check these products and decide what works based on the special circumstances you have.
1. GHD Gold Hair Straightener — Best Flat Iron for Thick Curly Hair
GHD Gold styler has a simple design that is typical for the brand. The standard version has a sleek all-black finish. On the hinge, you can see the brand's silver round logo.
There are ceramic plates that are 9 cm long and 2.5 cm wide. The plates can move when pressed for a snug fit and easy styling. Instead of one heat sensor, you get two, which means that the required temperature is stably maintained when you do your hair.
Hair passes well over the plates and does not get stuck. For perfectly straight hair, it is recommended to use the styler through your hair twice. The iron is also suitable for curling. GHD Gold will help you complete any style quickly and efficiently, even if you have long hair.
The styler is very easy to use. All you have to do is to press the button and wait for the color indicator to light up; it will indicate to you when the required temperature is reached and start. Styler tip does not heat up and can be gripped when styling.
---
PROS:
Quick heating;
The dual-zone ceramic technology;
Makes your hair look shiny;
Sleep mode after 30 minutes of non-use;
Durability and 3-year guarantee;
Heat monitoring.
---
2. Elchim Natures Touch Flat Iron — Runner Up
When you want to purchase the best flat iron to use in your salon or at home conveniently, Elchim is the one that you can opt for. It is made to work with eleven distinct heat settings. Therefore, your curls get the best treatment.
The LED display gives an accurate measure of the temperatures at which the flat irons are operating at any time. As you operate it, comfortably vary the temperature between 202F to about 450F. That means it is easy for you to select a temperature that suits your hair. It does not matter what type of hair you have.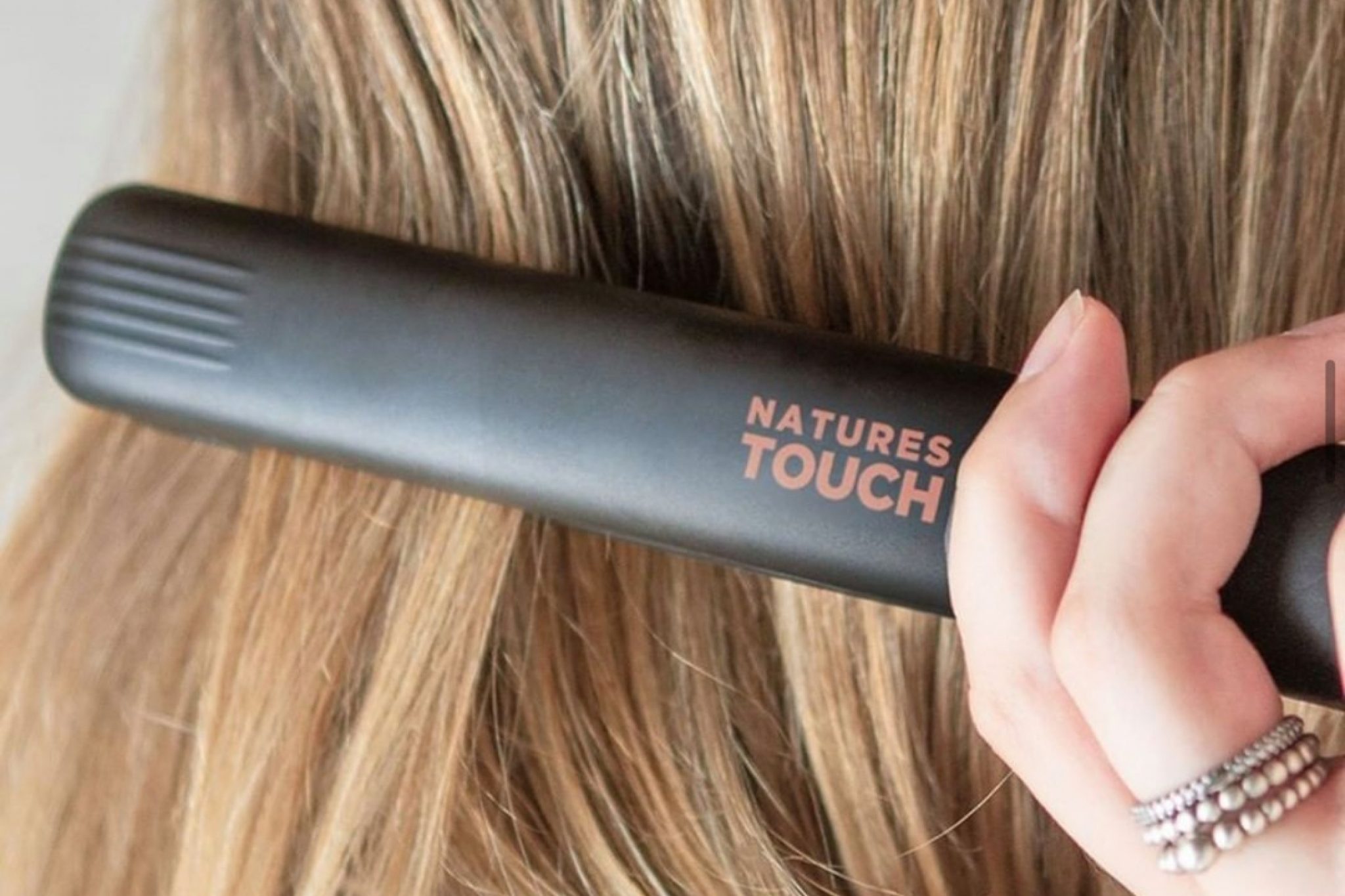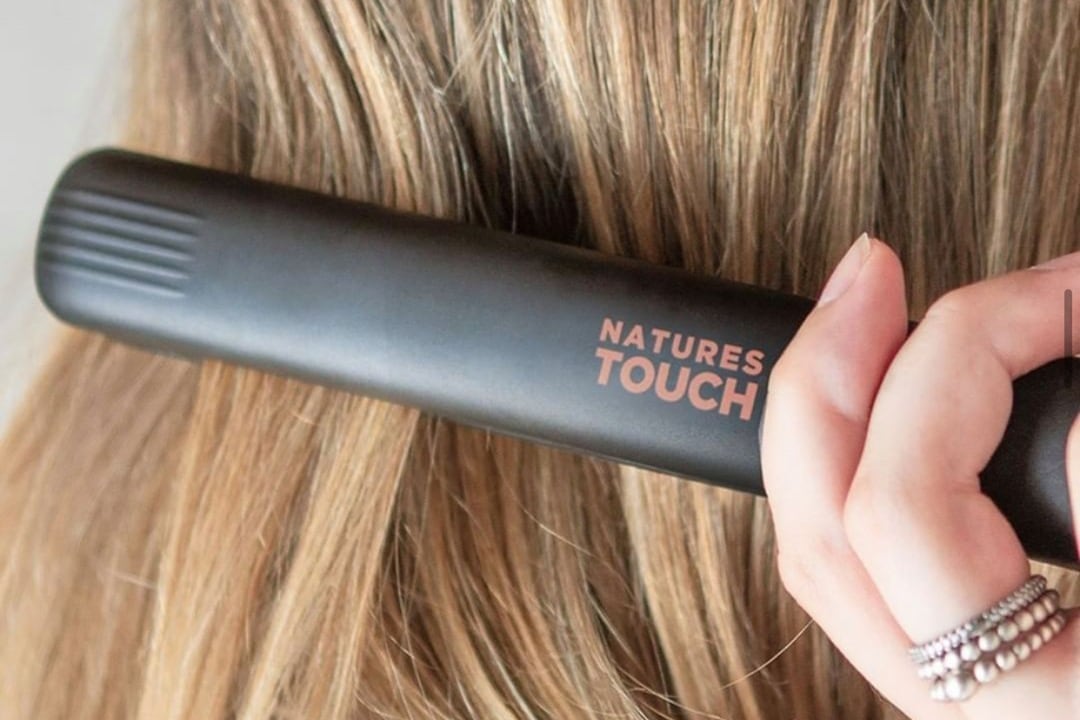 The Italian made brand is designed to deliver high temperatures within a short time. Moreover, the result obtained is shiny and straight. The brand is also light in weight, making it comfortable to use. As the most suitable iron for curly hair, it can be proud of positive feedback that users leave. The tool saves the natural beauty and health of your hair.
With a floating plate made from a mixture of ceramic and titanium compounds, it makes things easy when you want to obtain the perfect curls. Other hairstyle options to opt for including the straightened hair look or beach waves. The parallel design of these plates makes heat to be distributed evenly.








How does this brand operate? It has advanced heat settings combined with smart features, which enables it to work efficiently. It only needs 17 seconds to reach the temperature level you have chosen. You get beautiful hair results by just passing the iron once. That means you save time.
Moreover, the manufacturers give the best customer experience and a warranty that lasts a lifetime. Besides, it has superior safety features included. That comprises the automatic shut off system and cap that protects against heat. The LED display makes it easy for you to read, adjust, and control the temperatures. Therefore, you can avoid damage caused by heat.
---
PROS:
has an automatic shut off system, which makes it easy to use;
you have a wide range of temperatures to choose as you operate it;
works efficiently on any hair type.
CONS:
should be used cautiously because of the high temperatures.
---
3. BaBylissPRO Porcelain Ceramic Straightening Iron – Great Value
When you have curls, the most appropriate move is to buy a brand that can evenly distribute heat while maintaining optimum temperatures. Fortunately, BaBylissPRO gives those features and still ensures you can reach higher temperature levels fast. The maximum temperature reached by the brand is 450F.
However, it has a thermostat dial, which allows you to vary the heat depending on your type of hair. It is impossible to change the temperature accidentally. That means it is safe to use the flat iron. Therefore, you can purchase this bland regardless of the hair type you possess.
The iron is designed beautifully, making it easy to use. Besides, it has a handle that doesn't get hot. So, it is safe even if you have set the highest temperature level. The heater is made of porcelain ceramic. Therefore, its reliability is unquestionable. It heats and recovers according to your needs. To speed up the hair-styling process, you can use long plates.








Although it does not have the swivel with a 360-degree system, it is designed with a long cord. Even if you are a first-time user of this product, you can easily adjust to its requirements. Its far-infrared feature ensures your hair is not damaged because of the heat. The sleek design of the brand enables you to work on the curly hair conveniently. The final result is healthy, smooth, and attractive hair that anyone would love.
How should you operate the brand to ensure that you obtain the needed specific results? If unsure of the ideal temperature for your hair, begin with the low-temperature settings. After that, increase the levels slowly as you test what works. With proper use, this is the perfect flat iron for curly hair you need.
---
PROS:
has the far-infrared feature, which ensures you do not damage your hair during use;
easy to handle as it is light in weight;
beautifully designed with enhanced performance;
can work on a variety of hair types.
CONS:
no pre-set option if you already know the temperature that is appropriate for your hair.
---
4. BaBylissPRO Nano Titanium Ultra-Thin – Professional Lightweight Flat Iron
Many professional stylists around the world choose Babyliss products. This brand remains popular from the very beginning of the company's work – its developers come up with new products all the time. Their hairdressing supplies have the most innovative features. Also, Babyliss helps the novice stylists to improve their skills.
This ultra-thin iron has 50 heat settings. You can adjust the right temperature in one click. Besides, you may also change it during the usage – the iron gets hotter or colder in several seconds. There is no need to spend hours straightening your hair! Babyliss device has 5 inches long plates that allow styling wider hair sections.
Smooth titanium plates are strong and rustproof. Usually, they work for more than five years, and this is the shortest term. The flat iron is lightweight and easy-to-hold. It reduces hand fatigue, so you can use it to straighten or wavy your hair with a little effort. Hairdressers and barbers choose this model because it is comfortable in use and makes your hair look perfect in a short time.
---
PROS:
Lightweight and durable design;
Has 50 temperature settings;
Allows to style wide sections;
Easy-to-use.
---
5. HSI Professional Flat Iron – One of The Most Ergonomic Flat Straighteners
The brand aims to make things easier for you. Its manufacturers ensure it suits the exact type of curls you have. First, it automatically adjusts the temperature in relation to the type and thickness/softness of the hair. That is convenient for any user.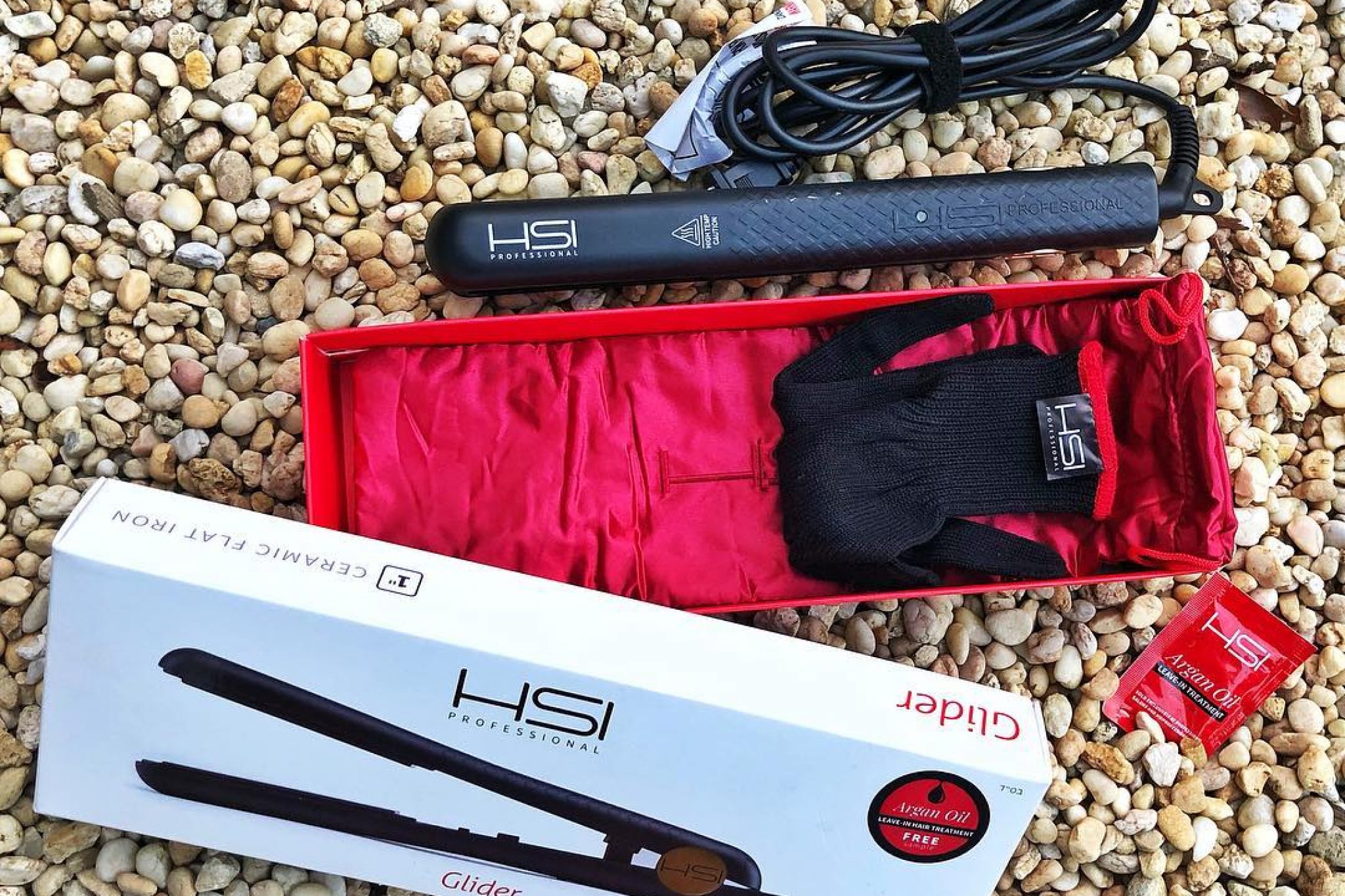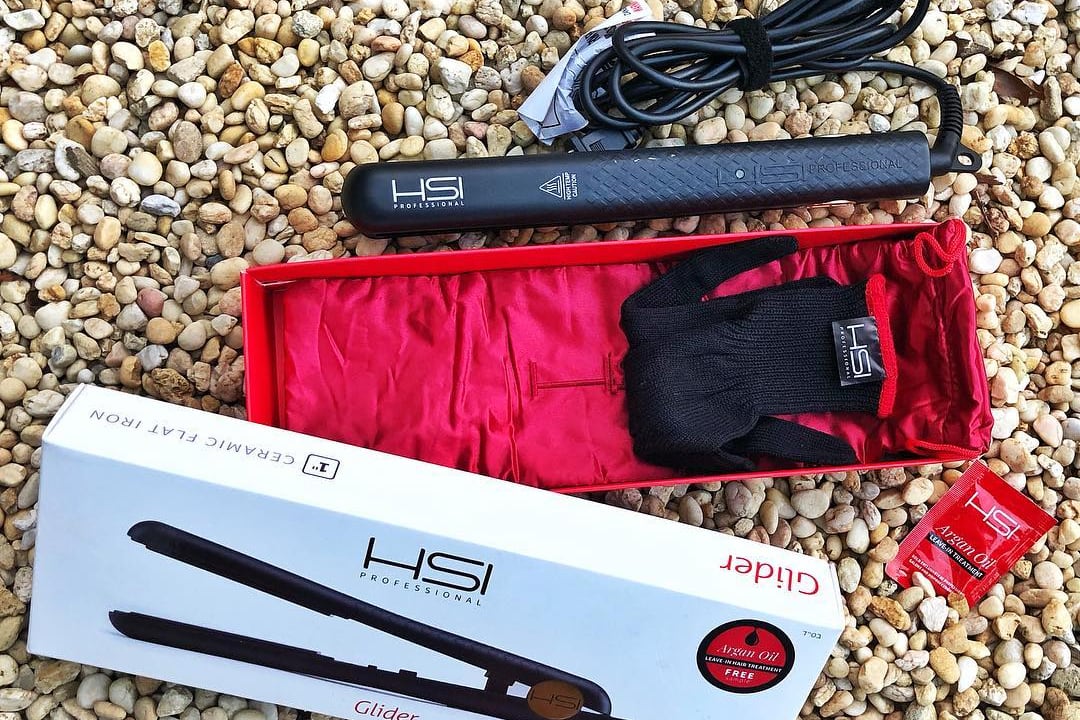 Besides, its round design enables the user to try different curling styles before determining what works for them. Its plates are made with a mixture of tourmaline and ceramics. Uniform distribution of the operation heat is facilitated by micro-sensors. The brand's sleek design and lightweight mean you will use it with comfort.
Are you in need of a flat iron that heats fast and straightens your hair effectively? Consider this brand as the one that suits you. Its temperature range moves from a minimum of 240F to a maximum of 410F. Moreover, the brand's dual voltage range is between 111 and 221 volts. As a result, you can conveniently move and use the brand in different locations.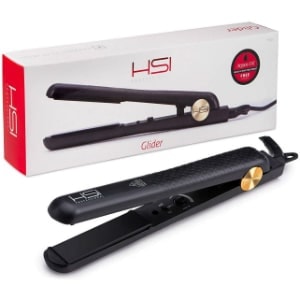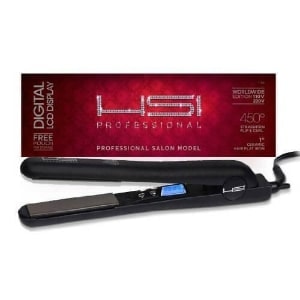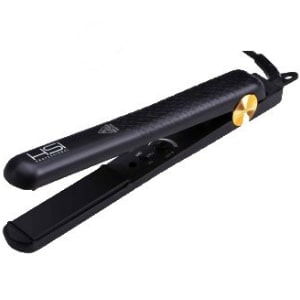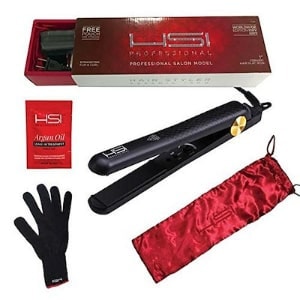 When operating the brand, instances of damage to your hair are minimized by the installed infrared technology. Moreover, you obtain straightened and smooth hair.
There is a conditioner that is included by the manufacturer to ensure the right volume and acceptable health of your hair is promoted. The curved edges of the brand ensure that in addition to making your hair straight, you can still curl them.
What more do you get from HSI? Its 360-degree swivel enables the user to do different hairstyles conveniently. You also receive a glove that is resistant to heat. This is one of the best straighteners for curly hair.
---
PROS:
the ergonomic design enables the user to straighten hair and obtain shiny results;
works fast on all hair types;
beautifully designed for easy use.
CONS:
the plates may not be sufficient enough.
---
6. KIPOZI Professional Titanium Flat Iron – One of The Best Straighteners for Thick Curly Hair
Do you want to buy a flat iron that you can conveniently apply in different cases? KIPOZI is what you need. This is a versatile brand that enables you to straighten comfortably, expertly curl, and shape hair into any design that you feel suits you.
For the people who have long hair, you get a wide range of benefits with this brand. The bulky iron ensures you can work on the hair effectively. Even for first-time users, you only need to handle it a few times to get used to it. Besides, you can still use this brand even with wet hair.








What makes the brand-safe for users? First, you get a wide range of heat settings meaning it can be adjusted appropriately to ensure the heat generated is adequate for the hair needs. Moreover, its advanced automatic shut-off system prevents overheating. Additionally, there is a universal voltage.


People love the brand as it has advanced heat technology. The user-friendliness of the flat iron is unmatched. Therefore, it is considered as the best straightener for thick curly hair. Never doubt the capabilities of the brand when making your purchase.

How does KIPOZI perform? Its temperature settings can reach the lowest level of 170F and reach a maximum of 450F. Therefore, your hair type cannot limit you from purchasing the brand. Moreover, there is no fear of damaging your hair. It is the best hair straightener as it is made with an LCD that acts as a control screen.
---
PROS:
holds heat with well ensuring the operator obtains the best hair;
a long temperature range (170F to 450F) making it appropriate for varied hair types;
the universal voltage of 100-240 volts enables you to travel with it.
CONS:
you have to pass the brand through hair severally before getting the hair beauty level desired.
---
7. INFINITIPRO BY CONAIR
The reputable company worked hard to give buyers the best brand. They designed an attractive and practical brand to put in a wide variety of uses. Its handle is carefully made so that you can grasp it quickly during use. Moreover, it is made of reliable materials, which means it doesn't overheat during use.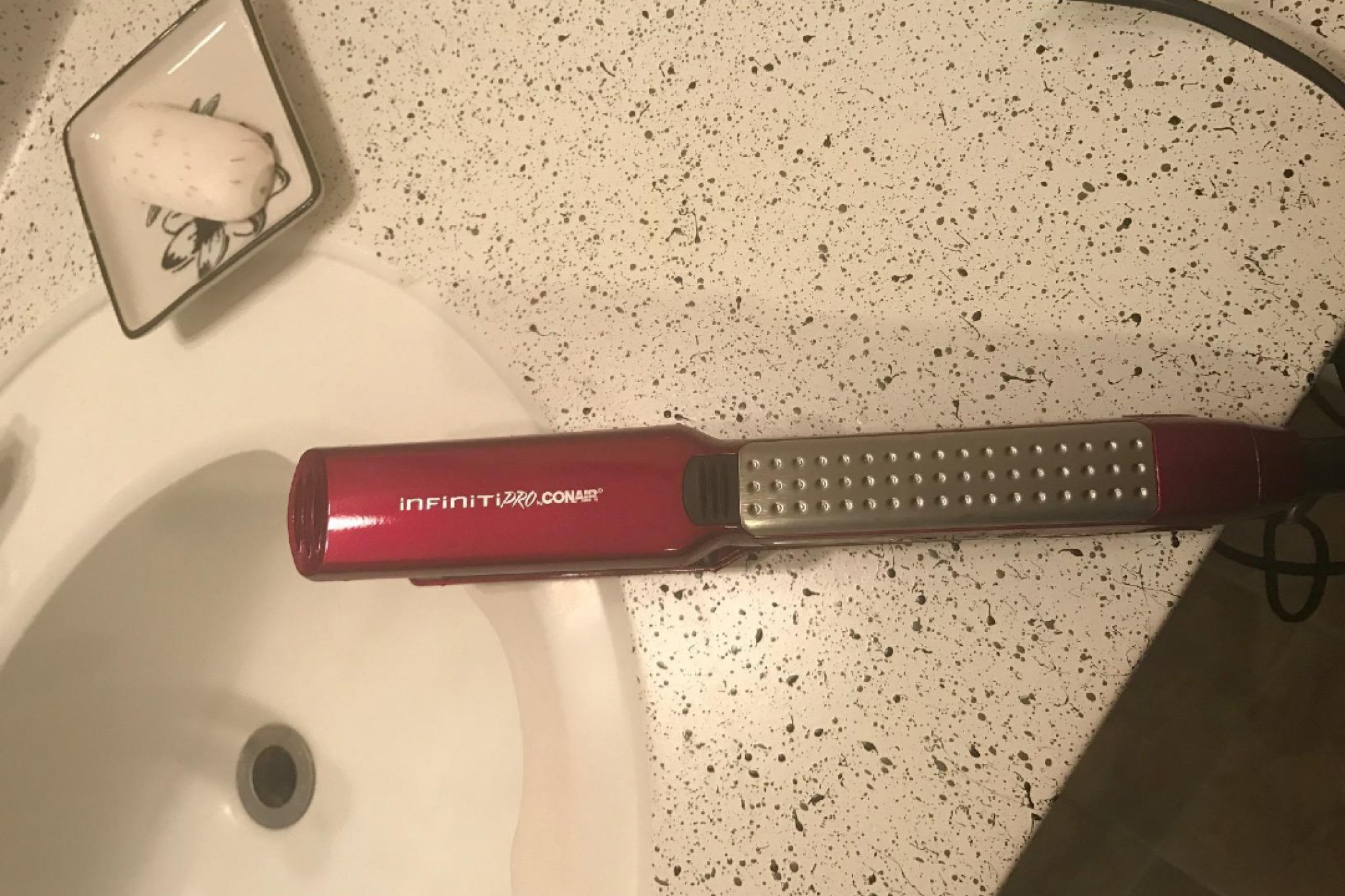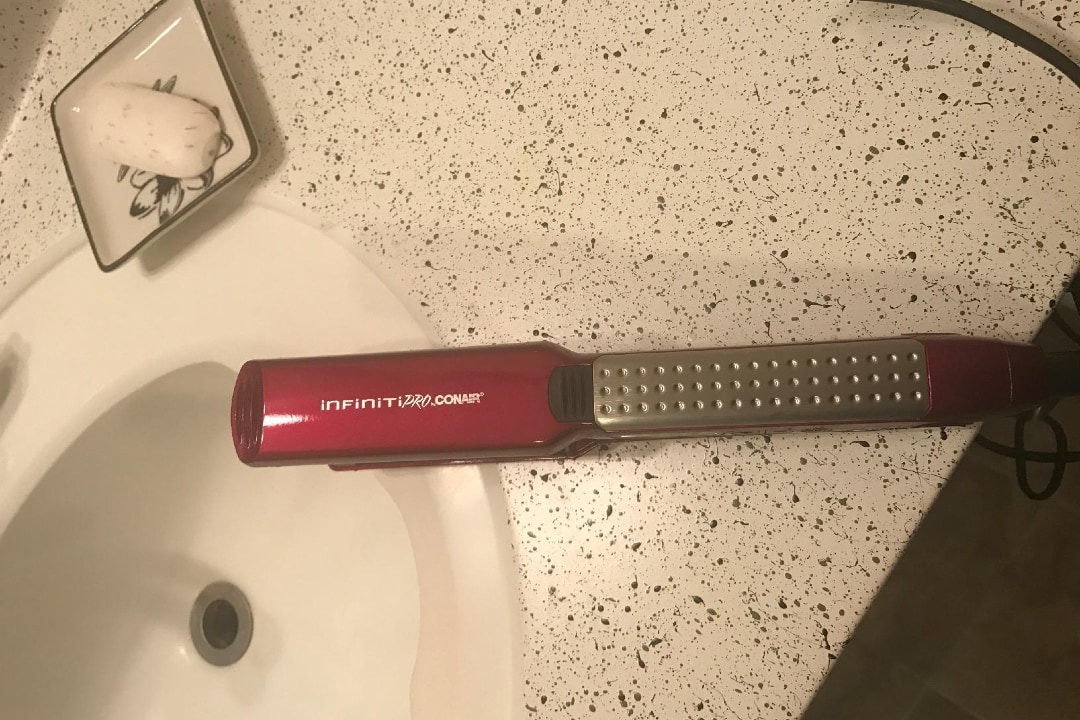 Are you hurriedly preparing and want to style your hair quickly? Your hair needs are catered for. The brand is made of large plates, which enables you to work with huge sections of the hair fast. It also allows for uniform heat distribution. The feature is crucial when there is a need to work on your curls in the right way.
If unsure of the temperature, which is appropriate, do not worry. The brand has 5 temperature levels to choose from. The temperature is 455F. Besides ensuring you get shiny hair, the product brand heats swiftly.








Are you inexperienced in matters of flat iron? The brand is easy to use. Although cord tangling may be a problem for you at the beginning, you get used to the brand easily. Moreover, the tangling challenge should not be the reason you consider this product ineffective. Working with the brand ensures you curb instances of frizz. It makes your hair shiny, and increases in strength.
Its plates are made of tourmaline ceramic. That ensures your hair receives maximum protection in the process of styling. Moreover, user safety is enhanced by the auto shut-off system.

Is this brand good for all hair types? Its wide plates enable the use of the brand for any hair type. Additionally, heat is distributed uniformly, thus protecting your hair from any form of damage.
---
PROS:
the brand heats to 455F temperature maximum ensuring you perfectly style the hair;
heats fast, saving your time when styling your hair;
enhanced safety by the auto shut-off system.
---
8. Remington S7730 Wet2Straight – Flat Iron for Curly Frizzy Hair
Do you want to obtain optimum hairstyling results? The Remington flat iron brand can help you to achieve it. Be sure that with this product you can style even wet hair.
It removes moisture from hair as it works. Therefore, you can reach your hair-styling goals quickly. It can still work on dry hair well. Moreover, the hair is protected from any form of damage.
The 30 distinct temperature levels allow usage of the brand in styling any hair types. You select any temperature that suits your comfort with the highest level of 420F.
Do you want to style your hair quickly so that you can move on to other things? That is possible with this brand. It only takes 30 seconds for a flat iron to reach the temperature you have specified.








How long does the product last? Titanium lining on the ceramic plates increases the lifespan of the brand. The automatic shut off system also makes it safe to use.
The other excellent feature is its ability to generate 420F of heat. Therefore, it is ideal for large scale use. The band ensures you get high-quality styling.
Are there special precautions before, during, and after using the product? Since it cools slowly after use, it is important to be cautious where you store the tool after use. Otherwise, it is still among the best flat irons for curly hair you can purchase.
---
PROS:
produces adequate heat for perfect hairstyling;
has a wide variety of heat settings;
saves time as it heats fast;
straightens different hair types.
---
Buyers' Guide for the Best Flat Iron for Curly Frizzy Hair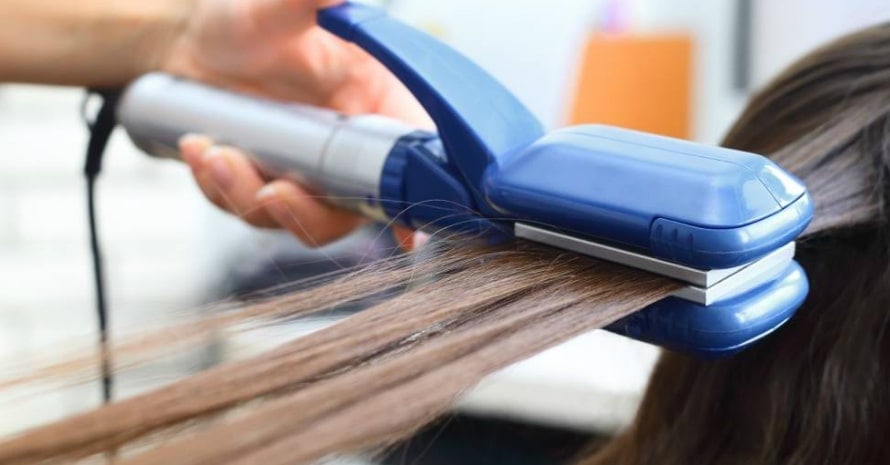 Do you need a buying guide to select the best hair straightener? When you invest in a reliable flat iron, you make things easier for yourself. Selecting the best hair care products means that you take the one that meets your specifications. Do you worry about how to choose the best flat iron for curly hair? That is why I am here.
In this piece, I comprehensively analyze the specifics never to ignore as you make the purchasing choice. First, you should know the curl type you have. They include:
Any naturally curly hair is known to be very strong. Therefore, the flat irons that generate great heat can deal with it. What are the specifications of the best flat iron in such cases? From an expert perspective, I would recommend one with the ability to reach 450F.
With such hair, extreme heat levels are needed to achieve perfect results. Only those made of titanium can help you reach your goal. Besides, those made from tourmaline and ceramics can work.
Such curls are also strong. That is why they also require high-temperature levels. The most reliable brands to work on the curls are those with 450F temperature capability. To obtain impressive results, you should keep the hair in the plates for long. In order not to damage your hair, begin with lower temperature levels, and proceed to higher ranges with time.
They are considered the softest curl type. That means you should not be exposed to extreme temperatures. The expert recommendation is to limit the temperature of the straightener at 400F. However, reduce the heat amount if you feel the required results are achievable at lower temperatures.
What Are the Most Crucial Features to Look at in a Flat Iron?
There are specific features you need to look at in the flat iron before purchase.
The first thing that you cannot ignore is the material that is used to make the plate together with the coating. Most people prefer ceramic. It is combined with tourmaline. It is to ensure that heat can be distributed evenly when working on your hair. The other material is titanium. It lasts longer and heats up fast. As a buyer, take what works for you.
Your hair type determines the size of the plate you should go for. A one-and-a-half-inch plate or a longer one is good for those with long hair. People with short and sensitive hair should opt for plates of 1-inch dimensions or shorter.
Different brands vary in terms of their heat settings. The best way to straighten curly hair is to ensure you use a brand that is convenient when you need different temperatures.
It Is Time to Make a Right Choice
Many people consider having curly hair as a blessing. I would want you to feel the same way. To nurture the hair properly, you need products that work.
As you can see above, you can select various flat irons. They are made of different materials and have many heat settings. However, you are the one to know what works for you based on what you want.
The review takes you through the features of the various brands. Not all brands have the same features. However, you can always pick on that works in your situation. The guide also provides the features you should never ignore.
It is good to take time and read through the available brands and their characteristics to make the right choice. Do not be in a hurry. Smart buying decisions come from knowing the product you want and the features you appreciate.
Are there other flat iron brands you have used before? What was your experience using them? What type of hair do you have? What is your best hair straightener for curly hair? What feature of the flat iron do you appreciate the most?
Last update on 2022-12-11 / Affiliate links / Images from Amazon Product Advertising API