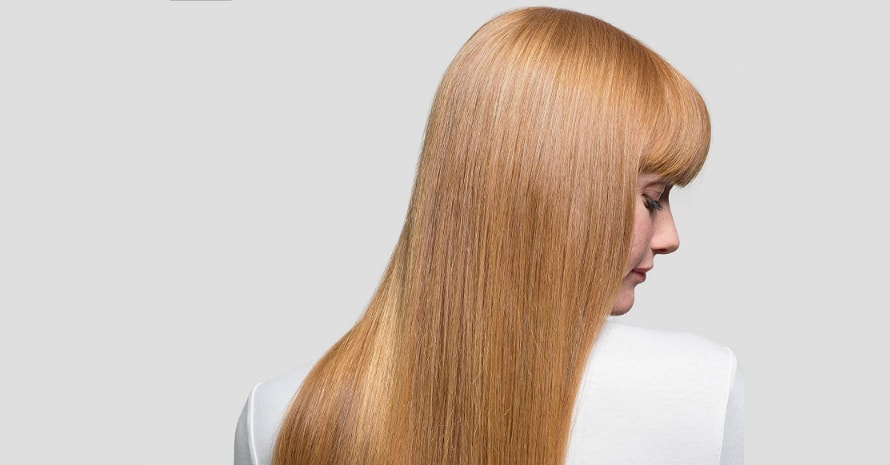 For a perfect look anywhere you go, it is vital to take the best travel flat iron with you. Every adventure requires some effort from you, no matter whether you are conquering Machu Picchu or attending fashion weeks in Paris. Your hair asks for extra help, still dizzy from the flight and unusual activities.
This is why demands for the best mini hair straighteners are higher. The device must not only be small to fit perfectly in your backpack but restore the health of your hair and make it shine. A flat iron becomes a lifesaver in any travel, but only if it is the right one and totally matches your expectations.
Pros
Ceramic coating for healthy hair
Ceramic anti-frizz plates
Top Pick
Pros
Ceramic coating for healthy hair
Premium Pick
Pros
Ceramic anti-frizz plates
7 Best Travel Flat Irons Reviewed
BaBylissPro Nano Titanium Mini Straightening Iron – Top Pick
Stylecraft Shmedium Professional Travel Iron – Great Value
T3 SinglePass Compact Styling Iron – Premium Pick
LumaBella Ultimate Compact Styler
Furiden Professional Hair Straightener
AmoVee 2 in 1 Travel Flat Iron
Conair MiniPro Ceramic Flat Iron
Check out these travel hair straightener reviews. I have gathered only the best offers on the market and products I trust myself. Find the one that suits you the best.
1. BaBylissPro Nano Titanium Mini Straightening Iron – The Best Travel Hair Straightener for Busy Ladies
This iron is lightweight and compact. It was originally designed for travel, so you will easily place it in your bag. Titanium plates with ceramic cover prevent hair from over-drying and burning. The heat runs evenly through the iron into your hair, providing a new level of shiny and healthy locks.
Features:
Voltage: dual voltage for international use;
Size: 6 inches iron, and 1-inch plates;
Weight: 4.8 ounces;
Plates material: nano titanium, coated ceramic heaters.
The 6 inches length of the entire instrument allows you to carry it with you not only while traveling but every day. BaBylissPro is a well-known producer of beauty products for hair.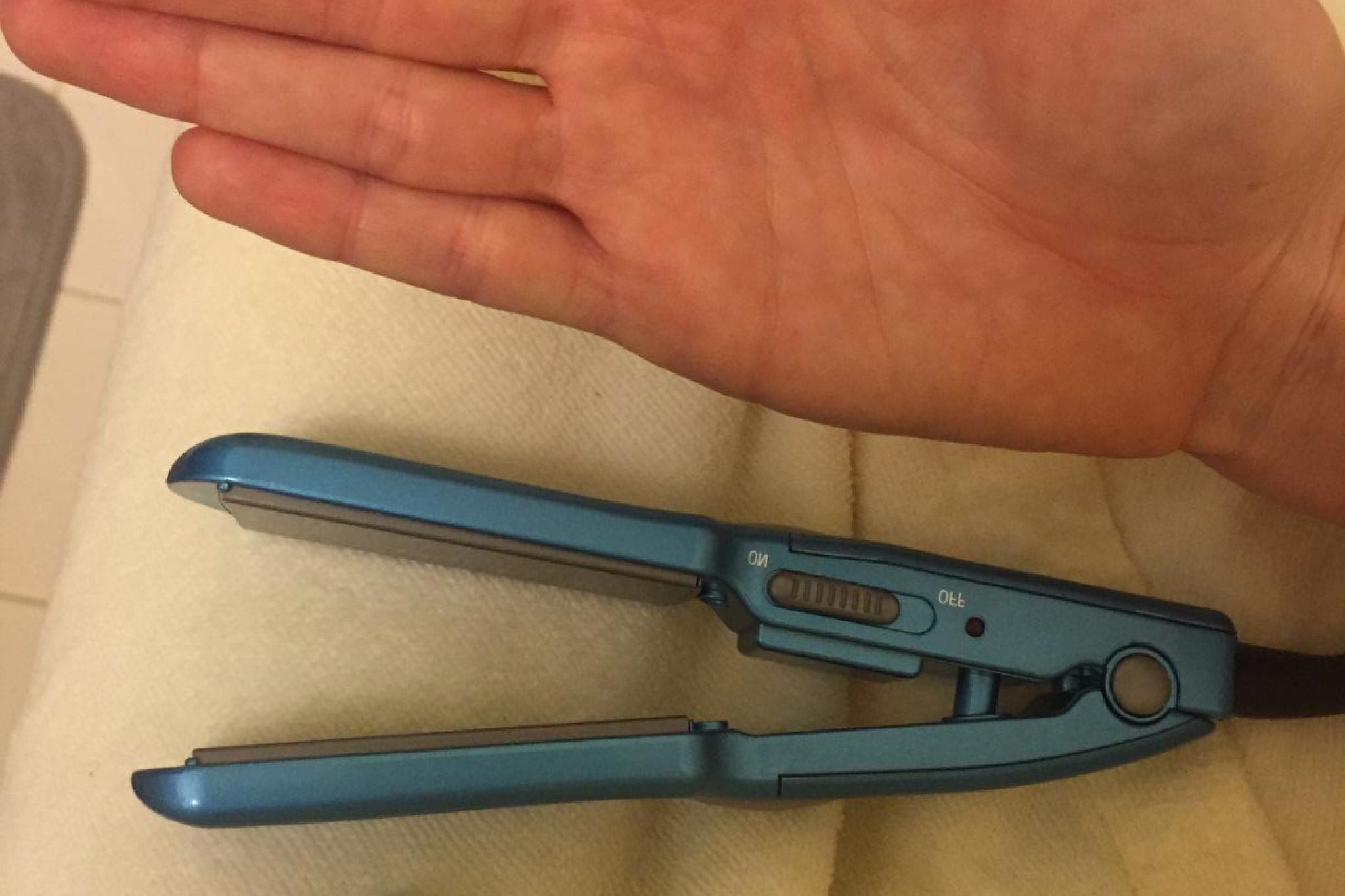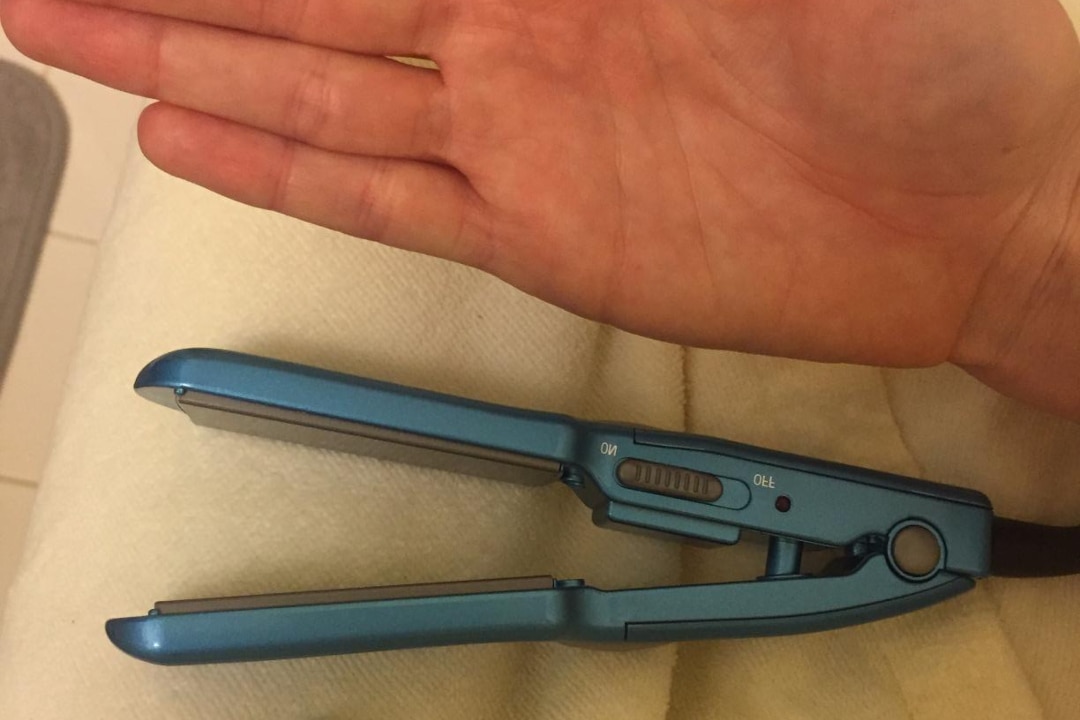 Millions of beauty salons around the world prefer to use their tools. This iron heats quickly to 440F and is considered to be one of the most powerful mini irons. If you have thin hair, I recommend ironing bigger locks, so it would heat evenly.
PROS:
Nano titanium plates;
Compact size and lightweight;
Affordable price;
Dual voltage;
Ceramic coating for healthy hair.
CONS:
The gap on the plates makes it hard to spread the heat evenly for thin hair.
2. Stylecraft Shmedium Professional Travel Iron – Ceramic Portable Hair Straightener
Ceramic coating of this iron's plates prevents the hair from damage. This tool is designed to be incredibly comfortable for transportation. Its protective cool clips do not allow your fingers to touch heated plates. The extended length of plates allows you to work with more hair at the same time.
Triplex fusion technology not only helps to dry it quicker but makes hair even stronger than before. Negative ions seal cuticles at the same time, reducing the frizz.
Features:
Voltage: there is a dual voltage system for international sockets;
Size: 10.3 inches x 4.3 inches x 2.2 inches;
Weight: 11.61 ounces;
Plates material: ceramic plates with tourmaline and nano-keratin formula.
Stylecraft developers offer a 1-year warranty with a total refund. This pro tool can be heated up to 410F and shut off automatically. Universal voltage allows you to take this instrument even in Europe.
Tourmaline and Ceramic mix emits 20 more negative ions than in regular straighteners, which reduces frizz. I recommend applying protective sprays to your hair right after the shower before you use this instrument.
PROS:
Tourmaline and ceramic blend;
More negative ions to hydrate hair;
Comfortable to hold;
Automatic shutdown;
Affordable price.
3. T3 SinglePass Compact Styling Iron – The Travel Size Flat Iron with Anti-Frizz Formula
No matter where you are, smooth and shiny hair can be reached with this iron. The cap of the tool is made resistant to heat, so you can gather it back and put it in your bag right after you use it. I recommend this iron for curls, bangs, and a silky smooth style.
Features:
Voltage: international voltage support, 100-240V;
Size: 0.8 inches plates, while the whole tool is 2.75 inches;
Weight: 5.92 ounces
Plates material: ceramics with ion technology.
T3 developer offers a wide choice of hair beauty tools. They provide a 2-year warranty for this instrument. After 1 hour of no use, this professional iron gets off automatically. Despite the fact that there is an auto voltage of 100-240 V, you may still require a plug adapter when you travel abroad.
Ceramic plates that spread the heat evenly guarantee a quick styling process. Inside the instrument is a microchip that indicates and watches for the temperature. Whenever it notices overheating, the temperature decreases automatically.
PROS:
Microchip inside that watches for proper temperature;
Ceramic anti-frizz plates;
Heat resistant cap;
Small plates;
Automatic shutdown.
CONS:
The price is higher than in similar products.
4. LumaBella Ultimate Compact Styler – Stylish and Portable Flat Iron of 1-inch Plates
This is a compact and weightless instrument for busy women who have to travel a lot. The plates of this iron are ceramic and only 1 inch long. There are 3 different heat settings for your comfort. This is how you can still style your thin hair quickly without burning it at maximal 410F temperature.
The tourmaline formula of the coating makes the hair smooth and eliminates frizz. There is an auto shut-off if the tool is not used for 60 minutes.
Features:
Voltage: worldwide voltage;
Size: 3 x large plates of 1 inch long, 1.5 inches in total;
Weight: 1.44 pounds;
Plates material: ceramic and tourmaline coating with micro-conditioners, almond, and keratin oils.
LumaBella is a relatively new developer on the market. They appeared in 2016, offering advanced technologies to the hair salons and amateurs. This tool was developed to make your hair healthy and strong.
The developer added almond and keratin oil inside the plates. When the tool is heated, your hair receives all the useful ingredients without any extra conditioners required.
PROS:
Automatic shut-off;
High-quality materials;
Nutritious oils inside;
Easy to hold;
Affordable price.
CONS:
It is slightly heavier than similar road straighteners.
5. Furiden Professional – The Dual Voltage Hair Straightener in Gold
The tool provides you with an adjustable temperature, which is great for all types of hair. All you need to do is simply rotate the handle until you find the temperature you need. Besides, I like its gorgeous golden design.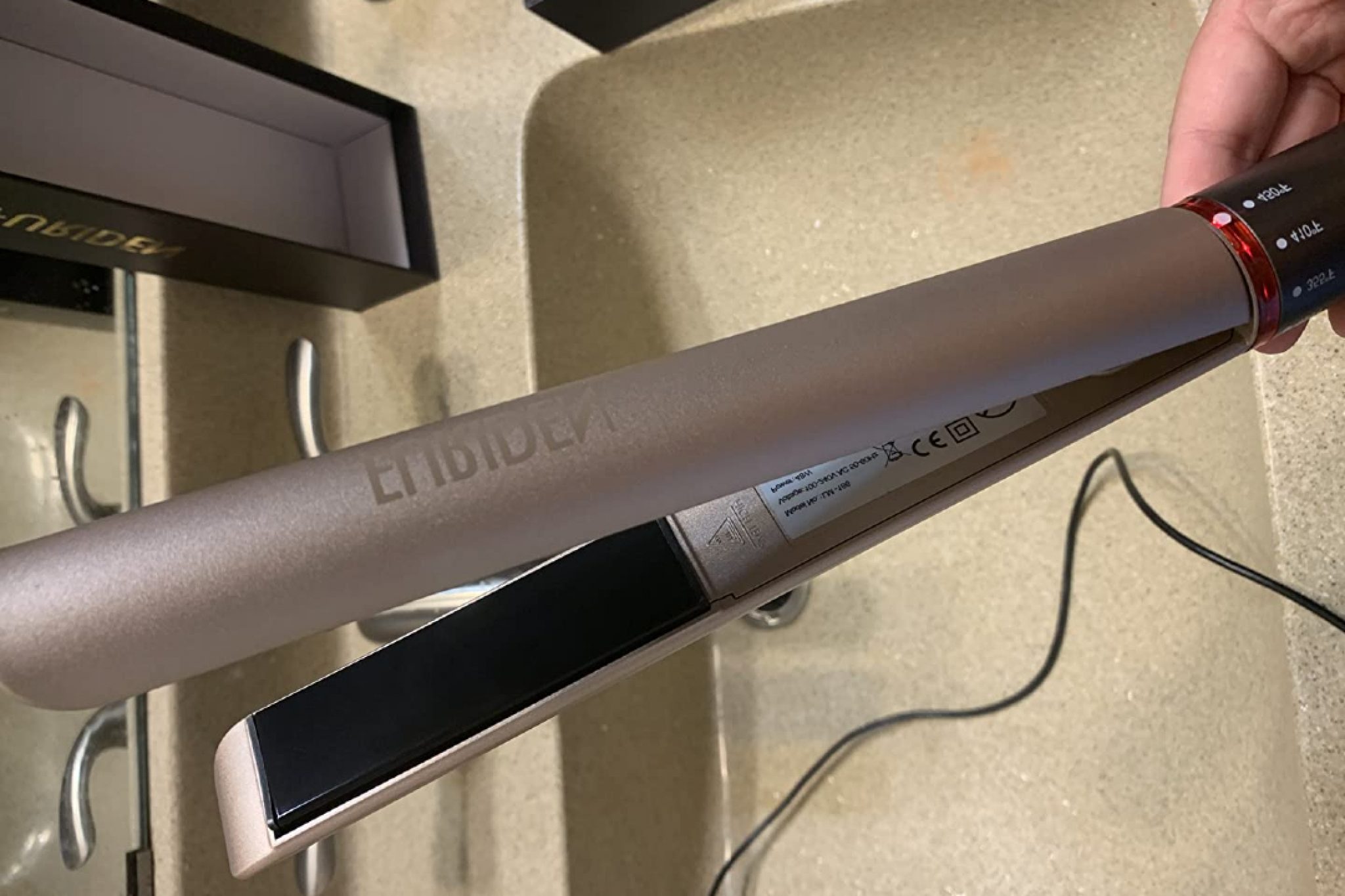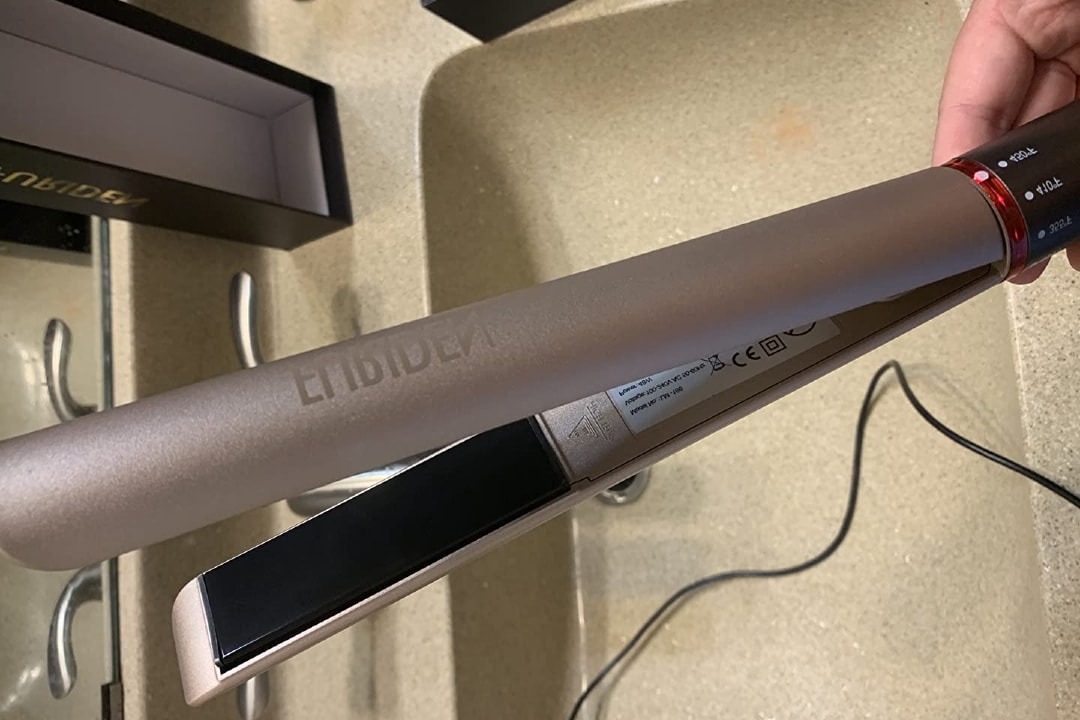 This iron heats in 15 seconds, which saves your time and energy. There are floating plates adjustable up to your demands, which is perfect for experiments with your style. The cord is also 360 degrees rotating and extra long (the only option which is more comfortable is buying a cordless flat iron).
Features:
Voltage: dual voltage for worldwide use, 110-240V AC
Size: 11.6 inches x 1.3 inches x 1.3 inches, plates are 1 inch;
Weight: 1.7 pounds;
Plates material: ceramic and tourmaline blend.
Furiden has been offering versatile hair styling products for 10 years on the market. These developers give a 6 months guarantee for this item. They have provided a dual voltage of 110-240V AC for international travels. Apart from it, there is an automatic shut-off. The pack with the iron also contains a glove that is heat resistant and is a must-have on every trip.
PROS:
Fits all hair types;
Comfortable to hold;
Anti-frizz effect;
Adjustable temperature;
Rotating and long cord.
CONS:
Its price is slightly more expensive than for other mini straighteners.
6. AmoVee 2 in 1 Travel Flat Iron – The International Hair Straightener with Comfortable Carry Bag
The titanium coating of iron's plates makes your hair shiny and silky. For comfortable use, the plates are 1 inch long, so you can finish your hairdo in less time with a better effect.
I like the hair clip that is attached to this iron, as I find it extremely useful during the styling process. The small bracket is steady enough to hold the tool on the table. The power button is right under the handle.
Features:
Voltage: worldwide use available, 100-240AC dual voltage;
Size: 10 inches long, 1 inch wide;
Weight: 1.05 pounds;
Plates material: titanium coating.
AmoVee producer is on-demand nowadays. They offer hair straighteners for both beauty salons and private use. This one has a dual voltage of 100-240V AC. If you are abroad and you notice different sockets, you may need a plug adapter. Place it together with the iron in a stylish carry bag. I believe this is a perfect gift for your friends or relatives, nicely packed and posh.
PROS:
Hair clip;
Dual voltage;
Affordable price;
Stylish design;
Comfortable to hold.
CONS:
It is not the smallest and most lightweight product on the list.
7. Conair MiniPro Ceramic Flat Iron – Great Dual Voltage Product Among Small Straighteners
This iron offers ceramic evenly heating plates, no frizz on your hair, and great speed of performance. The tool looks small, but it is powerful enough for your hair, no matter its type and length. The plates are ½ inch long. The whole tool provides up to 356F heat. Once it is heated, you will notice the On indicator. There is a dual voltage for trips abroad.
Features:
Voltage: dual voltage for international use;
Size: 1.75 inches x 9.5 inches x 4.5 inches, ½ inch plates;
Weight: 7.2 ounces;
Plates material: ceramic plates.
Conair is one of the leading beauty products on the market. They work with Hollywood stylists and well-known salons. Besides, the prices of the company are incredibly affordable. I recommend you to watch for the indicator light as it is extremely fast to heat up.
PROS:
Ceramic technology that prevents frizz;
Lightweight;
Quickly heat-up;
Well-known developer;
Affordable price.
CONS:
It is weightless and looks like a toy.
Travel Flat Iron Buyer's Guide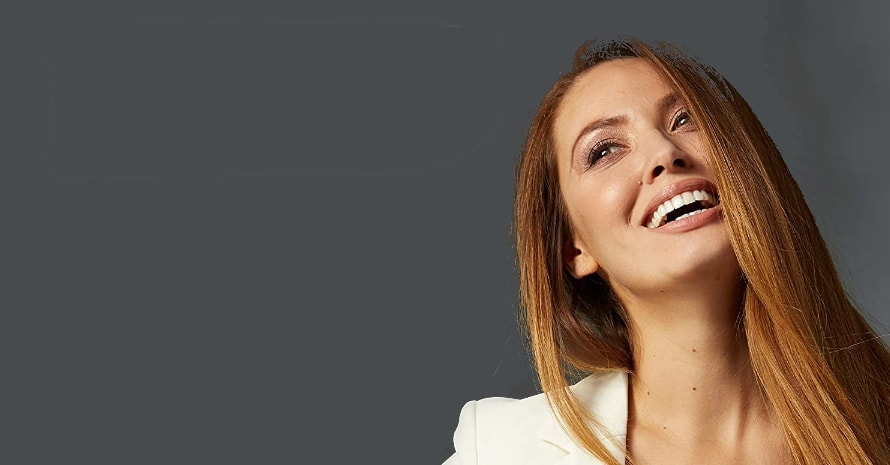 After you read all the travel flat iron reviews I've made, you may still wonder which one to choose. There are 7 great options for you. I completely agree with you; I understand that the choice is hard. These irons are all my favorites as well.
But if you have no intention to open a beauty salon in the nearest future or make perfect presents for your friends at Christmas, you may need just one of them… or maybe two. That's ok if you don't know how to choose among all these splendid mini flat irons from the list.
How to choose the best travel flat iron
Here is a brief guide for you, which I suppose can help. Pay attention to these functions of the iron, and decide which one you need the most. Before we start, I need to underline that you don't have to go on any compromises since this tool will stay with you for several years. If you don't like something or have doubts, try another option.
The size of the iron
On average, you may find up to 7 inches long straighteners that are still called travel. Ordinary straighteners for daily use are up to 12 inches. However, I believe that 7 inches long tools may not fit in your travel bag. This is why I offer you 6 inches long irons and even smaller.
There is 10 inches long AmoVee 2 in 1 Travel Flat Iron for those who travel with bigger suits. Larger irons will not be really easy to carry around.
Dual voltage
Since this collection of tools is gathered here as the best option for travels, dual voltage is more than important. If you are going abroad, you may not be able to use a simple straightener.
Typically for the US and Canada, electrical outlets are 110-120V, while in other countries, the average output is 220-240V. Without dual voltage, you may simply fry your straightener.
Weight
You don't want to carry around a heavyweight flat iron. Make sure that it is lightweight if you have to travel a lot. If you don't need to worry about the weight, pay more attention to its power. The heaviest item on the list weighs 1.05 pounds, so all of them are transportable.
Heat
You have to find out the maximum temperature before you buy the iron. Almost all tools on the list offer adjustable heat. However, there are a few that don't have this option. Depending on your hair type, you may want to change the temperature. Thin hair does not require extremely heated iron. Yet, all the straighteners on the list have an average temperature of up to 420F.
Material
Check out for extra features that iron offers you. It may be oil inside the coating of the plates that will nourish your hair or negative ions that will seal the cuticles from inside. Good travel iron has ceramic plates with titanium coating for anti-frizz.
Tips for traveling with a flat iron
To extend the life of your favorite flat iron, you have to follow only a few simple rules, unless you want to change one tool for another. My recommendations for you:
Use a stand on the iron or heatproof coverage to make sure that the surface of the table will not be damaged;
Carry the iron in a special bag. It can be heat resistant or not, but has to protect this instrument from outer damage;
Take adapters with you. There may be no adapters in the international hotels or rented apartment;
Remember to turn off the iron when you don't use it anymore. Even if it has an auto shut-off feature, don't waste electric power and don't take risks by leaving the tool working;
Try to put the iron in the bag once it cools down. This item is so easy to forget.
Travel Flat Iron FAQ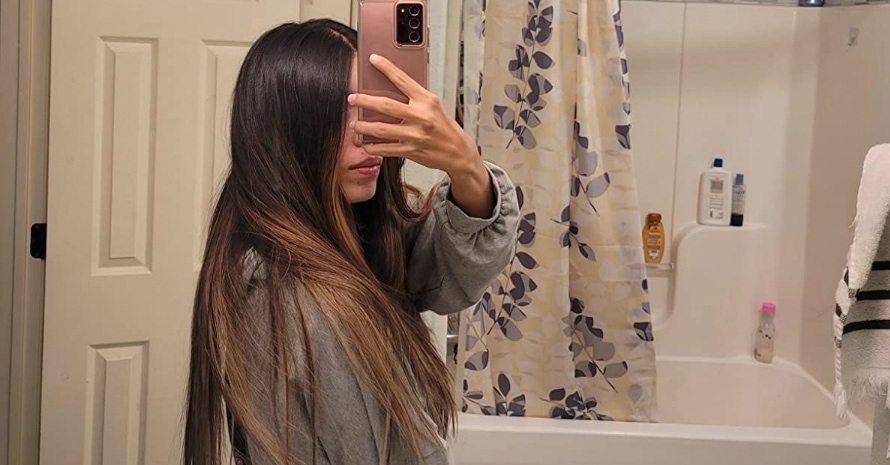 Here are the most common questions and answers about the irons. Don't forget to read them before you pick the product. If you have your own answers on how to straighten your hair, share them in the comments below.
Can I travel with a standard flat iron?
Yes, you definitely can. Why not? However, the standard straightener is longer and heavier than the one that was originally designed for travels. Besides, if you travel abroad, you have to make sure that there is a dual voltage function available on your flat iron.
Can I curl hair with a small flat iron?
Yes, you can curl your hair with a flat iron in no time. You may also choose whether you want big or small curls. All you need is to roll your locks into the shape that you want using the tool and hold it for several seconds. Don't forget to fixate your curls with specific sprays.
How to pack travel flat iron?
You don't have to put the iron in the box. All you need is a bag that will cover the tool completely and save it from damage during the travel. Don't forget to take an adapter and heat-resistant coverage with you.
Can I bring a flat iron in my carry on?
If you live in the USA, you can take your flat iron on the plane. Pack it into the carry-on bag and travel around the USA. However, if you travel abroad, you need to check for the requirements of the country you are going to. The main decision is taken by the TSA officer.
Which Flat Iron Is the Best?
All of the products on my list are named one of the best irons for travel. They offer versatile features and extra advantages that may be useful while you are on the road. Some of them are more affordable than others, and some have better-known brands.
At the same time, I recommend you to follow your own preferences and decide whether you need the lightest weight, the smaller size of plates and flat iron, extra care for your hair, or all of this at once. If you have used one of the irons on the list, please share your opinion about it in the comments below.
Last update on 2022-12-11 / Affiliate links / Images from Amazon Product Advertising API