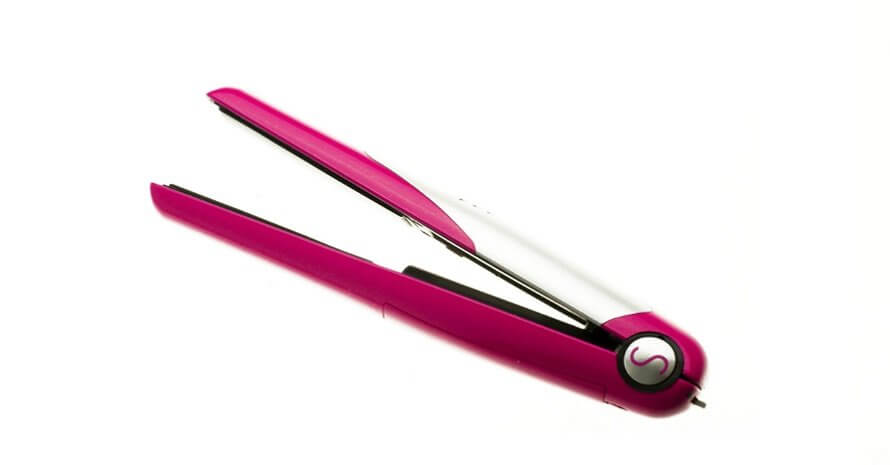 If you like to travel, and often go on business or leave for vacation, you are aware of all the problems a woman face when she is trying to look her best on the road or far away from home. If you decide to take along all your cosmetics, it is likely that there will no longer be any place for other stuff.

Pros
Precise temperature control due to the SmartSense regular measurement technology
4 temperature settings for all hair types
Ceramic tourmaline plates
Top Pick
Pros
Precise temperature control due to the SmartSense regular measurement technology
Runner Up
Pros
4 temperature settings for all hair types
Best Budget Pick
Pros
Ceramic tourmaline plates
Let alone the hair straightener. You may go to the beach to swim or sunbathe in the morning with no regard for what your hair looks like, but in the evening you want to look attractive because you are going to have a date in a restaurant.
What`s to be done? We all know that most straighteners are bulky and heavy. There is a solution! Take a look at our list of 5 portable cordless flat irons and choose the one you need.
TOP-8 Best Cordless Flat Irons
Paul Mitchell Neuro Smooth Flat Iron
Conair Unbound Cordless Titanium Flat Iron
Cordless Mini Travel Flat Iron by DEOGRATIAS
PriTech Portable Cordless Hair Straightener
Carmen Wireless Hair Straightener
Babyliss Portable Flat Iron
Lunata Cordless Flat Iron
Travel Cordless Mini Hair Straightener
1. Paul Mitchell Neuro Smooth Flat Iron
Brought about by the famous Paul Mitchell brand, Neuro Smooth provides you with what other flat irons often fail to guarantee, namely consistency. This best-selling tool measures 12.65 inches long and is not what you might call "mini". Instead, it's a powerful beast for at-home styling that will leave your hair stick straight throughout the day no matter what elements it's exposed to.
The cushioned, bevel-edge IsoTherm Titanium plates heat up to as much as 450 degrees Fahrenheit in just 45 seconds for quick and relaxed styling even on coarse hair. These come in the standard 1.25-inch size for maximum versatility. Digital temperature setting control with a big LCD screen ensures maximum precision, in which the SmartSense microchip maintains even and consistent heating.
Here's how Neuro Smooth stands out:
Heating to up to 450F in no time;
Low-damage titanium plates;
Versatile plate design for a variety of style;
Precise temperature control due to the SmartSense regular measurement technology;
Dual voltage for trips;
Adjustable auto shut-down time.
Just in case you can't bear to part with your Neuro Smooth when on a trip, this iron comes with a dual voltage feature. You can also adjust the automatic turn-off time.
2. Conair Unbound Cordless Titanium Flat Iron
This powerful, cordless, compact tool will help you create a salon quality hairstyle no matter where you are. Its titanium plates will not harm your hair, preserving its elasticity and softness. This device is small and lightweight, which is great for easy transportation.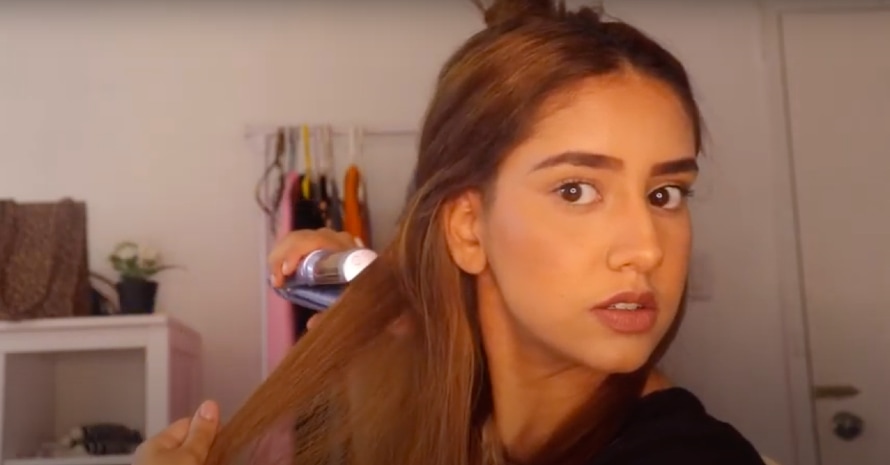 The titanium flat iron preserves moisture in the structure of each hair, making your locks look healthy and shiny. Its lithium battery gives from 25 minutes to 40 minutes of continuous heating, depending on the settings you choose.
So, these are the main characteristics of the Conair Unbound flat iron:
2 charging options: in your car and at home;
temperature control: 280°F (for elegant curls), 360°F (for effective straightening), 380°F (for perfectly smooth strands), 400°F (for thick hair);
lock mechanism;
auto off feature;
plate size: 1 inch;
country of origin: USA.
You can recharge this styling device even in the car. The iron has a lock mechanism for more safety, and its special case provides protection of the tool during the trip.
3. Cordless Mini Travel Flat Iron by DEOGRATIAS
One of the best solutions for travels which I found on the market of cordless devices is this tiny flat iron by Deogratias. It is lightweight and is not larger than a cell phone. 7,8 inches of perfection good for your hair and suitable for traveling, what more to wish from a cordless hair straightener? Put it in luggage, a purse or even a cosmetic bag – the device won't take much place there and will help you change hairstyles on the go.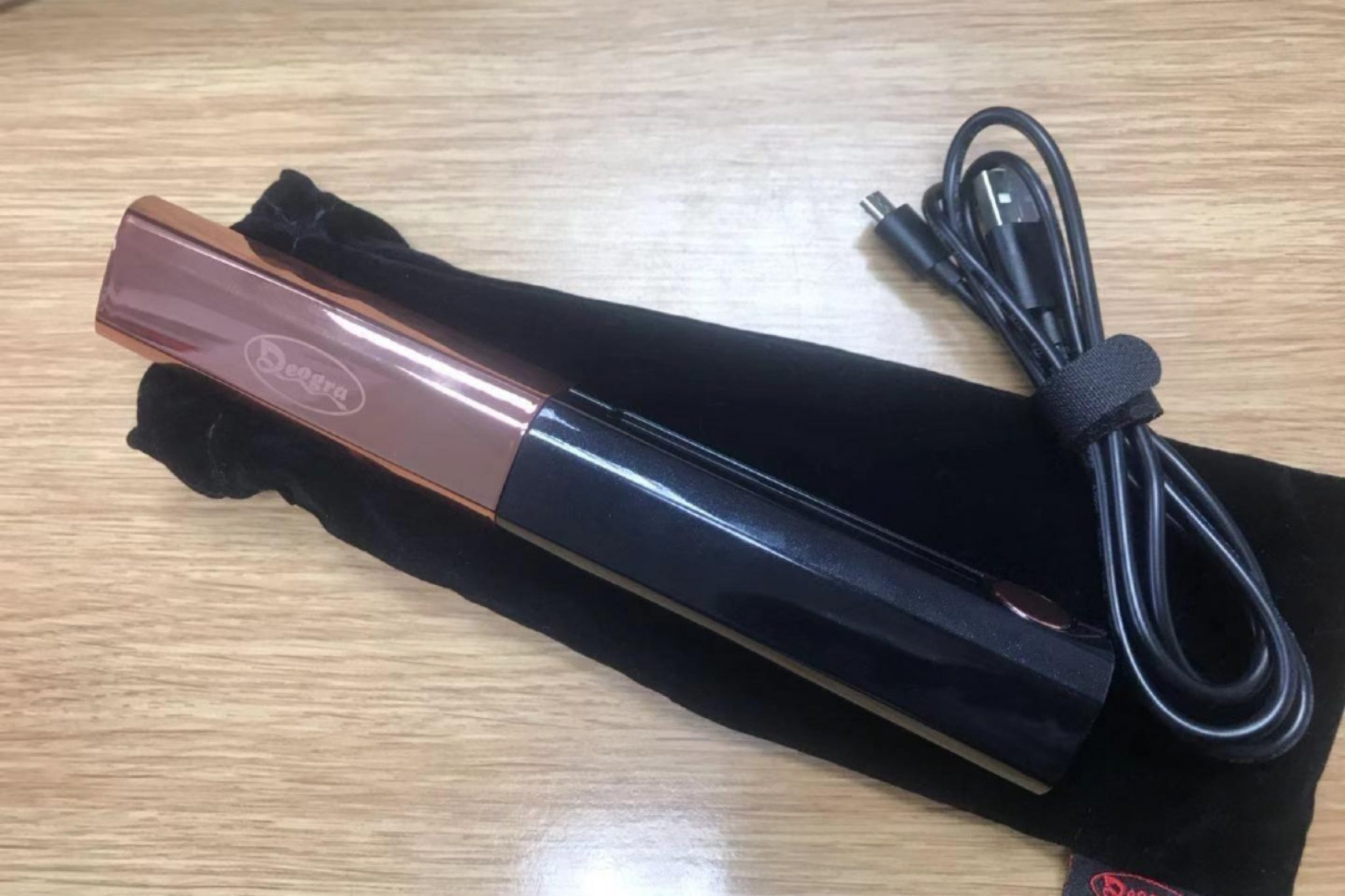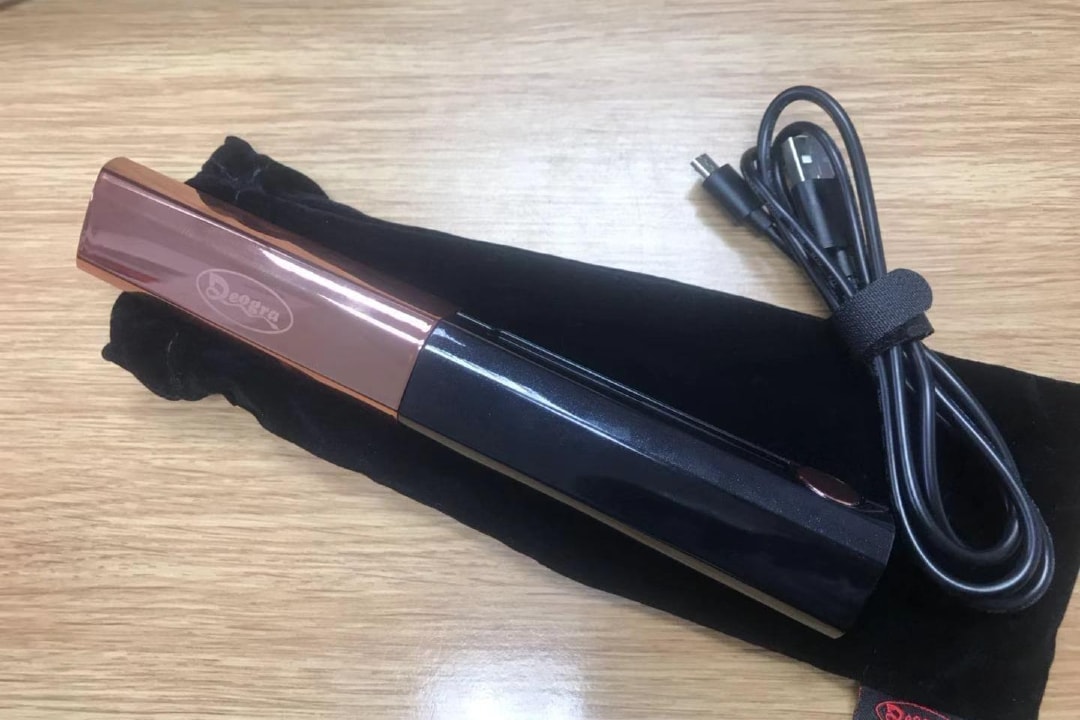 The model is equipped with ceramic tourmaline plates with negative ions to eliminate static, reduce frizz, and protect hair from damage during styling. Deogratias flat iron heats up to 410℉ in dozens of seconds to offer you fast styling for straightening, flipping, and curling your hair. Shiny and silky look whatever style you choose, isn't it the thing you crave so much?
So let's sum up, what's good about this device:
compact and portable design;
worldwide use available;
USB charging;
ceramic tourmaline plates;
fast heating up to 410℉;
nice design;
affordable price.
Recharging this cordless device is easy as ABC: the USB charging cable comes at your disposal and makes re-charging possible in any location in the world.
4. PriTech Portable Cordless Hair Straightener
This cordless mini straightener is a budget option for those girls who are going on a trip but do not want to spend a lot of money on a portable styler.
This mini flat iron features two adjustable temperature modes. You can choose the one that suits your hair type and condition. Its ceramic coated plates contribute to even heat distribution and salon quality results. Its charging time is 3 hours and its operation time is 30-50 minutes before recharge.
The iron is valued for:
its low price;
its compact design;
it is portable;
it has 3 adjustable temperature settings;
it has solid ceramic plates.
The device is ideal for traveling. Moreover, this handy accessory is great for touch-ups. If you are going to the party or having a date, this amazing tool will help you look gorgeous from beginning till end.
5. Carmen Wireless Hair Straightener
Its innovative Keratin Protech plates will give your hair healthy appearance and shine and protect it from heat damage. The device features three temperature modes: 140°C, 160°C and 180°C for gentle styling. Its compact size will allow you to carry the tool in a handbag or a clutch.
Thanks to its rechargeable lithium battery, the flat iron may be continuously used for about 25 minutes from one full charge. Its heatproof travel pouch means that you can put the tool into your bag while it is still warm.
Its main advantages are:
it is portable, cordless and rechargeable;
it is perfect for women on the go – it is ideal for smoothing your hair before an important meeting or when you are going to hit the bar;
unique Keratin Protech technology, which minimizes hair damage by 50 percent.
The Carmen by Samantha cordless rechargeable hair straightener is a wonderful choice if you are far away from your dressing table but still want your hair to look well-groomed because you are a real lady!
6. Babyliss Portable Flat Iron
Try this instead:
First of all, the Babyliss-2581bu gas hair straightener is designed to be small enough to fit in a small travel bag. It is a perfect tool for a journey or a picnic. The iron is fueled by a gas cartridge. So, you can take it anywhere you go and be sure your hair will be straight and styled whenever you need.
It features ceramic floating plates that provide even pressure, thus making your hair look perfectly smooth. The portable flat iron can reach temperatures of up to 215°C. By the way, it heats up very quickly thanks to butane, which gives off natural warmth.
Those girls who have chosen this straightener for traveling seem to be happy with their purchase according to their reviews. Its main advantages are:
compact design;
it is portable;
it is naturally warmed by a gas-powered heating system;
ceramic coated plates;
it heats up quickly;
sleek design;
automatic temperature control;
protective heat shield;
leading professional brand.
Keep the plates of the flat iron closed together when heating them up. If you keep them open, only one plate will heat up.
I hope the information provided above will be useful for you and your vacation or business trip will be a success.
An important advantage of cordless hair straighteners is that they are indispensable helpers on the road. You can make your hairstyle look well-groomed at any time and in any situation. You can also use a cordless hair straightener at home. It is very convenient because the annoying cord will not get in the way while you`re styling your locks.
7. Lunata Cordless Flat Iron
This small flat iron is perfect for traveling. It can reach up to 450 degrees, has a silicon cover, and removable lithium 5000 mAh batteries. The device is perfect for gyms, travels, and offices. Silicon cover provides a comfortable grip. Since the iron is 2.2 pounds only, you can hold it with ease for all the time it works. The plates are 1 inch long. They are made from titanium, which keeps the moisture in every strand, so you will not over-dry it. Titanium also keeps ionic charges higher than the ceramic one.
If you need to change the temperature, there is an adjustable range of 200-450F. You can decrease or increase it using the button on the handle. The iron is charged via the USB port for 2-3 hours. It works for 45 minutes straight after being fully recharged.
The benefits of Lunata Flat Iron:
Compact size of 1 inch long plates, and 2.2 pounds weight;
Adjustable temperature up to 450F;
The battery is 5000 mAh;
Titanium plates.
You can use a USB-C cable that goes in the pack with the flat iron. Put it on your laptop to charge the instrument. This tool is made in a stylish design by Lunata manufacturer.
8. Travel Cordless Mini Hair Straightener
This travel-size flat iron by Salondepot is made in white and black design. The straightener lures your attention with a posh, classy look. It can be used in travels, on the go, at the gym, before the date. The capacity of the battery inside is 4000 mAh, which allows us to use the straightener for 45 minutes in a row. It heats up in 2.5 hours.
Floating plates are made of ceramic, and protect your hair from damage. Ceramic cover spreads the temperature smoothly and equally over the plates. It keeps the moisture inside your hair, preventing frizz. Despite the compact size, this tool works great for different sizes and types of hair, including thin, thick, and medium.
There are 3 temperature levels of 320F, 360F, and 400F, which you can change depending on the required speed and hair type. Salondepot manufacturer offers a 1-year warranty for this tool.
The main features of Salondepot straightener:
Powerful 4000 mAh battery;
The maximum temperature is 400F;
Affordable price;
Ceramic plates that prevent hair from damage;
Lightweight;
Three temperature modes.
The instrument requires 23W power. Its size is 8.5 inches x 1.1 inches x 1.4 inches. The plates are 0.6 inches long. Also, the pack includes a charging cable.
Guide to the Best Flat Irons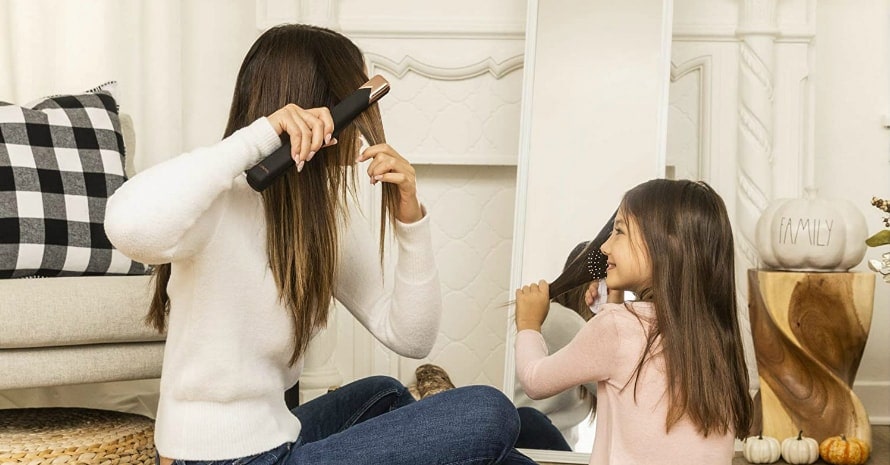 It is not the easiest task to pick the most suitable wireless flat iron for your curls. Perfection is in detail. You have to consider numerous factors. If you are looking for a cordless flat iron, it means that you want it to be mobile and lightweight.
However, it also has to do as minimum damage to your hair as possible. Bear in mind that once the damage is done, it is hard to undo it. So, I suggest you use only the most reliable and advanced tools. I hope this guide will help you.
How do cordless flat irons work?
These tools are called battery-operated hair straighteners for a reason. There is a removable lithium battery in each of them. It must be recharged so it can work properly. Some of the irons come with the wall charger; however, the vast majority of modern cordless irons can be easily charged with the USB cable, from your laptop, phone, or wall adapter.
It takes up to 2-3 hours to be fully charged. You can use it for the next 60 minutes after that, but it depends on the capacity of the battery.
How to pick cordless flat iron?
Consider your daily schedule before you pick a straightener. Depending on the place of use, you may decide whether you need a cordless tool or not. Usually, wireless flat irons are lightweight, transportable, short, and can be charged via the USB cable. They are perfect for active women who want to look astonishing anywhere they go, no matter how hard they work. To pick the proper flat iron for your hair, pay attention to the:
Time of active work provided by the battery. Usually, it is up to 30-45 minutes, depending on the battery power. The average capacity of the battery is 4000-5000 mAh;
Charger. There are only a few cordless irons left that are still charged from specific wall chargers. Modern irons can be charged from the USB cable. You may use your laptop and even iPhone to charge the flat iron. It does not have to take longer than 3 hours for a complete recharge. After that, it will work for 45 minutes. Make sure that this tool can provide you enough heat. On average, cordless flat irons can reach up to 450F;
The coverage of the iron and whether the handle is comfortable to hold. Titanium plates are the most beneficial for your hair, as titanium saves the moisture inside the hair, keeping it healthy. There is also ceramic tourmaline coverage of plates that contains negative ions. This coverage cuts the frizz and reduces static;
Size of the instrument. It is believed that the longer your hair is, the longer the plates of the flat iron must be; however, with a cordless straightener that can't work. On the contrary, you are recommended to pay attention to the lightweight and compact size of plates. The perfect and most spread size of the plates is 1 inch;
Price is equally important as the quality and power. I advise you not to overpay for big names and not to go for cheap tools either. Check out my favorites from the list, as they all are affordable and of high quality.
Hope you found your perfect cordless iron! Please do share your thoughts in the comment section and feel free to suggest other tools you want me to review.
Last update on 2022-12-11 / Affiliate links / Images from Amazon Product Advertising API