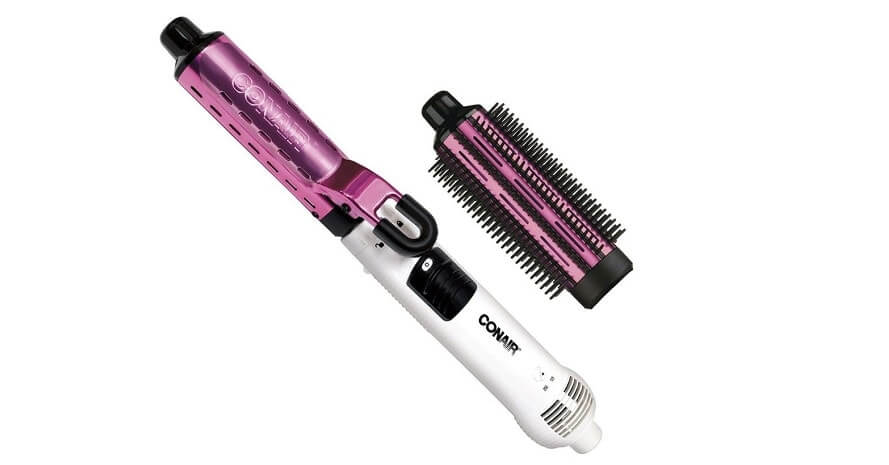 Hot air styler is a real magic wand for every woman who's always in a hurry. With this device, you can do two things simultaneously – dry your hair and style it. It goes without mentioning brilliant results: smooth, sleek and naturally straight locks without tangling and frizz. However, to achieve this, you should use a suitable brush that is tailored to your hair type.
Pros
LED display makes it highly convenient
Comes with a 2-speed slide switch and a cool mode
25 temperature settings for any hair type
Top Pick
Pros
LED display makes it highly convenient
Runner Up
Pros
Comes with a 2-speed slide switch and a cool mode
Best Budget Pick
Pros
25 temperature settings for any hair type
10 Best Conair Hot Brushes
Conair brand produces one of the best hot air brushes. Thousands of users love them for a combination of state-of-art beauty technologies and convenient design. Let's take a closer look at the best Conair hot brushes.
1. Infiniti Pro by Conair Platinum Hot Curl Brush (2-inch)
Ladies with thicker and longer hair should opt for this Conair dryer brush.
2-inch barrel is made of titanium that heats up pretty quickly (up to 5 minutes during which you can dry and comb your hair to prepare for styling);
nylon bristles are thick – they won't break after the first use and can comb through thick locks ideally;
there are five temperature settings from 300 to 395 degrees – a wide range of settings for such device, which makes this model versatile;
LED display makes it highly convenient.
Infiniti Pro Conair spin air brush would be suitable for making soft and silky curls that look naturally. With this model, you won't get perfectly straight hair like after flat ironing – the barrel is too big for that.
2. Infiniti Pro by Conair Wet to Dry Hot Air Styler
It's one of the most advanced Conair Infiniti brushes as it has Triple Action Styling System: it straightens hair, dries it properly and controls frizz. The main benefit of this model is that it's equally effective for wet and dry hair: you don't have to blow hair before applying it.
Tourmaline ceramic technology preserves healthy shine and structure of hair, and infrared emission adds shine and silky touch. Conair Infiniti brush comes with a 2-speed slide switch and a cool mode. A special tension control system makes this model versatile, so it can be used by girls with both thin and thick hair regardless of length.

Conair Infiniti brush comes with a 2-speed slide switch and a cool mode. A special tension control system makes this model versatile, so it can be used by girls with both thin and thick hair regardless of length.
3. The Conair Infiniti Pro Brush With Nano Tourmaline Ceramic Barrel
Unlike many other conventional models, this blow drying brush is perfect for styling hair even when it's pretty wet.
a tourmaline barrel doesn't burn hair: you preserve its health and structure even when using at high temperatures;
a 1-inch wide barrel is perfect for women with short hair, and yet allows making perfectly straight locks regardless of hair length;
natural ionization makes hair shiny and healthy helping to remove frizz;
one more reason to buy this very model is short solid bristles that don't tangle locks and would be perfect for thin hair;
395-degree heating ensures 24-hour long results;
there are four temperature settings for different hair types;
it's one of the smallest Conair styling brushes and weight 1 pound only, which makes it perfect for traveling.
4. Infiniti Pro by Conair Diamond-Infused Ceramic Smoothing Hot Brush
Conair straightening brush features proprietary Diamond Brilliance Shine System, which means that the ceramic surface of this brush has a special ionic technology. Here you can find why it's necessary.
The advanced heating plates emit negative ions that reduce frizz and make up for natural gloss.
The combination of nylon, silicone and ceramic bristles makes this model a one-size-fits-all solution: no matter what type of hair you have, you can be sure that it won't be tangled.
Conair Infiniti pro styler can be used with more or less wet hair – perfect results are guaranteed thanks to instant heating up to 400 degrees. The brush isn't too big and may fit into your traveling bag (please, note that it doesn't feature dual voltage).
5. Infiniti Pro by Conair Spin Air Rotating Styler
This Conair rotating brush comes with two brushes: a 2-inch barrel for creating natural curls, and 1 1/2 barrel for creating a sleeker, straighter look. A protective cover is included as well. The manufacturer claims it's a great option for refreshing hair between shampooing: negative ionization removes frizz and restores shine.
Anyway, Conair Infiniti Pro spin air brush is intended to be used on dry or slightly wet hair despite the fact it heats up to 395 degrees.
Conair Infiniti Pro spin air rotating styler can twist in both directions, so you don't have to be highly skilled in using it. However, be careful when styling long thin hair: small nylon bristles can easily tangle them. This styler can rather be recommended to ladies with coarse, thick hair, curly or straight.
6. Conair Instant Heat Hot Curl Brush
Need a styler for traveling? There's no better solution than Conair styling brush with instant heating. It features one 1/4-inch barrel that is great for making minor curls and waves and adding body and height even to short fine hair.
The unbeatable advantage of this device is that it has 25 temperature settings for any hair type! Turbo heat option can make the barrel 36 °F hotter for instant hair styling, and total heating takes 60 seconds only.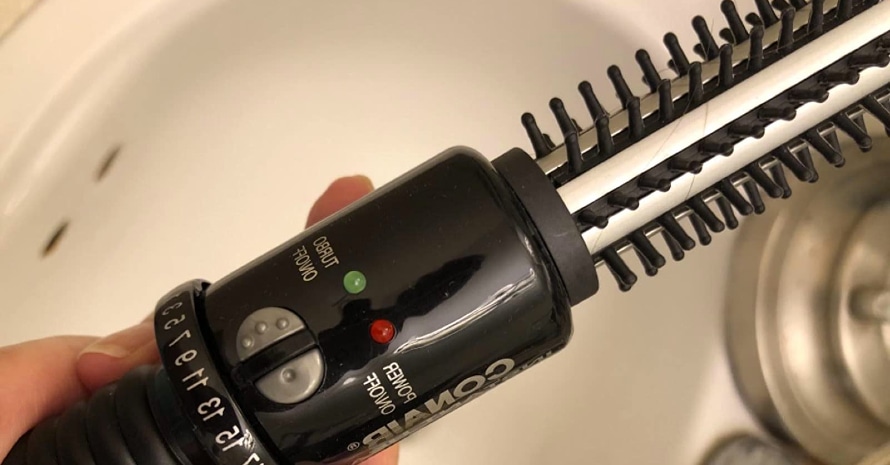 This Conair hot air brush has an auto shut-off function and a swivel cord so that safety won't be a problem with it. Good news: with dual voltage (110 V and 240 V) you can use this device outside the US without a power adaptor.
Flexible plastic bristles will work perfectly for thin hair, but if you have thick curly dark hair and very voluminous locks, you will need some time to make a decent hairstyle with this little brush.
7. Conair Supreme 2-in-1 Hot Air Styling Brush
Conair 2-in-1 hot air brush comes with two attachments: a 1-inch barrel for making smaller curls, and a 1 1/2 inch barrel for making larger waves.
The aluminium barrel heats up pretty quickly and ensures long-lasting style. This is one of the most powerful Conair round brushes that is suited for different hairstyles.
Small nylon bristles can easily go through thick hair without tangling.
The device features dual voltage so that it can be safely used all over the globe. There are two temperature settings: low and high, and a slider button to switch the device on/off. All in all, this Conair spin brush is a simple and yet mighty solution for girls who need fast styling.
8. Conair Supreme Hot Curl Brush (3/4-inch)
Judging by Conair spin brush reviews, this is the most convenient brush for users who're always on the go. Indeed, a small plastic Conair hot brush can fit into your bag simply replacing your usual brush. Girls with short hair should pay attention to this model.
The device comes with a 3/4 inch barrel and small nylon bristles that comb even thin, fine hair right from the roots.
Conair curling brush has 10 temperature modes and a power indicator light. The long swivel cord doesn't tangle, but this device doesn't feature dual voltage which means you'll have to buy a power adaptor to use it abroad. All in all, this is a cheap option that allows simply drying and combing hair without creating complicated hairstyles.
9. Conair Curling Brush (1.5 inches) Dual Voltage
If you need something a bit simpler than Infiniti Pro Conair brush, this is a more affordable option. The device comes with two barrels: 1.5 inches for great volume and big curls, and 1-inch boar and nylon bristle brush for making straight hair.
Aluminum core heats up within a minute and ensures fast and long-lasting styling, although it's not the most advanced option. Fine nylon and boar bristles will work well for thick and curly hair, but it's not the best option for thin hair as it may get easily tangled.
There's a three position switch: low, high and off. Although it has limited functionality, this Conair brush hair dryer would be great for traveling as it features dual voltage. Just don't forget to change it when using outside the US (a plug adapter is not included, buy one).
10. Conair Mini PRO Ceramic Smoothing Straightener
Want to have silky strands and straight hair without visiting a hair salon and spending much time? This pretty pink MINI PRO model will replace a usual brush in your bag and make stunning hairstyles, no matter where you use it.
While Conair spin air brush is intended to create curly locks, Conair MINI PRO straightens hair making them smooth and shiny. Ceramic panel and nylon bristles emit negative ions for eliminating frizz and adding gloss. This straightener is considered to be the best mini flat iron.
It heats up to 365 °F. Probably, not the best option for thick, coarse hair, but it will work on fine and thin strands regardless of their volume. The device has a convenient swivel cord and a power indicator. It's a cheap and chic solution for those who demand basic functions and convenience.
Conair offers the full spectrum of various brushes starting from simple straighteners and finishing by special sets for creating magnificent hairstyles. If you aim to make hair look naturally curly and shiny, select a spin air brush by Conair Infiniti series. Want a brush for drying and straightening? Then go for one of the paddle brushes.
Those who're always on the go should opt for MINI PRO or Instant Heat brushes depending on the desired results.
What's your favorite brush of Conair brand? Let's share experience to find out the best model from this list!
Last update on 2022-12-11 / Affiliate links / Images from Amazon Product Advertising API