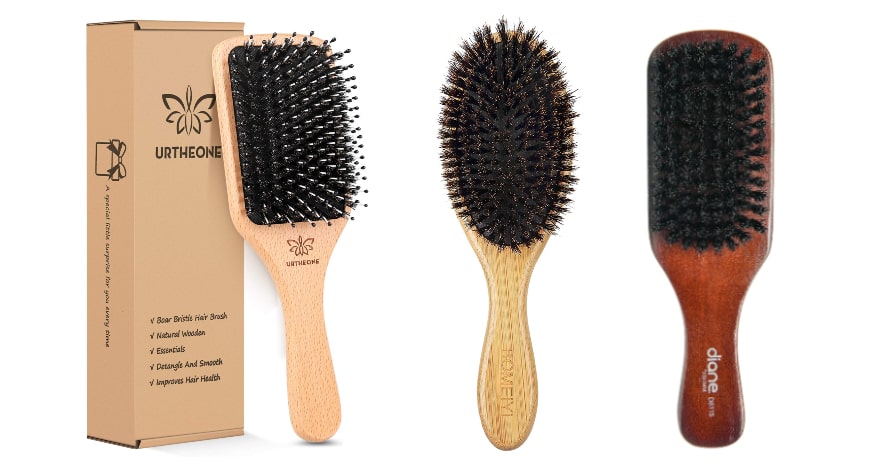 Good hair inspires confidence, and many people would go to great lengths to achieve healthy and good looking hair. According to research conducted by OnePoll, 28% of Americans would rather get stuck in traffic than have a bad hairdo.
What most people don't know is that having healthy hair starts with the type of hairbrush you use. If you don't choose the right brush for your mane, chances are you will experience a static, frizzy effect, and your hair will get damaged.
Pros
Gentle brushing to prevent pain
Ideal for sensitive scalp
Leaves behind a splendid effect
Pros
Gentle brushing to prevent pain
Pros
Ideal for sensitive scalp
Pros
Leaves behind a splendid effect
Selecting the best boar bristle brush, on the other hand, will provide you with the magic of healthy hair with very little struggle. These brushes are natural hair conditioners and will help your mane to grow fast and healthy. With such brushes, you don't have to buy the most expensive hair products, or visit specialists or do other weird things to get healthy hair.
But how do you know if a boar bristle brush is right for you? In this guide, I will discuss the best boar brushes on the market today, the criteria for choosing the right brush, and how you can clean your boar bristle brush.
Top 5 Boar Bristle Brushes
URTHEONE Hairbrush – Top Pick
Diane Boar 2-Sided Club Brush
BESTOOL Hair Brush
BOMEIYI 100% Boar Bristle Hair Brush Set
FIXBODY Brush
There are different types and sizes of boar bristle brushes. Some are meant for long thick hair while others work best with fine hair. Selecting the right brush for your hair is the first step to achieving healthy hair. Below are some of the best boar bristle brushes available.
1. URTHEONE Hairbrush – Best Boar Bristle Brush
This product is manufactured by Urtheone Brand. This brand produces different types of hairbrushes sold on Amazon. The majority of Urtheone products are best sellers on Amazon.
It can be difficult to brush thick long hair when you don't have the right brush. This hairbrush is the ideal solution for such hair because its long bristles get through thick hair and re-distribute natural oil throughout the strands and scalp. The brush also helps remove excess oil leaving your mane shiny and smooth.
The brush combines boar bristles with nylon pins. The bristles are thin and straight to easily penetrate through the hair while the nylon pins have detangled knots for massaging your scalp.
You'll find this brush extremely easy to use thanks to its ergonomic handle. The wooden paddle handle offers a comfy handling experience.
PROS:
Gentle brushing to prevent pain;
Cleanses hair when brushing;
Effectively massages your scalp;
Works with all kind of hair;
Ergonomic handle.
2. Diane Boar 2-Sided Club Brush – 100% Boar Bristle Brush
Diane is a top brand known for manufacturing first-class quality essential beauty products. The brand has been in the market for over a decade now. The high rating of this product on this review is a testimony of the quality of products produced by Diane.
With two brushes on each of the sides, the Diane brush serves two purposes at the same time. One side is made of firm bristles that are nice for long coarse hair while the other side is made of soft bristles that you can use on short and soft hair.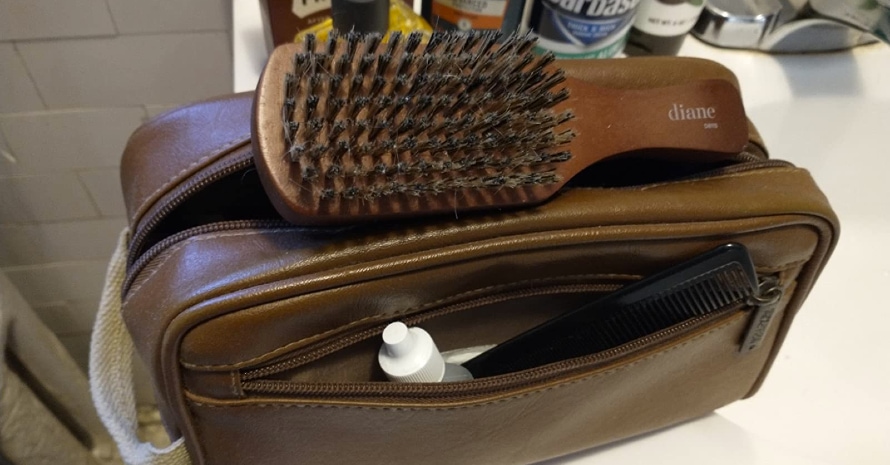 You can use this brush on different types of hair textures and sizes. However, it is a perfect tool for people with medium or coarse hair. The bristles can get to the shaft of your hair and easily remove tangles while being gentle to your scalp, making it ideal for people who have a sensitive scalp.
Most brushes don't last long because of bristle loss. It is not a problem for Diane Boar brush users. The brush encompasses advanced implantation technology that keeps the bristles in place. This minimizes bristle loss and increases durability.
PROS:
Removes tangles;
Lightweight;
Ideal for all hair textures;
Gets to your hair root;
Multipurpose.
CONS:
Bristles on the other side are a little stiff.
3. BESTOOL Hair Brush – Great Wooden Hair Brush
This wooden hairbrush is among the wide range of products manufactured by BESTOOL brand. The brand prides itself on developing exceptional quality beauty and grooming products that help people get maximum benefits.
The brush is made of both boar and nylon bristles. Many people may be concerned about the presence of the nylon bristles, but in fact, they make the brush more effective. Nylon bristles detangle hair and massage the scalp removing stray flakes that may be present. The boar bristles, on the other hand, removes frizz and gives you smooth and silky hair.
If you have a problem with an itchy scalp, split ends, or frizzy hair, then this brush is your ideal solution. The brush has soft bristles that ensure strokes have less pain, no damage, and the least pain possible. Besides, the massage on your scalp helps soothe your sensitive scalp and enhances the circulation of blood.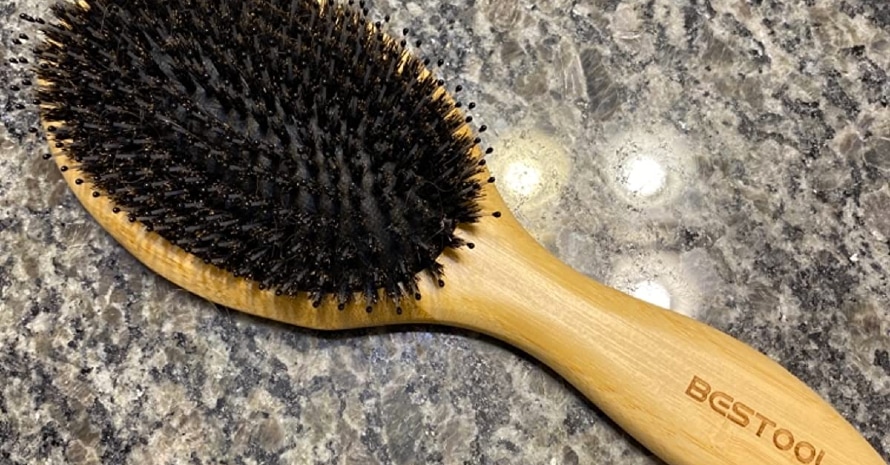 Is your thick hair giving you a hard time brushing? Well, here you have your solution since this one can be named the best boar bristle brush for thick hair. It has a perfect concentration of bristles that get through long and thick hair and remove tangles with ease.
Given that most people with long hair have a problem with shedding, this brush will prevent hair from breaking. It also ensures any loose hair does not end up in the shower drain but remains in the brush.
PROS:
Ideal for sensitive scalp;
Has a brush cleaner;
Flexible bristles;
Great size and perfect weight.
CONS:
The handle may be too small for some hands.
4. BOMEIYI 100% Boar Bristle Hair Brush Set – Soft Boar Bristle Brush
BOMEIYI is a company that, in addition to making hairbrushes, manufacturers combs, sponges for applying make-up, scrubbing brushes among other products.
If you are looking for a 100% boar bristle hair brush that effectively takes care of your hair and leaves behind an impressive effect, then BOMEIYI 100% Boar Bristle Hair Brush should be your ideal choice. The brush can remove dirt, oil, and dandruff. It also massages and relaxes your scalp leaving it healthy.
Another thing you'll love about this brush is the effects it brings when using it regularly. You'll experience healthy, shiny hair free from frizz and split ends. If you have struggled with hair shedding, then you'll notice a fast reduction in hair loss and breakage. Your hair will also be shining thanks to the proper redistribution of oil on the scalp.
If you have short, thin hair, then this is the ideal brush for you. Its soft bristles will gently get through short hair without breakage, giving you healthy glossy hair.
Quality is also an important consideration for BOMEIYI Hair Brush. It has been designed with an exceptional quality bamboo handle that's finely carved with matte finishing for comfy handling. For quality assurance, the manufacturer provides buyers with a 30-day full refund as well as 12 months guarantee.
PROS:
Leaves behind a splendid effect;
Great design;
Quality assurance; full refund;
Perfect for short thin hair.
CONS:
Bristles can be too soft for coarse thick hair.
5. FIXBODY Brush – Best Boar Bristle Round Brush
This hairbrush is a product of FIXBODY Company. This company produces and sells a number of products, including makeup brush sets, nail clipper sets, among other products.
A fantastic natural boar bristle brush that you can use to straighten and blow dry normal, medium to long hair. The brush effectively spreads the sebum produced by the scalp and lubricate hair strands reducing static and frizz. This brush also removes tangles and massages your scalp ensuring better blood circulation, leading to healthier hair.
The brush provides additional benefits to your hair, such as high-heat resistance, anti-static, and removes bad smell thanks to its Nano ionic haircare technology.
You do not have to strain when taking care of your hair. This brush is lightweight and has a rubber grip with ceramic coating for a comfortable handling experience.
Sometimes you may have a hard time removing dead cells and hair strands that get trapped in the bristles. This high-quality boar bristle round brush also has a new feature just for that.
It comes with a retractable needle that will simplify the process of picking loose hairs and any dirt that remains in the bristles.
PROS:
Comes with additional features;
Ergonomic honeycomb design;
Prevents hair damage;
Uses Nano ionic technology;
Quality rubber grip.
Buyer's Guide
It comes quite naturally that Boar Bristle Brushes are the best option and should be your choice when you go shopping for a hairbrush. But not all these brushes are the same. They are available in many different types, and choosing the right brush for you will depend on many factors.
The first thing you should consider is your hair type. If you have thin fine to medium hair, then your ideal brush should be made of 100% natural boar bristles. For the most part, these bristles are soft and gentle, allowing you to straighten hair without hurting your hair. However, be keen not to purchase a brush that's not too soft as it may not penetrate through the hair.
People with thick or coarse hair, on the other hand, should opt for a brush with stiff boar bristles or one that has been enforced with nylon bristles. Such bristles penetrate better through the hair.
You should also consider the length of your hair. If your hair is longer, it's advisable to select a brush with a large paddle, alternatively, you can use an oval boar brush. If you have short hair, smaller sized brushes should do the magic.
Those who are looking to add volume should use a round brush.
Frequently Asked Questions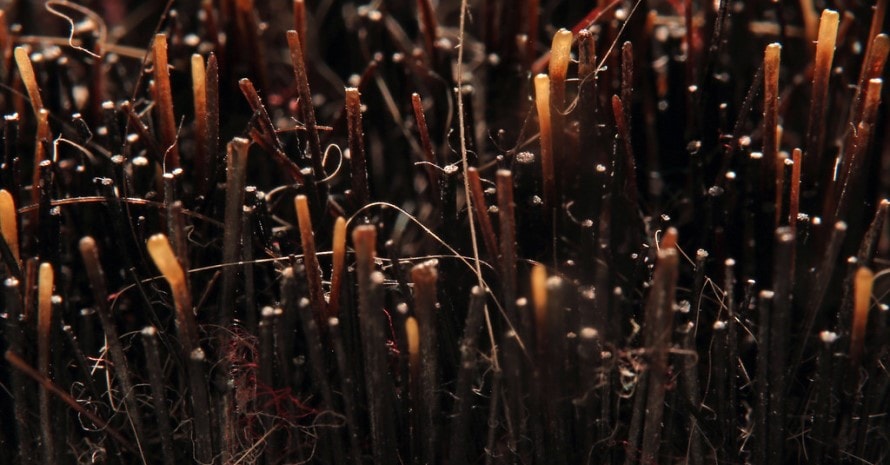 What is a boar bristle brush?
This is a brush whose bristles are obtained from wild boar's hair. Boars are animals raised mainly in India and China for their mane. The brushes are common due to the soft and flexible nature of the bristles. A pure bristle brush is perfect for fine, thin hair, but it can be reinforced and used for different types of hair, especially medium and thick hairs.
What is boar bristle brush made of?
These hairbrushes are made of boar filaments. These filaments have the same structure as human hair, which makes them good at brushing hair. Since they are made of Keratin like normal hair, boar bristles absorb natural oil produced by the scalp and redistribute it throughout the hair. Over time, it helps improve the health of your hair.
Some brushes can also be mixed with nylon to increase their effectiveness. However, avoid brushes with synthetic bristles because such bristles are not as effective in the distribution of natural oil in the hair. They are also likely to damage your mane and make your hair static. You can learn more about the difference between natural and synthetic bristles if you watch this video.
Do boar bristle brushes really work?
Boar brushes are effective in brushing your mane. When they come into contact with the hair, they gently massage your scalp, which improves blood flow to the follicles and promotes healthy growth of hair.
These brushes also aid in naturally conditioning your hair while brushing. They have a unique structure that carries sebum and distributes it from the scalp to the shaft. They coat every strand of hair with the oil, thereby, repairing dry hair and making it shiny and healthy.
Other boar bristle brush benefits include brushing out dirt and dead cells from the scalp, styling your hair, as well as reducing frizz and breakage.
Does boar bristle brush damage hair?
The best feature about a boar bristle brush is that it does not tear, fracture, or split your hair. In fact, it prevents damage to your mane by making it more elastic, thereby reducing breakage and frizz. These bristles also seal and help get rid of split ends.
How to use a boar bristle brush?
When you start brushing, lower your head to allow blood flow. Start brushing at the nape of your neck slowly with gentle strokes from the hair root to the tip. Continue brushing as you move towards the crown and all the way to the facial hairline.
Straighten up and repeat the process. This will help redistribute the oil collected by the brush throughout the hair.
How to clean boar bristle brush?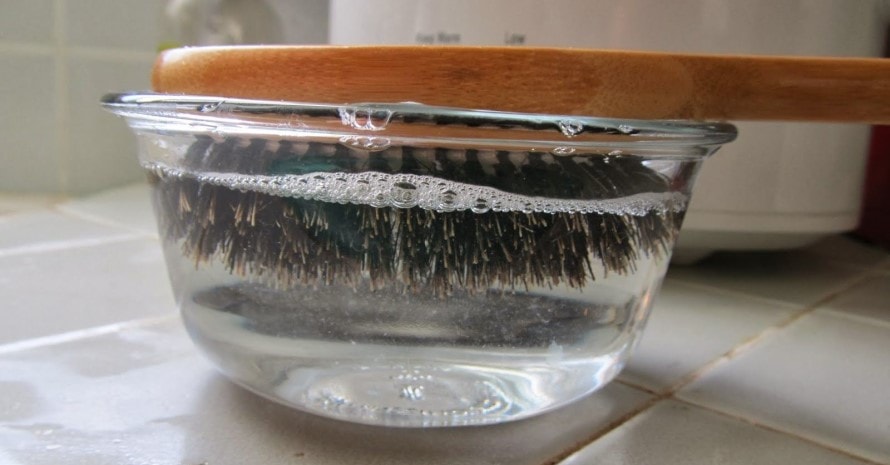 It is important to clean your brush frequently to make sure it works properly. You'll need the following items to clean your brush effectively.
Comb with regular teeth;
Liquid shampoo, preferably natural hair cleanser;
Water (warm and cold);
Container where your brush fits properly.
Start by removing all the excess hair and sebum using the regular-toothed comb. You can do this by inserting the comb in the roots of the bristles and pull upwards and outwards.
Once you've removed the dirt, put a dollop of the shampoo in the container, and add warm water to get rid of the oil.
Swish the brush on the solution while making sure it only touches the bristles. Submerging the brush will damage the wooden handle. After swishing for some time, allow the brush to soak for about 10 minutes.
After that, empty the container, rinse it well, and add cold water. Swish the brush in the cold water the same you did with the soap solution. Take the brush out and keep the bristles facing down. You can use a towel to wipe and dry the excess water.
The Right Brush for Healthy and Shiny Hair
Indeed, the best option is the right hairbrush for the ultimate healthy and shiny hair. These kinds of brushes have many benefits to your hair from improving hair texture, preventing frizz and damage, naturally conditioning your hair to promote growth.
However, you can't reap all these boar bristle benefits without choosing the right brush for your mane. You must consider your hair type, which includes the size and texture of your hair. Individual preference will also determine the type of boar hairbrush to choose. Are you looking to add volume to your mane, or do you prefer your hair thin? You should list down your requirements and then decide what brush you will need.
Keep in mind that your hair is as clean as your brush. If you let dirt accumulate in the brush, your mane will also be dirty. Therefore, ensure you clean your brush frequently to avoid transferring the accumulated dirt from product buildup and dead cells to your hair. This might do more harm than good in your hair care routine. Besides, a brush full of hair strands will not work properly.
I hope this review of the top boar bristle brushes will help you select a quality product that will fit your hair needs. What are your experiences with boar bristle brushes? Do you have any suggestions on the best ways to brush your hair with these types of brushes? Leave a comment with your suggestions, complaints, and questions below.
Last update on 2022-12-11 / Affiliate links / Images from Amazon Product Advertising API