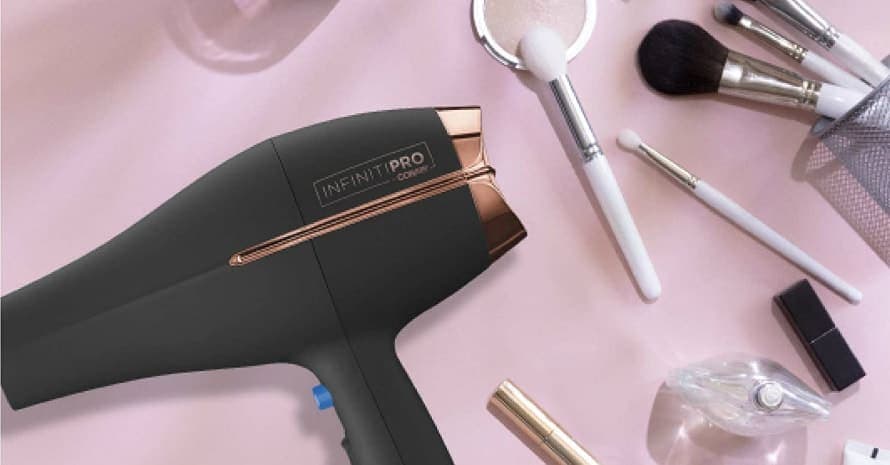 Once you decide to look for a solid ionic blow dryer, it is crucial to stick to the major advantages you may be interested in. Bear in mind the peculiarities of your hair type. Although some of us are considering only the price, there are multiple factors I suggest you pay attention to, including:
How often will you use it;
The material from which the blow dryer is made;
Manufacturer of a hair dryer;
The type of your haircut;
Extra features that blow dryer offers;
Let's not forget about money as well.
Usually, most of us spend some time drying our hair every single day. Obviously, the procedure itself requires some effort; especially if your hair is not short or thin enough to be air-dried, the process of using a hair dryer is unavoidable. Everything you can do to ease the pressure of daily hair drying is to find a proper ionic hairdryer. The device is vital for your hair's beauty, so don't underestimate it.
I will guide you through multiple variants available on the market, and help you to choose the most appropriate one. Being a beauty expert here on this website may be a real pain in the back, but I truly enjoy helping all of you.
When my readers share their positive comments and appreciation for my help, I feel like I am on top of the world, ready to rescue your hair again.
Top 6 Ionic Blow Dryers
BaBylissPro BABNT5548 Nano Titanium
MHU Professional
TREZORO Professional Salon Hair Dryer
Conair 1875 Watt Professional
NITION Negative Ions Ceramic Hair Dryer 1875 Watt
INFINITIPRO by CONAIR
Ionic dryers are lucrative for your locks, as they contain negative ions that are spread on your hair, while gently removing positively charged ions of water. This way, when your hair is still wet; the moisture does not soak into it, causing the frizzy hairdo. Here I have made up a list of my top favorites, so you can get detailed information with my recommendations on each product before you buy them.
1. BaBylissPro BABNT5548 Nano Titanium – Best Ionic Hair Dryer for Fine Hair
Nano Titanium blow dryer BABNT5548 offers 2000 watt powerful performance and outstanding design. This beauty tool looks like it was taken from a hair salon in Paris: ergonomic, lightweight, with an extended nozzle, and shiny blue colored design. If you believe that this device t is too powerful to be suitable for amateurs, you are probably right.
This ionic product was created by BaBylissPro, a company that sells styling tools for professionals. It is a top-seller on the market. Nevertheless, if you gain some experience in handling this device, you are going to have not only healthy, shiny hair, but also perfect hairstyles every time you dry your hair! There are 6 speed and heat settings, and I recommend you to choose the perfect middle.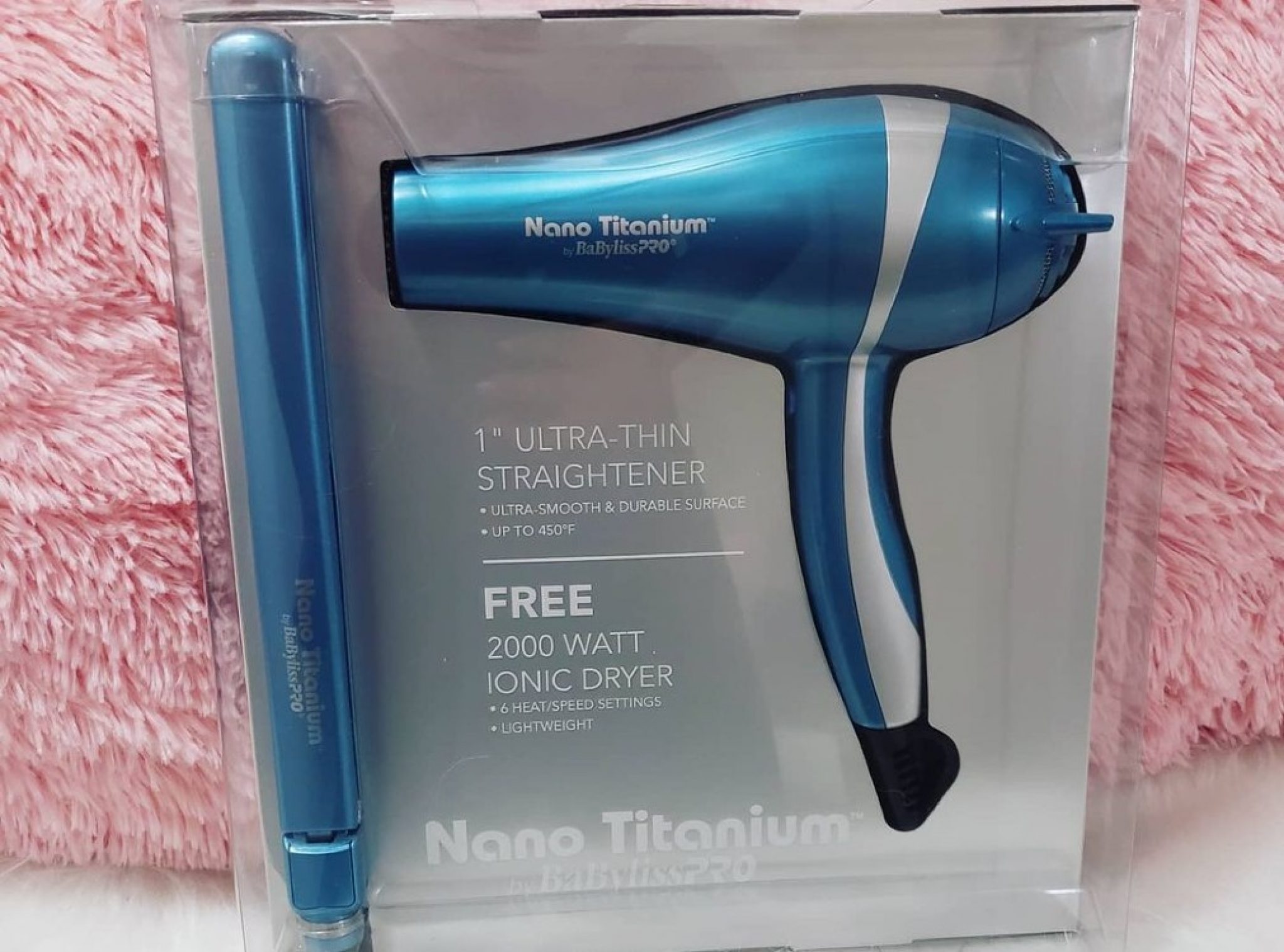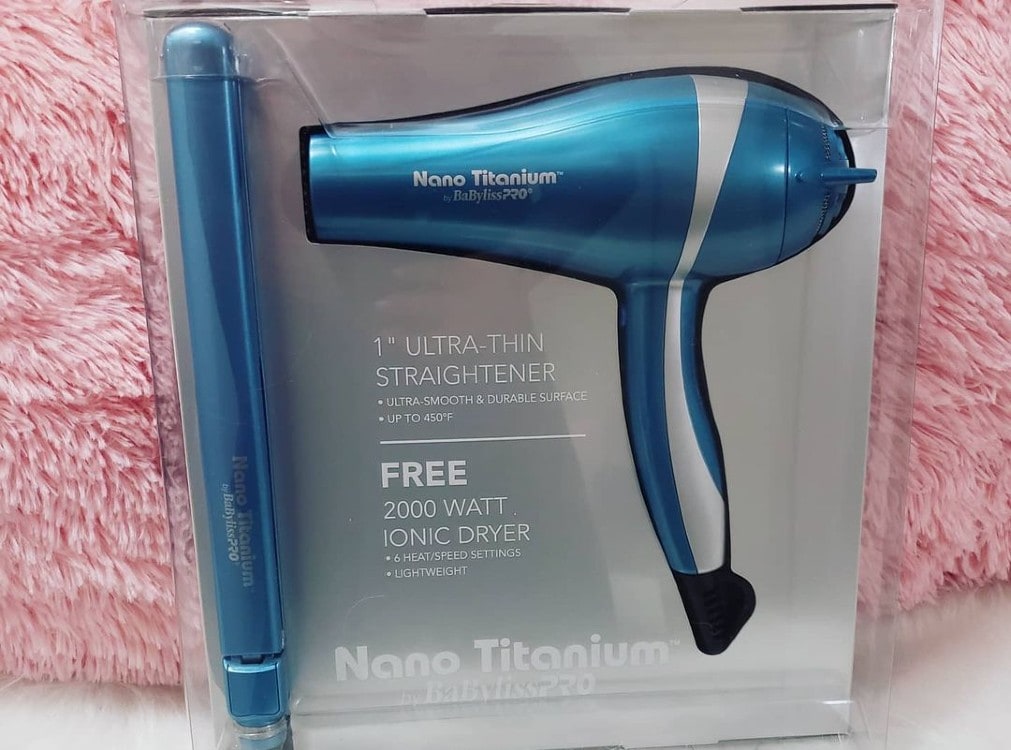 The blow dryer has a button with a cool shot, which was made to avoid overheating and is the perfect way to protect thin hair from damage. In case you are worried about storage and washing – the filter is removable, so you can clean it anytime you need it.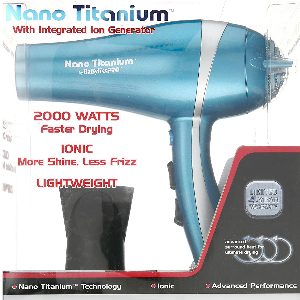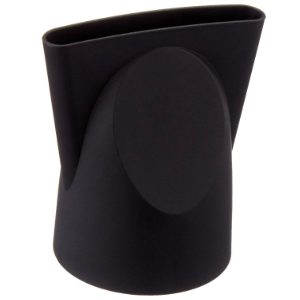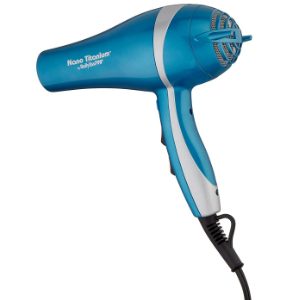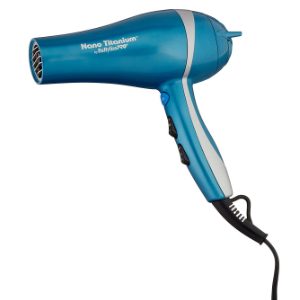 The features this blow dryer offers:
Power of 2000 watts;
An Ionic system acts as a remedy for hair;
Various settings that you can change while drying the hair;
The filter is changeable and washable;
The pack weighs 1.9 pounds, and the blow dryer is 1.8 pounds;
The diffuser is adjustable to the dryer;
There is a cool wind option for everyone who wants their hair to be dried without overheating.
BABNT5548 consists of nano titanium, and it will serve you for a long time. Personal advice from me: if you have thick hair, press the nozzle closer to it (but not too close, leave a few inches distance), take a thick round brush, and dry it, moving from the ends to the roots.
PROS:
6 speed/heat settings;
Lightweight;
Stylish design;
Nano Titanium;
Durable.
CONS:
A little bit more expensive than simple hair dryers.
2. MHU Professional – the Best Ceramic Ionic Hair Dryer with Diffuser
Ionic Low Noise Hair Dryer by MHU offers you a package deal with both diffuser and a concentrator. It looks outstanding, and it works professionally. There is a powerful engine of 1875 watt inside it. As a benefit, this hair dryer is not loud at all. The item was made by MHU company that provides its goods to the popular beauty salons in the USA and Europe. They are selling salon exclusives that can be bought by everyone.
Thick hair can handle higher temperatures, while thin hair can be easily burned. Yet, do not turn on the highest temperature without urgency. The diffuser nozzle and concentrator will both give you a chance to create a professional hairstyle at home. I recommend this item as an amazing ionic dual voltage travel hair dryer.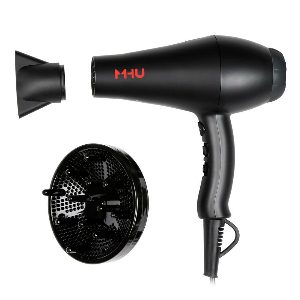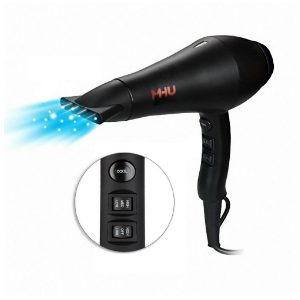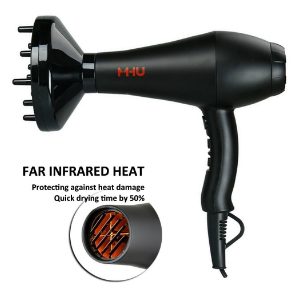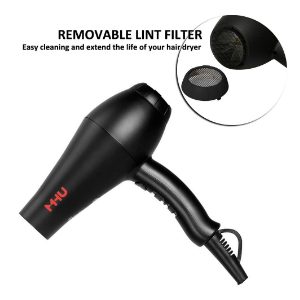 The features provided by the blow dryer that you will love:
Ion system that helps you to dry your hair faster without additional damage;
Numerous speeds and heat;
Diffuser and concentrator come in the pack with the blow dryer;
Comfortable to use with specially designed handle and heat proof cord of 9 foot;
The item is affordable, considering how much money you'll save on the hairdresser.
There are two speeds, but you will hardly need anything else, as the lack of speed settings' diversity is compensated by three levels of heat. You receive outstanding results even if you do not have enough time. I recommend raising the heat level based on your own hair type and length.
PROS:
Packed with diffuser and concentrator;
Comfortable to use;
Powerful engine inside;
Durable ceramic material;
Work soundlessly.
CONS:
This hair dryer is heavier than other average hair dryers on the market.
3. TREZORO Professional Salon Hair Dryer – the Best Ionic Hair Dryer for Frizzy Hair
Professional Ionic Salon Hair Dryer from TREZORO has one of the most attractive designs and powerful engines inside. While it looks rather doll-like, you will be amazed by the 2200W motor inside. It is one of the most powerful devices on the list.
There are 10 times more ions than any average ionic blow dryer offers, so you can forget about frizzy hair for good. It combines the benefits of ionic ceramic hair dryer and tourmaline hair dryers in one product. TREZORO is one of the bestselling companies at online stores. They provide hair styling products that are easy to use at home.
This blow dryer has a smooth and soft body that is comfortable enough to hold in hands. It is not entirely weightless, but you will easily be able to hold it without feeling tired. The dryer weighs 1.5 pounds with a nozzle. Its length is 8.7 inches; its height is 8.3 inches.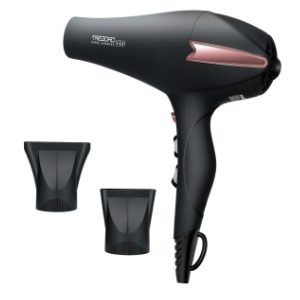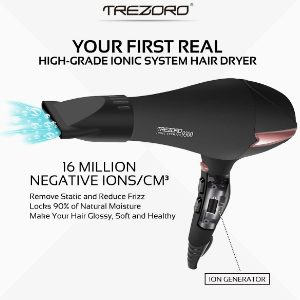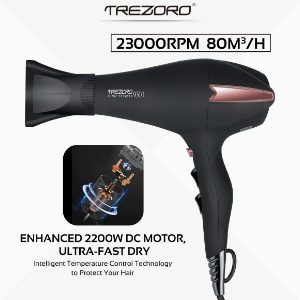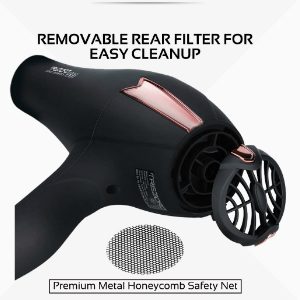 The main features of Professional Hairdryer:
The powerful engine of 2200 W;
An ionic system with extra ions;
Settings that include 2 speeds and 3 heat levels;
Two nozzles are perfect for different hairstyles;
Durable materials.
There are 2 nozzles in the pack; one is wider than another. Depending on your haircut, you may experiment with both of them. The handle is non-slippery and does not heat. The cable is 2.7 m long, which can be quite useful when you want to dry your hair in front of the mirror that is located in the room with no sockets.
PROS:
Attractive design;
Comfortable to hold;
Two nozzles;
Powerful engine inside;
CONS:
Weights more than a regular hair dryer.
4. Conair 1875 Watt Professional – the Best Ionic Tourmaline Hair Dryer with Ceramic Coating
The 1875 Watt Professional Hair Dryer of Conair provides advanced ionic technology with cool shot and tourmaline ceramic features. It offers extra fast hair drying and 2-speed volumes. Your hair will be protected from any damage with extra ions and moderate heat. Furthermore, you can always push the cool shot button to prevent your hair from overheating.
Conair is a well-known brand on the market of hair beauty. Their products are used by famous hair stylists in multiple salons. This time, they created an affordable tourmaline ionic hair dryer for home use. It is 1875 watt and does not let your hair get overdried. There is one nozzle in the pack.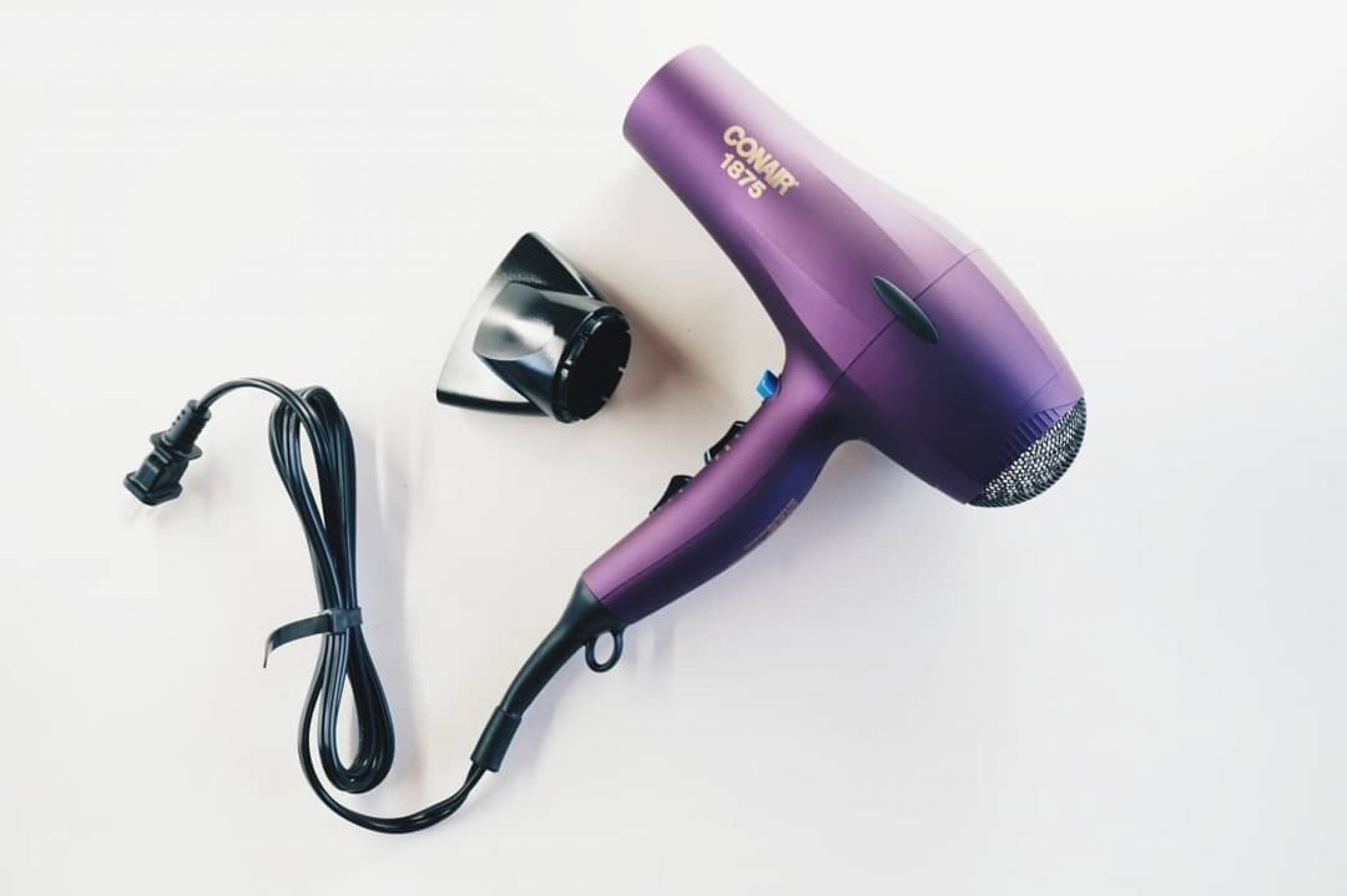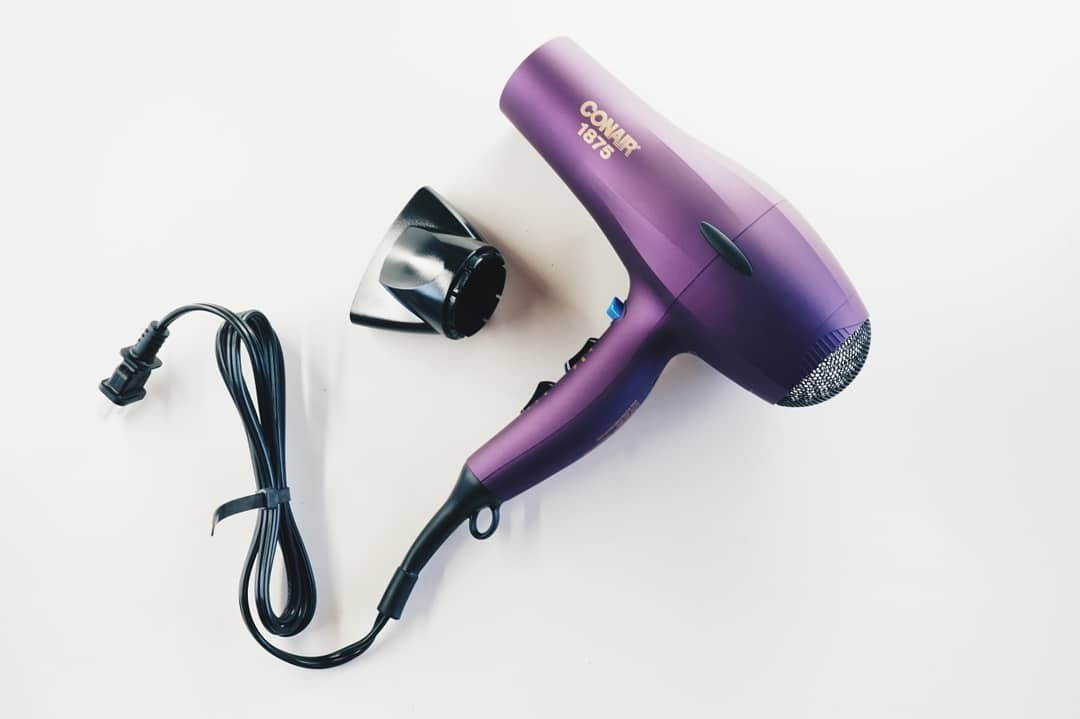 Use it in case you need to add extra volume to your hairdo. I personally enjoy its aquamarine color, but you can pick a black or silver design. The hair dryer weighs 1 pound on average. You can carry it in your travel bag.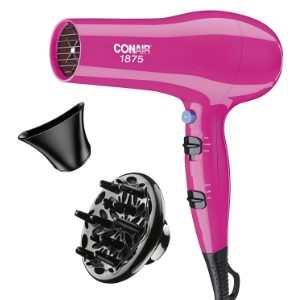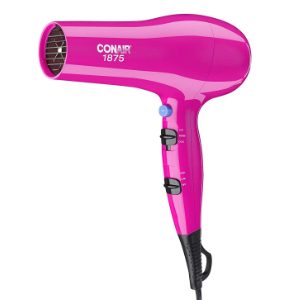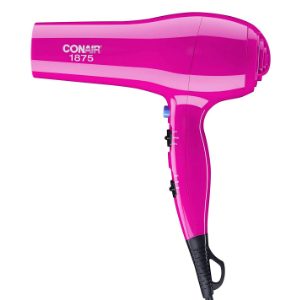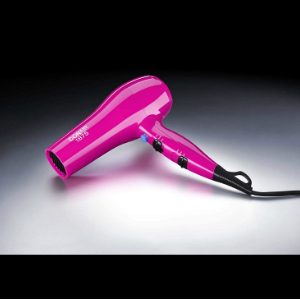 Main features of 1875 Hair Dryer:
Tourmaline Ceramic technology makes your hair shiny and strong;
There are 2 speeds and 3 heat volumes;
The cold air button is right under the head of the blow dryer;
One nozzle that helps with volume;
It is comfortable to hold, the device is not heavy.
There are 3 different types of heat. The blow dryer should be used on low or medium heat settings. Try to avoid the highest level of heat as you may burn your hair. The cord contains a special hook so you can attach it to the wall after the use.
PROS:
Affordable price;
Weighs 1 pound only;
Two speeds and three heat settings;
Beautiful design;
Comfortable in use.
CONS:
Compared to other products on the list, it has one of the least powerful motors.
5. NITION Negative Ions Ceramic Hair Dryer 1875 Watt
Negative Ions Ceramic Hair Dryer from NITION offers innovative technologies for the beauty of your hair. The pack includes three helpful attachments. It comes with a comb, diffuser, and concentrator. This ionic technology hair dryer creates salon-style hairdos. This item is made of ceramic material with nanosilver, tourmaline, and argan oil. The hair is getting thicker and stronger, filled with these compounds. The hair dryer was created by NITION, a popular developer of hair products. The company offers a 90 days warranty with the full refund, and 2 years with replacement.
It is light weighted (just 1 lb), has a perfect size for your backpack, and is easy to transfer. It has a medium-size comfortable handle, which is not slippery, and it comes with a hook attached to the cord. The cord is 7.5 ft size. You can easily move from the bathroom to your room and back without leaving the hairdryer.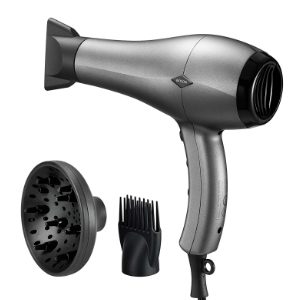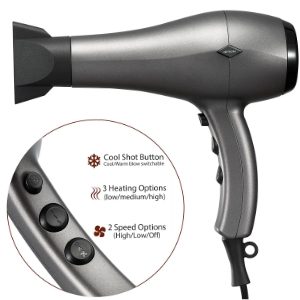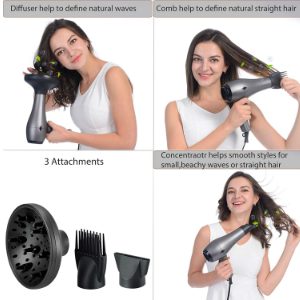 The main features of Negative Ions Ceramic Hair Dryer:
Powerful ion mechanism;
The hair dryer is lightweight and compact;
There is a warranty for 2 years with the replacement of the product;
It is free of static;
You can remove the air inlet grille and clean the hair dryer.
The product offers 2 standard speeds of wind, which are low and high, and 3 heat settings. I recommend you to use low speed not to damage your hair. You can also try the cool shot option on the dryer. This way, your hair will not be overheated. The item is powerful enough, as it has 1875 watt; it works with the low noise level and almost no vibration.
PROS:
Stylish design;
Comfortable to hold;
Includes three nozzles;
Light-weighted;
Affordable price.
6. INFINITIPRO by CONAIR – Stylish 1875 Watt Ionic Blow Dryer for Professionals
INFINITIPRO looks rather simple and beautiful than professional. However, it is an incredibly powerful tool for your hair. Its ionic technology guarantees shiny hair without frizzes. Its powerful engine helps you to work faster with better results. You may also check out the best ionic travel hair dryer from Conair. It is a mini version of INFINITIPRO but way more comfortable to carry around. Conair brand offers multiple tools for hair styling on the market.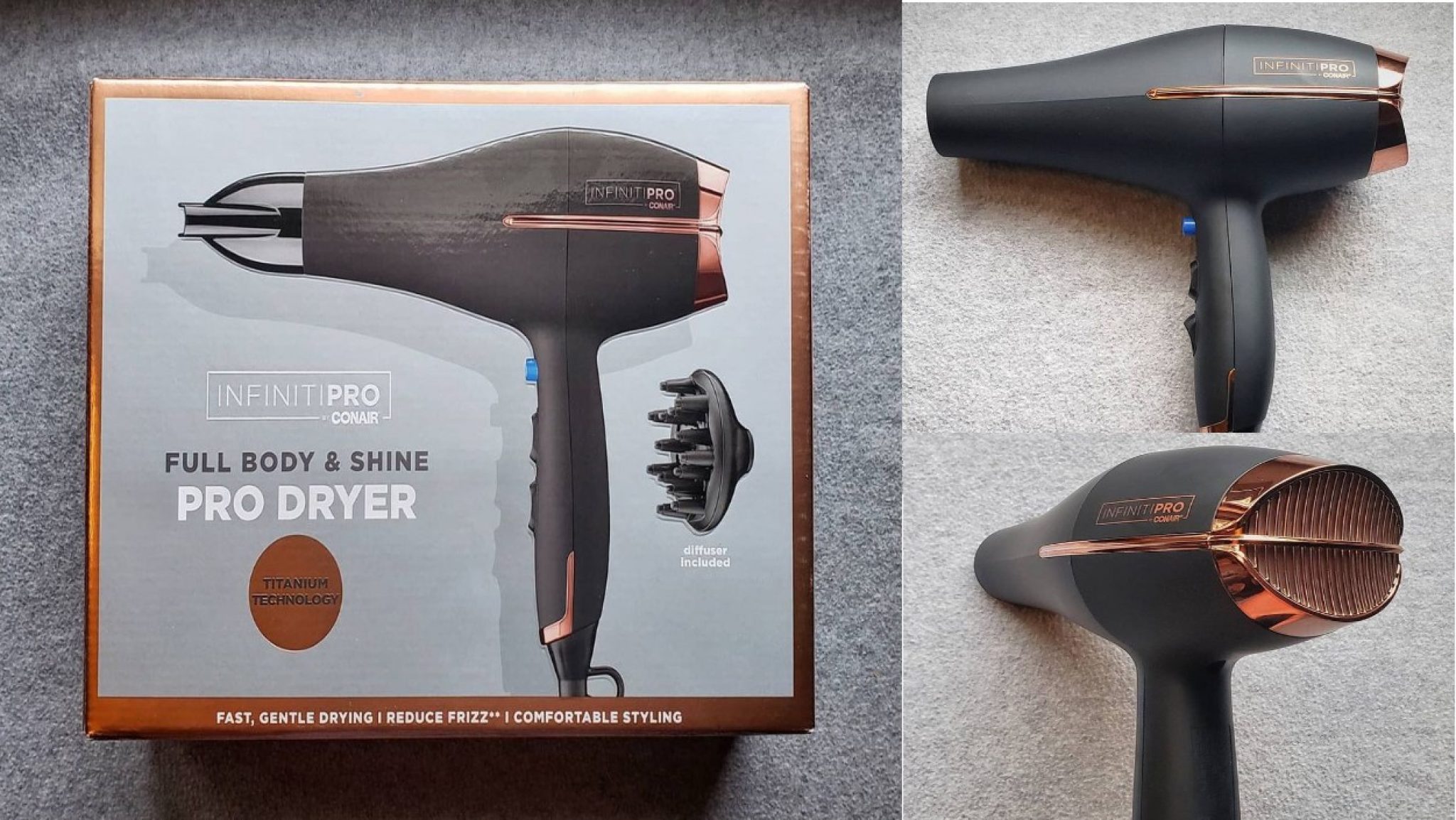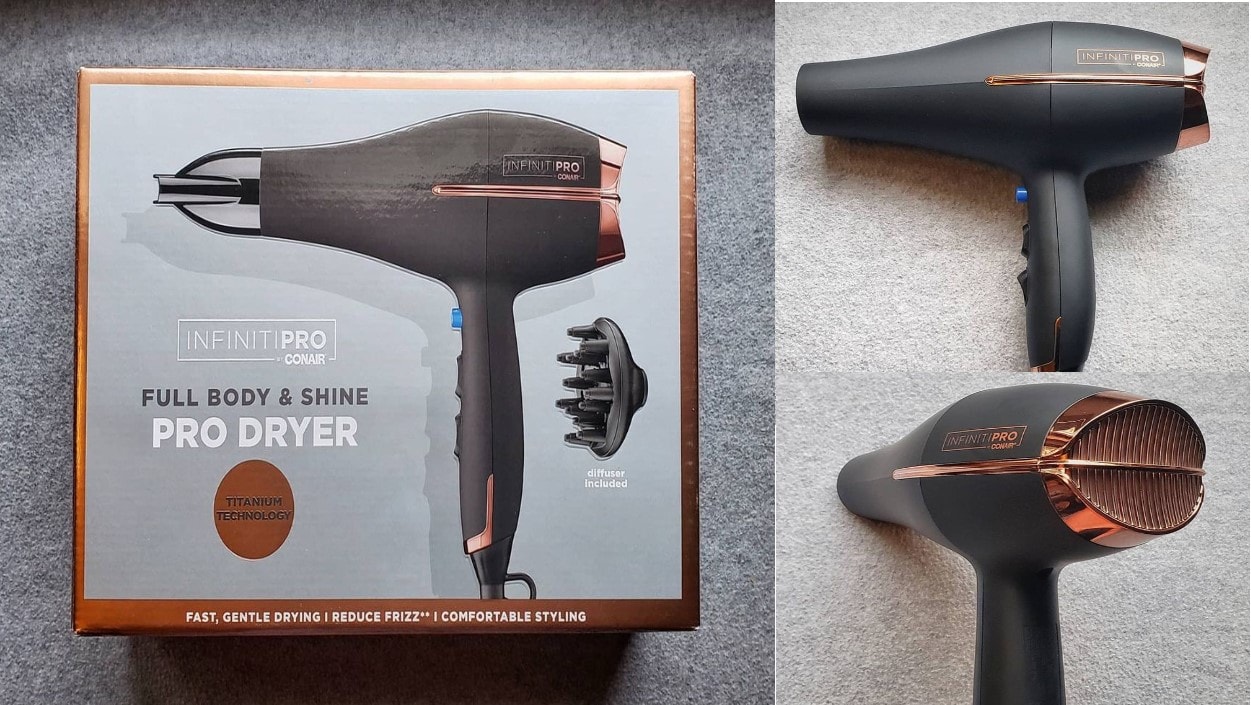 The ceramic in the coating of the hair dryer prevents your hair from overheating. There are 2 speeds and 3 heat settings. Right on top of the handle, you will see the cold shot button. Use it when you want to make perfect curls or waves.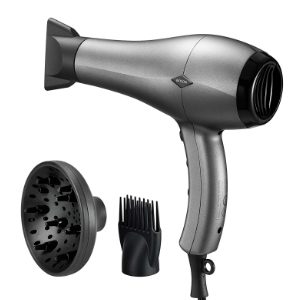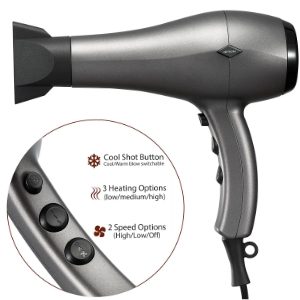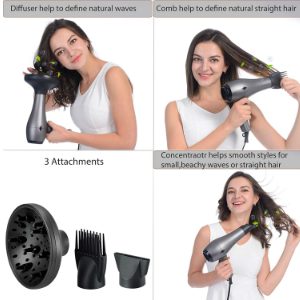 The main features of INFINITIPRO:
It weighs 2.4 pounds;
It works 50 percent faster on your hair, saving up the electricity and your hair from extra damage;
There are 3 heat and 2-speed settings;
The hair dryer contains cold and hot modes;
The ceramic coating makes the item comfortable to hold;
There is a removable filter that can be changed and washed;
The item is durable;
Has a 1875 watt engine inside;
The pack includes a diffuser and concentrator.
It helps to keep the hair strong and unharmed by the heat. The pack with the hair dryers also consists of the diffuser, which is extremely convenient on thick hair, and the concentrator. There is no dual voltage.
PROS:
Ceramic coating;
Cold shot button;
The pack includes diffuser and concentrator;
The filter is removable;
The price is affordable for everyone.
CONS:
This hair dryer is heavy compared to its mini travel version.
Detailed Ionic Hair Dryer Buyer's Guide and FAQ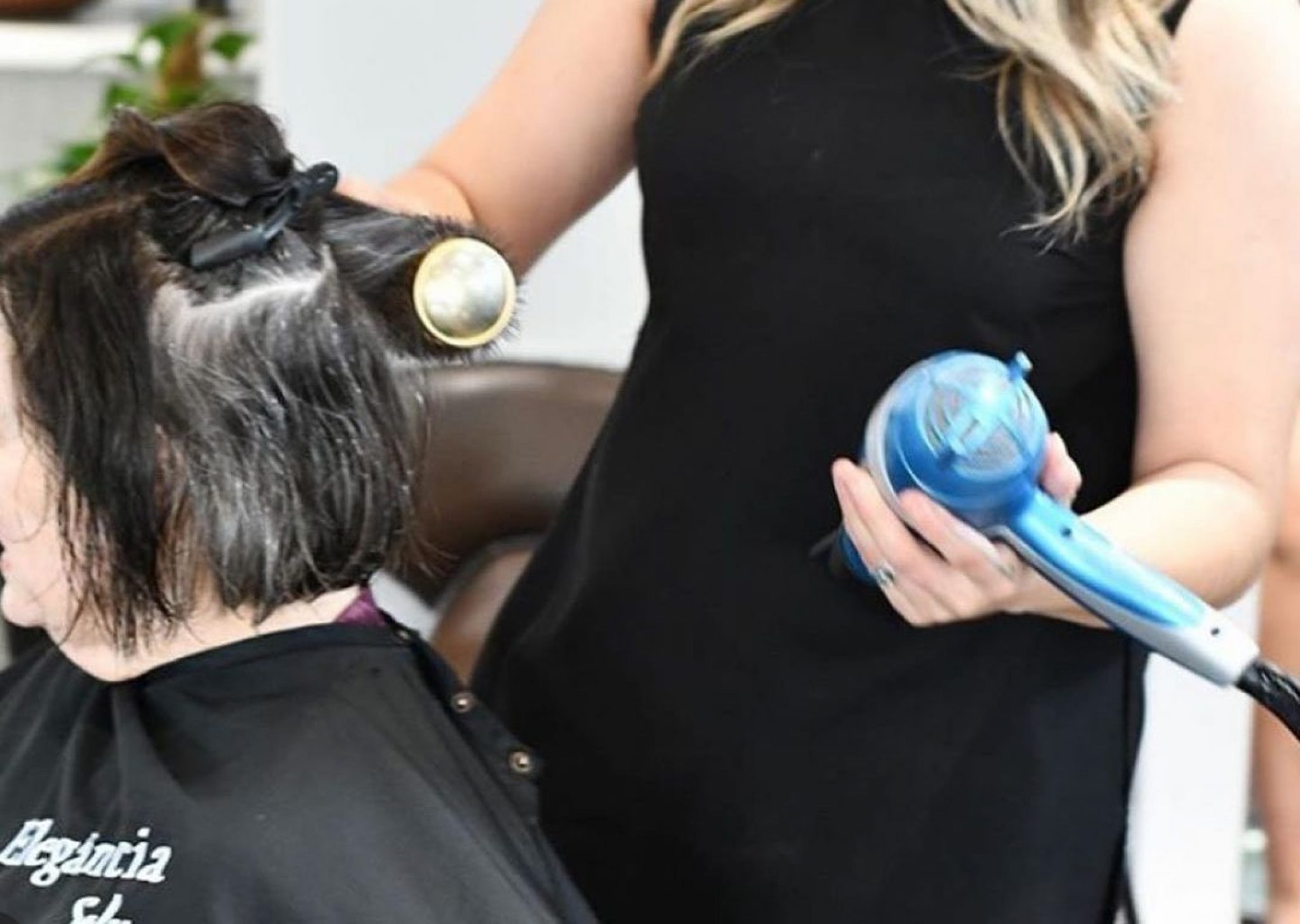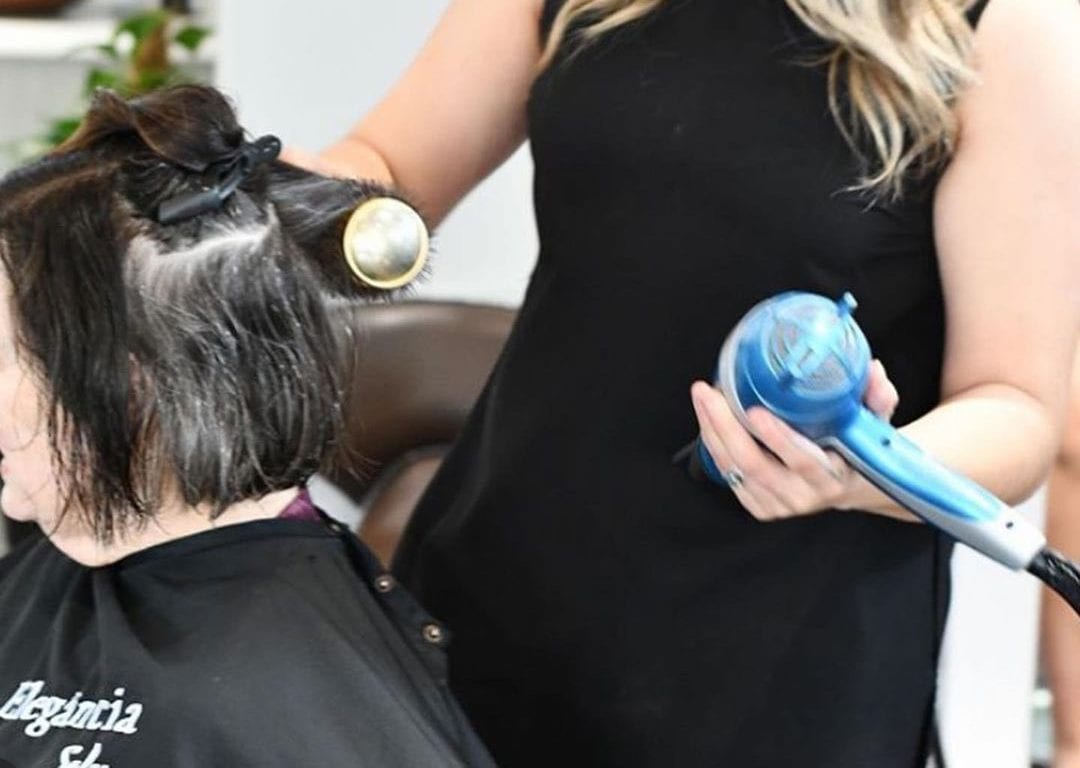 Here I've gathered the most common questions that hair salon attendees want to ask, but sometimes too shy to do this. Don't worry, no one will judge you here! I tried my best to provide you all with brief and sufficient extra information, which will help you choose the ionic blow dryer that will suit your personal needs. Let's start from the very beginning!
What Does Ionic Hair Dryer Mean?
Ion hair dryer looks exactly like other blow dryers. However, instead of regular hot air, it produces a flow of millions of ions, charged negatively. They attack the positively charged molecules of water, helping your hair to dry quickly.
Ions in these hairdryers do not infiltrate the hair itself, causing the damage. Instead, they protect your locks, leaving them shiny and smooth. You may forget about frizz with ionic blow dryers.
What Is Ionic Hair Dryer Technology?
We have just discussed the difference between a regular blow dryer and ionic dryer. Basically, all you need to do is to choose the speed, heat level, and whether you want a cold or hot mode.
After you press the button, the negative ions will be diffused across your hair, attracting positive ions of water. The hair will be dry in no time. Usually, it takes 50 percent less time to dry your hair with an ionic device than with a regular one.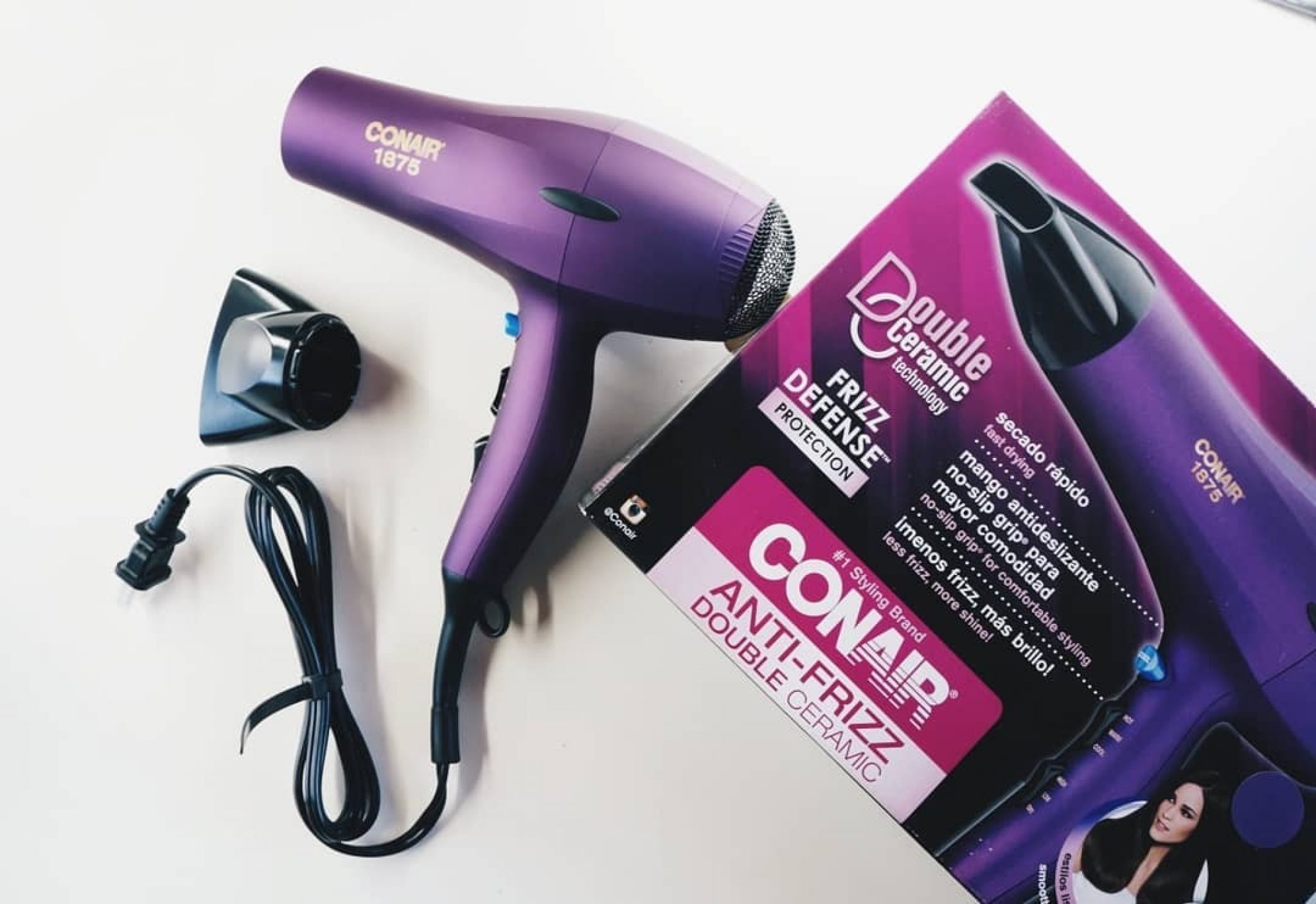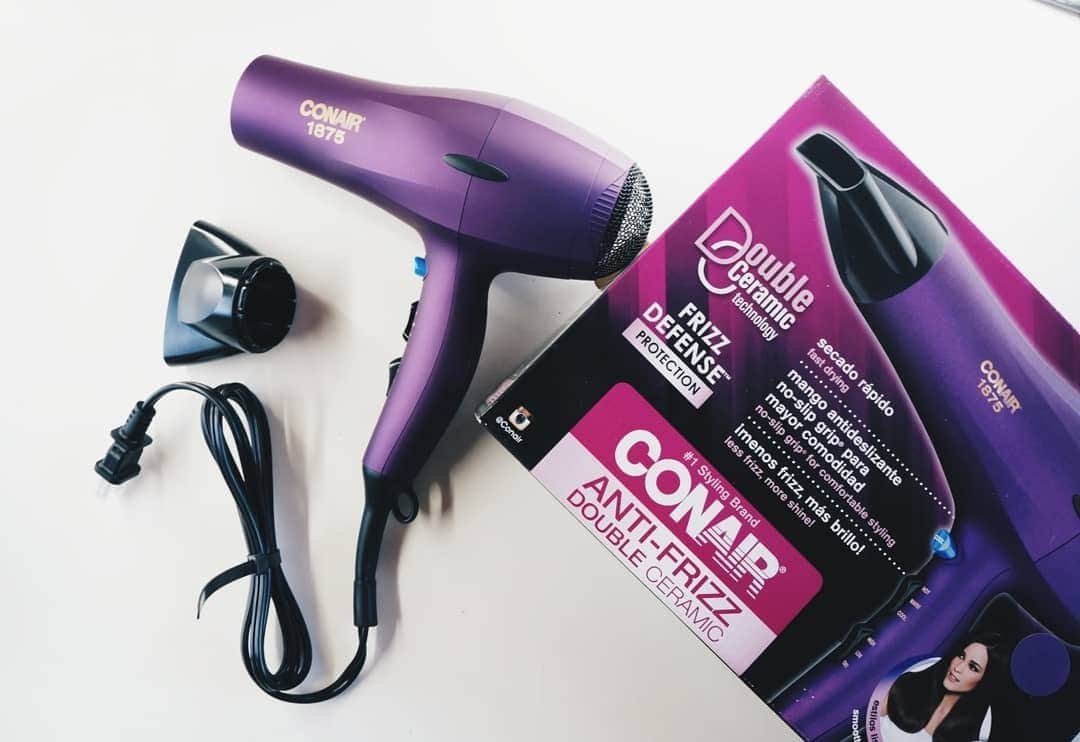 What Is the Difference Between Ionic and Tourmaline Hair Dryer?
Ionic hair dryers have recently appeared on the market. Before that tourmaline hair dryers were the main phenomenon. They both work more beneficently and softly with the hair.
And while ionic dryers produce negatively charged ions to dry hair faster, tourmaline dryers include semi-precious, tourmaline stones (as you may have already guessed from the name), which emit the ions mixed with the infrared lighting.
What Dryer Is Best for Curly Hair – Ionic or Ceramic?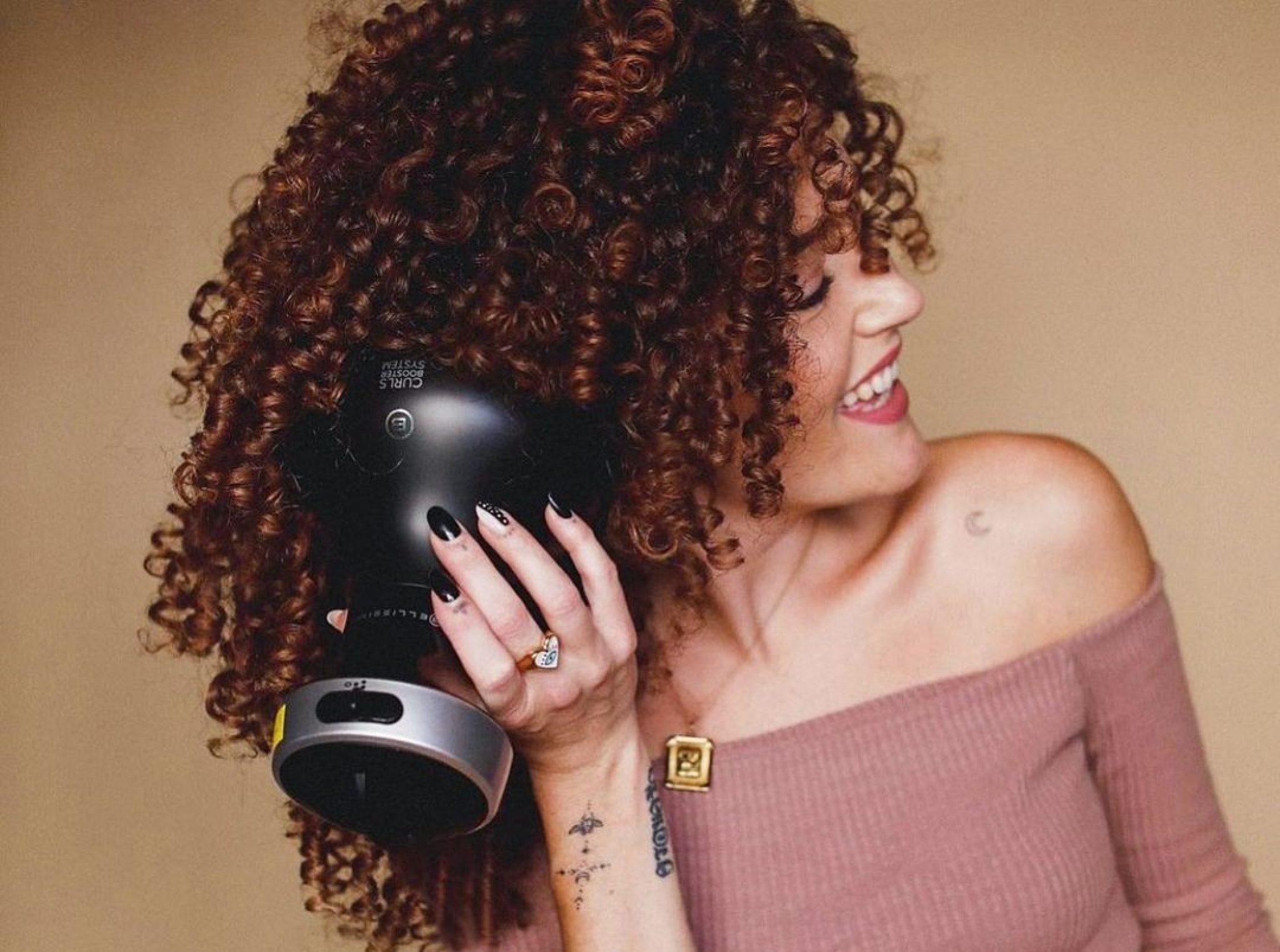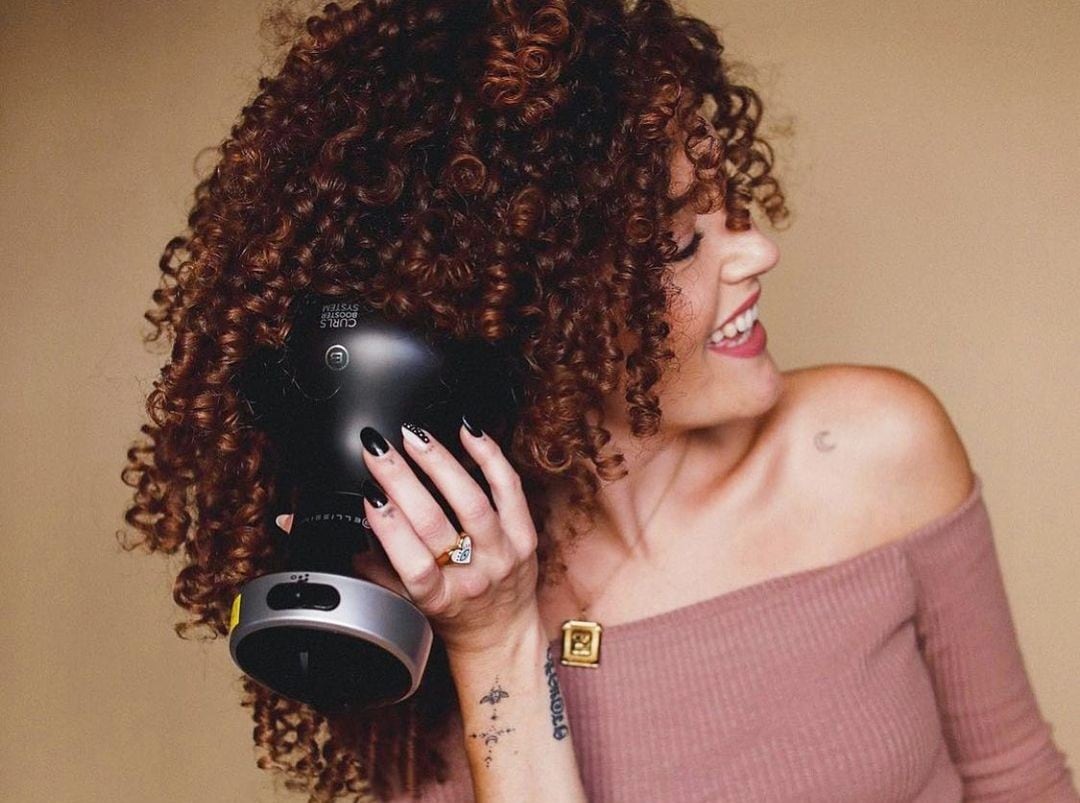 You don't actually have to choose. There are ionic blow dryers in a ceramic coating that I strongly recommend in my ionic hair dryer review. Take a look at them. Both types offer soft and shiny locks. The cold shot mode prevents the curls from frizz. Ionic technology dries curls faster, while ceramic offers protection from damage. I personally recommend using a mix of these two options.
Which Hair Dryer Is Best to Build Volume – Ionic or Non Ionic?
I can understand why some hairdressers still use regular blow dryers. The reason is – while I strongly believe that a bio ionic hair dryer is safer for your hair, the simple nonionic one may provide your hair with a better volume. So, if you want to lift the hairdo, you can use a regular hair dryer.
Ideal Ionic Hair Dryer for You
Before you pick one of the ionic hair dryers on the list, I advise you to check out their main features, pros, cons and customer reviews. I tried to select only the most beneficial products here, which was extremely hard since there are hundreds of great options available on the market.
They all help you to create perfect hairdos with shiny and healthy hair. Yet, all of them are different by the functions, additional instruments, coating, and even weight. And don't forget that they all have different prices.
These small differences may be crucial for you. If you want to make a salon-style hairdo at home, I recommend paying attention to professional tools from famous manufacturers; if you travel a lot take a look at travel-size or lightweight dryers. You don't need to buy several products for different cases.
Focus on your own preferences and find out which product satisfies your needs the best. Ionic hair dryers may be slightly more expensive than regular hair dryers. However, they can be more beneficial for your hair.
Did you find the article to be useful? Do you have any other products you would like to discuss with readers? If you have already checked out one of the blow dryers from the list, please share your honest opinion about it in the comments under this article!
Last update on 2022-12-11 / Affiliate links / Images from Amazon Product Advertising API