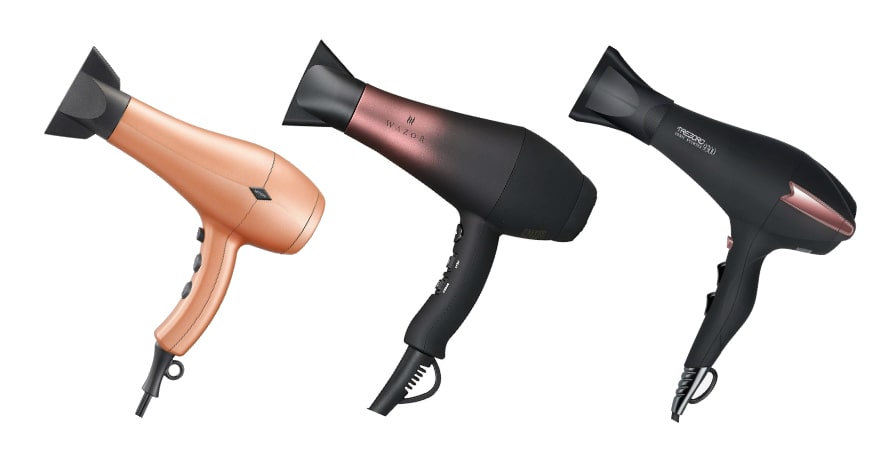 All women pay extra attention to their appearance. Taking care of ourselves is one of the top priorities, which requires both qualitative beauty products and professional appliances for personal care. Hair is the main attribute of attractiveness for women that needs constant caring and thoughtful treatment.
It's important to use top-notch stylers and hair dryers that won't damage its structure to maintain a healthy hair look. For women with curly hair, it is advisable to choose only the best products and appliances. The reason is that wavy hair requires more careful treatment and protection.
Pros
Professional negative ionic technology
Diverse heat and speed options
Top Pick
Pros
Professional negative ionic technology
Best Budget Pick
Pros
Diverse heat and speed options
As a professional hairstylist with extensive experience, I am aware of the best hair care products and styling tools suitable for everyday use. Therefore, I have prepared hair dryer reviews for curly hair to help you with the process of making a final decision. Moreover, the physics of curly hair is different from other hair types and thus requires more attention.
The hair dryers on this list are among the best items available on the market. From my professional point of view, these products are definitely worth your consideration. Check out their descriptions as well as lists of pros and cons to pick the best one for your curly hair.
Top 7 Best Hair Dryers for Curly Hair with Diffuser
Dyson Supersonic
Bed Head Curls in Check
Professional Ionic Salon Hair Dryer
JINRI 1875W Professional
Wazor Professional Ionic Blow Dryer
Panasonic EH-NA65-K Nanoe Dryer
NITION Negative Ions Ceramic Hair Dryer
Here I provide the list of the best models for curly hair to consider for purchasing. Reading each review carefully will help you to choose the most appropriate product that is a perfect match for your hair.
1. Dyson Supersonic – Best Hair Dryer for Curly Frizzy Hair with Diffuser
Dyson is a renowned British company that creates high-quality home appliances as well as beauty items like hair blowers. Thousands of women have chosen this brand to make their hair look stunning. This item was designed to do miracles to your hair.
Basic Characteristics:
The power of this item is 1600 watt. It is a standard for all hair dryers.
The product uses negative ions heating technology to reduce static of your curly or frizzy hair. Consequently, the blower from Dyson tames it effectively.
This hair blower has a pretty compact size (38.6 x 26.7 x 10 inches). It will be convenient to hold it in your hand.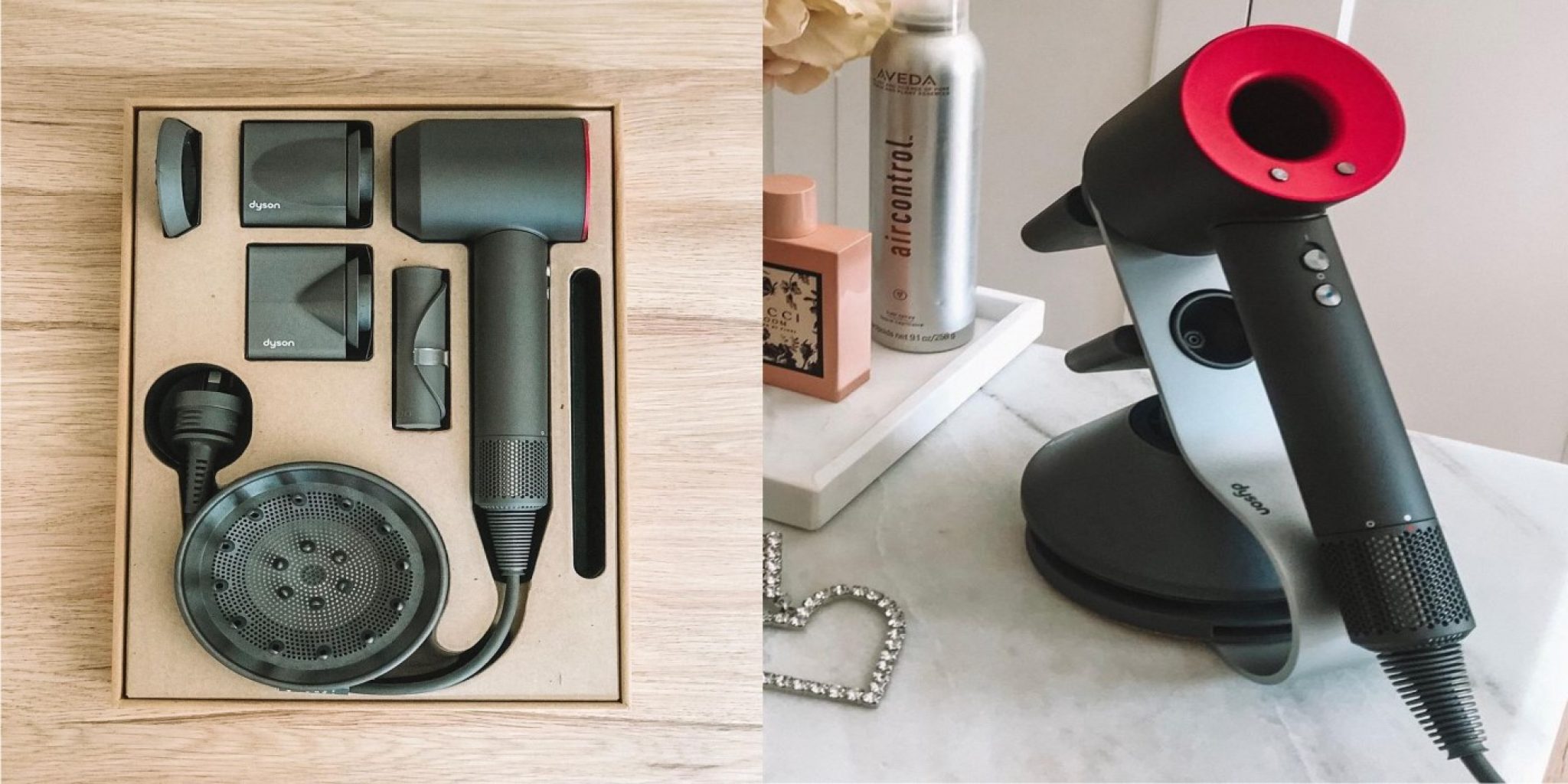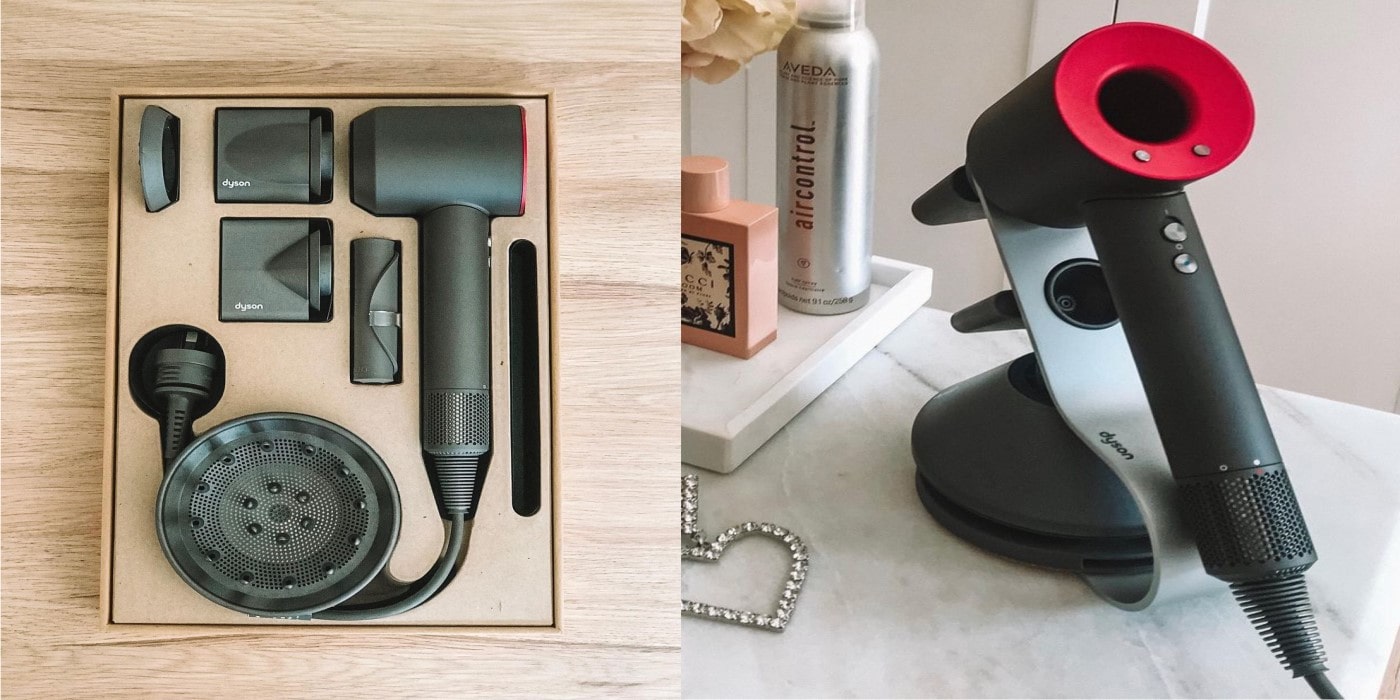 Speed/temperature settings
There are 3-speed settings and 4 heating options so you can choose the most convenient temperature and speed, which will provide the best result. There is even an option of cool air to set curls after styling to prolong the hair look. You will also get a diffuser and styling concentrator.
This hair blower spreads the heat evenly so your curls will dry naturally. At the same time, it will significantly reduce frizz. Control your waves and curls with the help of smoothing nozzles.
Also, amazing color options for this item are available. You have an opportunity to purchase silver, white, or even stunning fuchsia hair blower.
This item is very powerful and will help you to get stunning results with ease without damaging your hair structure. It will only enhance your natural look. However, the significant drawback of this particular product is its price. It is a pretty costly hair blower. On the other hand, due to the features mentioned, it will be a perfect investment in your beauty as the best blow dryer for curly hair.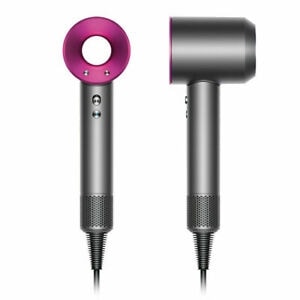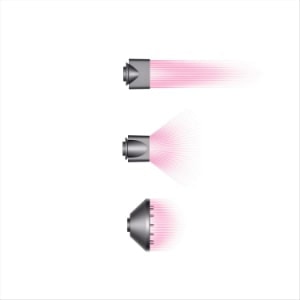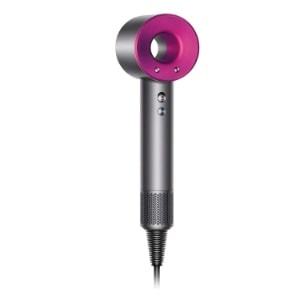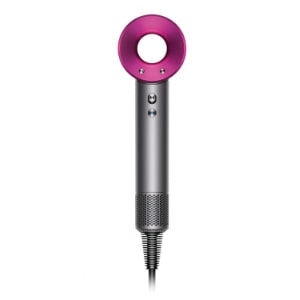 I have been using this blower for a long time, and I am completely satisfied with the results. To make things sound even better, I consider this item to be the best blow dryer for straightening curly hair.
It will not overheat hair and thus maintain a healthy, smooth, and silky look. I would recommend this product as it combines all the functions needed together with a modern design.
---
PROS:
amazing modern design;
great performance;
powerful;
different color options.
---
2. Bed Head Curls in Check – Best Diffuser Hair Dryer for Curly Hair with Tourmaline Ceramic Technology
Bed Head is a line of products and appliances for textured hair launched by a brand Tigi. Here I will share a review of the best blow dryer with diffuser for curly hair that you can purchase for the most affordable price. It's worth noting that this model has an amazing colorful design that each girl and woman will definitely like. It can be a perfect gift, as well.
Basic Characteristics:
This model has 1875 watt power. The capacity is enough to make you look stunning.
This hair dryer with diffuser uses effective tourmaline ceramic heating technology. Its peculiarity is that you will get a healthy and shiny look of your hair without damage.
The dimension of this item is 4.2 x 12.7 x 4.8 inches. It makes an appropriate compact size for comfortable holding.
Speed/temperature settings
With this amazing product, it is possible to easily tame your frizz and be ready for any occasion in no time. Also, the item features a cold air distribution option to set your hairstyle for a longer period.
Moreover, Bed Head`s hairdryer provides various temperature and speed options, so you can adjust the device to your needs. If you want to dry your hair fast, remove the detachable diffuser for your convenience.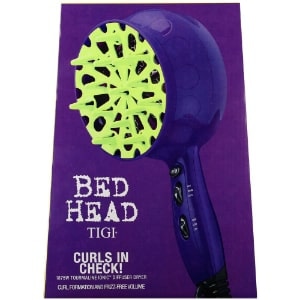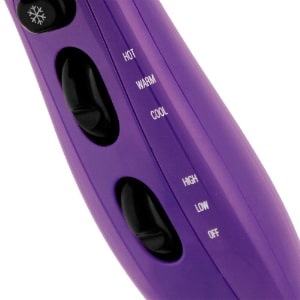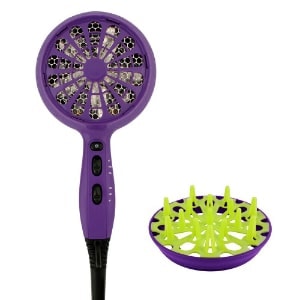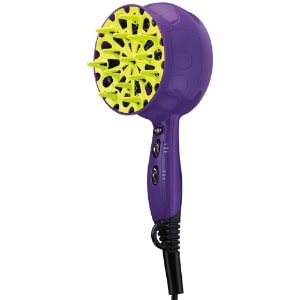 One more thing to notice about this great hairdryer is that it has a long cord. This characteristic makes the styling process more comfortable. It swivels so the cord will never tangle, and you can use this hair dryer for years. No matter where you go, use this best diffuser hair dryer for curly hair to enhance your waves and look stunning effortlessly.
In addition, the large drying surface of this device provides an opportunity to reduce styling time. You can make the process easy and fast and come to an event on time. The diffuser is great – it will give your hair additional volume and define the waves or curls even more. I would recommend this Tigi product for a reasonable price and outstanding effect.
---
PROS:
affordable price;
powerful motor;
various heating and speed settings;
large diffuser.
---
3. Professional Ionic Salon Hair Dryer
TREZORO is an amazing professional hairdryer. Due to its features, it is definitely worth your attention. This item has proven to be the best ionic hair dryer for curly hair on the market. It's very powerful and is highly appreciated even by professional hairstylists.
Basic Characteristics:
The wattage of this particular model is 2200 watt. Therefore, it is extremely powerful to provide the best results.
Negative ions heating technology in combination with ceramic tourmaline coating are used for this blower`s exploitation. For this characteristic, it provides an exquisite hair look, long-lasting results, and great fixation.
The small size of the device (only 8.3 x 8.7 inches) is great for comfortable styling. If you prepare for travel, take it with you as it won`t overload your baggage.
This hair dryer from TREZORO has an amazing black & rose gold design. You will love it for sure as the body of the device is very soft and pleasant to touch. The handle is very comfortable to grasp, it won't slip away. The advanced heating technology is aimed at reducing frizz. Negative ions will remove static electricity. The result you will get is silky, shiny hair with enhanced obedient curls and waves.
Speed/temperature settings
Your hair will dry fast and will be soft and good-looking. With this amazing item, you will be able to make professional hairstyles at home. It is suitable for different hair types – there are various heating and speed settings. Therefore, you can set up the most convenient mode for your hair.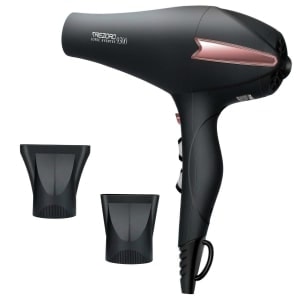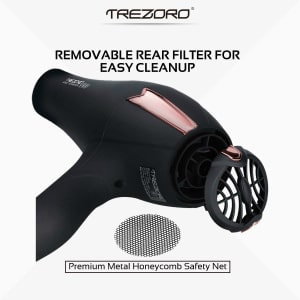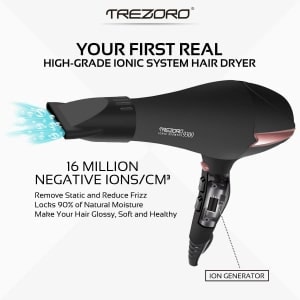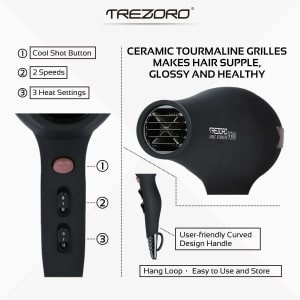 In addition to the hairdryer, you will get two styling concentrator nozzles to adjust your hair accurately. Consider it as the best hair dryer for fine curly hair because you can get a lot of hair care options for the most convenient price.
Supposedly, you will be pleased to find out the following. In case you are not satisfied with the product, the manufacturer will return your money during the first two months after the purchase. But the chance that you won't like this amazing dryer is very little.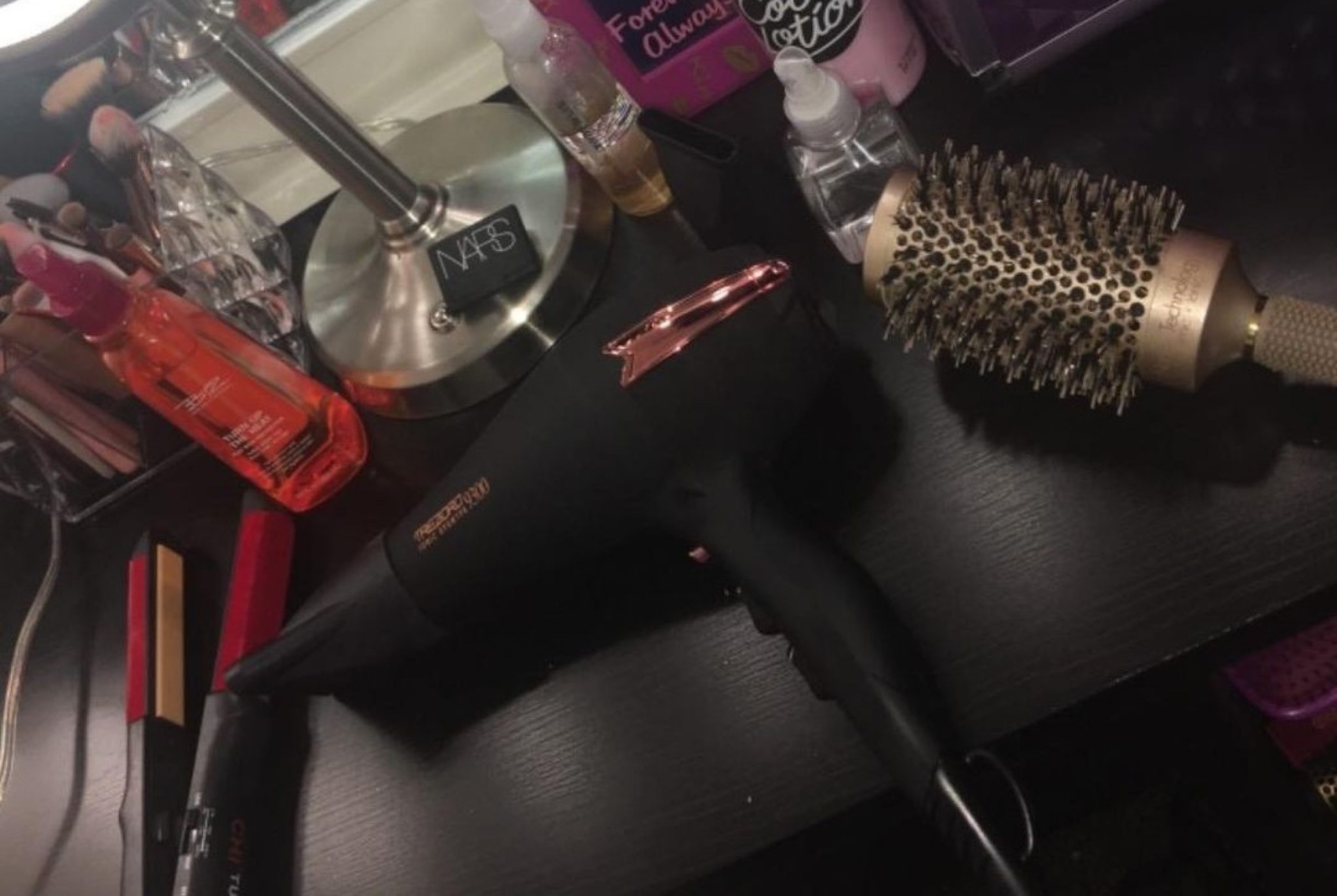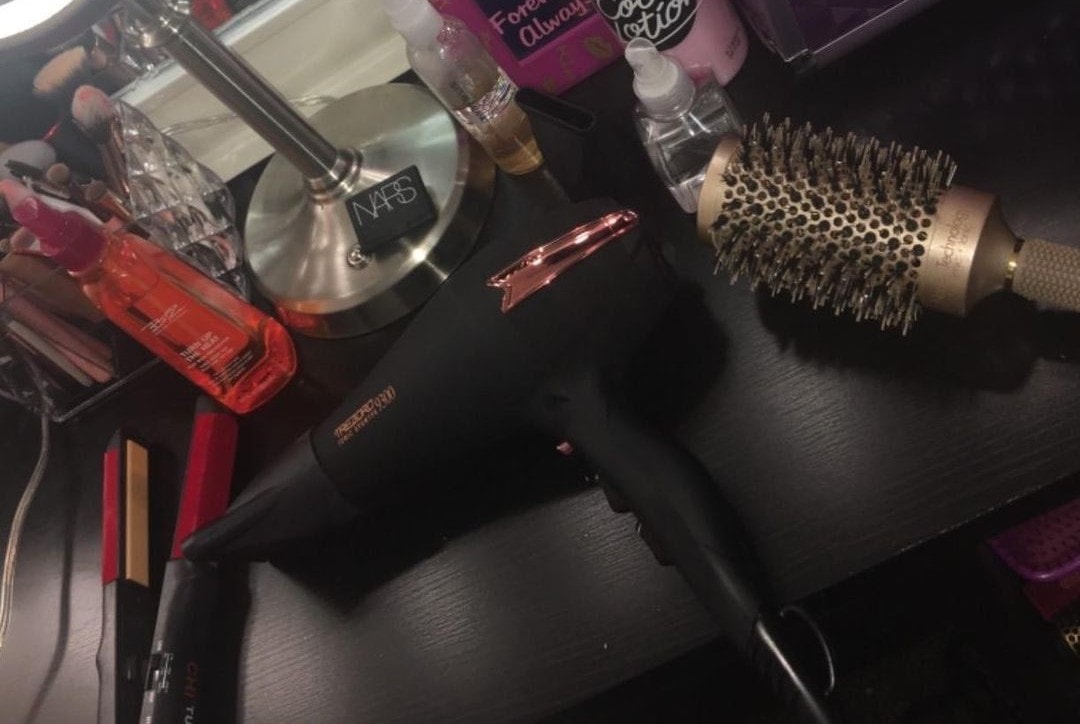 Having checked out the product`s characteristics, I understood I need to buy it for myself. I think it's a perfect investment in the hair look.
---
PROS:
modern design;
great price;
professional negative ionic technology;
powerful blowing.
CONS:
no diffuser for defining your curls.
---
4. JINRI 1875W Professional – Best Affordable Hair Dryer for Curly Hair with Multifunctional Settings
Have a look at this best affordable blow dryer for curly hair by a great manufacturer JINRI. The brand creates amazing appliances for hair like straighteners, hot brushes, curling irons, and top-notch hair dryers. The most amazing thing about this company is that it sells amazing professional-quality appliances for very reasonable prices affordable for every woman. This amazing item is not an exception.
Basic Characteristics:
The product has a very powerful motor of 1875 watts. Due to this feature, the overall styling and drying time is shortened.
Talking about the technology used for the device`s manufacturing, it is very important to note the following. Negative ions technology is present only in the latest hair dryer models.
The size of this hairdryer is 8.2 x 10 inches. It's a little bit larger as compared to the previous models.
Speed/temperature settings
The dryer under review is aimed at the protection of the hair and head skin from damage caused by heat. You will get shiny and healthy waves that will keep the essential level of moisture inside. The technology also reduces frizz and thus allows you to tame your waves. You can set up the desired heat or speed level as there are different options for your convenience. Use cool mode in case you want to fix your hairstyle and make it last longer.
The strong and even airflow will help you get stunning results. Even women with thick and curly hair will surely be satisfied. In addition, this hair dryer from JINRI makes less noise than other items under reviews. However, it's still pretty comfortable to hold the device in your hand due to the comfy and non-slippery grip.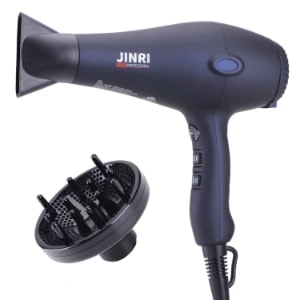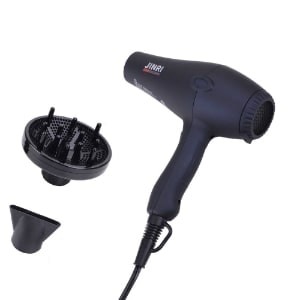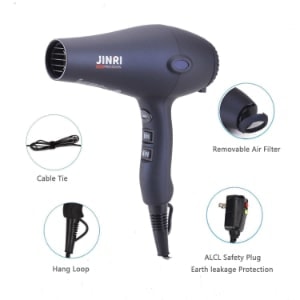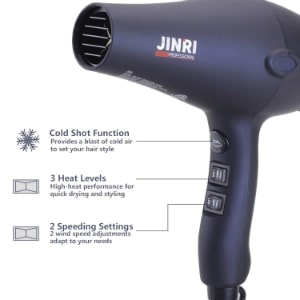 There are diverse attachments like a large diffuser and a heat concentrator that help to enhance the form of your curls. The model is definitely worth your attention as it combines everything you need to style your curly or wavy hair. From my professional point of view, this product is amazing and multifunctional.
---
PROS:
affordable price;
professional quality;
powerful motor;
diverse heat and speed options.
CONS:
a little bit larger as compared to other models.
---
5. Wazor Professional Ionic – Good Hair Dryer for Curly Hair with Overheating Protection
Here is another great and affordable hair dryer for curly hair for your consideration. Wazor is a trusted manufacturer of qualitative professional hair dryers, and this model is one of them.
Basic Characteristics:
It is a professional hairdryer for curly hair with 1875 watt power. This capacity is suitable to enable long-lasting styling and drying results.
This outstanding hairdryer uses infrared heat in combination with ionic ceramic tourmaline technology. Due to this option, the product will heat your hair evenly and grant the most effective styling results.
The size of this item is appropriate – 10.1 x 10.5 x 3.5 inches. It is the best blow dryer with a diffuser that will do miracles to your hair with the help of various attachments. Moreover, it will also keep the hair smooth, moist, and silky.
With the device, you will protect the hair from damage as it will never lose the moisture from inside. You will be able to easily tame your frizz and make the curls look healthy and alive. Furthermore, negative ions eliminate static.
Speed/temperature settings
The powerful airflow will dry and style your hair very fast. Diverse heat and speed options provide the possibility to adjust the product according to your personal needs and hair type.
The dryer also has a convenient air filter that is very easy to remove and clean. This model features a special plug protecting the item from a short circuit caused by a water leak. Activate this amazing function to protect your house and family from any occasion.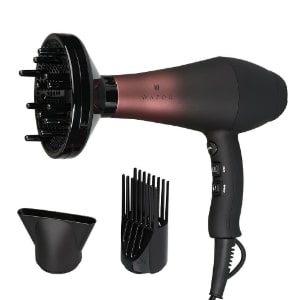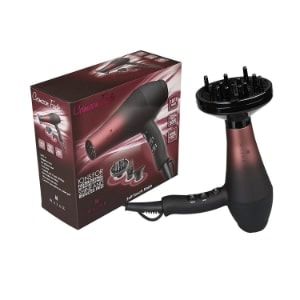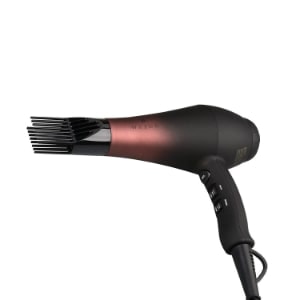 The handle of the device is very comfortable to hold, and the overall design of this hair dryer is amazing. It will be a great present for your mother, sister or friend. At the same time, this is a great product to pamper yourself and invest in your attractiveness. I definitely recommend this particular model – everything you need is collected in one single tool.
---
PROS:
diverse attachments for quality styling;
powerful motor;
different heating options and speed;
modern design.
---
6. Panasonic EH-NA65-K Nanoe Dryer – Best Type of Hair Dryer for Curly Hair with Patented Nanoe Technology
Panasonic is a well-known international brand that creates appliances for home and beauty. It is famous for high-quality products with high effectiveness. This item under review is one of their great beauty achievements. This awesome hair dryer for wavy hair is a real treasure on the market, enabling you to get salon results at home. Using this blow dryer, you will effortlessly end up with healthy and lively curls or waves.
Basic Characteristics:
The power of this particular model is 1875 watt. For qualitative professional styling, it is more than enough.
Nanoe heating technique used for this model has one prominent advantage. It infuses moisture into the hair.
It will be easy to hold this hair dryer from Panasonic. The size of this item is very compact – its dimensions are 3.5 x 8.2 x 9.1 inches.
Speed/temperature settings
This device offers 2 speed and 3 temperature options for you to choose from for the most suitable modes for your hair. Moreover, this blower is perfect for all hair types.
A cool shot button allows setting the hair after styling or drying and it enables long-lasting results. In addition to the hairdryer, you will receive 3 different attachments for professional styling in a package. 2 nozzles and a large diffuser will let your hair dry faster, add volume, enhance the curly look, and reduce static.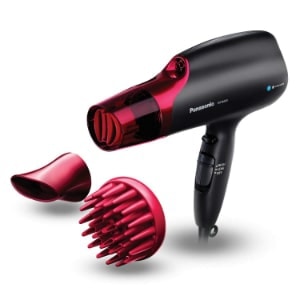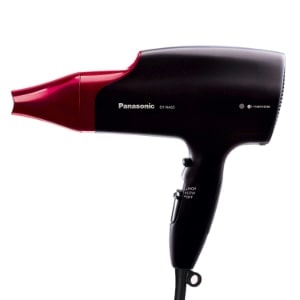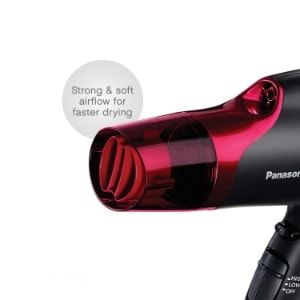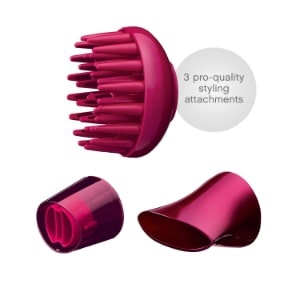 As a result, you will get shiny and healthy hair, protected from the damage caused by brushing. At the same time, the hairdryer is very quiet, so you have the opportunity to enjoy the whole process.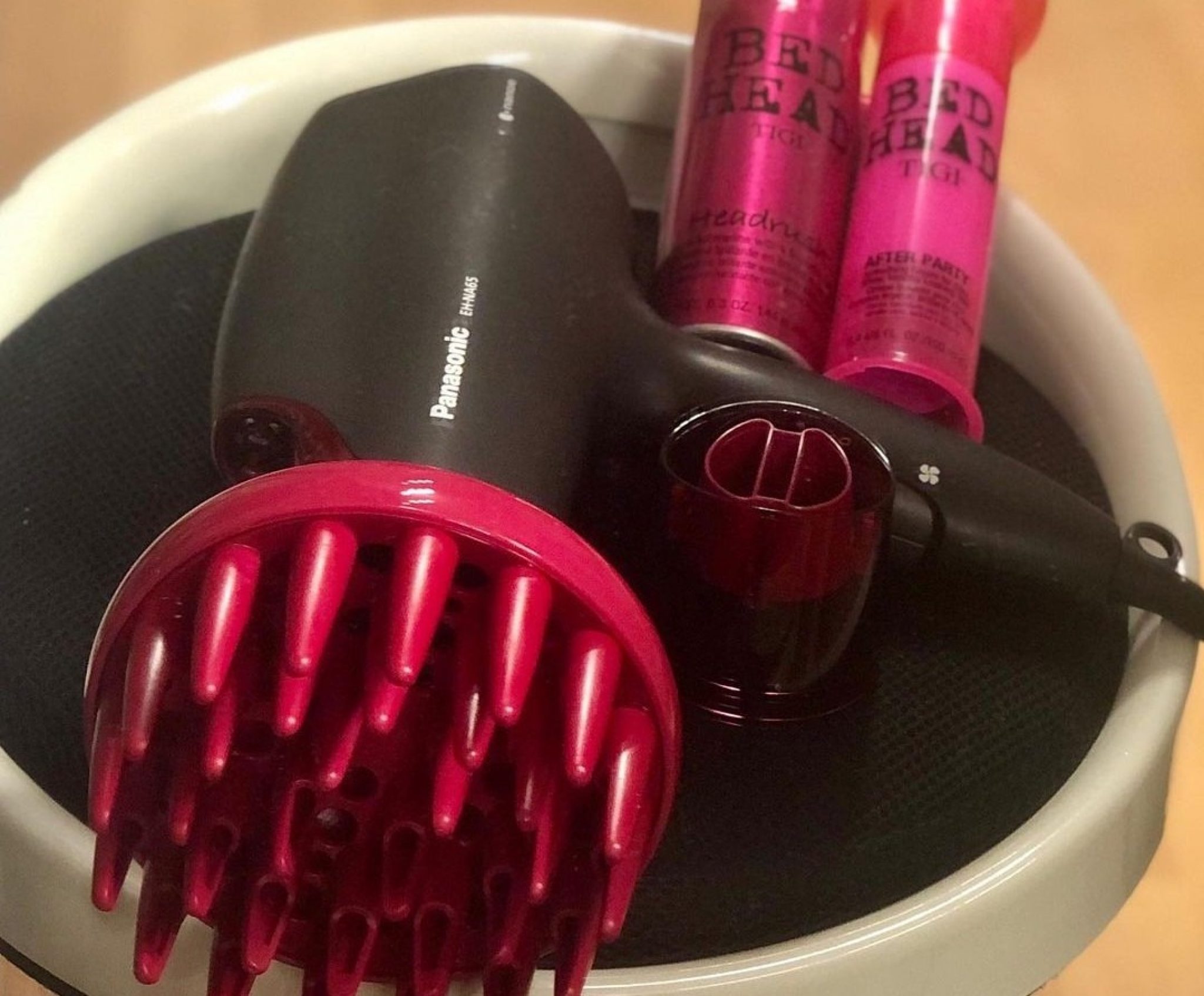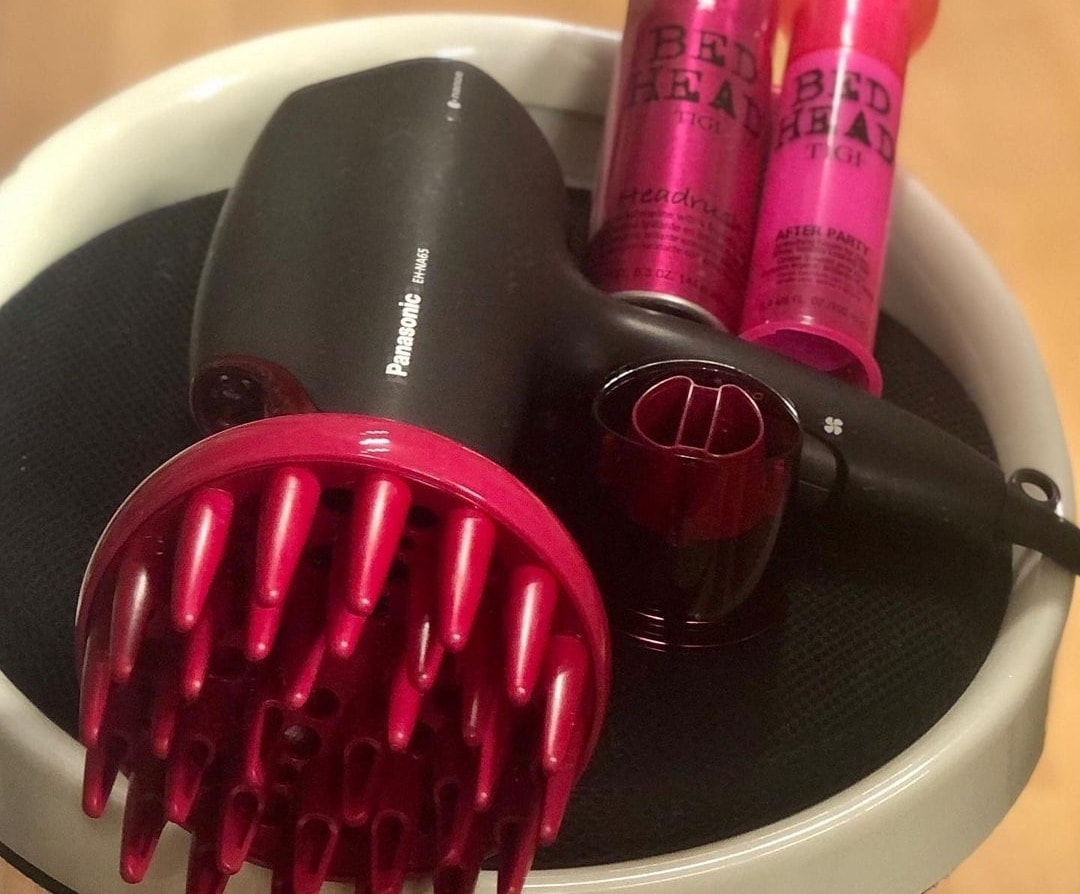 A convenient hanging loop will allow you to put this hair assistant in the most appropriate place. In my professional experience, I have used a lot of different hair blowers. I can tell for sure this model is worth purchasing.
---
PROS:
stunning design;
lightweight model;
powerful airflow;
diverse attachments available;
different heat and speed options.
CONS:
price is higher than the average one on the market.
---
7. NITION Negative Ions Ceramic Hair Dryer – Best Blow Dryer with Diffuser for Anti-Static Hair
The last but not least product under thorough review is another hair dryer for blowing out curly hair. NITION is a great manufacturer of beauty products of the highest quality. The brand guarantees that in case you are not satisfied with the purchase, you will get your money back.
Basic Characteristics:
The powerful 1875 watt device will replace your salon styling. Despite its high power, the blower works quietly, so you won't be annoyed with unpleasant sounds.
This negative ions hair blower with amazing design and delightful color cannot leave you indifferent. The ceramic coating inside will make your hair look more defined, soft, and shiny.
The size of this model is 8.1 x 8 inches, and the dimensions are appropriate for comfortable utilization.
Speed/temperature settings
For your convenience, there are diverse settings for temperature and speed. Due to them, you may come up with your recipe for the perfect hairstyle for the day. A cool shot button allows you to fix the hair and save the look all day.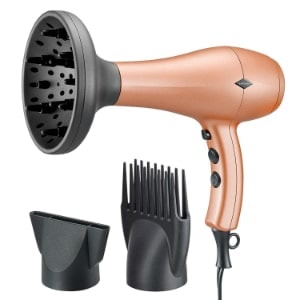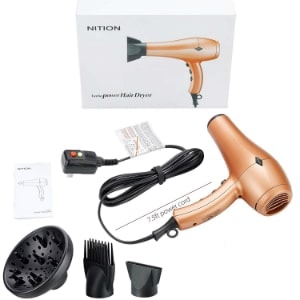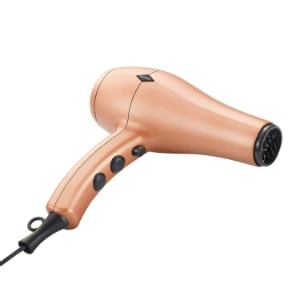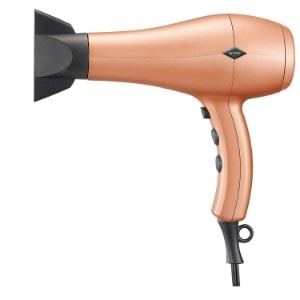 Also, there is a long, convenient cord with a hanging loop. Additional comb attachment will help you to straighten the hair if you are in a mood for a smooth look. Furthermore, a large diffuser enhances the curls, defines their form and texture, and minimizes frizz. A concentrator provides an opportunity to dry your hair very fast and create different hairstyles easily.
Be in control of every detail to get professional styling results at home. The item has leak protection to avert short circuit so you and your family will be completely safe. I would recommend this device for its powerful motor, convenient diffuser, and great price.
---
PROS:
affordable price;
full-sized diffuser;
powerful motor;
excellent performance;
cool shot button;
automatic leak protection.
---
How to Choose the Best Diffuser Hair Dryer for Curly Hair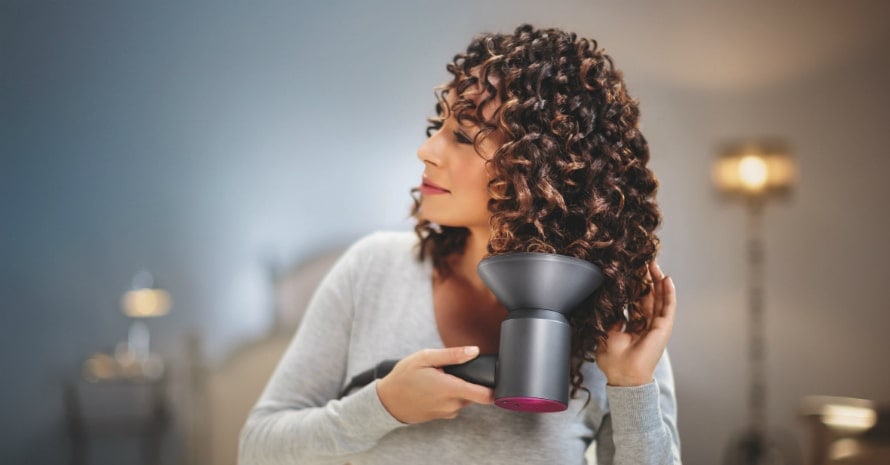 Related article: Top Blow Dryers for Natural Hair
Before purchasing a preferable item, you have to consider some factors to make the right choice. It's important to examine the hair texture, structure, length, and even curl pattern, as well as at the main characteristics of the best hair dryer. It's paramount to choose the dryer that works best for your hair type to get long-lasting styling results and make the process fast and convenient.
There are two common types of hair dryers that cause minimum damage to your hair and leave you with a higher extent of effectiveness. These are ionic and ceramic ones. Ionic hair dryers help to reduce the drying time. The work of negative ions technology allows not to open up hair cuticles. This setting ensures a smooth and silky hair look.
By using lower temperatures, you will preserve your curls` form, enhance it, and make your look even more distinct. The drying time is much lower, but you have to ensure not to over-dry your hair. Ionic dryers are perfect for thick, frizzy or dull hair.
The second type of hair dryers has a ceramic coating. It enables even heat distribution to cause less damage to hair, presenting you with outstanding styling results. Therefore, less heat is needed for perfect styling. At the same time, the drying process is really fast.
The hairdryer of this kind will be a perfect choice for women with curly and thin hair. Make a decision on the best type of hair dryer for curly hair to achieve amazing long-lasting results of your hairstyle.
Final Thoughts
Taking care of appearance is an important part of a woman's daily routine. The beauty of hair is an integral aspect of a good-looking impression. Therefore, it is essential to provide proper treatment and styling to your hair. I have created this list to help women with wavy hair to choose a good hair dryer with a diffuser for curly hair – the most effective and, at the same time, not harmful.
To my mind, all the items are worth consideration as they provide both excellent results and hair protection. I have already purchased Dyson Supersonic hairdryer, and I'm completely satisfied with this product. Therefore, I recommend you to choose your favorite one as soon as possible and try it out!
Have a deeper look at the mentioned items as these top blow dryers for curly hair are considered to be the best. Hopingly, the brief lists of pros and cons will facilitate the process of making a decision. No matter what option is your priority, all the products under reviews are of high quality. They can revive your hair to look healthy and stunning.
Make sure to check out my review of the best conditioners for curly hair.
Now, I would love to hear some feedback from you. What hair dryer are you using right now? Are you satisfied with its results? Leave your comments below and share what products from this list have arisen your interest.
Last update on 2022-12-11 / Affiliate links / Images from Amazon Product Advertising API