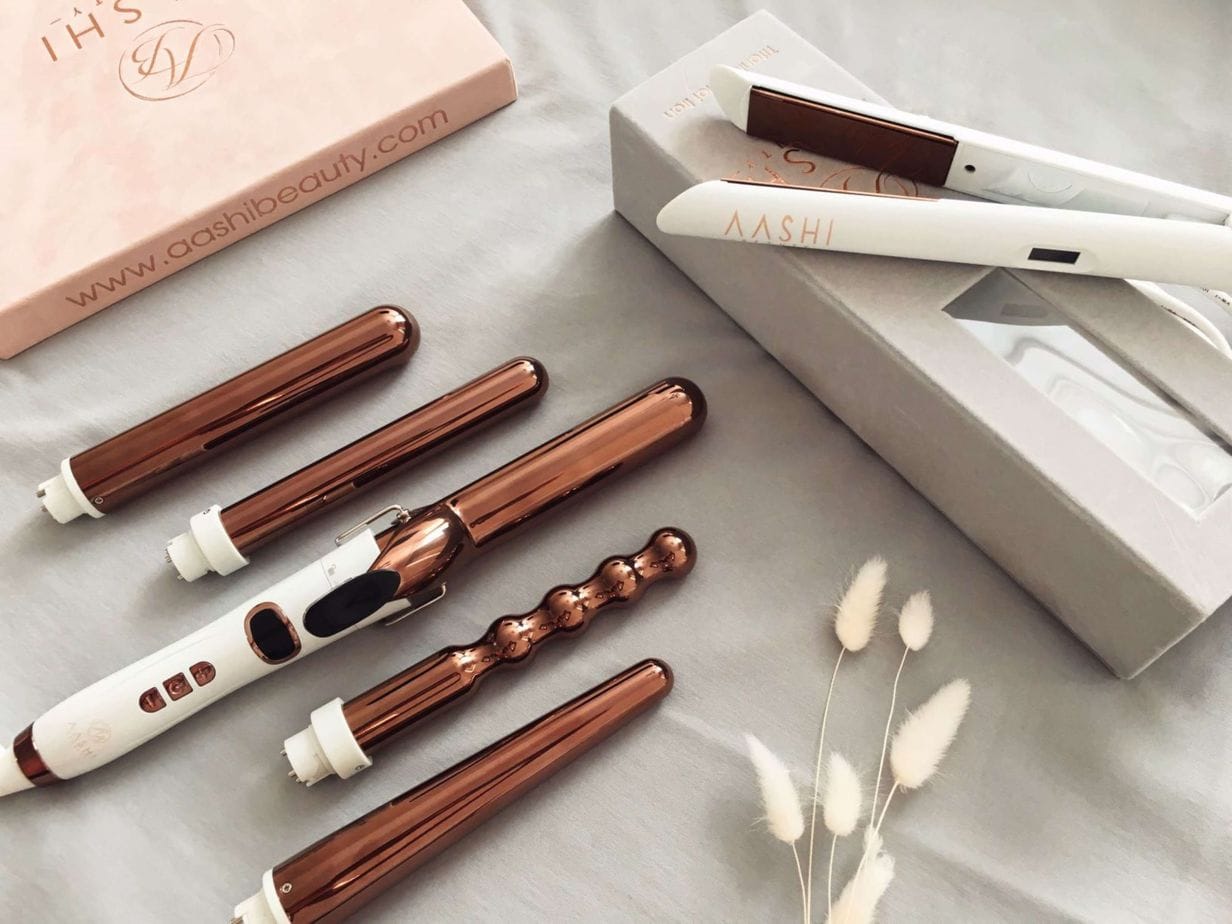 Use discount code hairscream to get 15% DISCOUNT on Hair Styling Tools
Hey guys. Chloe here. First off, I want to tell you that by pure chance I've found the absolute best curling wand for my pretty thick hair. Well, actually, I was lucky to receive an awesome 5-in-one curling wand set (in combination with a fabulous flat iron) from this US-based manufacturer. They asked me to test it and write an honest review about it. I enjoy trying new hair styling products, so doing this review came really easy for me. And I've asked a special discount code for our readers who also might want to buy this set. Use my hairscream code, and get 15% off!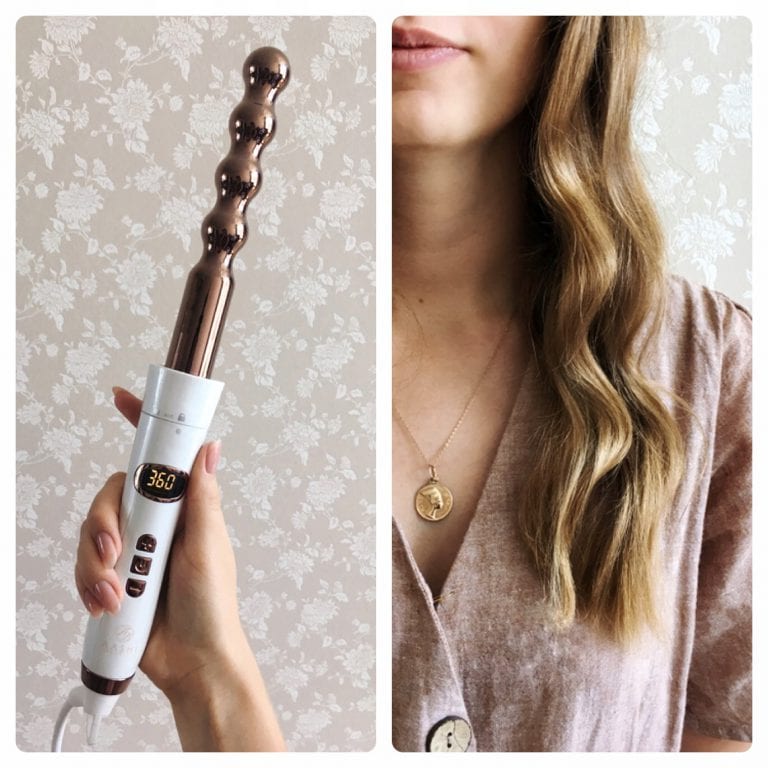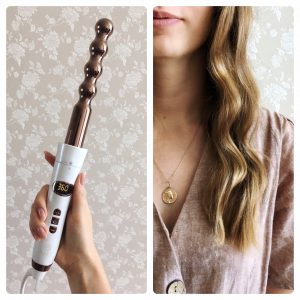 Aashi Beauty… That's the brand name of the manufacturer that has sent me their products for review. And I must admit that, now that I've tested their tools, I believe they produce some of the best curling wands for long thick hair I've recently tried. I'll start with the packaging. To say that I was impressed when I first saw and unpacked this product would be an understatement. Visually-wise, their hair curling wand set is awesome. Rose gold, blush pink, radiant white — I wasn't prepared to see so much beauty and style in one average-sized box…
The Packaging: Fancy and Professional
Something that looks so professional and so fancy is definitely going to work wonders with my hair — that's what I randomly and unconsciously thought when I unpacked the product. And — to my own surprise and delight — my intuition (of a professional hairdresser with years of experience) didn't let me down.
The packaging literally heightened all my senses. The blush pink box has this velvety feel to it — I absolutely love to touch it again and again! I adore the box color. And I can almost smell perfection each time I use this wonderful 5-in-one curling wand set & flat iron tool. Now, let's talk about the products themselves in more detail.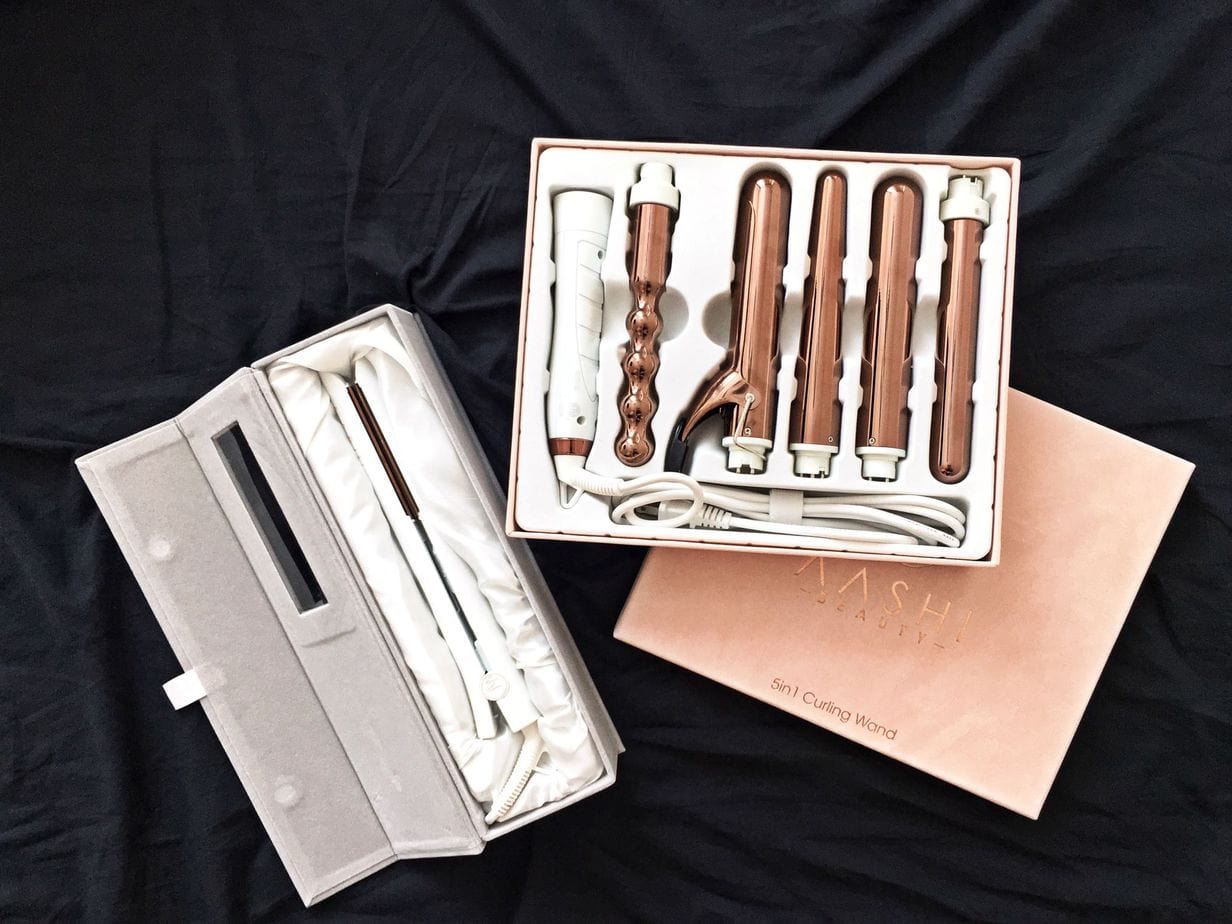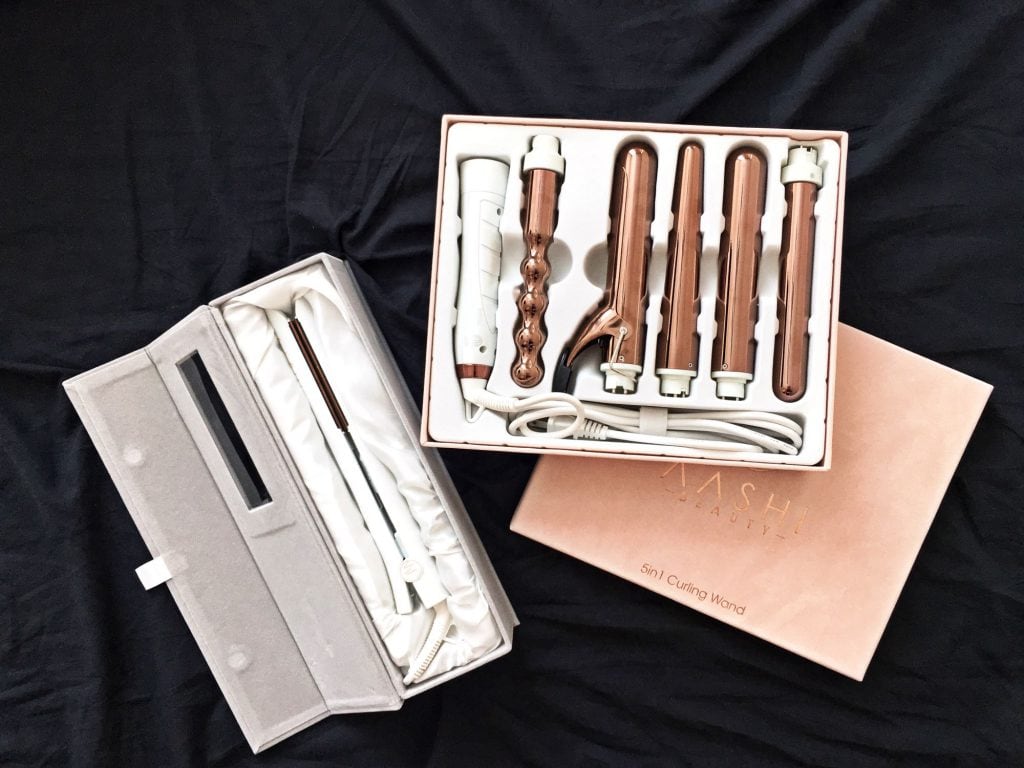 So, What's Inside the Box?
The Aashi Beauty multipurpose professional curling wand kit allows you to choose among 5 different styles of curl. Each titanium rose gold head out of 5 is responsible for a unique style, granting you the possibility to look beautiful (and different) every day! So, here's what you will enjoy seeing exactly when opening the Aashi Beauty blush pink box:
1.25" (32mm) iron with a clip: this one is for creating seductive posh curls with a fine polished finish
1.25" (32mm) wand: this baby creates soft, gentle, loose beach-style waves. Ready for the gorgeous bombshell look? This one's for you!
1" (25mm) wand: this head adds relaxed, luscious spiral waves to your gorgeous look
bubble pearl curling wand: this cute baby helps you achieve bouncy, effortless curls
tapered 1.25-0.75" (19-32mm) wand: this head contributes to your relaxed waves and textured curls.
Aside from all of these goodies, I also received the Aashi Beauty Titanium Flat Iron from the manufacturer. After using it for about 3 weeks, I must conclude that it's possibly the best flat iron for thick hair I've ever used — well, I haven't tried anything better than this in the last couple of years, that's for sure.
Here are a few quick perks of the Aashi Beauty Titanium Flat Iron:
you can straighten, curl, and create waves with one single tool
indicator light turns green upon reaching the perfect temperature for your hair type
excellent professional tool: with the Aashi Beauty Titanium Flat Iron, you get salon results at home.
Furthermore, these Aashi Beauty hair styling tools arrive with a 1-year warranty. For warranty support, register your Aashi Beauty tool(s) at the company's official website making sure you indicate the product name, serial number, purchase date, order number, as well as product SKU (can be found in the warranty manual). It's comforting to think that in case something goes wrong with my tools, the manufacturer will make it right asap.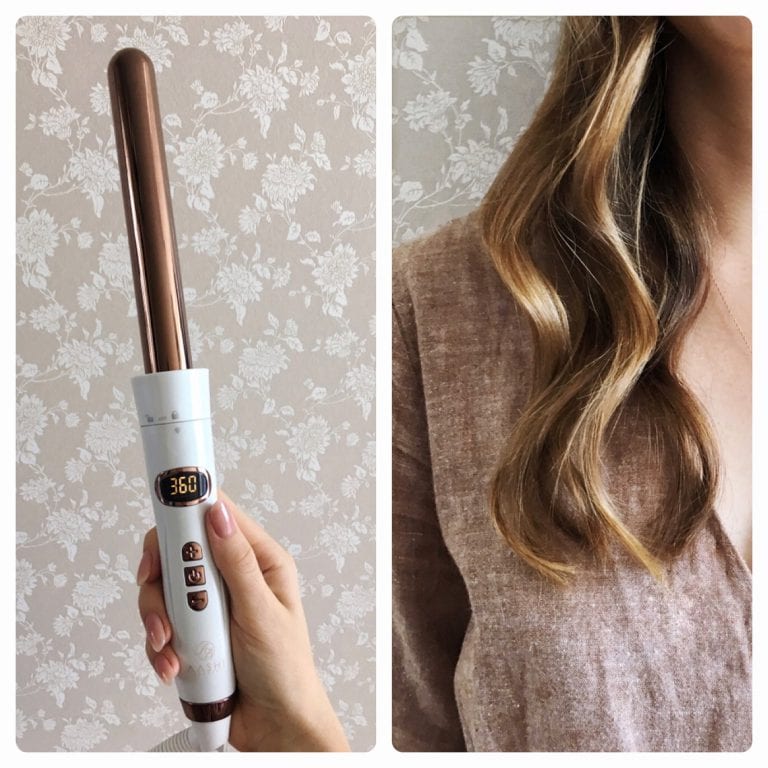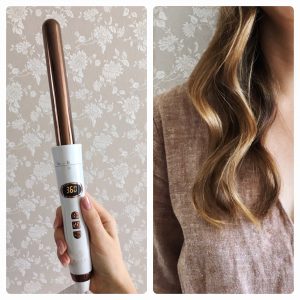 Why I Think the Aashi Beauty Curling Wand Set is the Best
I've been testing this curling wand set for several weeks now, and I must say, I'm seriously hooked on this tool. Aside from the fact that I enjoy its Instagram-friendly design (yep, I already bragged about my new gorgeous curling wand to my IG subscribers :-), I'm absolutely pleased with what it does to my hair.
Below, I've boiled down the Aashi Beauty curling wand set to several advantages that truly make this product stand out in my eyes:
heats up insanely fast
creates various types of curls to suit any taste
turns off by itself — no more crazy OCD thoughts of burning your house down
flaunts mind-blowing design
1-year warranty
all 5 wand heads in this set are useful and very effective
it's the best curling wand for long hair
allows you to change your look fast and easy
Aashi Beauty Titanium Flat Iron: Excellent for Thick Hair
The Aashi Beauty Titanium Flat Iron is packaged in a separate velvet-ish gray-colored box with rose gold accents — even touching it is pure satisfaction. The tool itself looks like luxury, feels like luxury, and even smells like luxury. What's more, it performs like a luxury, which is especially crucial when you're looking for the best flat iron that works on long thick hair.
Here are 5 reasons why I consider the Aashi Beauty Titanium Flat Iron the best among similar products:
heats up very fast
adjustable heat level
long cord for my maximum convenience
great for thick, long hair
exceptionally soft and pleasant to touch
can be used to both curl and straighten your hair
Just like everything in our life, this flat iron is not perfect. It won't prevent your kids from getting burnt unless you protect them. Neither will its gorgeous rose gold metallic parts last you twenty years without returning a single scratch. As a matter of fact, you're going to have to additionally buy a heat resistant silicone mat to protect delicate surfaces of your home from the Aashi Beauty tools, since the set doesn't include this handy item. There sure are drawbacks, but in my view, they are insignificant.
In fact, a great deal of the above-listed benefits definitely outnumbers these products' imperfections. Just make sure you know how to use a curling iron and a flat iron to your utmost benefit before purchasing these tools. Don't forget that the products come with an instruction manual. Explore it with maximum attention. Furthermore, Monica's already written about how to get perfect curls with a wand depending on your hair type. In either case, there are tons of hairstyling tutorials on YouTube, so we're sure you won't get lost on this path. You can always ask me or Monica questions, we'll be happy to get back to you with our hair styling tips and hacks.
What do you think of my curls?
Aashi Beauty Curling Wand Set & Flat Iron FAQ
If you have any questions left about the Aashi Beauty hair styling products, you're free to explore the below FAQ section. I've conducted my own research on the Aashi Beauty brand and composed a brief outline in the FAQ form for your maximum convenience. Below, I will answer some of your most frequently asked questions about the Aashi Beauty hair styling tools.
What are their styling wands made from?
Both the Aashi Beauty flat iron and the interchangeable curling wand heads are made from titanium.
Why Titanium?
Ceramics is the typical choice when it's about making hair styling tools. However, the Aashi Beauty brand opts for titanium because it transfers heat better and minimizes heat damage.
Do the Aashi Beauty styling tools come with a LED screen?
Yes, all of their hair styling tools feature a LED screen for our maximum convenience. I personally love this tiny high-tech cutting edge feature that, in combination with the rest, transforms my hairstyling routine into entertainment.
Can their hair styling tools automatically turn themselves off?
Yes. This feature is easily adjustable whenever necessary. So if you don't always trust yourself when it's about turning off your flat iron before you leave home for work (join the club! :-), these tools are perfect for you. They turn themselves off automatically. And I love it!
What are the main features of the Aashi Beauty hairstyling tools?
Here they are:
LED display
Velcro and UL plugs
dual voltage
auto off functionality
negative ion system
power swivel cord
What if the product arrives defective?
According to the manufacturer, this is very unlikely. However, if this happens, just file a warranty claim at their website and wait for a reply from their customer support managers.
About the Brand: Innovative Hair Styling Tools Made in the US
Now, let me tell you more about the Aashi Beauty brand. The word Aashi is Indian for 'smile'. Therefore, the brand's mission is to create products that make women smile, make them thrilled and happy. If you look at their hair-styling tools and use them for a while, you will realize that they really make you happy: you're happy to touch them, happy to look at them, and, most importantly, you are invariably satisfied with the salon-worthy look they give you at home!
I like the fact that all of their beauty products (I've also tried their makeup brushes and brow pomade) are natural, organic, and vegan. Despite the obvious Indian roots, all the Aashi Beauty products are made in the US, which also can't but bring out the (high-quality-loving!) patriot in me. At their website, they claim that their goal is to help women look fabulous every day. Since I don't rely on words much and prefer to trust actions only, I can tell you that after testing the Aashi Beauty hairstyling tools — I've grown to believe this brand.
Use discount code hairscream to get 15% DISCOUNT on Hair Styling Tools