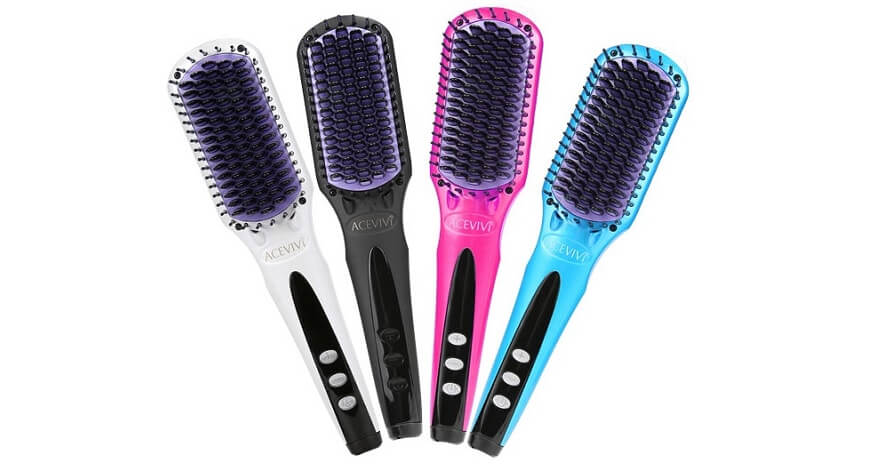 Hello to everyone who prefers to look impressive and stylish, but tries to achieve this on his own!
Now I would like to share with you my impressions from using the Acevivi straightening brush. As it turned out, it is an excellent and convenient tool, which helps you to look perfect – if you learn how to use it in a right way, of course.
I can't say that I am always very much in need of straightening. My locks are wavy, without distinct curls. Neat, natural waves are great. However, the perfectly straightened shining strands still look more gorgeous.
Acevivi Straightening Brush Properties:
a convenient location of buttons, without any risk of accidental operation;
wide temperature control range with a step of 10 degrees;
effective for fine hair and locks with a normal texture.
That is why I have a lot of tools for hair straightening. Among these, there are many a hair brush straighteners and several flat irons.
As we know, styling and straightening natural hair with a flat iron may be quite a long process, and besides, you need safe styling products that are somehow difficult to find.
In general, it is not surprising that when I saw Acevivi hair straightener, I made the order without any doubts. So, just a few days – and I got the cherished bundle and was preparing for a new experience.
Acevivi Brush Appearance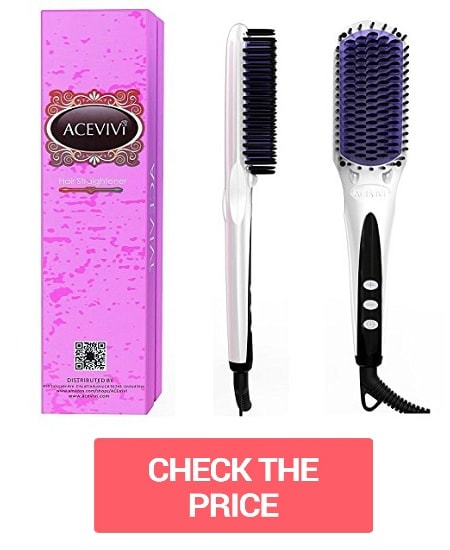 Acevivi straightening brush looks very unusual. Inside the incredibly elegant long pink box with a beautiful soft velvet bag, there is… something that remotely reminds a torture tool! Just kidding, of course!
It should be noted that due to the elongated body with a light metallic sheen Acevivi hair straightener brush looks pretty stylish.
The device is available in several colors – white, black, pink and blue.
As usual, I was choosing between pink and black, but in the end ordered the blue.
By the way, I am a bit surprised that the device is quite heavy. I feel it weighs like my flat iron, that is not less than 500 grams. However, it is very convenient. Also, I was disappointed that there was no heat glove or hook for hanging in the package. Obviously, the producers are sure that the device is so perfect and safe, that the extra details are simply not needed.
How Acevivi Straightening Brush Works
I try to study the manual of any device carefully before using it. With Acevivi straightening brush, it didn't take much time – everything is simple and clear, as well as the tool itself. On the back of the brush, there is an LCD temperature controller.
The temperature control range of 140 to 230 degrees Celsius. Centigrade to Fahrenheit is also possible; it is enough to simultaneously press the "+" and "-" buttons at the same time.
By the way, in spite of my fears, the buttons are located very conveniently – they are slightly shifted to the bottom of the handle. I have a narrow palm, that is why I don't capture them in the styling process and it helped me to avoid any accidental pressing.
In addition, a rotating cord length of 2 meters long is also very convenient, so I assumed that the styling wouldn't be uncomfortable to me.
Creating a Brand New Styling
As it was written in the instructions, Acevivi straightening brush working principle is based on ionic technology, which protects hair from static electricity and high temperature.
However, contrary to the producer's statement, a bit of static electricity appears, especially if you use the tool on thin hair.
But getting burns while using it is impossible – anti-scald technology works! Also, there is a special tip at the end of each tooth of the brush that provides additional protection for your locks and also protects hair from tangling, which is very convenient.
The most important thing is to use it only on clean, dry hair so as not to harm the curls.
And now some words about the styling. For my type of hair, Acevivi brush is very effective. Hair becomes smooth in only 8 to 10 seconds as it is indicated in the manual.
I couldn't help from boasting with my new buy, and therefore the following subjects for styling became my cousin. Cousin's hair is quite thin and long, so we put a 180C. For my cousin Acevivi was very nice as well – her hair became glamorous and well-groomed as if she had visited a salon.
Another thing is for the girls who travel frequently or go on business trips quite often.
The tool takes voltage from 110 to 220V so you can use it even abroad. But I'm more of a homebody, so for me, it's not the key point.
Pros & Cons of Acevivi Hair Straightener
So, the impression from Acevivi brush straightener is quite positive. The tool copes with my hair and doesn't cause any discomfort. As for me, I can underline the following ADVANTAGES:
a pleasant design, various color options;
quite a long rotating cord;
a convenient location of buttons, without any risk of accidental operation;
wide temperature control range with a step of 10 degrees;
it is safe, and does not cause burns;
effective for fine hair and locks with a normal texture.
To be fair, I want to mention a few things that disappointed me. Among the DISADVANTAGES I would like to name:
an impressive weight – for the girls who don't like exercise Acevivi straightening brush can be quite severe;
effect of static electricity presents – especially on thin hair;
low efficiency on thick curly hair – waves remain visible even at maximum styling temperature.
As you can see, for me there are more the pros than the cons of the device. However, for the owners of lush curly hair that would be better to look for something more powerful. So if you need a hair straightening brush for black hair, I recommend taking a look at other models, like, Femjolie hair straightener brush.
Acevivi brush will occupy a worthy place in my collection of styling tools, but whether it becomes a favorite one only time will tell.