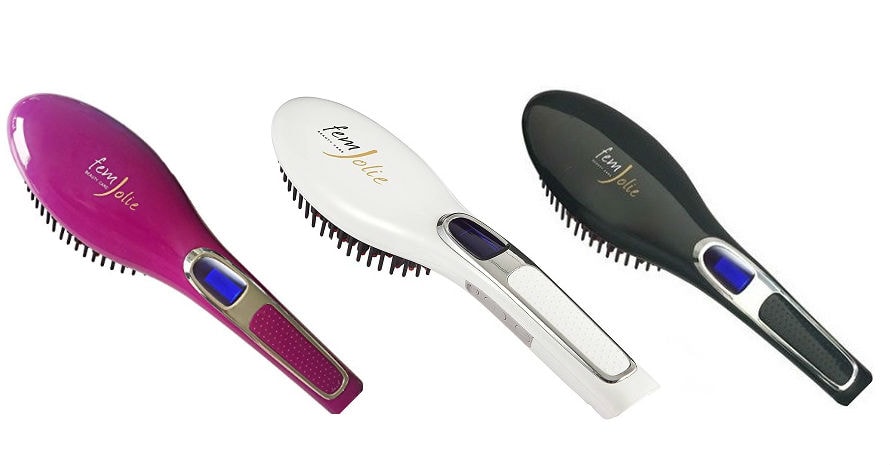 Hello to all the curly beauties and girls who love to experiment with hairstyles! I would like to share with you my personal opinion on wonderful FemJolie hair straightening brush, a tool that suits to each stylish girl.
FemJolie Hair Straightening Brush Properties:
can be used as three hair tools at once;
very light-weight and not tiresome for a hand;
a revolutionary long rotating cord.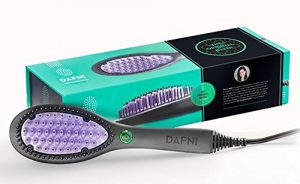 Price: about $50
Appearance of FemJolie Hair Straightening Brush
One day I was looking for a magic tool to manage my hair and came across FemJolie hair straightener brush. I ordered it without any doubts.
The ordered parcel arrived in about 10 days. Upon closer inspection, the straightening brush was very nice. It is a tender milky-white color (you can choose purple or black one) with a very feminine design and LCD digital display with blue backlight. I was surprised to see that it is very light-weight for a brush that straightens hair – about just 1 pound!
The length of the device is 27.5 inches, so it will easily fit in the bag if necessary.
The FemJolie straightener brush is equipped with a hanging hook, and also, the product comes with a comfortable heat-protective glove that was also rather pleasing. Well, it was the time to try a new tool.
How FemJolie Hair Straightener Brush Works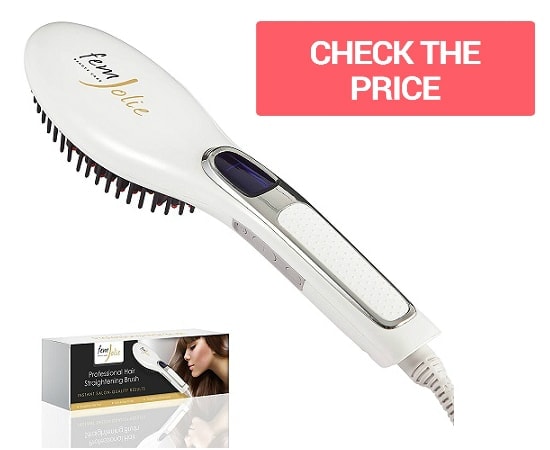 I am happy to confess that the brush with ceramic plate heats up very quickly. Only two or three minutes – and the tool reaches a maximum temperature of 230 C.
The temperature can be set with the buttons, and you may see it on the LCD screen. You can choose how to display the temperature in Fahrenheit or Celsius.
By the way, what I did not like at all is the shape and button layout. The buttons are placed on the side of the handle, and while styling it is easy to press them, so you can accidentally change the temperature or even turn it off.
I had to practice a little to find a comfortable grip, and it turned out to be close to the heating plate. So the glove was very useful to me, as this section of the brush heats up.
Create a Perfect Styling with FemJolie
FemJolie straightening brush is created with the application of anti-scald technology that helps to protect the hands, scalp, and face from the burns, so I didn't feel much discomfort during the process.
Also, the bristles with silicone tips are safe and touch the scalp softly. Besides, I astonished with the functionality of the device. It turned out that it is a 3 in 1 tool:
a hairbrush and a detangling comb;
a brilliant hair straightener;
a very nice tool for a hair massage.
What Does it All Mean?
That means that after use, the hair looks just gorgeous! Locks become smooth and shining, the hair maintains volume, which is difficult to achieve when using a flat iron. And no static electricity!
By the way, the instruction tells that after regular anion hair massage hair grows better because it improves blood circulation in the scalp. However, I've been using FemJolie just for two months, so I haven't yet noticed any special effect of the kind.
Warning: If you want to achieve a flawless effect, use FemJolie brush on dry hair only and if your locks are thick, take thinner strands of hair, so they are smoothed faster that way and the effect remains for a longer time. However, I was not too pleased that the brush cools quickly. It may also not to provide sleek ends of the strands – they look a little frizzy, so you have to take very thin locks for styling and heat up the brush again for a couple of times.

It is very nice that the manufacturers provided all to make the use of the device convenient and safe. I am very glad at the auto shut-off function because I often forget to turn off appliances at home.
The option of dual voltage is also at hand for me. I took FemJolie straightener brush when I went to the Europe for my sister's wedding and when I traveled with my boyfriend. The special adapter to transit from 110V to 220V was very helpful.
And at last, I just fell in love with the cord. Rotating, with a length of almost 1.8 meters, it allows you to wield your electric brush easily.
It was the first instrument with such a long cord I've ever seen! My boyfriend and I stayed at the hotel and the socket in our room was quite far from the mirror. But thanks to the cord there weren't any problems with my heat styling.
To tell the truth, it's not the best option for traveling, I advise you to read more about battery powered straighteners.
FemJolie Hair Straightener Brush: Pros and Cons
So, that was my experience of using this wonderful tool. I can say that it was rather positive because FemJolie straightening brush has many advantages.
Pros
 Cons

exquisite feminine design;
can be used as three hair tools at once;
heats up in two minutes;
very light-weight and not tiresome for a hand;
a revolutionary long rotating cord;
automatic shut-off;
an incredible effect – luxurious, straight and shiny hair like all celebrities have.

you have to take finer strands for straightening on thick hair and the styling takes more time;
it is not always possible to smooth the ends perfectly, it is necessary to make efforts, but I was not always a success;
if you need to straighten short natural hair, better choose other brush with a rectangular shape, like, Asavea hair straightening brush;
the brush cools down in the process of laying, so you have to heat it up again.
In general, FemJolie hair straightening brush is well suited for girls with curls who dream of straight, well-groomed hair, are ready to take care of their perfection round the clock, travel frequently, and are not against to achieve a glamorous look with minimal effort.
By the way, it's one of the TOP-5 best straightening brush for black hair!
Of course, it does have some flaws – however, we know that the ideal is unattainable. I am glad to recommend FemJolie hair straightening brush as a comfortable, stylish and effective tool for those who want to be stunning.