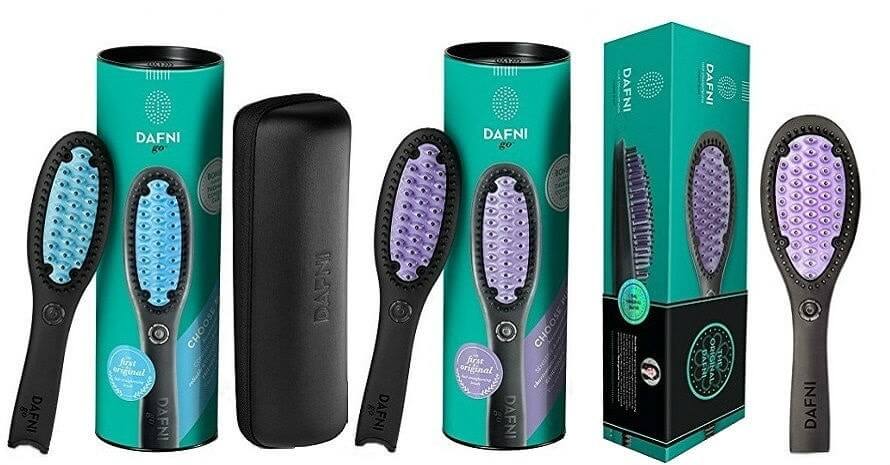 I have been dreaming about a brush that would straighten natural hair without heat damage for a long time. I wanted to achieve the effect of perfectly straight, sleek hair without using a flat iron. I watched a lot of videos, but an original hairbrush straightener was not sold in my town. There were only fakes. Finally, I came across the Dafni brush on the Internet and ordered it.
I must say the brush is not cheap. But it is worth it.
I have been using Dafni ceramic straightening brush for about a month. And every day my hair looks naturally smooth. I am so pleased with my purchase that I would like to share my experience with other girls who haven`t decided yet what hair straightener to use for their daily hairstyle.
I`m sure my Dafni brush review will be useful for someone like me.
Appearance of the Dafni Ceramic Straightening Brush
First of all, the head shape is the standard oval. The surface area of the Dafni brush is seven times wider than a surface of a regular flat iron. So, this tool is highly suitable for a fast-paced lifestyle because now you can straighten natural hair without chemicals within 3-5 minutes depending on your hair type and length.
The handle of Dafni brush is made of the material that is unique in its properties. It can withstand high temperatures, optimises thermal insulation and will support the new appearance of the brush for many years.
The layer of insulation material on the back of the Dafni ceramic straightening brush is made of aerogel, which is used by NASA to create an insulating coating of spacecraft.
This material is capable of withstanding high temperatures when entering the atmosphere. This provides the best protection when using the brush.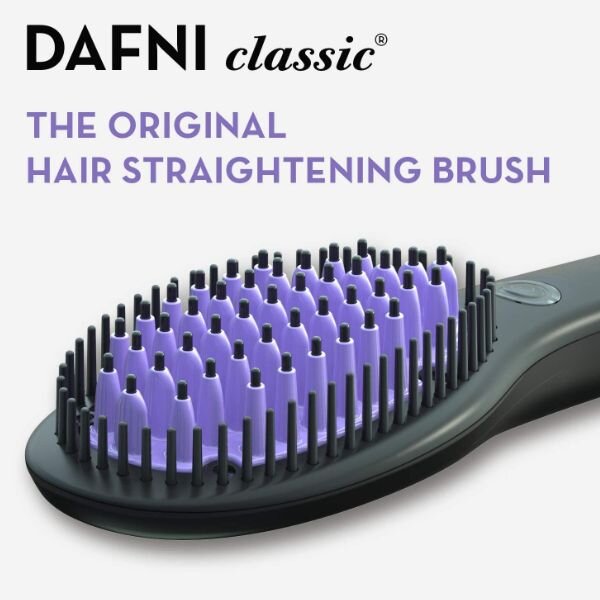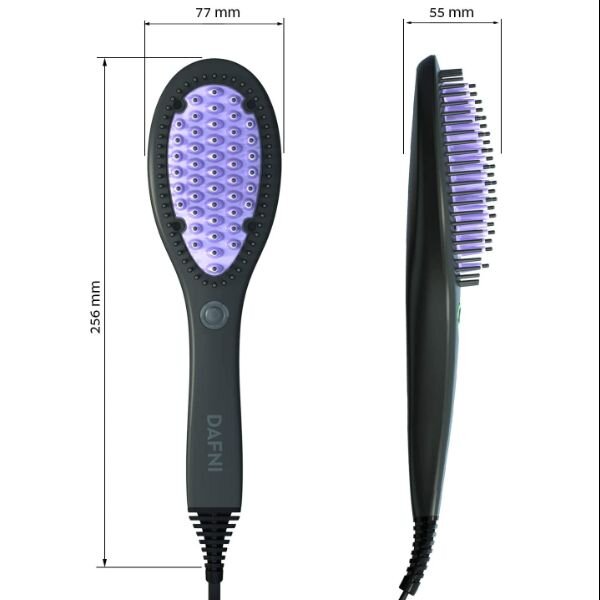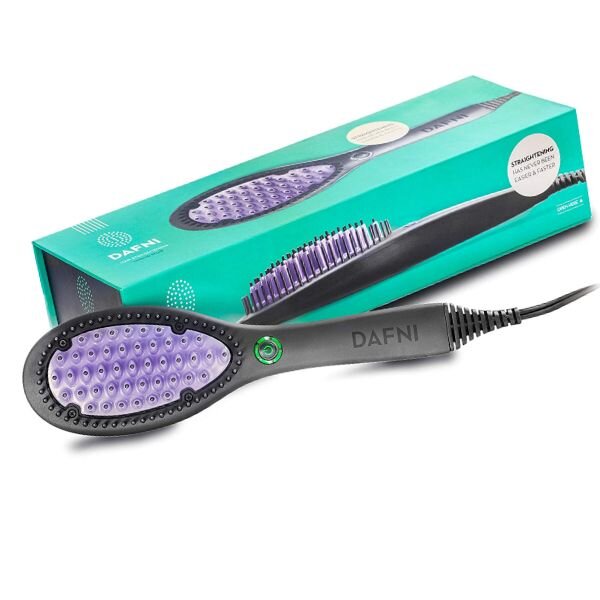 In my opinion, the Dafni hair brush is a bit heavy as compared to other similar tools. This is because the head of the brush is covered with a 100% high-quality ceramic (not metal or plastic) coating, which ensures an even distribution of heat throughout the working surface of the brush. But the weight is not a problem. My hand is not tired after several minutes of styling.
As for the color, the body of the Dafni brush is black and the anti-static bristles are purple. You cannot order the same thing in a different color, but I think this one looks very stylish.
The Dafni hair brush can easily be cleaned with cotton buds.
Is Dafni Straightening Brush Easy in Use?
The Dafni hair straightening ceramic brush is heated within a minute, while others can take up to 2 minutes. The body of the brush does not heat up, so you cannot get burned. If you need to put your hair in order quickly, this tool will become an irreplaceable assistant for you.
The rotating cord is 7,9 feet long, so you do not have to stay near the socket when styling.
It`s a dual-voltage device, and it can be used in countries with 220 V power supply without using a voltage converter.
The Dafni straightening brush has only one illuminated button. So, it is impossible to press buttons accidentally.
As I have said, the brush requires less than 60 seconds to heat up to operating temperature, and after 15 minutes of use it shuts off automatically.
Temperature Characteristics of Dafni brush
The Dafni hair brush uses infrared light, which is healthy for hair and eliminates static electricity. And thanks to ionization, your hair will become softer.
The heating element of the Dafni brush is connected to a microchip that maintains a temperature of 365˚F (185˚C) that remains constant throughout styling. Not everyone knows, but lower temperatures will not straighten your hair, while higher temperatures will burn your hair and can even injure your scalp. Therefore, the Dafni temperature is safer and less damaging to your hair.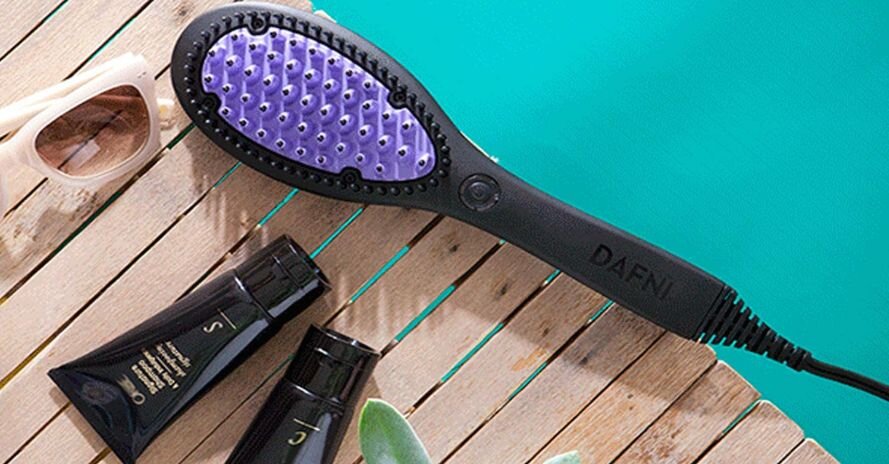 By the way, thanks to this computer chip with a fuse built into the brush, it is safe to use the Dafni brush. In the event of a problem, the fuse emits a sharp sound, turns off the brush and changes the color of the button to blue.
How do I Style my Hair with Dafni Straightener
The Dafni hair straightening brush is a unique tool that will straighten your hair within three minutes. This means that you can save time. After all, many women spend 30 minutes every morning styling their hair. Moreover, the brush stimulates hair natural growth and strengthens hair roots.
Thanks to the black tips, the brush bristles gently massage the skin, exfoliate the scalp and remove excess sebum at hair roots, which blocks the cellular activity and hinders hair growth.
The process of hair styling is very convenient. The Dafni straightener smoothes and straightens hair easily and quickly because you do not have to section it into small strands and style each strand individually as when ironing. Unlike a hair brush, a flat iron may traumatize hair and scratch its surface when stretching it. If you use the Dafni product, you just have to brush the hair from the roots to the tips.
With the Dafni hair brush, it is easy to straighten your hair on the back of the head, while straightening with a hair dryer or ironing requires effort to avoid creases at the roots.
There are many ways to make your hair look perfectly straight, from a hair dryer to keratin straightening, but the manufacturer says that if you choose the Dafni hair straightener, you`ll get guaranteed and certified straightening without damage due to its advanced Smart technology.
Conclusion
The Dafni hair brush will straighten your hair in 3 minutes. I`m sure you usually spend much more time trying to style your hair with a flat iron. The advertising image shows that the girl brushes her hair from the inside, but I use this straightening brush as a usual brush.
The Dafni hair brush protects your hair and provides advanced hair care. But the price is significantly higher. As for the rest, it does wonder. My hair looks glossy, and it is still not damaged after a month of use. I think the Dafni brush straightener will help those who have straight or wavy hair. This magic brush will make such strands perfectly smooth. Girls with curly hair, what about your experience?
I would like to add that the Dafni straightening brush will help you save money. Styling in a beauty salon is expensive. The same hairstyle with the Dafni brush is much cheaper. Also, you do not have to spend money on hair straightening products. This is the only brush that can straighten your hair and maintain its healthy appearance and condition.
UPDATE: New Mini Dafni Go Hair Straighteners
The Dafni-go straightener recently appeared on the market. It allows you to achieve a salon-quality look in just a few minutes while you are on the go. The bristles include a scalp-protecting, spring mechanism that provide extensive reach from the root of the hair to the ends.
Dafni-go is lighter and more compact in comparison with old models.
I want to pay your attention, it's not a battery operated hair straightener! But with a detachable cable, dual-voltage capability, and a heat-resistant travel case, new Dafni brush is an essential travel companion. It also has a three-year warranty and available in two colors: blue and traditional purple.
Last update on 2022-12-11 / Affiliate links / Images from Amazon Product Advertising API