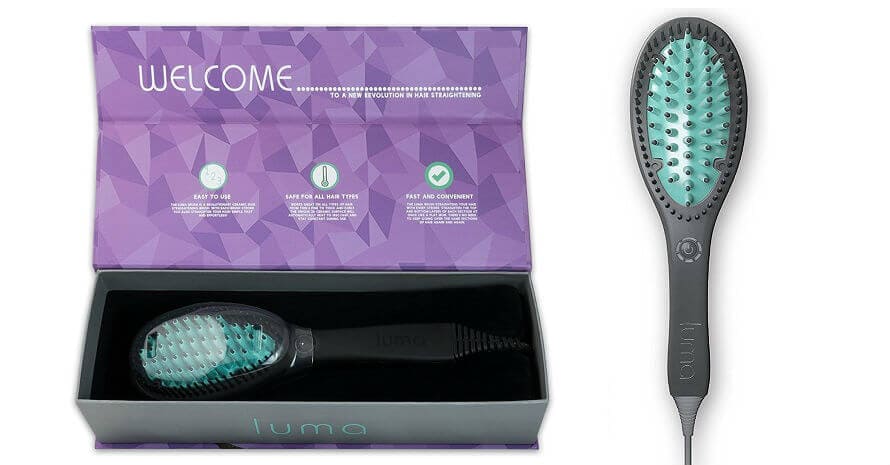 Unfortunately, Luma brush is currently unavailable. So please, check my hair brush straightener reviews to read about other great brushes!
I find Luma brush extremely useful and efficient as it works perfectly for my hair. That's why I decided to share my opinion with you – I know there are a lot of girls out there who have long wavy hair and struggle with straightening it with various tools.
It's an oval-shaped black and blue. It has a power button on the front of the handle. There is a small chance that you will accidentally turn it off when using the brush so be careful.
The good thing is that the tool is only a little bigger than a regular brush, so it's very convenient to hold.
How to Use Luma Hair Brush
The device is super easy to use: you just turn it on, wait till it heats up, and brush your hair as usual.
Advice: It's better to section it out in several strands and brush in slow motion.
Hold your locks tight and close to the inner area of a brush so that it will straighten your locks faster and more efficiently.
Remember that your hair has to be dry and well-combed before using the tool. Also, you should put some heat protectant on your locks.
The brush has a protective row of bristles which prevent your scalp from burning so you can get to the very roots. But you should know that the bristles themselves are pretty hot so don't keep them too close to your skin and don't touch them with bare hands. You probably won't get burned after a quick touch but touching the bristles isn't very pleasant anyway. There are no protective gloves in a package, but I believe that it would be much better if they were.
If you order a Luma brush on Amazon as I did, it comes with a Moroccan argan oil serum which you can apply to touch up our hairstyle.
The Luma hair brush heats up in only 60 seconds which is quite fast for such tool. The temperature is preset at 356°F. You can adjust the right one for your hair type from 290°F to 450°F. Since I need to straighten my natural black hair fast, I set the maximum heat level to straighten them faster and more efficiently.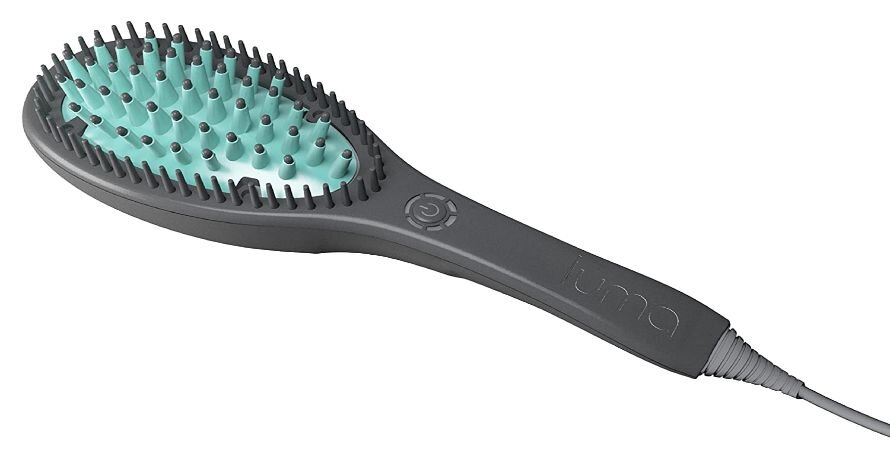 As it says on the box, the Luma straightening brush is suitable for all hair types so I guess all of you would be pretty impressed with this tool.
Luma Brush Features and Functions
The other thing which I find very convenient is that when you plug the tool in, there is a chime and a LED indicator turns red. It automatically begins to heat up, and when the brush is ready to use, the button turns green and chimes again.
The heated plates maintain the constant level of heat during the straightening process and distribute it evenly across the ceramic surface which is good for your hair.
Also, the rotating cord is quite long which is useful. If you're curious, the brush consumes 50W which is common for such tools as far as I know. The Luma brush has sleep mode and failure mode which is very thoughtful.
If you don't use it for 15 minutes, the tool will start to cool down. And if there is a system error the heaters will also be turned off so your hair won't get damaged.
This device is dual-voltage so you can take it with you on your trip abroad. But I guess you will need some adapter for an EU socket.
I have to say that the Luma brush is quite heavy to hold. But I read that some other straightening brushes are much heavier, so this is merely a con.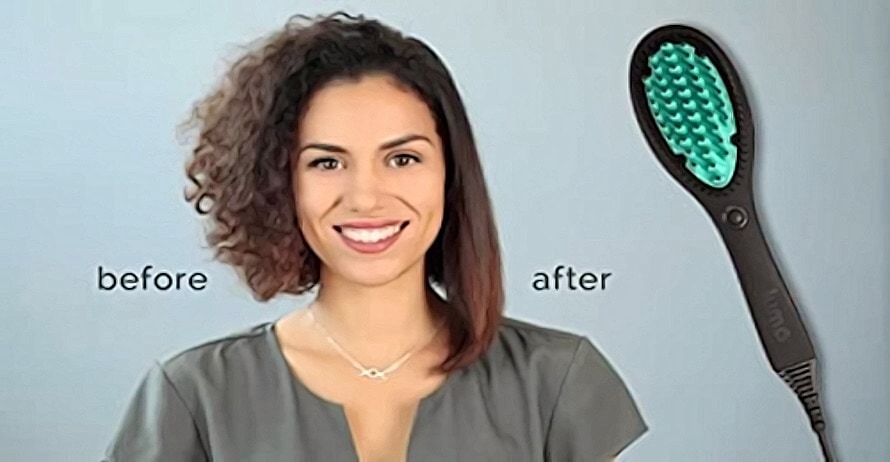 If you need a good straightener for traveling here are wireless hair straighteners list.
My Conclusion: Luma Straightening Brush Pros & Cons
This brush will make your hair straight in 7-10 minutes which I find very fast. By the way here I compare a ceramic flat iron with a hair straightener brush, guess which one is better?
If you have thick and long locks, straightening could take a while, but I guess you spend a lot of time on hair styling. After straightening my hair looks natural and the volume is still there. This brush keeps my hair straight for all day. Sometimes I need to glide through some particular strands once again, but the whole hairstyle is good.
In conclusion, I will make a short list of all pros and cons which I mentioned earlier:

PROS:
the Luma brush takes a minute to heat up;
it has an anti-scald design
it has a long swivel cord
it's dual-voltage
it has an auto shut-off function
the surface is made of ceramic which is good for the health of your hair
CONS:
it doesn't have an ionizer
there is no display which will show the current temperature
there are no protective gloves in a package
if you need to straighten African American hair, better take a look at the list of the best straightening brushes for African American hair
As you can see, the Luma straightening brush has a lot of significant advantages. I believe that the cons are minor but it's good to know them anyway. For me personally, they don't matter as this brush gets the job done perfectly. I've read a lot of other Luma brush reviews before writing mine, and I have to say that girls who use this device are pretty satisfied with it. So am I 🙂

So, what about you? Have you ever used the Luma straightening brush? Are you happy with a result? Feel free to share your opinion in the comments below!

Last update on 2022-12-11 / Affiliate links / Images from Amazon Product Advertising API