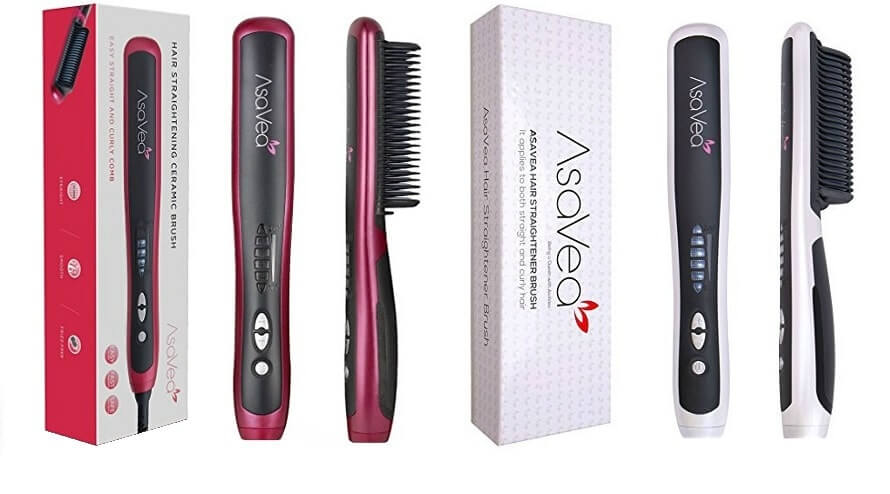 After checking tens of variants and reading tons of feedback about hairstyles, I decided in favor of AsaVea hair straightening brush. It worked so well for me that I'm craving to share my experience and give a few life hacks for girls using it.
How Asavea Hair Straightening Brush 2.0 looks
Not that device appearance is crucial for me, but I find the AsaVea straightening brush very appealing. It looks like a regular hairbrush.
Instead of flat heating elements, it has ceramic iron teeth, so you need just to comb it through your hair. Being 10 inches long and almost 3 inches wide, it fits my hand perfectly and allows combing through thick hair locks.
This model comes in two color combinations: white and black, or red and black. The package includes a straightening brush, a manual with tips for use and a small brush for removing hairs and dust between the ceramic teeth.
A few words about functions
The first thing that I should mention is the simplicity of use: there are only ON/OFF and "+" and "–" buttons to adjust the temperature. AsaVea hair straightening brush makes your work a piece of cake!
Initially, I didn't really like button layout: they are located on the back part of the handle, so it's possible to press them accidentally if you grip the comb tightly.
But the manufacturer has included the temperature auto-lock function: you should press ON/OFF button for 1-2 seconds to activate it. The problem of accidental overheating is solved!
Busy ladies will find AsaVea hair straightening brush highly convenient because it heats up almost instantly. 90 seconds, and it's ready for use! This device saved me when I was in my morning rush.
What's more important, it has 6 levels of heating starting from 130°C for soft hair and finishing by 200°C for coarse or wavy curly hair.
I select either 190 °C mode or 175 °C mode depending on the desired result.
There's no LCD screen, but AsaVea has six indicators that light up showing the chosen mode.
You won't see the exact degree of heating, so it's important to read the instruction first and understand which level is optimal for your hair. While in use, the iron teeth can gradually cool down: if you see a temperature indicator blinking, it means that the brush is heating up. It will take up to 45 seconds to restore normal temperature.
The AsaVea straightening brush in action
Weighing a bit more than one pound AsaVea is a pleasure to use. It's not heavy at all, and my hand didn't tire up while I was performing hairstyle.
The middle-sized cord is good for using the brush in a bathroom, or in front of a console mirror in a bedroom. I do both. By the way, if you look for a straightener for traveling, here are my list of the best mini flat irons.
Another advantage of this model is a rotatable cord: I may keep the brush at any angle and operate it the way I like to reach the best results.
There's no need to buy protective gloves additionally: thanks to the anti-scald technology, the brush won't burn your scalp or hands so that you can use it safely.
The temperature is displayed in Celsius, which can be a bit unusual for American customers, but I got gradually used to it.
The model should be used on 110V~120V, and if you decide to travel to the places with 240 V voltage, you need to take a power adaptor with you. (I took it to Europe once, and it worked perfectly with an adaptor). As for watt usage, the package says it consumes 125V- 60 Hz 36 W. I think it's agreeable for such a powerful device.
I love the way AsaVea straightening brush treats my hair. It's perfectly convenient to use because all I need to do is simply comb it through.
But it's important to follow some rules:
The brush should be used on dry hair only. Otherwise, it can damage their structure, and it's not safe.
Apply some heat protectant or argan oil to protect hair from burning.
Go slowly letting iron teeth heat hair up.
Turn auto-lock on to prevent accidentally increasing temperature by clicking buttons.
To achieve the desired result you may need to repeat combing 2-3 times. I brush my hair at least twice because I have thick hair, but probably, girls with thin and soft hair don't need it.
What I also like is that the brush allows making a more natural appearance: at first glance, it doesn't seem that my hair has been straightened. A flat iron gives the opposite effect. However, I don't quite like how it brushes ends: they stay a bit curvy, so if you want ideally straight hair, this is far not the best option. If you want to compare a flat iron and a hair brush straightener, read this post.
Ceramic, they are safer for hair and don't disrupt its structure when the appropriate mode is chosen. This model features a hanging hook, so you can hang it on the wall and always have the device at hand. While using it, you can put the brush on a table with its teeth up. It has 30-minute auto shut-off function, so you don't have to worry about making the fire in your room.
My conclusion
All in all, AsaVea hair straightener is one the best brush straightener for thin and short hair. You can quickly adjust a temperature to reach the desired results without damaging your hair, and the device is safe in use.
Probably, I would prefer a bit different button layout, and there should be temperature indication in both Fahrenheit and Celsius, but these are minor disadvantages that don't affect general performance.
Also, it seems, Asavea brush doesn't work well on thick hair. So if you have this problem, this post will help you to choose the best straightening brush for black hair.
I'm totally in love with AsaVea hair straightening brush and would like to know the opinion of other users. Have you tried making different hairstyles with it? What appeals to you most in this model? I'm looking forward to your replies.
UPDATE: New AsaVea Hair Straightening Brushes 3.0
The AsaVea straightening brush 3.0 recently appeared on the market. New brush has 12 levels of temperature, which allows easy styling for all hair types.
It's available in three colors: white, pink and purple.