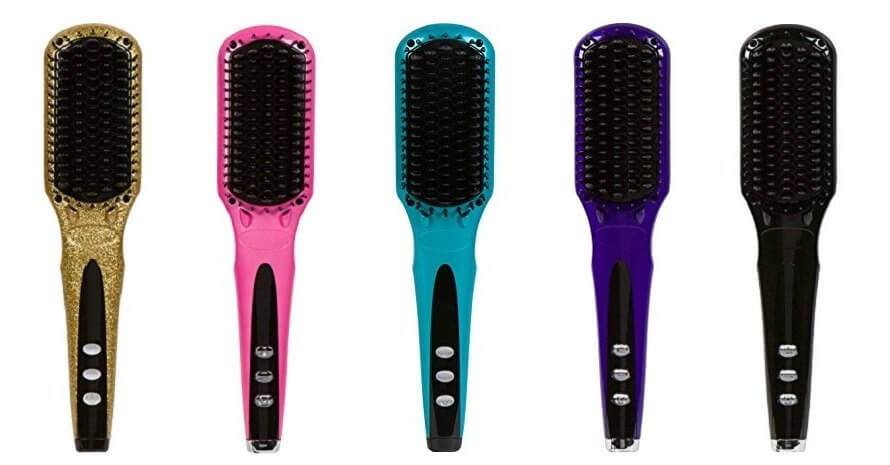 I  have a great variety of tools for hair styling, including brushes, combs, sprays, mousses and even two multi-functional flat irons. But I never mind trying something else. When I heard about electric hair brushes, I immediately rushed to explore all possible models.
It happened that the choice fell on Head Kandy straightening brush. Whether I was disappointed at my intuition in general and the tool in particular, see below.
Hedkandy Straightening Brush Appearance
To my surprise, the box with the tool was quite heavy.
And no wonder – it turned out that Head Kandy brush weighs neither more nor less than three pounds!
Even despite the rather sleek design, the weight is still there, so in the course of styling, I got my arms a bit tired. Then I was used to that, of course. However, I would like it to be lighter in case I want to freshen up my hairstyle when I am somewhere out.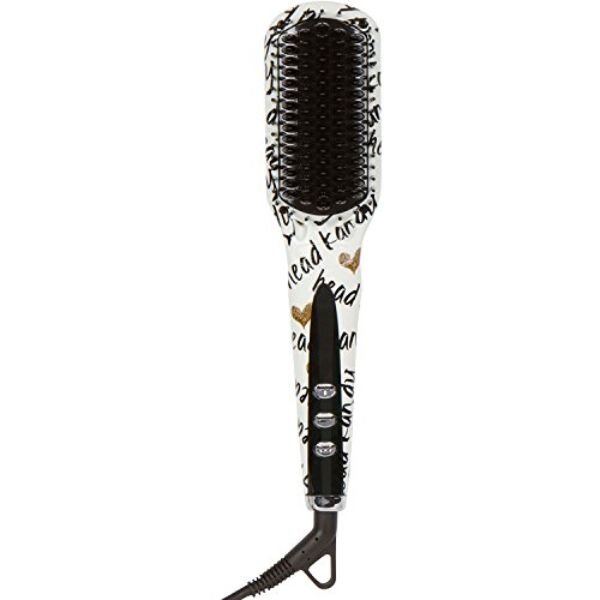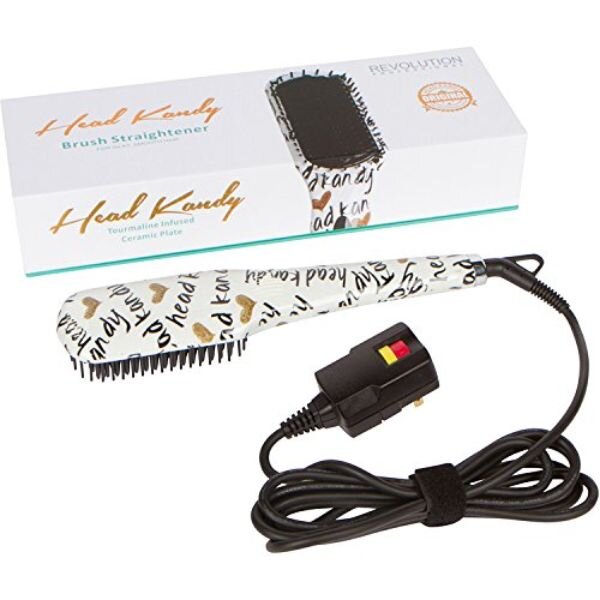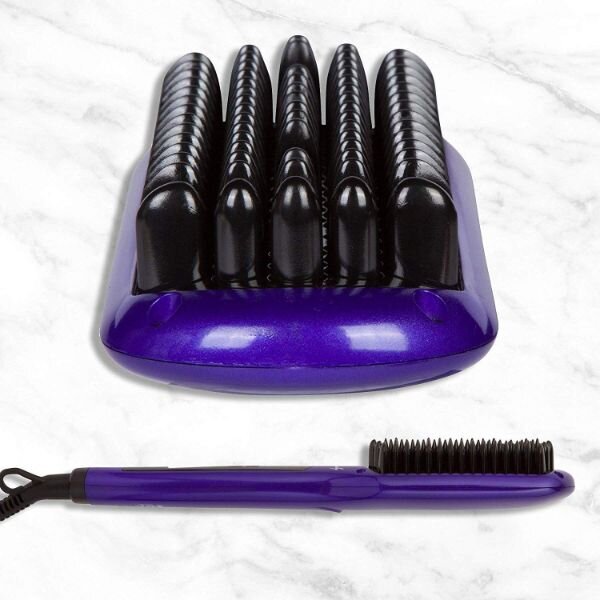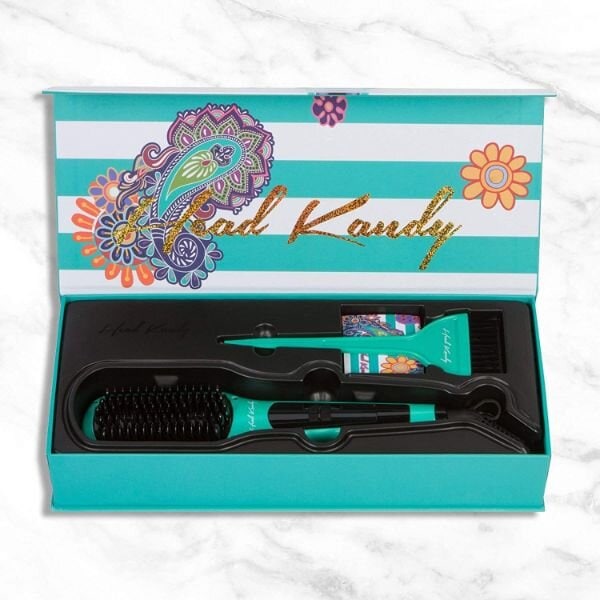 All in all, the device looks very nice – it is elegant, long and has a pleasant pink color.
You can also order blue, gold or purple one.
I really liked that the control buttons and temperature control are located on the inner side of the handle in a recessed panel. So it's impossible to press them by accident.
How Head Kandy Straightener Brush Works
Working with Head Kandy straightening brush 2.0 is a piece of cake. Just switch on the brush by pressing only one button, choose the correct temperature, and, strand by strand, create the hairstyle of your dream.
The temperature of the ceramic base and tourmaline plates varies from 450F (230C) up to 365F (185C).
Looking ahead I would like to say that the device heats up like in the blink of an eye –  wait for 10-15 seconds, and you can start styling.
Head Kandy brush is equipped with a long rotating cord, which is incredibly comfortable, any discomfort in the process does not occur.
The manufacturer promises perfectly straight hair without any damage, and a good performance even at extremely thick, frizzy locks.
Let's Try this Brush
Another discovery was that the Head Candy straightening brush 2.0 is VERY HOT. Despite the fact that the manufacturer informed about anti-scald technology, I was afraid of getting burned.
The mode tool provides the temperature of 450F (230C) for particularly unruly and thick hair and 365F (185C) for long and thin strands. I still didn't dare to use the Head Kandy brush at the maximum, and put a 400F (200C) regime.
By the way, if you choose the temperature, you don't need to change it every time. Just press the buttons "+" and "-" simultaneously, and every time you turn on the device, it will automatically heat up to the desired temperature.
If you'd like to know the result, then I should say that the Head Kandy straightener brush really works. The biggest inconvenience for me was the need to purchase a power plug adapter. The manual says that the device supports dual voltage 110-240V, but it has a USA plug.
And it's especially strange when you consider that Head Kandy straightening brush is a pretty expensive tool. I'm going to France to my sister's wedding, and I have to take my Babyliss Portofino blow dryer and wooden handled hair brush where the adapter was included into the package. I am upset because styling with the brush turned out to be a little faster and more efficiently.
Conclusion: Pros & Cons
Like any other tool, Head Kandy brush 2.0 has its own advantages and disadvantages. To sum my Headkandy straightener brush review up, I would like to highlight the following advantages of the tool.
Head Kandy straightener ceramic brush PROS:
feminine design – the brush looks elegant and attractive;
the convenient location of buttons, clicking them by accident is impossible;
the opportunity to fix a suitable temperature by pressing just two buttons;
anti-scald technology, which protects from skin burns;
heats up very quickly – very important feature if you frequently make the styling on the run;
effective on curly hair with normal texture.
Still, I can't say that the HeadKandy is flawless. As for me, I was disappointed with the following disadvantages:
it's heavy;
it's pretty hot;
I didn't get an EU plug adapter;
doesn't work well on curly thick hair.
In conclusion, I would say that the price of the Head Kandy brush 2.0 is high. Personally, I use the brush when I need to make my hair quickly – for example, before work. But if you are a happy owner of a particularly lengthy thick curly hair, I'm not sure if this is your brush. I would recommend you to review Instyler straightener.
Last update on 2022-12-11 / Affiliate links / Images from Amazon Product Advertising API