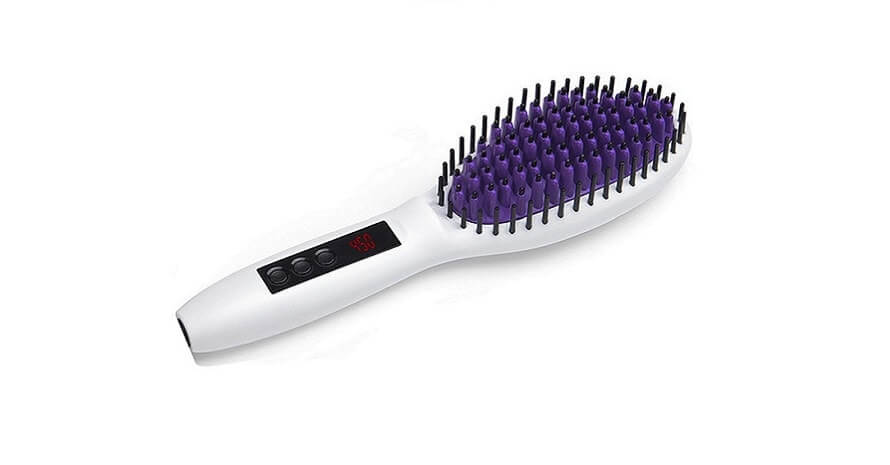 Hi there! In this Instyler brush review, I'm going to cover all specific features of this tool.

Spoiler alert: this new straightening brush is a real deal!

It's not my first hot air brush. I've had several other, and they weren't so good. I wasn't satisfied with the final look or with the technical features.


ceramic straightening brush.
Instyler Brush Appearance and Functions
The Instyler ceramic straightening brush is a medium-sized white brush with bright purple bristles. It's oval-shaped, so I guess this tool won't work for very short hair.
It's quite convenient to hold, but you might accidentally turn the power button off as it's on the front of the handle.
The brush comes with a very detailed instruction which covers all the aspects you need to know about this tool. So I recommend you to read it thoroughly.
This brush warms up in only 30 seconds and maintains a constant heat level which is very convenient.
You can select one of the 7 heat levels depending on your hair type  (from 330˚F to 450˚F). The current temperature is shown on a digital LED, and you can change it by pressing «+» and «-» buttons.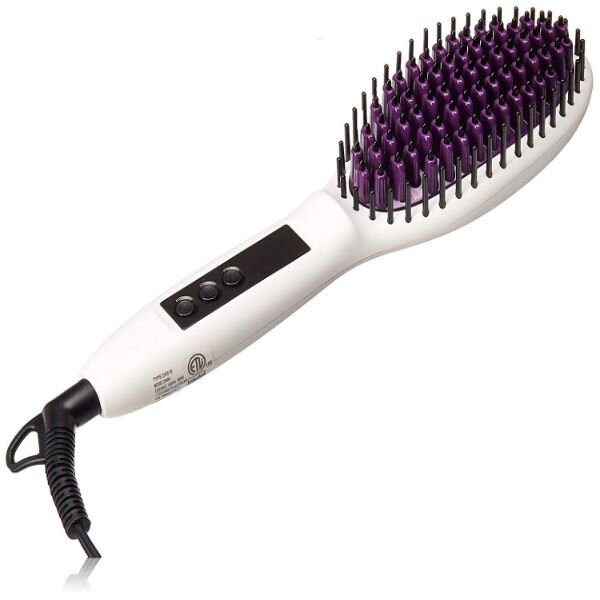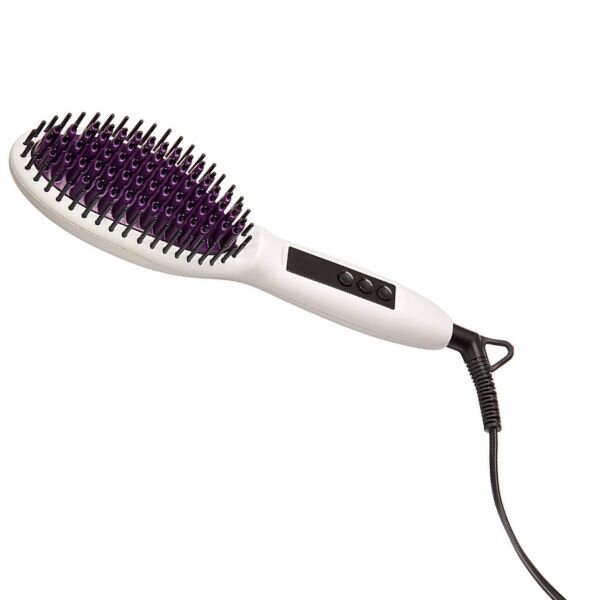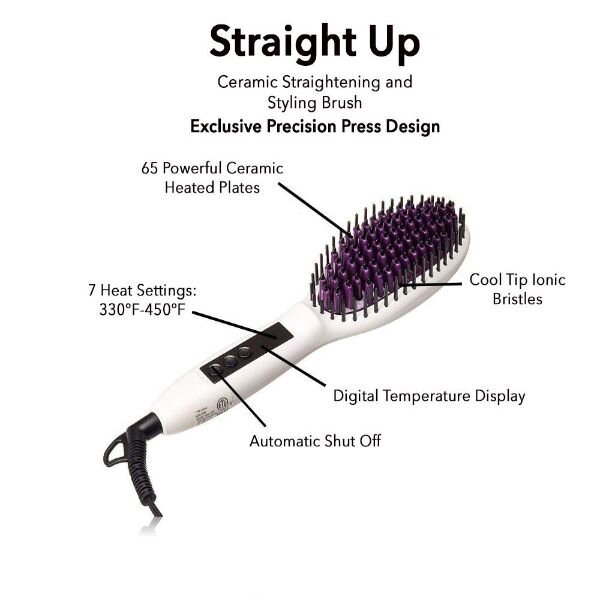 As far as I know, this brush couldn't switch Fahrenheit to Celsius, but I guess it's a minor con. And there is no temperature lock, so you may change the temperature by accident while using the brush.
How to Use Instyler Ceramic Straightening Brush
The Instyler straight up brush is pretty easy to use. Let your hair dry out and comb it.
Remember that you can apply the tool only on fully dry hair!
And I recommend you to use heat protectants before straightening.
When you've combed your locks properly, separate them into small sections and glide through each strand 2-3 times.
Hold your hair tight and close to the inner area of the brush.
I find this the most effective way to straighten natural hair without a flat iron as I have a lot of thick frizzy hair. I believe for thin hair one pass may be enough to straighten it effectively. Taming my long thick hair with this brush takes about 20 minutes. I guess if you have medium-length locks it will be even faster.
Instyler Straight Up Brush Materials and Main Features
The heaters are made of ceramic and tourmaline which are considered to be the best materials for the state and health of your locks. The brush with such surface gives you silky and smooth hair without damaging it.
Instyler cool bristles prevent your skin from burning but don't touch the bristles themselves as they're pretty hot when the tool is on. You can even see the steam evaporating!
There are no protective gloves in a package, but I wish they were.
The good thing is that the tips are quite sturdy so you could run the brush through your locks without worrying that the tips would fall off.
The back of a brush stays cool during hair styling which is also nice.
For me, the Instyler straight up ceramic straightening brush isn't heavy at all – it weighs only 1 pound.
So, this tool will come handy not only in your house but also overseas.
It doesn't feature 110v to 240v universal voltage, so you will need a transformer to use it in Europe.
Also, you may need a plug-in adaptor for a power socket outside the USA. The brush consumes 60W as far as you're interested.
You can't use an extension cord with the Instyler straightening brush, but I believe you won't need one anyway. It has a long rotating cord which makes the tool convenient.
Instyler has an automatic shut-off which means that the tool will be turned off if you don't use it for 30 minutes.
However, I recommend you to switch it off after using anyway. The instruction also says that you're supposed to unplug the tool every time after using.
This brush doesn't have a hanging hook, but you could keep it on a shelf with all the other styling tools as I do.
I don't think that it's a major disadvantage. The Instyler straightening brush does the general trick, and that's the point of purchasing it.
Conclusion
You're probably curious how much does the Instyler hot brush cost. I got it on Amazon a couple of months ago for like 50$. As far as I know, it's the reasonable price comparing with other straightening tools, so I guess the Instyler hair brush is totally worth its money.
Also, I would recommend using a wooden bristle hair brush before straightening, it will make your hair healthier.
To sum up, I will make a short list of pros and cons of this device, so you can see that it's a good choice:

PROS:
Instyler heats up in only 30 seconds which is fast for such tool;
this brush has 7 heat levels for different hair types;
it has a ceramic surface which is good for the health of your locks;
it has an anti-scald design;
it has a swivel cord;
it has an auto shut-off function.
CONS:
you may accidentally switch the power button off or change the temperature while using the device;
this tool couldn't convert Fahrenheit to Celsius;
it doesn't have a hanging hook;
it's  light-weight.
Before purchasing the brush I've read a lot of Instyler hair straightener reviews paying attention to those who applied Instyler on curly or frizzy hair. Almost all of the users were satisfied with the product, so I decided to try this one, too. So, if you're wondering whether the Instyler really works – now you know that the answer is yes!

Ladies, have you ever tried the Instyler brush? Are you fully satisfied with this tool? Or maybe you're considering purchasing another brand? Let me know in the comment section below!

Last update on 2022-12-11 / Affiliate links / Images from Amazon Product Advertising API