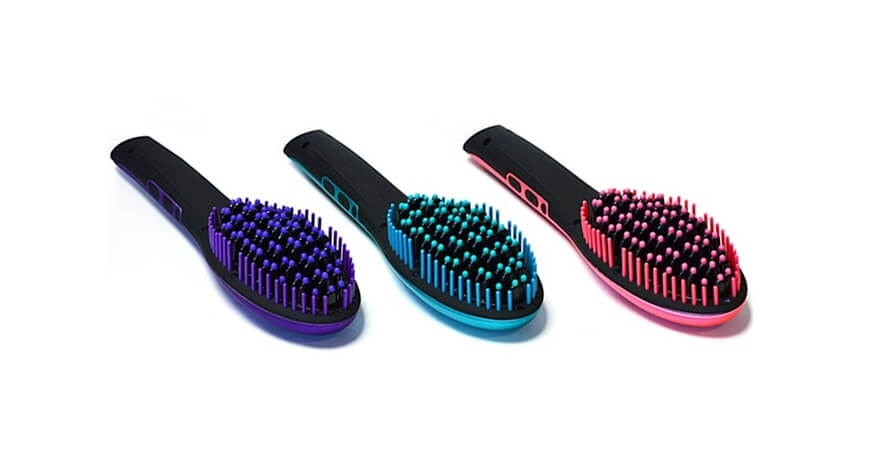 Do you want to boast of beautiful and smooth hair as girls from commercials have? Then my Sutra hair straightener brush review is for you.
Of course, I was not really sure about the result when I was going to buy Sutra brush. Finally, I decided to take a chance and I did not regret it. My hair is a little more wavy than curly, but I have always wanted it to be perfectly straight and beautiful.
Though my hair is very hard to straighten, I tried to straighten my natural without chemicals by any means necessary. It used to take me half an hour or even an hour to flat iron my hair. Then I stopped using my Remington wide ceramic flat iron because I could damage my hair. It gets too hot, and I was afraid to burn my strands.
There is no such problem with the Sutra straightening brush. Moreover, it only takes me 15 minutes (!) to style my hair. I am so happy with the purchase. My hairstyle has become a little more perfect. So, I hope my review will be of use to you.
Sutra Hair Straightening Brush Properties:
the Sutra brush is suitable for all hair types;
the Sutra hair straightener brush has three buttons: a power button, a button to increase the temperature and a button to decrease it.
My First Impression of Sutra Hair Straightener Brush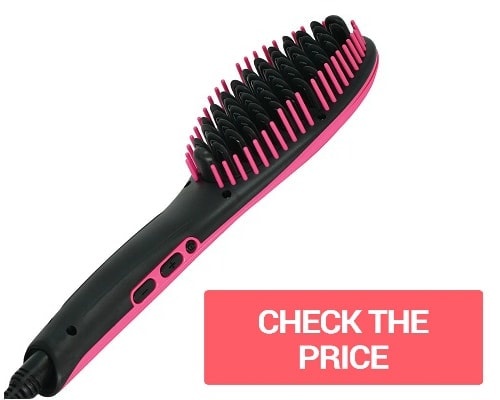 Let`s start with the fact that the Sutra straightening brush is made of durable plastic.
It looks like an ordinary anti static hairbrush that you use every day to put your hair in order. But it is a bit bigger, a bit heavier, and has a special cord.
By the way, the anti-twisting system of the cord will allow you to avoid the need to unravel it when using the device.
This detangler hair straightener brush is specially designed for those who value their time because this wonderful tool reduces the time of hairstyling. The process of hair straightening represents common brushing, but you have to be more careful and brush more slowly.
To achieve the desired effect, you need no more than 10-15 minutes.
Many people compare this brush with a flat iron, but this is not entirely true. The second one dries your hair, which eventually leads to its weakening and split ends.
The Sutra brush is made of high-quality material that withstands high temperatures, and it is also equipped with good internal insulation. Moreover, its silicone tip bristles incorporate cutting-edge negative ion technology. This means that your hair will acquire healthy shine, its appearance will improve, and split ends are excluded.
You have an opportunity to order a pink, turquoise or purple brush.
The device is 35 cm long. In my opinion, you can easily put it into your bag if necessary. Due to its relatively compact size, you can safely use the device on any trip. It does not take up much space. I think this is an urgent issue for all ladies who like to travel.
Sutra Brush Features & Functions
Some girls say the straightener is a bit heavy. Theoretically – yes. But given its shape (in particular, a comfortable wide handle) and time of use, it is light enough and easy to operate.
The Sutra brush straightener allows you to straighten your curls quickly and qualitatively. It is also important that you do not feel fatigue in your hands while styling, as happens when using a flat iron, when you have to spend at least 20 minutes to give your hair a pleasant look. The process of hair straightening with this brush takes only 5-10 minutes (maximum 15 minutes if your hair is too thick and long, as in my case).
The numerous bristles of the brush straightener are covered with a special material that protects your scalp, as well as your face and ears, from burns.
The rotating cord is long enough. But you can use a power strip if you need. The manufacturer says the device is dual-voltage. But maybe you`ll have to use a voltage converter. It depends on where you are from.
Temperature Adjustment
The Sutra hair straightener brush has three buttons: a power button, a button to increase the temperature and a button to decrease it.
The buttons are located on the handle, so you have to be careful not to press them by accident. The brush heats up rapidly for immediate use, and far infrared heat ensures temperature level is consistently maintained. As you have already understood, the temperature is adjustable. The tool heats up to 450˚F.
Additional Functions
The straightener is a wonderful way to massage the epidermis of the head and thereby improve the blood supply of hair follicles (which stimulates hair growth).
The Sutra brush is suitable for all hair types.
Thanks to ionization, hair will look sleek, shiny and lustrous even if you use the Sutra brush every day.
How to use Sutra Straightening Brush?
The procedure for using the electric hair brush straightener is quite simple. Always act according to the instructions and you will be satisfied with the result.
 You have to switch on the brush and select the temperature mode. Use low temperatures for thin hair, characterized by dryness and fragility. High temperatures are recommended for thick, curly hair.
Divide your hair into strands and brush it well. Many people think this step is not necessary since the device itself is a brush and performs its function well. But to facilitate and speed up the process of hair straightening, it is better not to ignore this recommendation.
Then gently brush your hair. As a result, you get smooth, perfectly straight strands and a good mood for the whole day.
Do I Recommend This Straightener?
This device, combining both a flat iron and a massage brush, will help you create an elegant and beautiful hairstyle yourself without resorting to hairdressing services. I do recommend you this fantastic brush if you have thick African American hair!
Advice: If you want to use the Sutra brush straightener on a regular basis, be attentive when selecting a shampoo. It should contain minimum silicones in its composition. These substances envelop each hair and create a so-called mask, which destroys your hair under the influence of high temperatures. Over time, silicones can cause dandruff and make hair look dull.