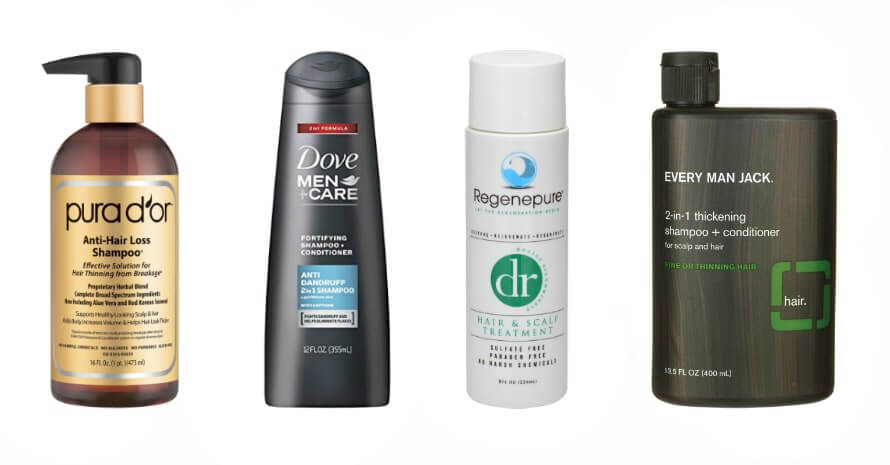 If my last name were King, I would have written my own version of Thinner. Though Thinner by Chloe King would have been about the best shampoo for hair thinning, I'd write it just as terrible. Because I know what it's like to battle that curse of hair getting thinner down to full transparency. But so far, being Chloe, I'd rather write something to prevent this nightmare from coming true. And the quest is about finding the best thickening shampoo for thinning hair.
Is there any magic potion for thinning hair? Well, some best thickening shampoo for thinning hair can work magic, though no witches are involved in fire burn and cauldron bubble. You can even order it online or find in your local stores.
If you recognize the problem early, you'll, first of all, need the best thickening shampoo for thinning hair, or what you consider to be the thing. Some sorts do contain ingredients that help hair thicken, so it can defeat the problem.
Pros
Helps when nothing else does
Effective formula with natural ingredients and DHT blockers
A lot of active herbal ingredients
Top Pick
Pros
Helps when nothing else does
Best Budget Pick
Pros
Effective formula with natural ingredients and DHT blockers
Best Premium Pick
Pros
A lot of active herbal ingredients
Maybe you have seen the ads of several shampoos for thinning hair and hair loss, but, you know, each vendor claims its product the champ. Here is the list of shampoos I found the best (not from my own experience only; and I don't mean the men's list below). Select the one that suits you right. Maybe you'll see it from the description, and you may have to try it as well.
Selecting the shampoo isn't enough, though. You'll need to use it right, and that's where I have some secrets to share.
How Organic Shampoo Helps to Resist Thinning Hair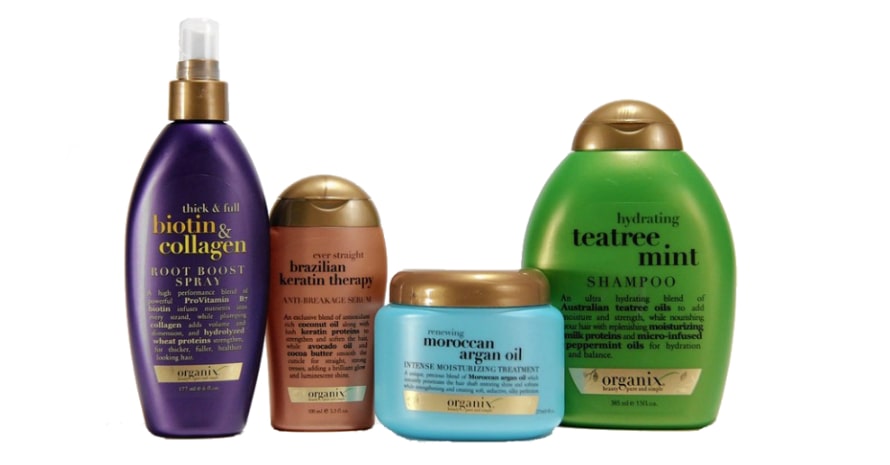 Not being an illusionist, I'm here not to surprise you with some magical effect done by hidden mystic powers. The best shampoo and conditioner for thinning hair doesn't have to contain any unicorn blood or stuff like that. Both, the problem and the solution can be described rationally. So, before we get started with the practical part, I'd like to provide some explanation.
It's OK to experience normal loss of hair (10 to 150 hairs a day) because it's naturally recompensed by generating new hair from follicles (at least, before the certain age). Yet there are some reasons why loss accelerates. It may be caused by metabolic problems, hormonal imbalance, diabetes, and so on. Yes, with psychosomatics also listed, so hair loss can indicate both your mental or physical distress.
The right treatment gives your scalp and follicles extra nutrition and fortifies its natural structures. And yes, these products can really help.
Even the most effective shampoo for hair loss and thinning is not the panacea, of course. You should visit your therapist and find the root of the problem. But the special type of shampoo can help prevent further hair thinning.
These special types usually include the following ingredients:
different vitamins;
collagen;
natural acids, like nicotine, folic, and para-aminobenzoic;
herbal oils. There are various popular types, but the combination matters as much as the ingredients;
proteins and minerals enriching hair cells.
Not only do these formulas affect the hair itself, but also the scalp. Capillaries should be stimulated to improve blood circulation, so follicles get stronger and produce renewed hair. The vendor should never call the product the best thickening shampoo for thinning hair if it doesn't do that.
Again, even the most effective shampoo and conditioner for thinning hair can't remove the reason of loss (unless it's psychological, and you truly believe in magic), but they efficiently protect your hair and assist the main treating. So don't neglect them, even if your therapist hasn't recommended any (which I doubt).
Best Men's Shampoo for Thinning Hair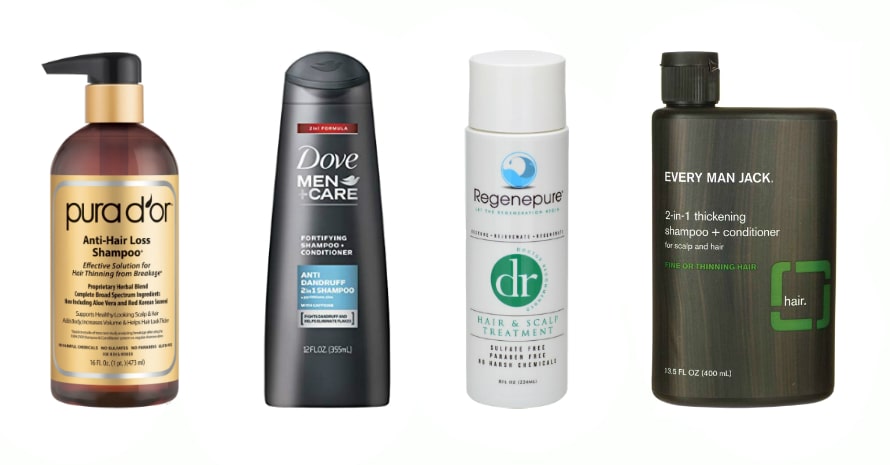 While men are still not so deeply into cosmetics, sometimes I miss the brilliant era of Louis XIV, with baroque excess and living for bagatelles, both men and women being experts. But then I remember that most nobles wore wigs those days, and now we can enjoy making our own hair whatever way we like. So relax and get out of your DeLorean, Dr. Brown; instead of time traveling I'll guide you through what shampoos for thinning hair and hair loss the market has for your head.
Don't expect miracles like already bald spots flourishing again. But the way product works on existing follicles (besides general hair improvements) is worth trying.
1. Regenepure – DR Shampoo, Hair and Scalp Treatment: The Most Effective (but a Bit Hard and Risky)
The brand's name sounds like some medicine rather than a mass market treatment. Regenepure's product line includes solutions for any hair type, and here's something for thinning. The shampoo contains palmetto extract, aloe vera gel, spearmint oil, caffeine, vitamin B3, B6, other ingredients meant to normalize blood circulation in your scalp and feed your hair with elements it needs.
The most controversial ingredient of these shampoos is Ketoconazole. While the majority agrees that it's necessary to affect the hair, its percentage should be severely limited to avoid possible side effects. This product contains 1% of Ketoconazole – enough for good influence, and too little to do harm.
Maybe you'll have to change your hair washing habits to get what it offers. Regular wash-and-rinse-immediately scenario won't do. First, you need to massage it in, and then the shampoo needs to remain on the hair for three or five minutes to take effect.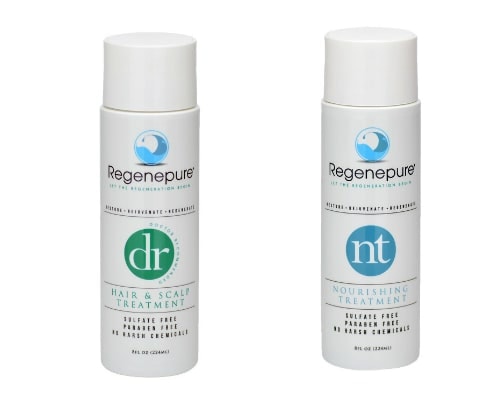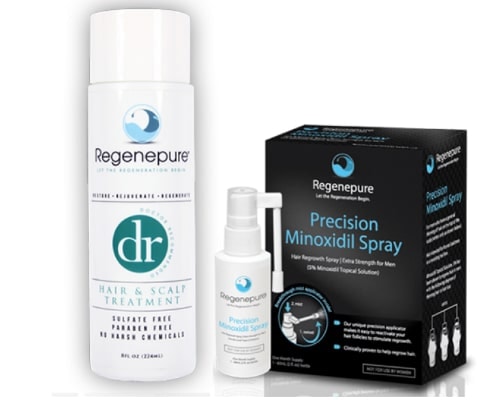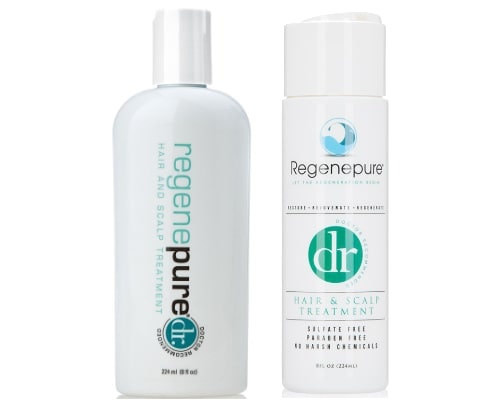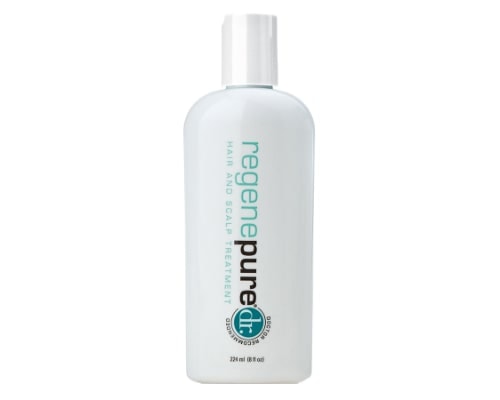 It also helps against dandruff and scalp irritation when used correctly. But its misusage can cause side effects like drying hair or scalp itch, so inquire your therapist before buying it.

PROS:
unisex;
sulfate- and paraben-free;
efficient when used correctly.
CONS:
price is a bit too high;
individual incompatibility possible.
2. Every Man Jack 2-in-1 Thickening Shampoo & Conditioner: The Most Affordable
This shampoo by Every Man Jack is based on coconut extracts with glycerin and shea butter. To fortify the hair, the formula includes soy proteins. It also contains a good selection of natural oils, including rosemary, peppermint, castor, and various herbal extracts. Not being entirely organic, it's claimed to be safe.
You don't have to keep it on your hair as long as you need with the previous one. Regular washing and rinsing do the work. The effect can be noticed even after applying it for two weeks.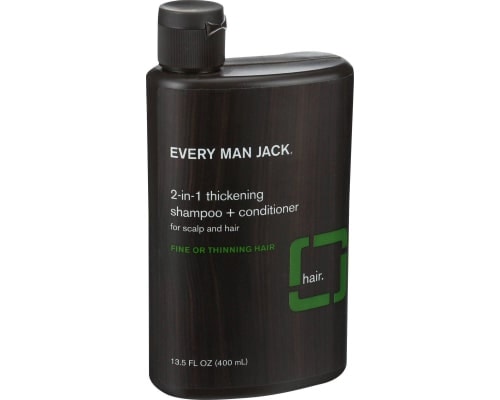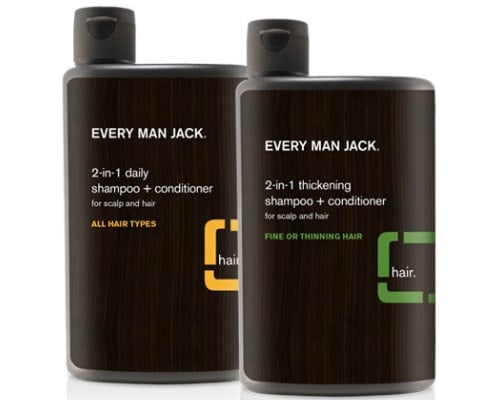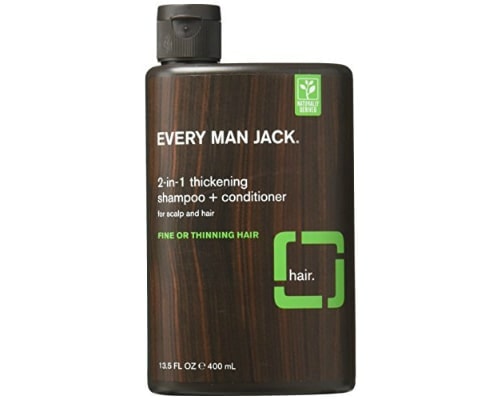 Beware: though the vendor emphasizes it contains no sodium lauryl sulfate, it does contain other sulfates. If you're sensitive to them, you better choose something else. But it may unexpectedly help: those sensible to sulfates mostly avoid buying it, so most reviews from those who used it are positive. For that little money, it's undoubtedly the best shampoo and conditioner for thinning hair in a set.

PROS:
does thicken hair;
pleasant minty smell;
very affordable.
CONS:
contains sulfates;
the effect is quite moderate.
Do you like coffee? Most of us do, and, while caffeine cheers up all of our body, why should hair make an exception? The formula by Ultrax Labs includes caffeine as the ingredient that assists in hair regeneration and thickening. It accelerates natural hair growth, like a coffee cup in the morning accelerates your awakening.
The price may seem unreasonably high, even for the best shampoo for thinning hair men can find. But it's not meant for applying like an ordinary analog. You can just use it along with your regular shampoo, moderately and rarely (3-4 times a week is enough).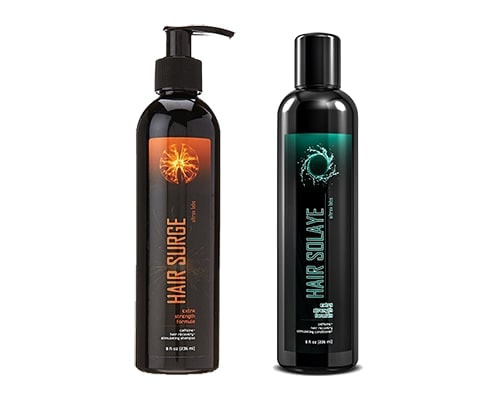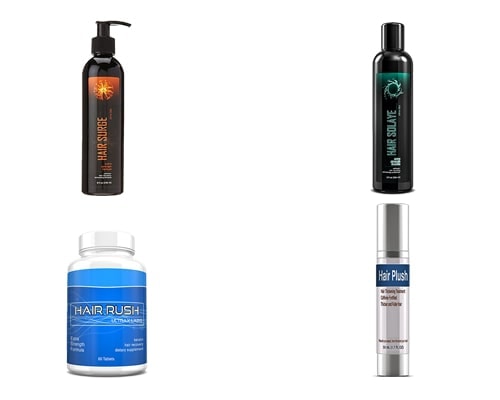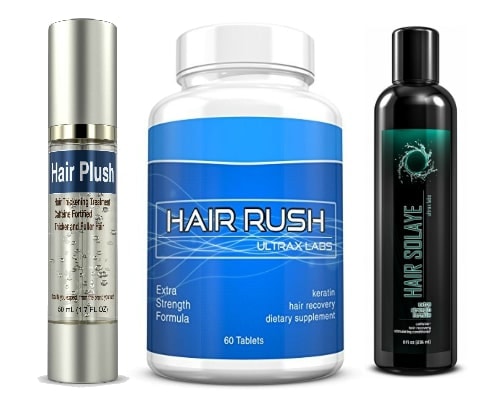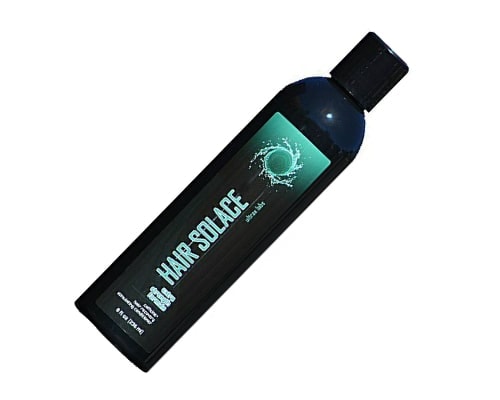 The percentage of Ketoconazole is even smaller than the average: 0,2%. This requires more thorough applying on the hair, so keep it for 3-5 minute before rinsing. Another ingredient the vendor highlights is saw palmetto. Blocking changing testosterone into DHT (that is considered the main driver of getting bald), it prevents you from losing hair.

PROS:
efficient;
the effect is quick;
helps when nothing else does.
CONS:
rather expensive;
contains sodium lauryl sulfate.
4.
Dove Men+Care 2 in 1 Shampoo and Conditioner: The Best Mainstream Shampoo for Thinning Hair and Hair Loss
Being among the most mainstream brands of all listed, Dove offers a decent shampoo for thinning hair at drug stores around you. Its version of anti-thinning shampoo utilizes caffeine again and pyrithione zinc to provide healthy regeneration of the hair. Specifically designed for men experiencing hair loss, it's strict in its design and smell, and unstoppable in its effect.
In fact, it utilizes a lot of synthetic substances, including those considered notorious, and very few natural ingredients (except for caffeine). The vendor warns you about the necessity to visit your doctor after any negative effect noticed (but I'd recommend doing it before).
Yet the positive effect is also noticeable in a couple of months. It helps against dandruff, scalp irritation and (of course) hair thinning and loss. And if price and availability are above all for you, then certainly it's the best option beyond any competition.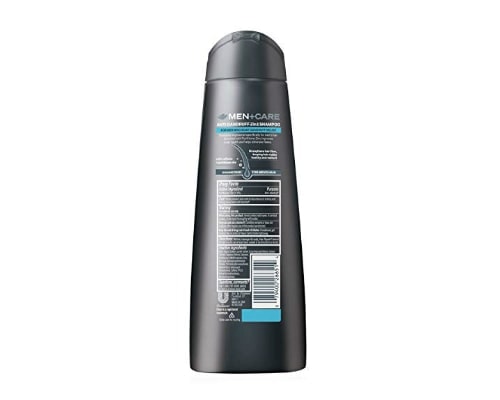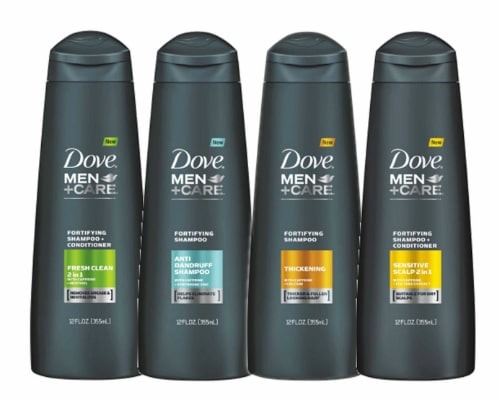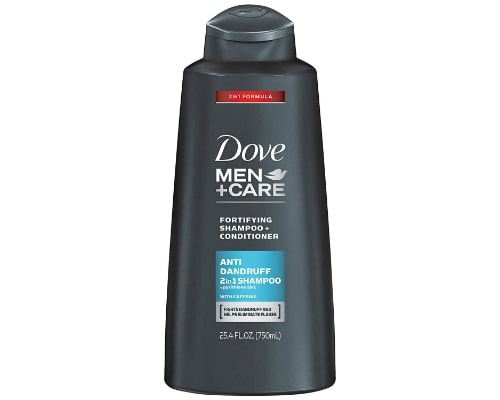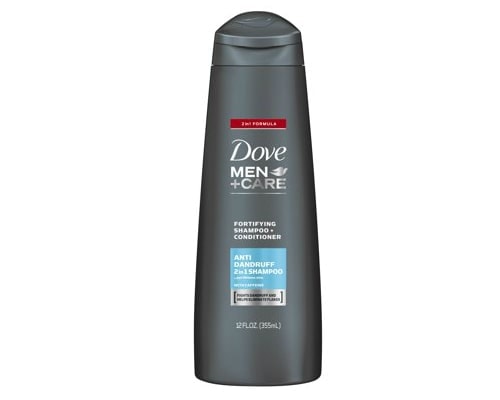 And… one more thing. The product line by Dove is quite various and, I'd say, modular. So
you can just select the shampoo and conditioner within it, combining what suits your situation best.

PROS:
strong effect;
compatible with other Dove products for additional effects;
reasonable price.
CONS:
contains chemicals considered dangerous when abused.
5. PURA D'OR Original Gold Label Anti-Thinning Shampoo – The Best Herbal Blend
How to tell the best men's shampoo for thinning hair by the name? Pura d'Or naming wizards know how to catch a man's eye (hope no one really confused this one with Johnny Walker enough to drink it). I'm not sure whether it's 18 years old, but it's surely well blended. The list of herbal extracts present in the formula is enormous. It also contains a large selection of oils: argan, black cumin, cedar, rosemary, lemon peel and so on.
Along with these natural ingredients it contains some chemicals that can cause irritation. Luckily, it happens rarely enough to be called an exception. But still, you have to consult with your doctor about using Pura d'Or Gold Label if something like that happens.
If you have always neglected conditioners, it's time to discover them with Pura d'Or (as it's a set of two pieces – shampoo and conditioner). One unpleasant effect of the shampoo is hair getting so resistant to comb that you just pull your hairs out with it. Not exactly what you wanted, I guess? So conditioner is a must. Then you may agree that it's the best shampoo for men with thinning hair.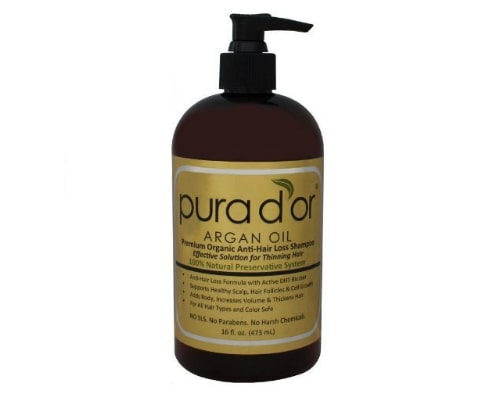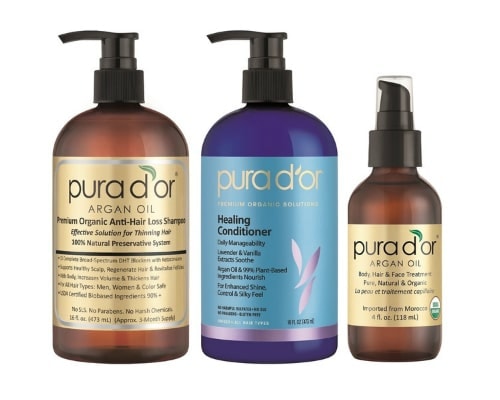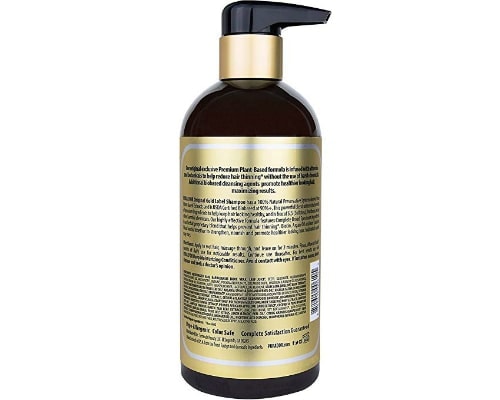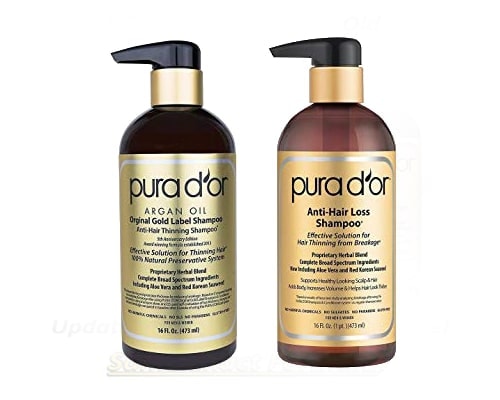 The effect can be magic, with volume and body returning. Don't forget to keep it for two minutes or a bit longer before rinsing.

PROS:
efficient against fast hair loss;
complicated effective formula with natural ingredients and DHT blockers;
moderate price (for the 2 piece set).
CONS:
requires a conditioner after usage.
Best Women's Organic Shampoo for Thinning Hair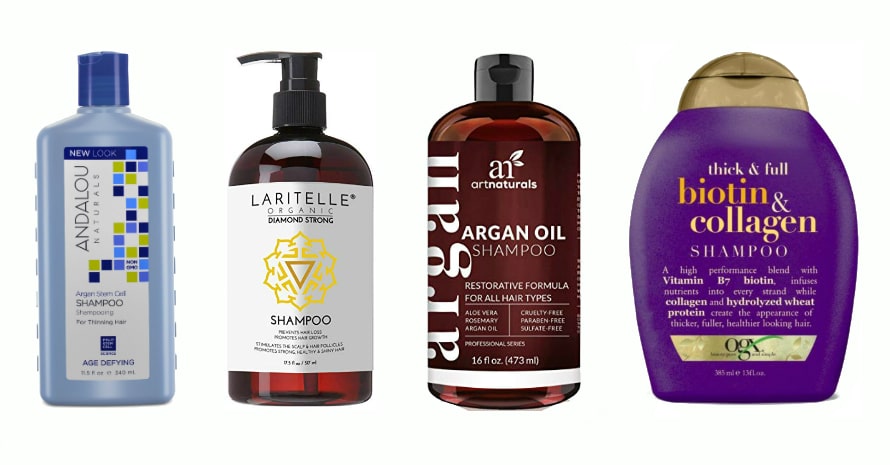 While a man can wear his partial or full baldness proudly without any connotations, for a woman being bald means being bold. So no wonder there are many more pretenders to be the number 1 shampoo for thinning hair female can get to fight the problem that may be not so common but is much more serious.
What's the best shampoo for thinning hair for women? It may differ: tastes, compatibilities, just availability in your local stores. So I bring the list, for you to immediately buy what you consider the best option for thinning hair for women. And then share your own experience if you want to.
6. The Most Available Argan Oil Set
If you're sure that your perfect shampoo for hair loss and thinning should be argan oil-based, this set of shampoo and conditioner by ArtNaturals can be just what you want. The shampoo also contains a set of botanical oils and extracts, including aloe vera, rosemary, thyme, and burdock root. There is also some caffeine stimulating hair growth. The conditioner boasts exotic ingredients, such as saw palmetto, kukui seed, macadamia oil, and (as a pair to caffeine) green tea extract.
The set does both, stimulates follicles and adds volume and thickness to existing hair. It doesn't require any special procedures; just work on your hair like you do. Delicate to color treatment, it may turn out to be the best shampoo for thinning black hair, no matter natural or dyed.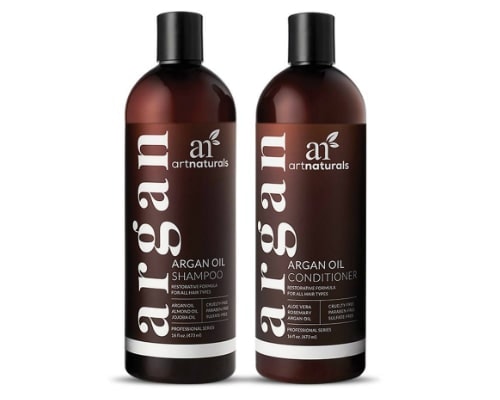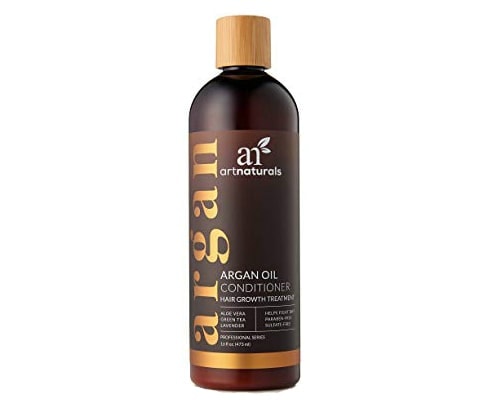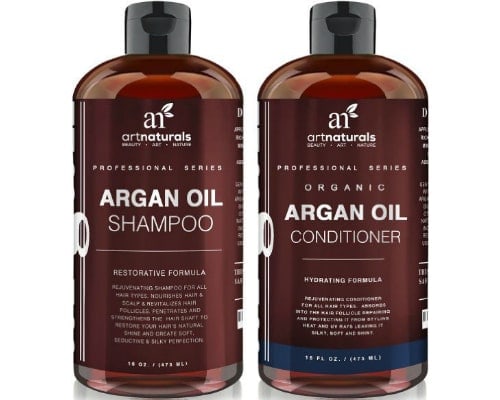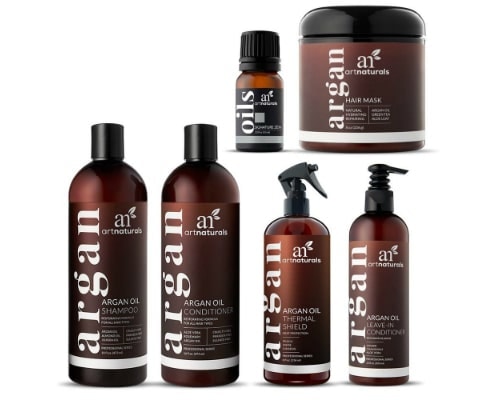 The price of each piece is not a complete bargain but quite reasonable, as both bottles are 16-oz.

PROS:
argan oil amplified with caffeine and green tea;
sulfate free;
good price (for the 2 piece set).
CONS:
the smell may seem too strong.
7. The Best Organic Shampoo for Thinning Hair (and It's Kosher)
It's a strange case when the list of what's out of the formula is almost as long as the list of what's in. The formula of Laritelle Organic Shampoo includes argan oil again, but there are also cedarwood, ginger, peppermint, jojoba, lemongrass, and rosemary. What for sulfates, alcohol, parabens, gluten, phthalates and GMO derivatives, there's none of these. So it's certainly made for women who don't accept anything doubtable even for outer use.
It's creamy and mild, so, besides being useful, it's pleasant as well. Due to its delicacy, it will be perfect for fine thinning hair. And it's kosher (if it matters to you), yet it does work on Saturday as well as on any other day.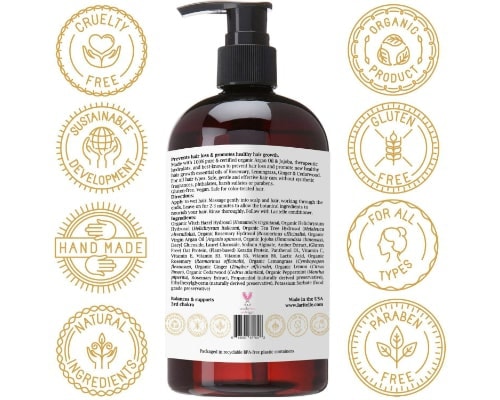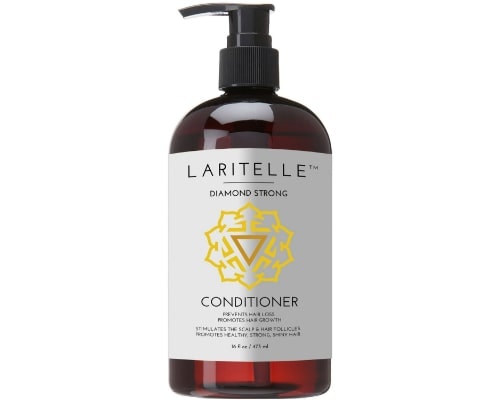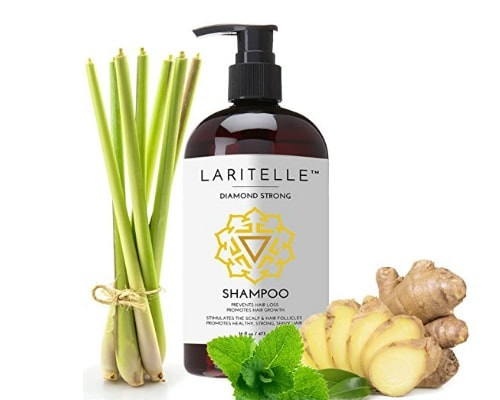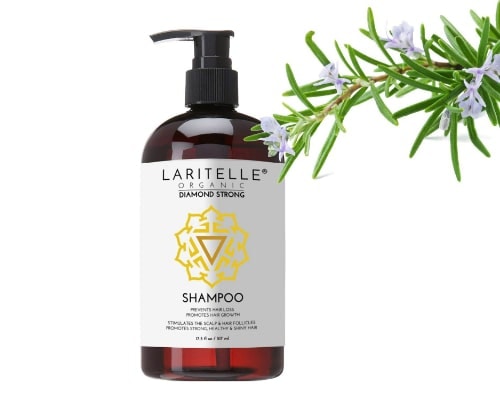 Not that it's cheap, but if you want to try it, you can purchase little 2-oz bottles of shampoo and conditioner. It must be enough to check the effect and then decide if it suits you. And then the price won't seem so enormous when you see that it's $47.49 for a large 17.5-oz bottle.

PROS:
100% natural and organic;
a lot of active herbal ingredients;
kosher.
CONS:
may be too gentle for serious hair complications.
8. Anti-Aging with Stem Cells
The set by Andalou Naturals is remarkable first of all because it claims to contain stem cells (from argan, Solar Vitis, and Malus Domestica). These cells (both animal and herbal, like these) are said to have a nearly magical effect on the human body or its certain parts, like hair. With its anti-aging features, it can be the best shampoo for thinning gray hair, as its formula considers aging changes.
It also contains regular herbal extracts and oils familiar to us (like jojoba, licorice, yarrow, ylang-ylang, white tea and so on), a complex of B vitamins, and – yes – some chemicals aiding these natural effectors. Still, due to those stem cells, it's great for thinning hair due to menopause.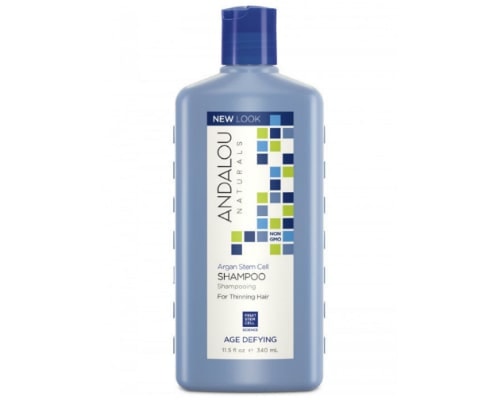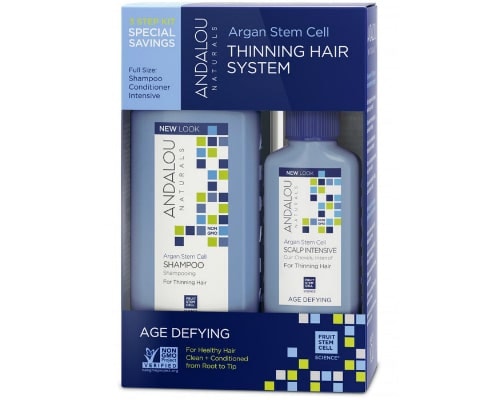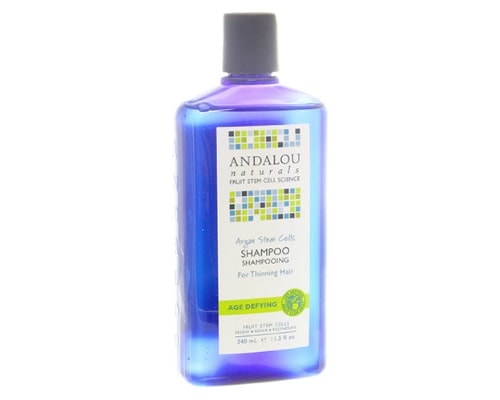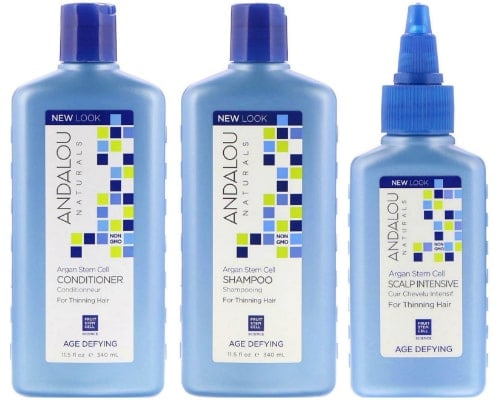 It may work incredible wonders, with volume and body returning, so that it can be classified as the best volumizing shampoo for fine thinning hair. Don't forget to keep it for two minutes or a bit longer before rinsing. And still, miracles are not granted. It's always too individual.

PROS:
stem cells making hair young again;
gives more body and volume to hair than most rivals;
great lavender scent.
CONS:
the formula may undergo changes.
9. The Most Available Sulfate- and Paraben-free
When a vendor puts "something-free" on the label, the product becomes even less free, for a couple of bucks. Ironically I think that the very best thickening shampoo for thinning hair should be everything-free and cost all the money in the world. Luckily, there are sulfate- and paraben-free products meant for regenerating hair, not containing these types of chemicals. Instead, this shampoo by OGX is equipped with biotin and collagen.
Don't expect various exotic or even common herbal extracts or oils here. The formula mostly includes synthetic chemicals, including even sodium chloride that some prefer to avoid. Yet it's mostly reported to do its work and really thicken hair; besides that, it gives it volume and texture.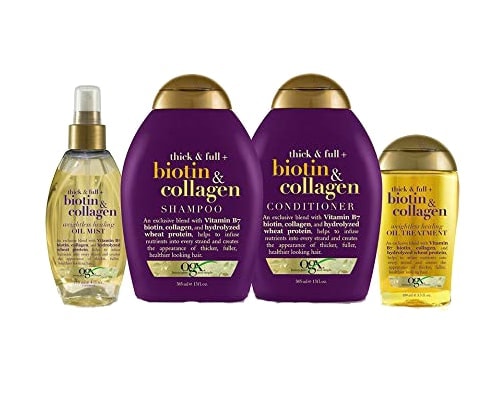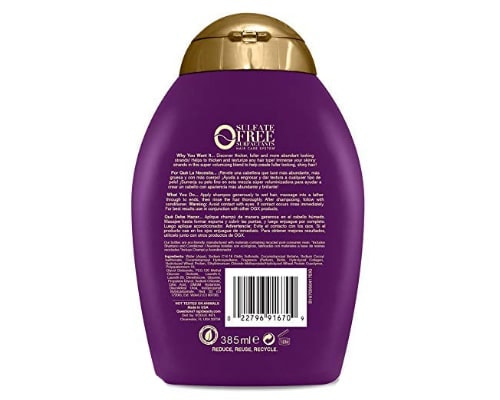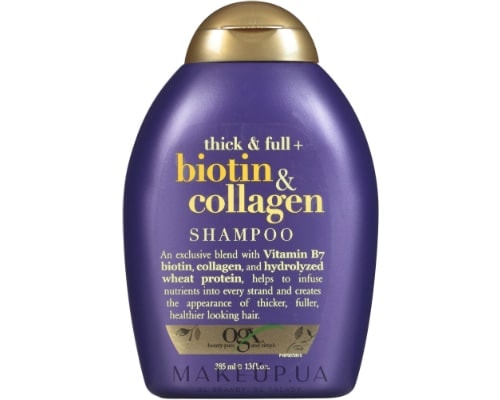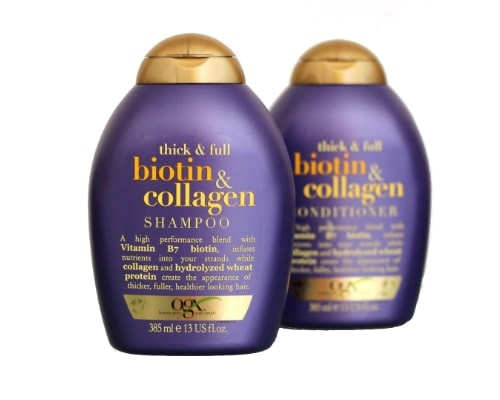 It better works when followed by the conditioner, and here it's even more necessary than for most natural based shampoos. Considering the tag, it may be the best sulfate free shampoo for thinning hair, unless misused or incompatible personally.

PROS:
prevents hair from thinning;
gentle with dyed hair;
pleasant shea butter scent;
very affordable.
CONS:
few natural ingredients;
contains sodium chloride.
10. The Best All-Natural Option
Well, it's no surprise that argan oil is a must for decent shampoo for hair loss and thinning unless it's a low-budget leader. The shampoo by Lipogaine offers the concoction of other ingredients we've already met: Biotin, argan and castor oil, caffeine, saw palmetto, ylang-ylang, rosemary, green tea and so on. These ingredients are considered necessary for an effective shampoo for thinning hair due to thyroid.
While not being kosher (oy vey), it's as 100% organic as its rival by Andalou. Its previous formula has been reviewed, with ketoconazole excluded, to make it closer to nature. It may make it a bit less effective, but the right selection of herbal ingredients helps. It takes from two to three months for changes to take effect. At the same time, it's safer and milder than those with chemicals.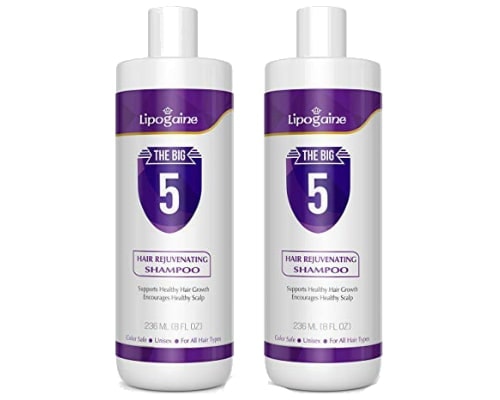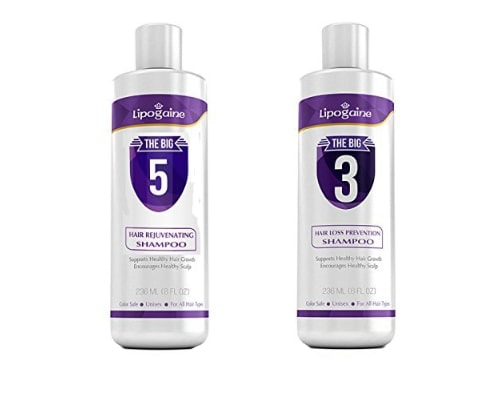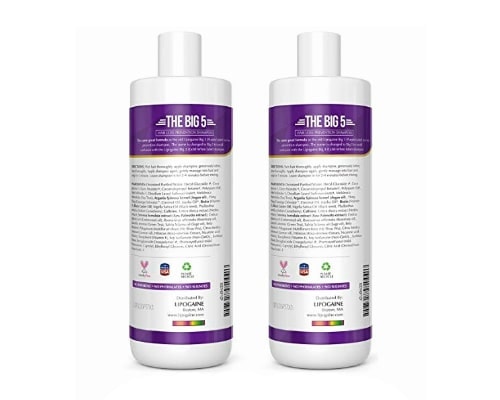 The effect of it comes slower, but it sustains for longer. If that's what you want then consider Lipogaine — the best natural shampoo for thinning hair.

PROS:
100% natural;
good selection of herbal ingredients;
efficient for recovering hair thickness.
On Usage and Abusage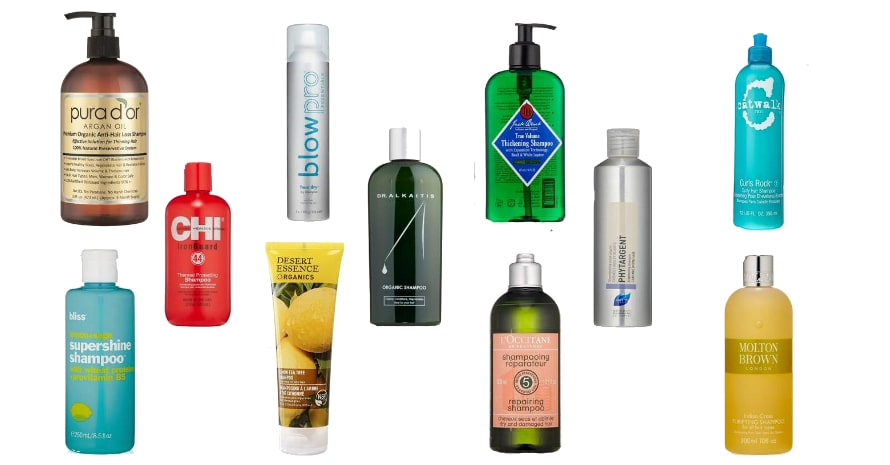 As we've seen, the formula of different shampoos contains different ingredients. I have listed some recurring ones, but vendors rarely print percentage. Besides that, these ingredients may interact with the others. The difference between the best thickening shampoo for thinning hair and a mediocre one may be just about ratios.
So, even if two shampoos contain a similar list of what's in, they may require different ways of using.
First of all, don't try to apply the shampoo too often or don't pour too much of it. Biochemistry is much more complicated than arithmetic; you can't simply enlarge one part of this equation to accelerate the process. Patience is what you need, even with the best shampoo and conditioner for thinning hair. Nothing is instant.
On the other hand, if you feel scalp irritation, further or accelerated thinning, or any other sick effect, don't tolerate it. Call the trichologist to consult on your problem, and stop using whatever you think might have caused it. Even if everybody assures it's 100% working and safe shampoo or conditioner for thinning hair and it can't do any harm.
If you have found your perfect shampoo, stick to it. It's recommended to change the sort of shampoo every six months or so, but take it as a kind of vacation and return to your choice after. But remember that the vendor may change the formula without any announcement, so your hair and scalp will know it before your brain acknowledges the fact. If the new formula is unacceptable for you, then do your searching again.
When searching for something new, don't rely on coinciding ingredients. Reviews by users are more reliable, especially when you're sure they are humans, not advertising bots.
Mind the expiration date. Not that the product will explode just at the moment, but there's no guarantee it will still be the best shampoo for thinning hair. It may lose its properties and not work at all. So use it all out before the day comes.
Trust what's on the tin, and follow it. Even the best exfoliating shampoo for thinning hair can't exfoliate the scalp with irresponsible brain beneath it.
Last but not least: nothing is truly versatile. The product that all of your friends call the best may fail on you. Why? The reason may be too minor to analyze, so you better just try something different. All you have to keep in your mind is that this happens.
Conclusion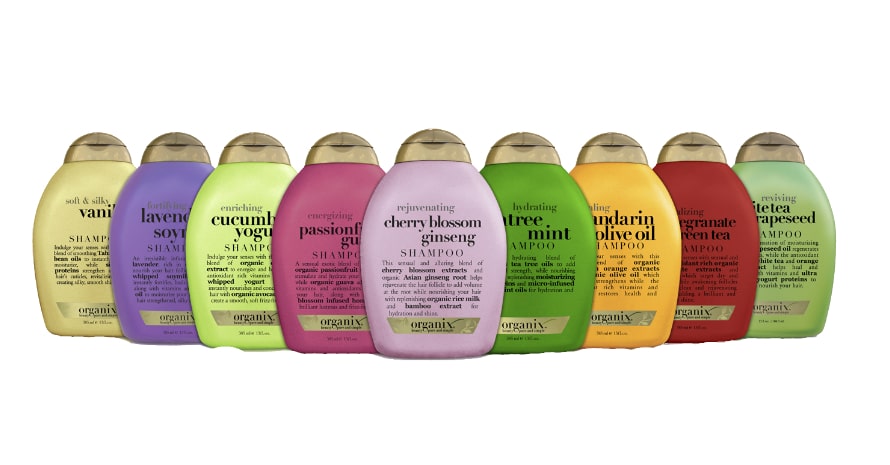 No, recovering your hair with a shampoo is no myth. Too many people have experienced these effects on their own scalp, and they keep applying these special products. But nothing is perfect; even the best thickening shampoo for thinning hair may be incompatible with someone's specific sensibility.
What do you think about it? Can shampoo, even the best one, work wonders on its own? Or does thinning hair require full medical treatment? And what is the best shampoo for thinning hair, as for you? Share your story or your opinion. It will help.
Last update on 2022-12-11 / Affiliate links / Images from Amazon Product Advertising API