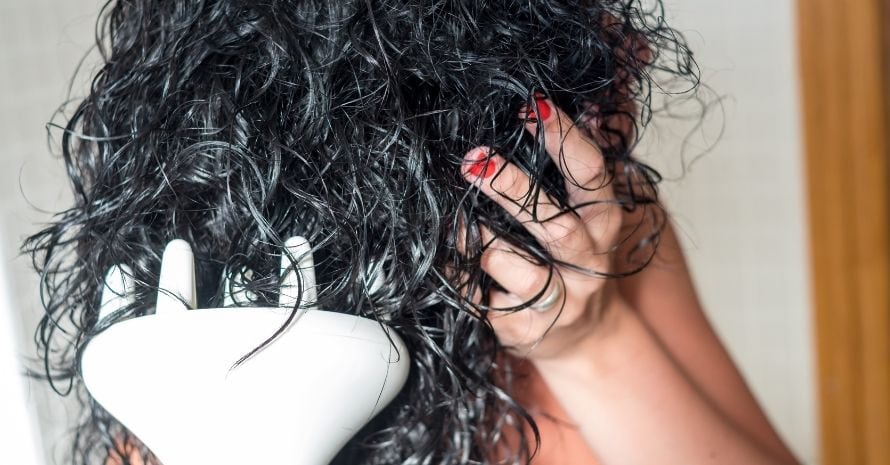 If you want to achieve that effortless curly blowout, you don't need to be a professional hairdresser. Even a beginner can learn how to curl hair with a blow dryer brush and get a desirable bouncy blowout with a little expert guidance at hand.
Though your blow dryer brush can be a core product in your beauty routine, you might feel confused about how to use it properly to end up with voluminous curls.
Besides, there are some nuances to know if you want your curls to last and maintain your mane healthy. Read on for pro styling tips.
Guide on How to Use Hot Air Brush to Curl Hair
Using a hot air brush is one of the healthiest and fastest methods to get outstanding results. In this expert guide, I will explain how to curl hair with a hot air brush and create different hairstyles with this tool, so stay tuned and upgrade your styling experience.
How to Curl Hair With a Blow Dryer Brush Step-by-Step
A blow dryer brush is a fundamental tool that can help you get top-notch finished results on various hair types. This device affects the hair section the moment it contacts the hair. The best products are very versatile and can manage different hairstyles, from a sleek straight finish to flirty curls.
Let's view the complete procedure so that you can curl hair with a hair dryer brush on your own, feel pleased with your look, and boost your self-esteem.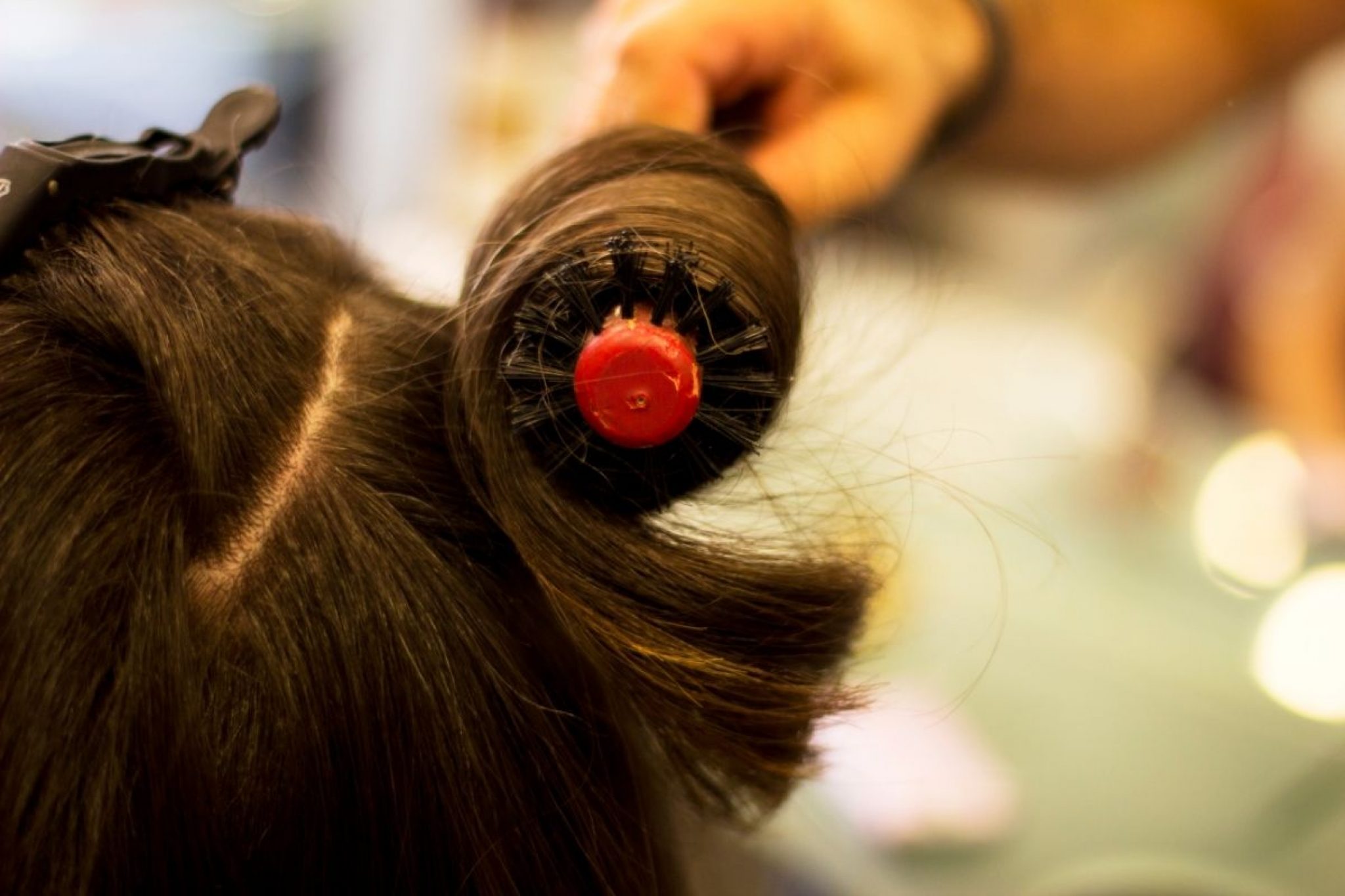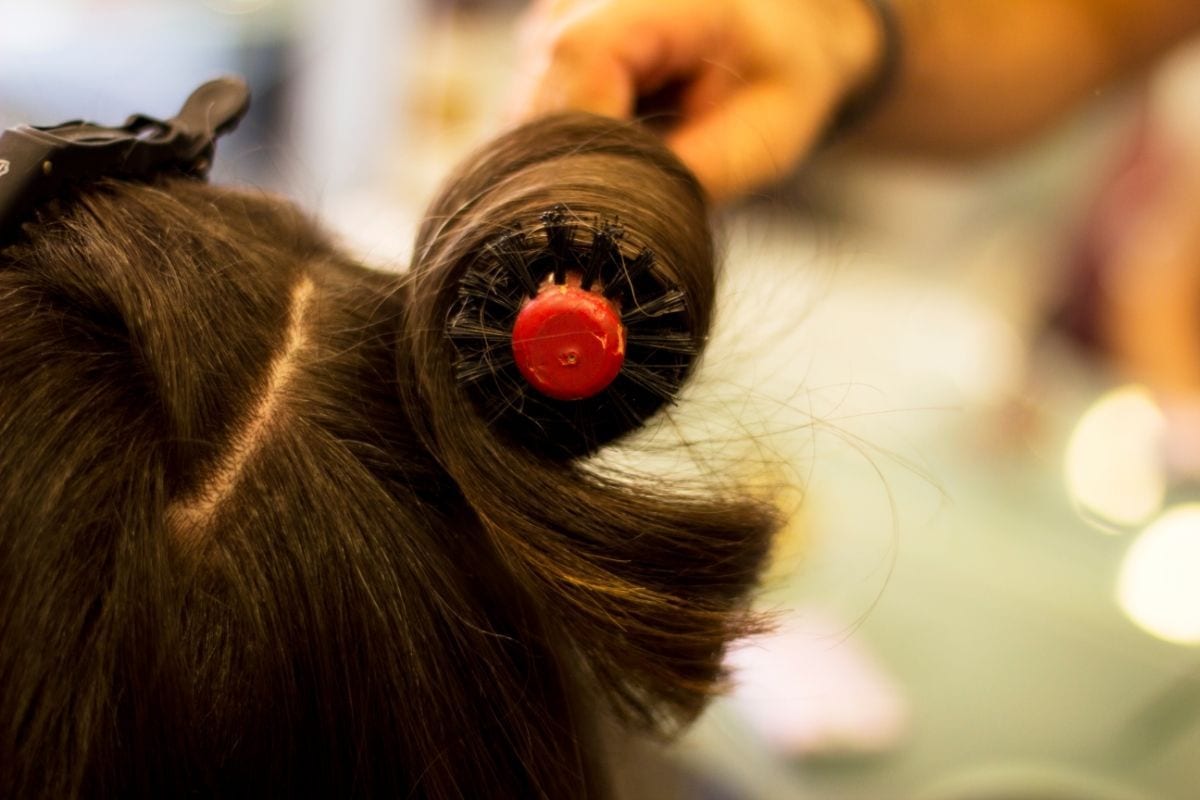 Step 1: Prepare your hair in advance
Wash your hair using a volumizing shampoo and a conditioner. Volumizing products work wonders, giving the hair a boost of volume and enhancing its natural texture. Apply a texturizing or volumizing spray to the roots to create volume in your hair.
Step 2: Ensure your hair is about 80% dry
You can either let your hair air-dry, which is more gentle and caring, or use a blowdryer if you are in a hurry. You should end up with dry but still a bit damp hair.
Step 3: Apply heat protectant
Use a high-quality heat protectant on your hair to avoid potential heat damage. Heat protectants seal the ends of your hair and shield them from heat damage, and some products have detangling capabilities.
Step 4: Comb your hair thoroughly
Before using a hot air brush, carefully detangle your hair. Divide it into small, manageable sections and use your comb starting underneath and working to the top of your head. Ensure no knots will interfere with the gliding of your hot air brush.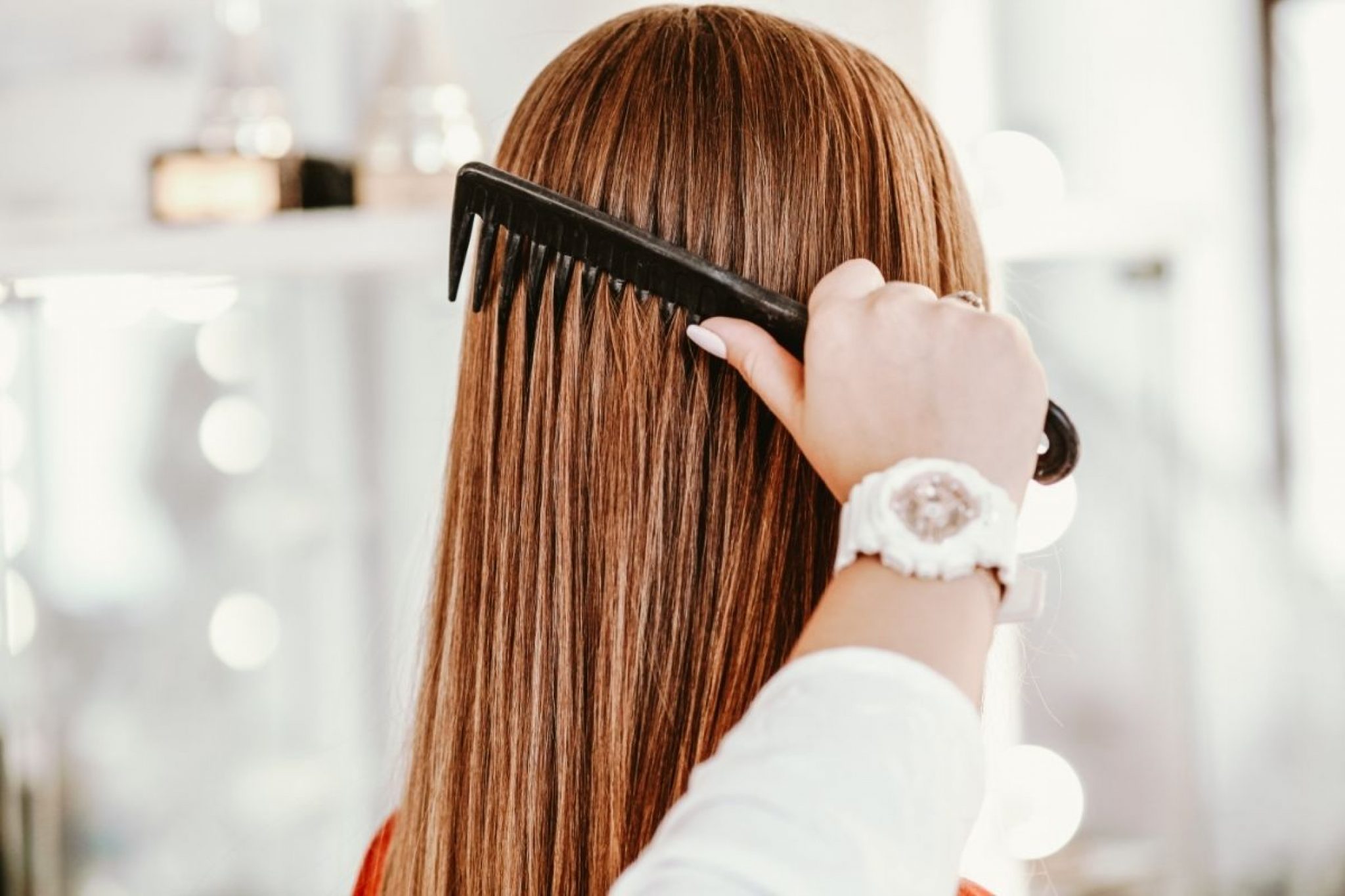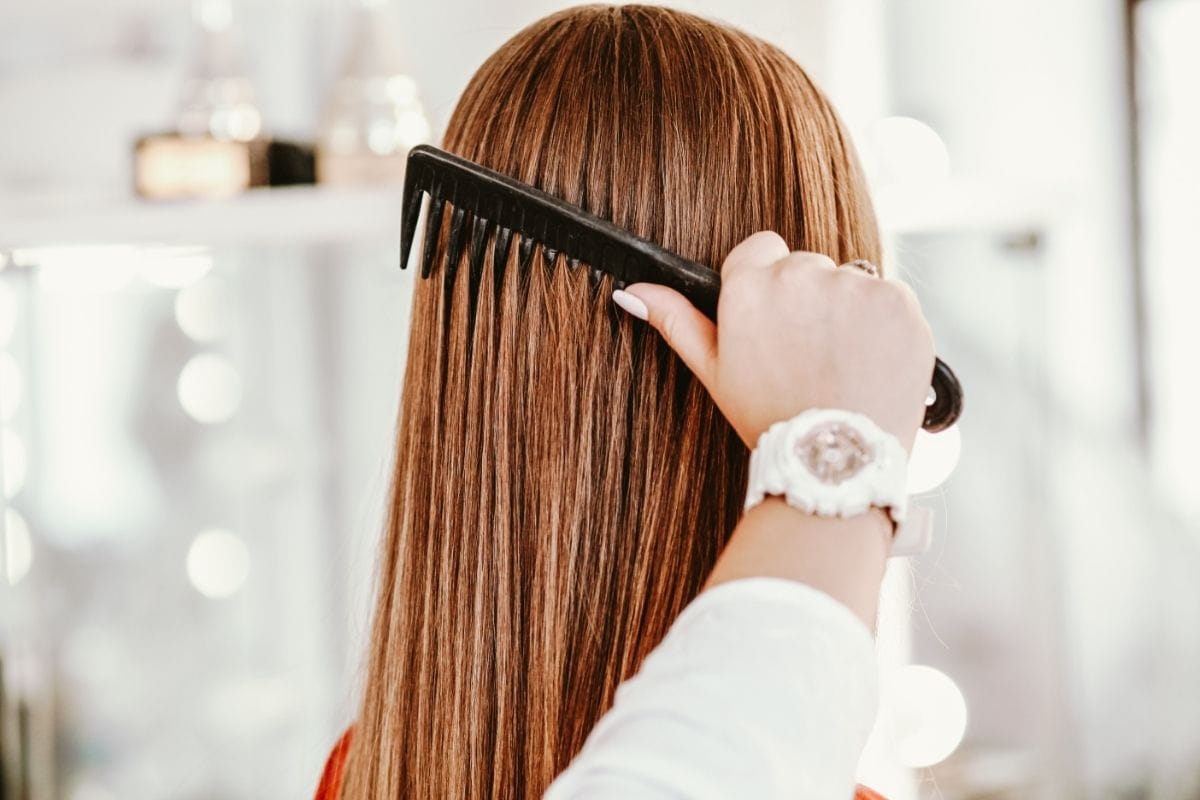 Step 5: Plug in a hot air brush to warm it up
Though it might sound obvious, your brush has to be thoroughly preheated before you use it. Otherwise, your hair will not hold the created curls.
Step 6: Section your hair to ease the curling process
Separate your hair into the top and bottom parts, dividing the sections at ear level. Pin the top half as you will start working with the bottom section of your hair.
Step 7: Place your hot air brush underneath a small hair section near the roots
Wrap a small section of hair around the curl dryer brush. Pull the device outward, aiming at the ends of your hair, while slowly rotating the brush inward. Guide your hair for it to curl under and around the hot brush.
Step 8: Repeat step 7 to finish your entire hair
When you are done with the bottom section of your hair, move to the top strands. Take one small hair strand at a time and curl it individually before moving to the next piece of hair. Hold the hot air brush for 10 seconds when you reach the roots.
Step 9: Add final touches to your hairstyle
After you complete all of your hair, shape the curls with your fingers to help them set. Layer your mane with a flexible hairspray or use a smoothing serum to highlight your natural curls. For a final boost of volume, flip your head upside-down and apply hairspray to the roots.
How to Create Loose Waves
Since loose waves can be a lifesaver on different occasions, let's find out how to get silky waves instead of frizzy curls.
Complete the first six steps above and do the following:
Wrap each section of hair around your hot air brush. Twirl the device with small tension as you go down the hair, holding it for a few seconds and gliding it down your strand.
Roll the curl around your fingers and hold it for several seconds so that it cools.
Curl away from your face around the front. You can either curl your whole mane in the same direction or switch it to get more natural curls.
For some extra volume on top, hold your brush horizontally when you reach the roots.
Use bobby pins to pin each curl to your head; this trick helps to maintain the curl shape.
Let your curls completely cool and release them by removing pins one by one. Follow step 9 above.
How to Create Bouncy Curls Using a Blow Dryer Brush
To get a breath-taking, bouncy curls look, finish the preparatory six steps described above and proceed to the following:
Lift the roots as much as possible using a hot air brush. The size of each section depends on the desired effect; for big curls, pick large sections; for small and tight curls, divide your hair into tiny parts.
Pull the hair upward each time you lift the brush, wrap the strand around the device, lift it, and pull it as you go.
Roll the brush up and down your hair, twirling it with small tension as you glide down your hair.
As soon as the strand cools, wrap it in your fingers, form a donut, and bobby-pin it up on top of your head.
Apply some hairspray and move to the next section.
Use a boar bristle brush to process the curls if you want softer waves.
How to Create Beachy Waves
This hairstyle is adored by many clients, so I'll provide you with a couple of secrets to help you create effortless-looking waves at home. Do the following (not to mention the primary six steps you should finish in advance):
Guide the heated brush down your strands and twirl the tool as you go down.
Hold it for several seconds when you completely wrap the strand around the barrel.
Take a boar-bristle brush or a wide-tooth comb and run it through your curls. It will loosen the curl shape and create that beachy-wave look.
Which Blow Dryer Brush Should I Use?
The main types of blow-dryer brushes on the market are round and oval-shaped. If you use a hot brush to curl hair, a round brush will do as it adjusts to the curl's shape; to get loose or beachy waves, go for an oval-shaped brush. For a more defined curl form, I recommend a round brush.
When curling hair with a round brush and a blow dryer, the styling process is pretty similar. These two tools make a perfect combo, but you need to be more skillful to manage the process by yourself. Using a hot air brush is easier since you need only one hand to hold the tool.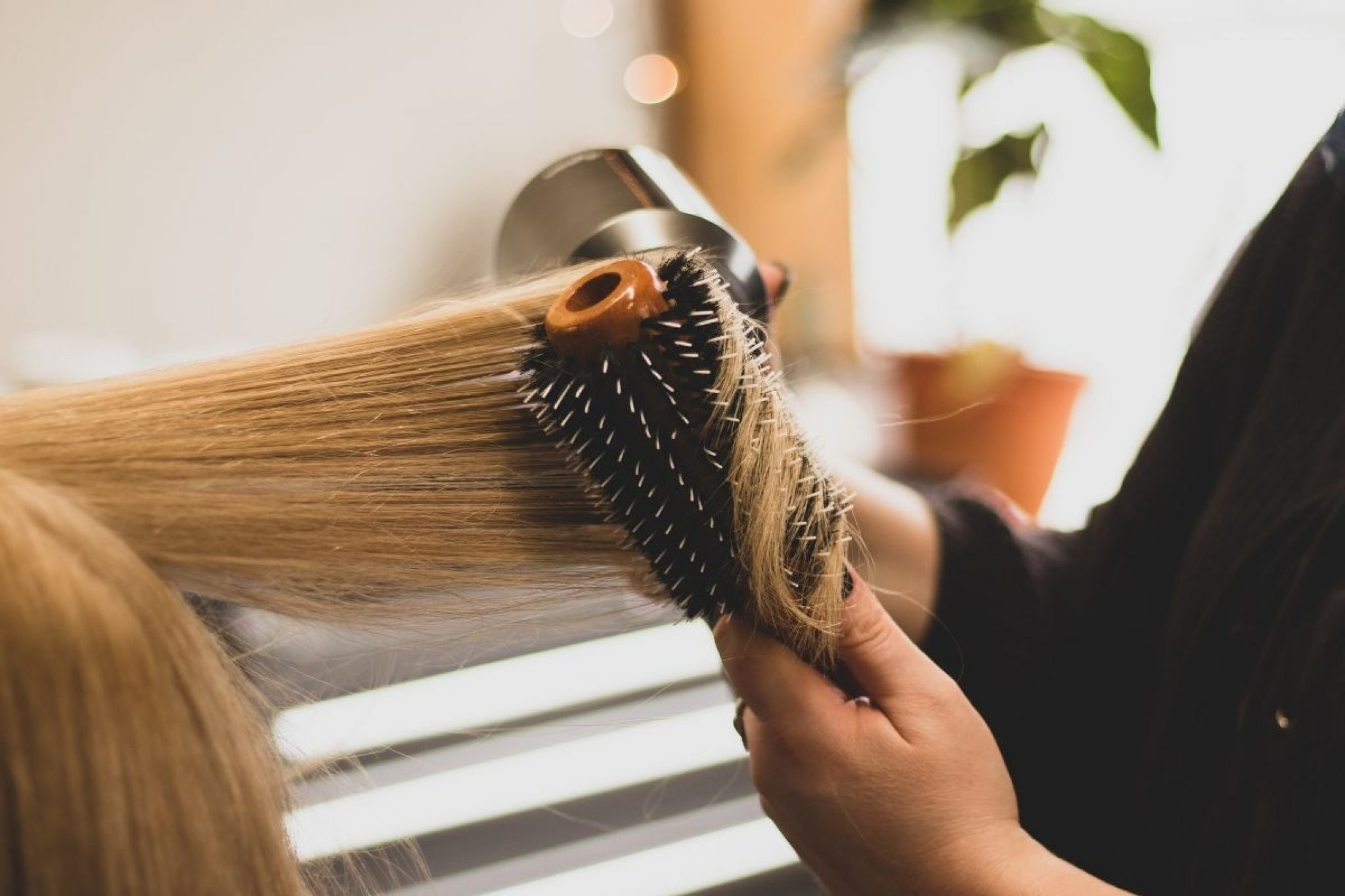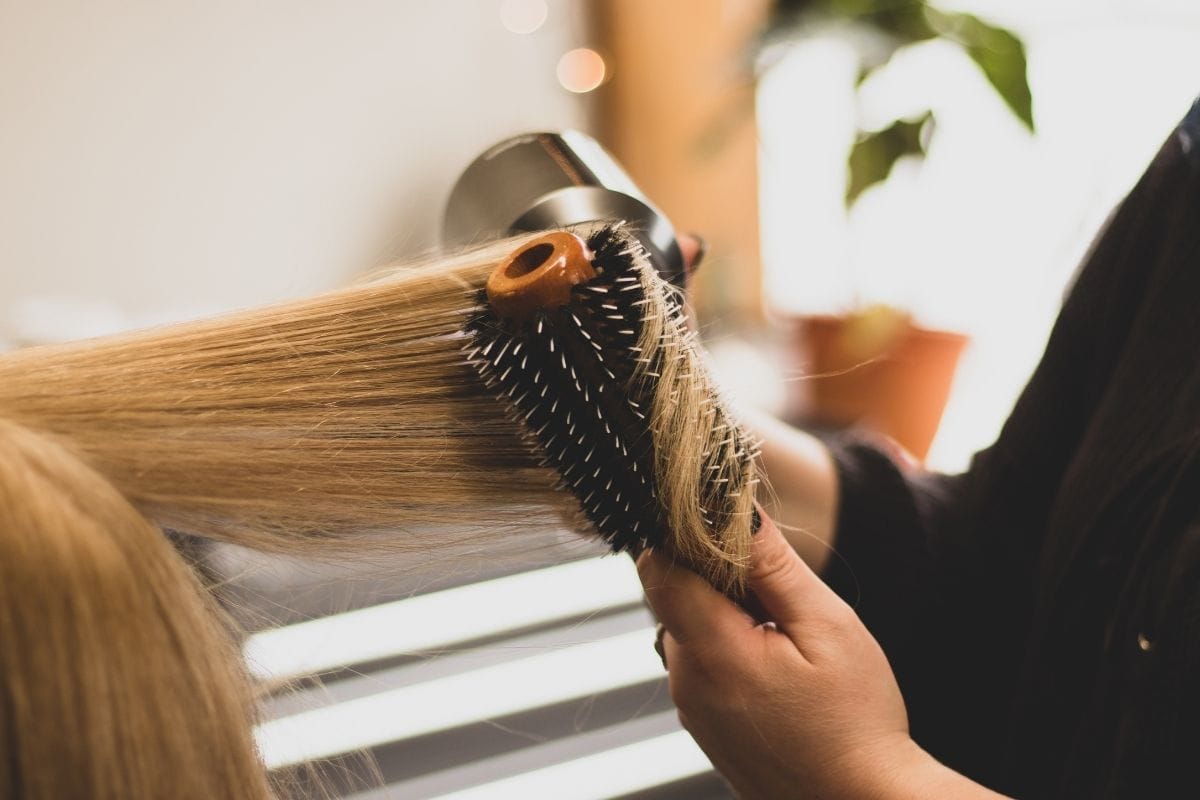 FAQ About Curling Hair With Blow Dryer Brush
Let me enlighten the most common questions from my clients when they struggle to create a bouncy curl updo with a hot-air brush. Read on if you feel you can run out of hands during the process.
Is a rotating hot air brush better for curling hair?
Yes, by rotating a round heated brush, you can guide the tool towards your hair ends to create bouncy curls. This will also evenly distribute the heat and create a necessary tension to form a curl.
Do hot brushes damage your hair?
If you compare this procedure to styling with a curling iron, your hair will benefit from using a heated brush as it will save your mane from further damage.
However, if you oppose heat-free drying and curling methods, using a hot brush implies some heat damage. You can minimize the risks by applying a heat protectant and using the tool properly. Generally, a hot air brush is one of the fastest and healthiest ways to get curls or waves.
Can you use a blow dryer brush on wet hair?
It is best to let your hair air dry for 80% to get the most impressive results. Your hair should look nearly dry but feel damp.
Get Ready to Turn Heads
With a professional blow dryer brush and a little expert guidance, you can make every day a good hair day. This versatile styling tool can help you achieve super bouncy curls, loose waves, and beachy hairstyles without any stress. Nobody is born a hairdresser until they take a blow dryer in their hands a couple of times. Be patient, refine your styling skills with each attempt, and you'll likely see that gorgeous look in the mirror.
Do you have a hot air brush, or are you looking for one? Which way to create curls is your favorite? Leave your comments below, and I will be glad to view them all.
Also read: