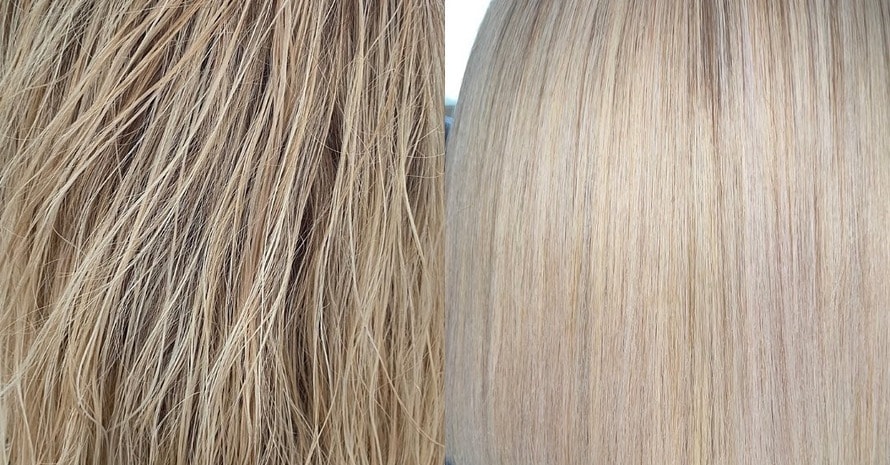 Are you looking for how to straighten hair with blow dryer properly? Unfortunately, not everyone knows how to do it without damaging the hair or spending a fortune in hair salons.
This action requires a minimum of your free time and basic skills. To be able to straighten your locks at home, you have read this article. If you experience the very same problem every day, looking at your wrecked hairdo every morning, you have to learn how to blow dry hair straight as fast as you can.
Don't worry, you've come to the right place. Follow my recommendations and we will fix everything.
Working Instructions on Straightening the Hair
This article teaches how to straighten hair with a blow dryer in no time. It describes the tools you will need, which are actually the brush, hair spray, and blow dryer.
Once you gather all the tools in front of you, I will guide you through the whole process, from washing your hair properly to straightening it with the blow dryer in home conditions.
Straighten Your Hair Like a Pro
If you believe that some women have smooth and glossy straight hair from birth, you are mistaken. While it looks natural, these women did their best, spending their free time to achieve such results.
They have already learned all the ways to straighten your hair with a blow dryer, and now it is your turn. Don't worry, the whole procedure is simple, and you will learn it in no time.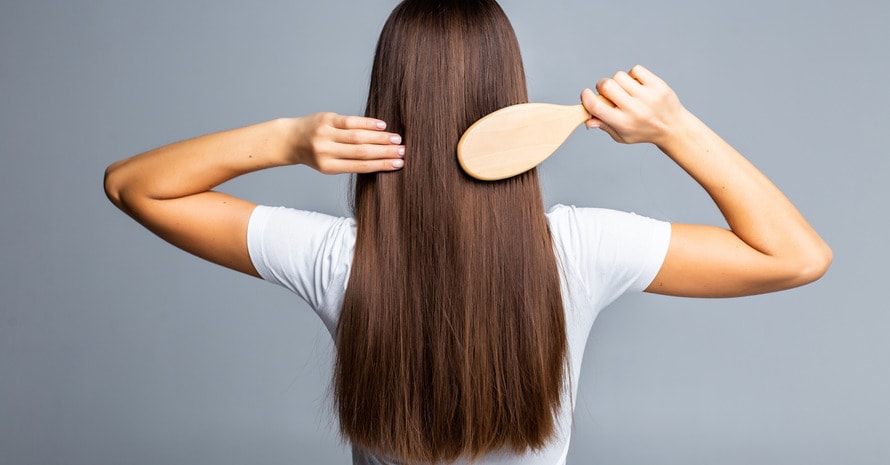 Things that you will need
If you want to save your money on hair salons, you have to make sure that you are using high-quality products at home. A poor quality blow dryer can damage your hair so badly you will need a fortune and many years to restore it.
My advice is never to use cheap tools when it comes to your beauty. You will not need many instruments to straighten your hair. Check them out:
Blow dryer. I recommend you use a professional blow dryer to straighten hair. It must produce cold air too. Pay attention to the heat settings and whether you can easily reach them with your hand. Advanced hair dryers produce negative ions while they work, protecting your hair. You need to have control over the speed of airflow as well. To straighten the hair, you will need the nozzles on the blow dryer. Make sure they come in the pack;
Heat protection. There are numerous heat protection remedies on the market. Some of them are made as sprays, others as gels or even mousse. Check out the most helpful for your case. Read the reviews from other women. You can also find heat protection for your hair type. Never forget about it when using hair dryer. You don't need heat-protective spray only if you air dry your hair;
Round brush. If you have a set of round brushes, it is even better. If you don't, you can buy a small one and the big one. Make sure that the brush has a hole in it and can handle the heat of the blow dryer. A ceramic head will be the best one for your hair;
Fixation. Always consider the possibility of wind and rain that will ruin all your efforts in no time. It is highly important to keep your hairstyles appropriate no matter what you do or where you go. Use the hair spray, mousse, or gel with strong fixation. Don't use unreliable and unknown brands. Read the reviews first.
Step by step guide on how to straighten hair with blow dryer
Now it is time to begin straightening hair with blow dryer. You have all your instruments gathered and time to spend on yourself. You will need to look at the mirror during the whole procedure to make sure that you are doing everything right. Follow these instructions below.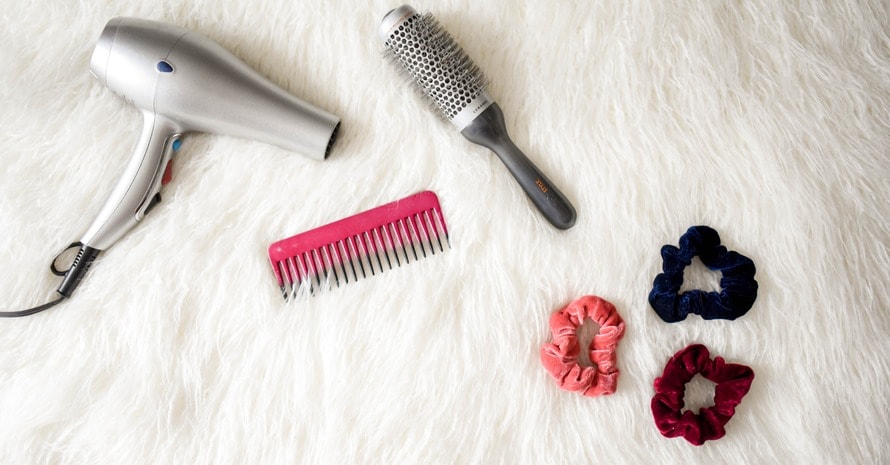 1. Prepare hair
You need to wash your hair. I recommend using specific shampoos that can restore and protect your locks from the extreme heat. There are lots of straightening balms for naturally curly hair.
Make sure that you don't damage the strands while you use the blow dryer. To avoid it, you have to towel dry your hair first until all the water disappears and they are slightly wet. Use heat-protective sprays on the damp locks.
2. Divide the hair
Now you need to use your fingers and the brush to separate locks on different segments. Start with horizontal layers. Long hair can be separated into 3-4 layers, while shorter can be divided into half. Separate these layers into different parts. Pin those locks you don't need right now.
3. Select the part to work with
Remove all the hair you don't need now from your working area. Hide them behind the pins or clips. Don't curl them into anything. The straighter your hair is, the better.
Pick the part you will work with and apply for heat protection if you have not done it yet. The hair must be damp, not totally dry. If your hair is not moisturized enough, you can sprinkle it with the water.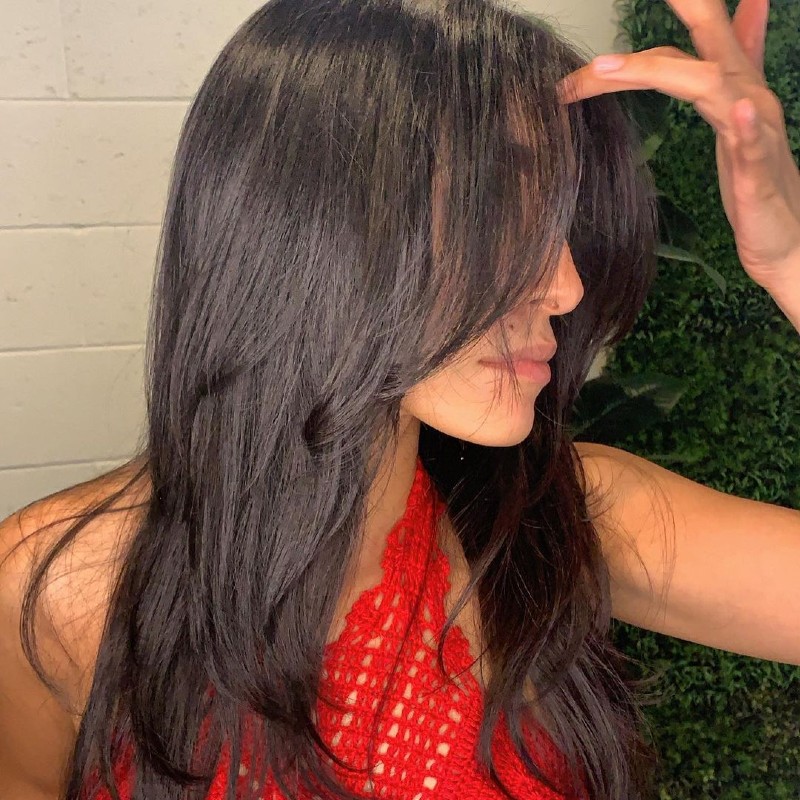 4. Blow dryer and a brush
Start blow drying hair straight. Use the brush you have for it. You have to brush the hair from its roots to the ends, unlike during the curling. Use the nozzle.
Put the dryer closer to the brush, but don't hold it for more than 2-4 seconds straight. You have to repeat the procedure. Your moves must come from the roots and down to the ends, smoothly and repetitively.
Once you believe you have finished one section and it looks straight and glossy, move forward.
5. Spray your hair
You have to use the extra measures that will hold your hair in the place you've chosen. Make sure that nothing will ruin it. If there is a spray with extra hold, apply it once the hair got cold.
6. Safety tips
Pay attention to the importance of hair care. You are using a blow dryer that provides heat and damages your hair. You have to make sure that your procedures will not ruin your locks in the future. Here are the basic safety tips you need to keep in mind while you are straightening your hair:
Dry the hair with a towel before you start blow-drying it.
Use the heat protector before you turn on the dryer.
Don't dry one lock for too long.
Take the temperature of the dryer under control.
Don't forget to apply to heal and repair masks on your hair once a week. I strongly recommend paying attention to your hair type and using specific remedies for healing.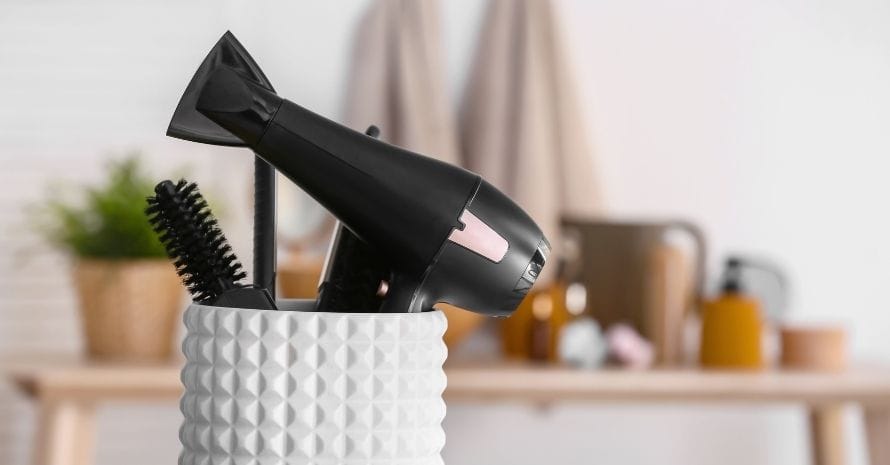 FAQ
Here is the list of the most frequently asked questions on straightening your hair with a blow dryer. While I picked only the popular ones, there are more left, like whether to leave it curly vs straight. I hope my answers will help you to understand the whole process.
Is it better to straighten your hair with a blow dryer or straightener?
The easiest way is to use a straightener. It acts the same in less time. Moreover, the straightener offers you a better result since it was specifically created for such occasions.
It may even be less destructive for your hair. However, if you don't have this tool right now at your sight, and you have to act quickly, you can always use a blow dryer. Learning how to straighten hair with a blow dryer will be helpful during the trip.
How long does it take to straighten hair with a blow dryer?
It depends on the length and thickness of your hair. Moreover, you will act quickly once you learn the whole procedure. I say that the average hair length requires 30-40 minutes of your free time without the washing procedure.
Add the time you need to wash your hair to this number, and you will receive your answer. If you have thick and long hair it will take up to 1 hour to straighten it with a blow dryer.
How do you blow dry curly hair straight without a round brush?
You can actually use the classic hair brush to straighten your hair. You will need to twist your wrist while working with the blow dryer. Turn your hand to straighten the lock that you dry.
Don't worry; you will not be curling it. Just pull the lock using the brush in the right way. While the round brush can be replaced, I don't recommend using your fingers instead of the tool.
You still need the brush or even comb to achieve results and not turn your hair into a mess.
Enjoy Your Straight Hair
Once you learn how to straighten your hair using only a blow dryer and a brush, you will look stylish wherever you are. You will not need extra tools to make your hair glossy and smooth, so other women will wonder how you did it.
Follow these simple recommendations I've provided. I still strongly advise you to use only trustable tools and sprays for your own safety and the benefit of your hair. You cave money on a salon, so don't save them on instruments. Take good care of your hair!
Share your thoughts about hair straightening problems in the comments below. Have you ever tried to straighten it with a blow dryer? How often do you straighten your hair and for how long?
Related Post: