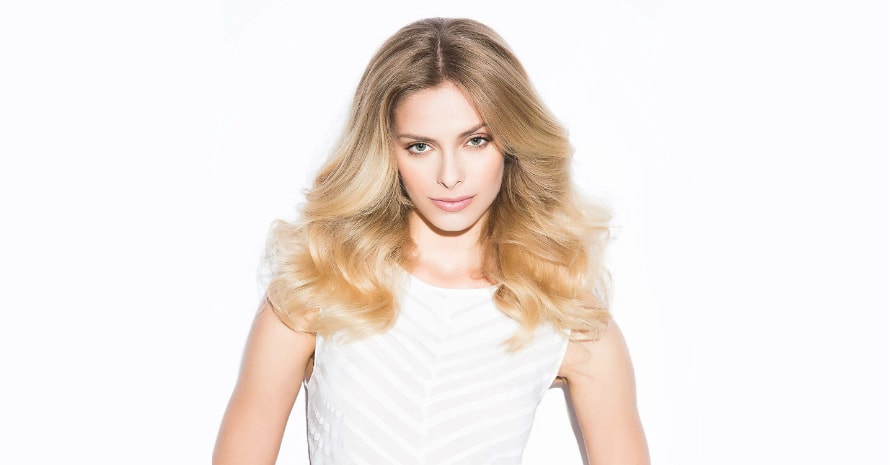 A hair dryer is more than a typical device; with rare exceptions, it is an essential tool in every home. Simultaneously, most people do not attach much importance to this device's technical characteristics, and many do not even remember the brand of their hair dryer.
Let's talk about the main characteristics of modern hair dryers that can influence a particular device's choice. For home use, I recommend ghd hair dryers due to their professional quality. However, you will find other hair dryer reviews here so you can choose the model that suits you best.
5 Best ghd Hair Dryers Reviewed
British brand ghd was founded in 2001 by stylists and entrepreneurs Martin Penny, Robert Pouls, and Gary Douglas. Among fans of professional ghd technology, you can find such world-famous celebrities as Madonna, Victoria Beckham, Gwyneth Paltrow, and many others.
The British brand has been featured in the famous Victoria's Secret Fashion Show, where ghd was one of the leading sponsors. Let's see why this brand is so loved and which hair dryers it has to offer.
1. ghd Air Hair Dryer — Top Pick
It is an excellent variant for both quick-drying and various types of styling. This model with ionic technology will help you to make your hair neat and smooth. ghd Air protects the hair, and after a week of use, you will see how the hair becomes less brittle.
A. Wattage
1600W power is enough to style and dry any hair type quickly and effectively. This potency will cope with hair of any length.
B. Temperature Settings
This hair dryer offers an even heat distribution. There are also three temperature settings, including cool air drying. You can choose the most comfortable variant that won't damage your hair.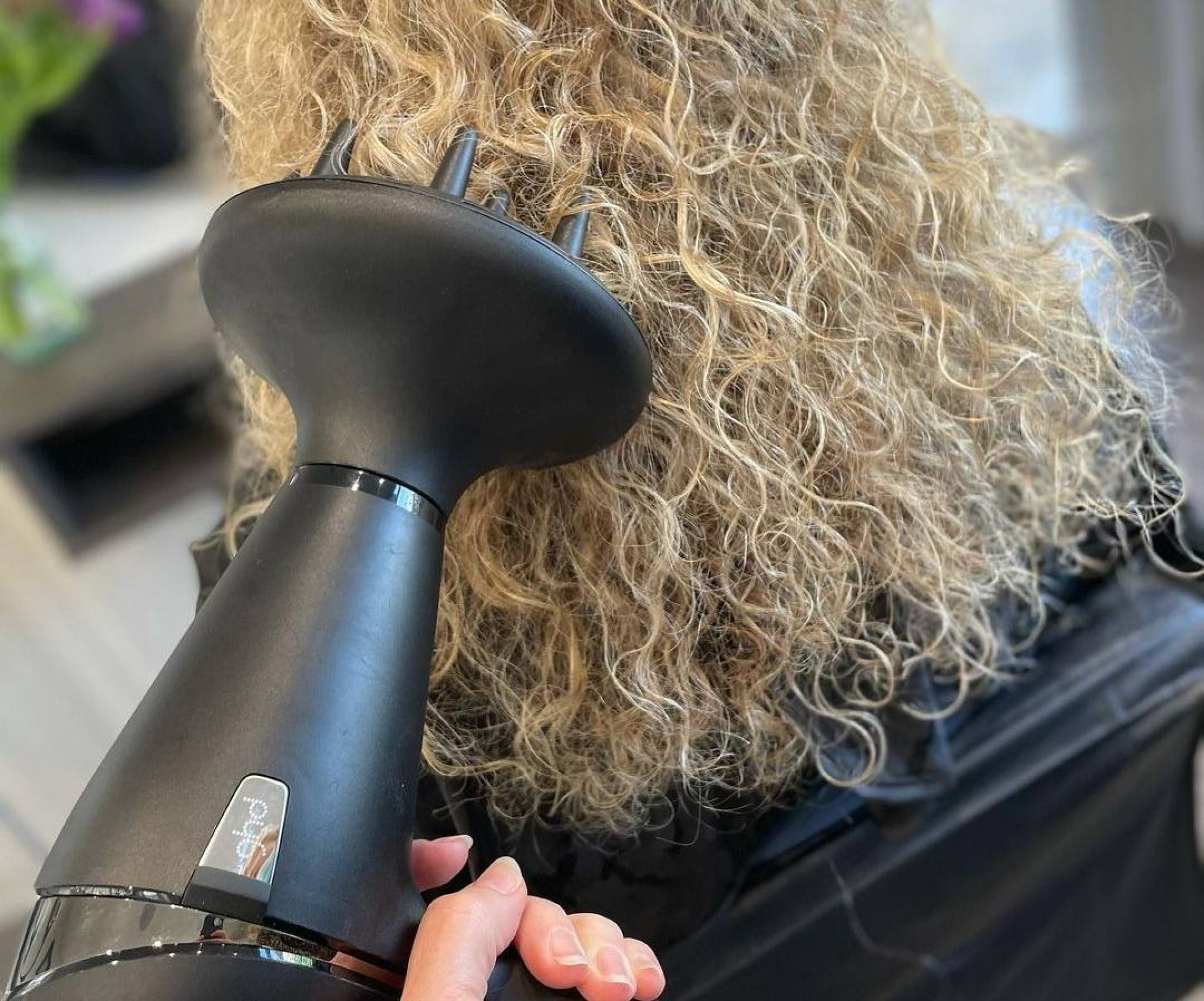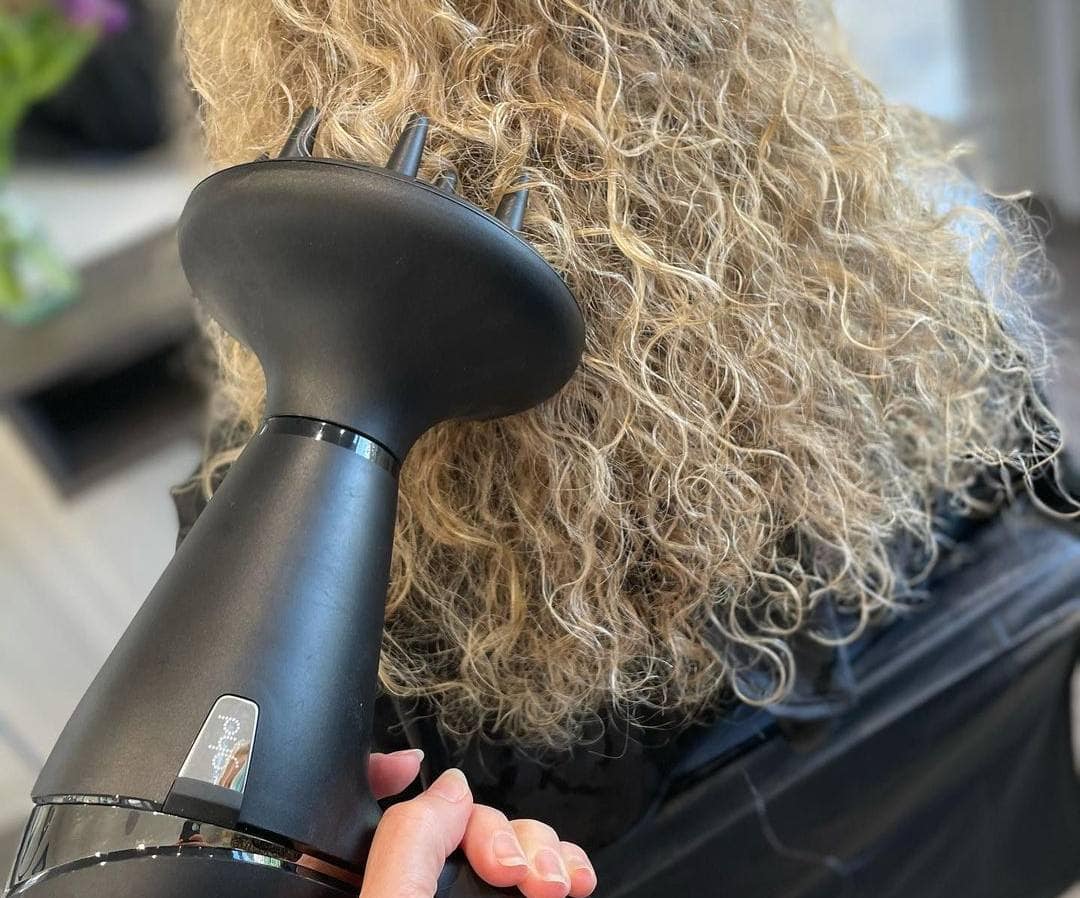 C. Noise level
The hair dryer is not excessively noisy and will not tire you out during use. It is quite comfortable if you want to talk to someone or watch a video while styling.
D. Weight
ghd Air has a sturdy design that is neither lightweight nor compact, but this model only benefits from this factor. When using the device, the hand does not get tired, and this is the main point.
E. Accessories
The kit includes an extended nozzle. It is designed to direct the airflow wherever you need it.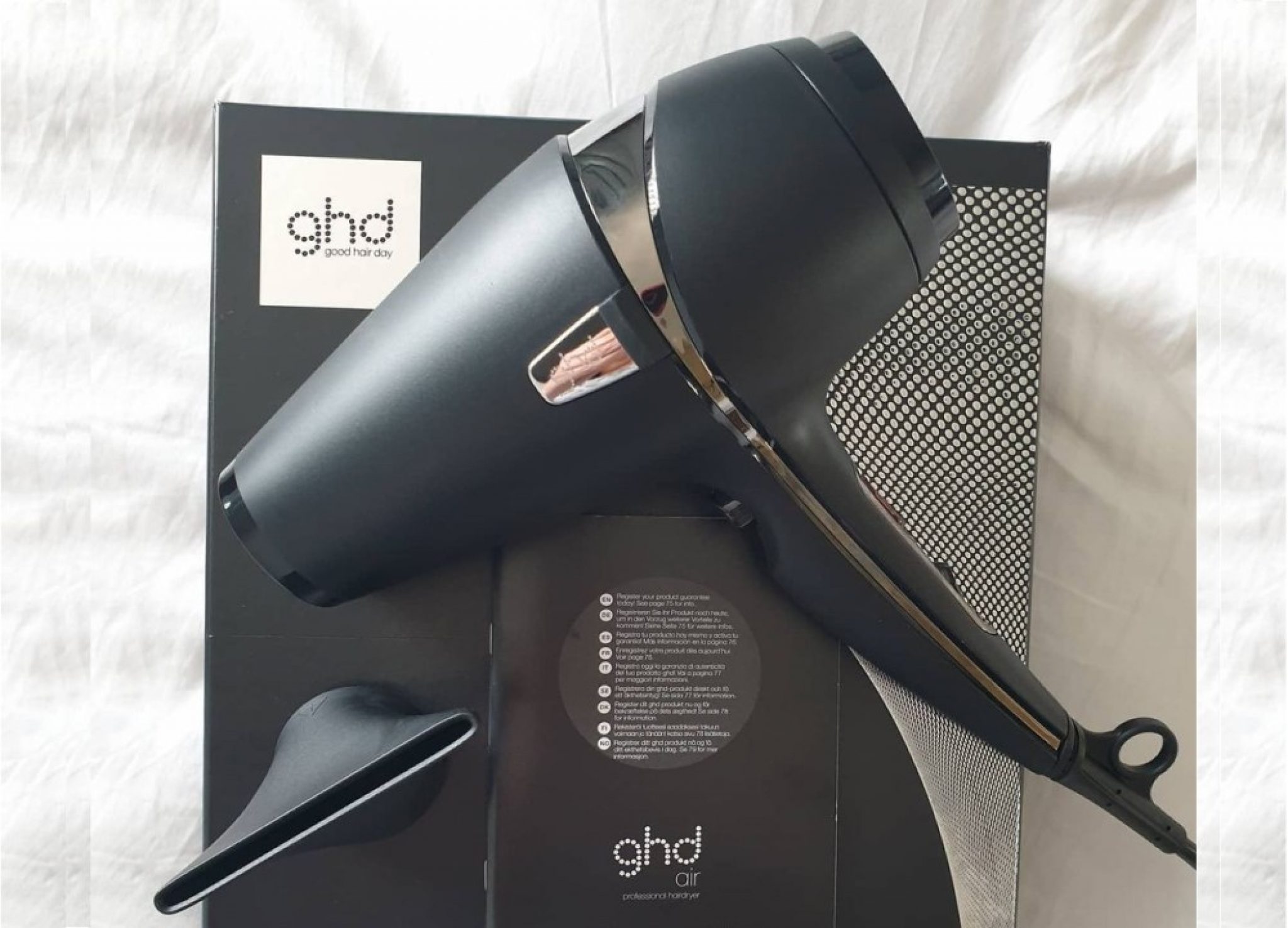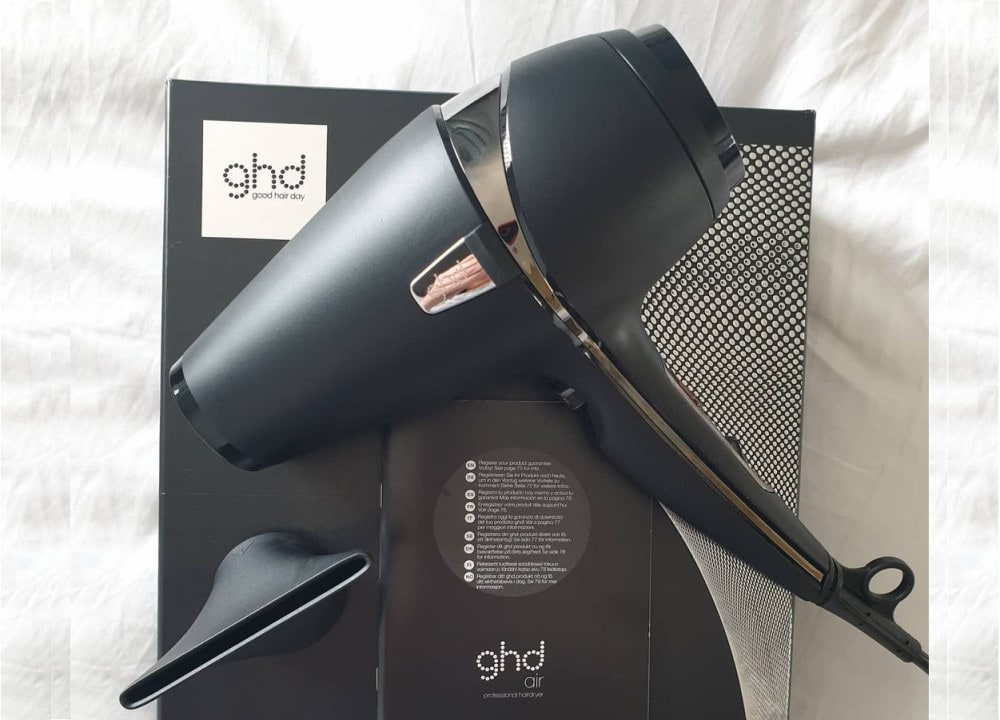 Thanks to all its numerous benefits, this model deserves to be called the best among ghd air hair dryers. With this tool, you can not only style your hair quickly and effectively but also take care of the strands.
PROS:
Hair protection;
Quick-drying;
Different temperature modes.
CONS:
Few additional accessories.
2. ghd Flight Travel Hair Dryer — Great Value
It is a great model for those who frequently travel and cannot imagine their life without a hair dryer and beautiful styling. This hair dryer can simply be folded down, and it will not take up much space in your suitcase so you can pack more outfits. The ghd Flight Travel Hair Dryer is as efficient as its larger counterparts.
A. Wattage
The ghd Flight is compact yet powerful. The wind speed is 15.6 m/s at maximum value. So despite the lightweight design, this hair dryer will still help you get your hair done quickly.
B. Temperature Settings
There are three modes to help you find a more comfortable temperature. You can use cooler, warmer, and hotter air.
C. Noise level
The noise level is relatively low, only 100 dB. However, it may seem to be louder than in some of the larger hair dryers, as the sound frequency is relatively high.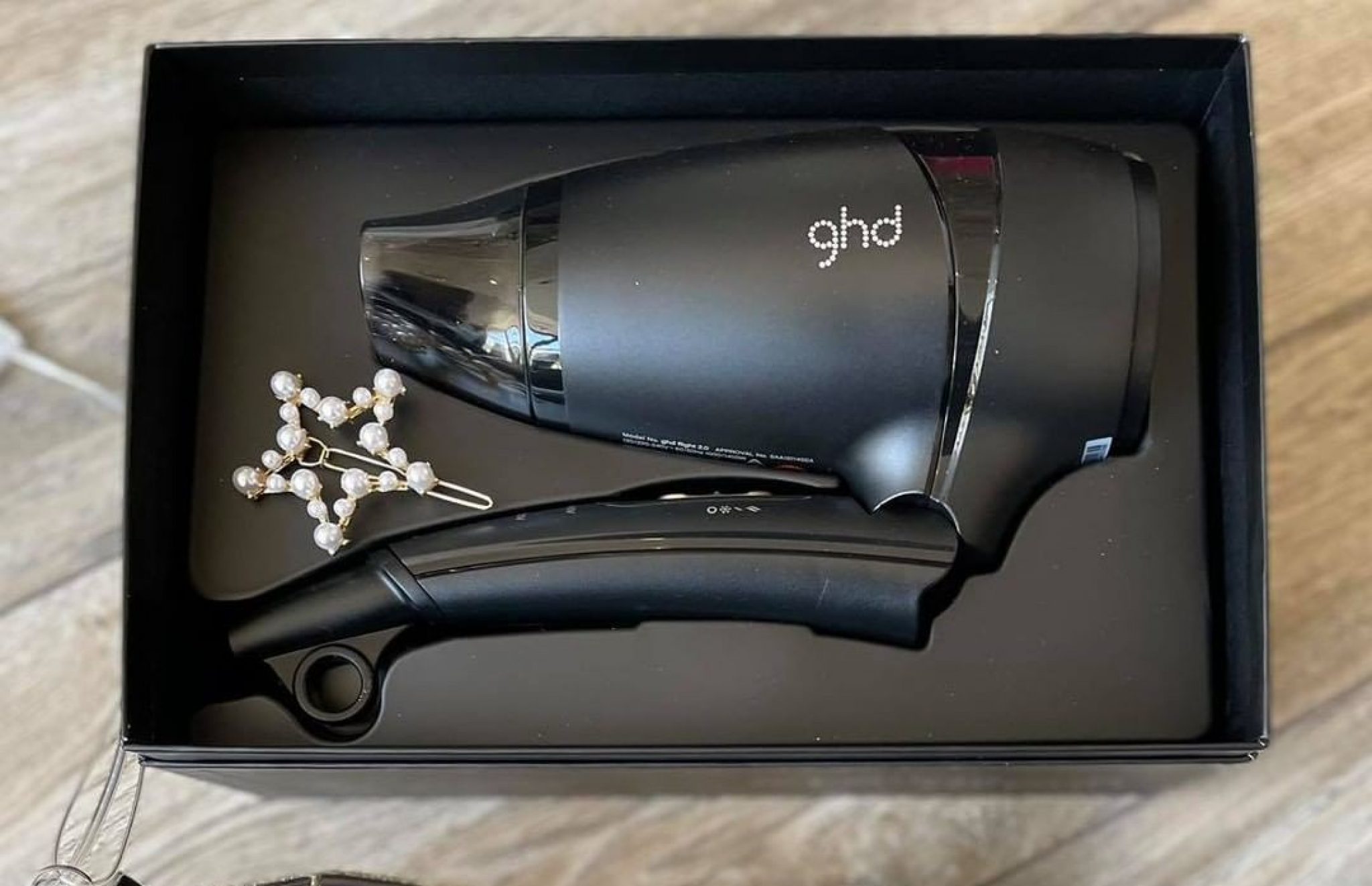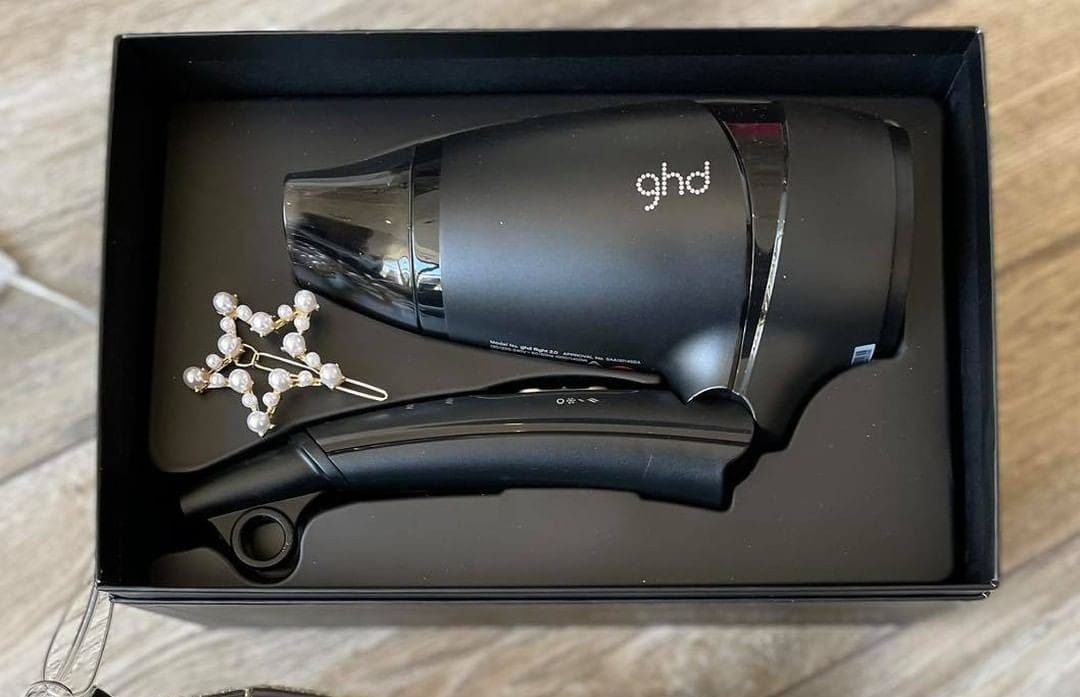 D. Weight
This model fits easily into any suitcase or even a shopper bag. The ghd travel hair dryer is lightweight as it has to cope with its function as a travel option.
E. Accessories
There are no additional accessories in the set, as this hair dryer is a minimalist option that you can take with you on any trip.
Overall, it is a very comfortable, efficient, and lightweight itemthing, due to which you will take care of your hairstyle wherever you are.
PROS:
Compact;
Powerful;
Lightweight.
This ghd professional hair dryer features unique Aeroprecis technology. It combines four innovative internals to deliver highly concentrated airflow, which gives you more control. This hair dryer is perfect for those who need to defeat frizzy hair. It is ensured by ion technology and a specially designed nozzle.
A. Wattage
The ghd Helios has a powerful motor that allows you to master your styling ritual quickly. The ghd website claims that this dryer's brushless motor can deliver 75 mph airflow, which is the top-notch performance in the industry.
B. Temperature Settings
Temperature control buttons let you find the best solution for you. Cool, warm, or hot – it's up to you to choose.
C. Noise level
The hair dryer has special acoustic technology. This technology reduces noise during styling.
D. Weight
ghd Helios Hair Dryer has a lightweight and ergonomic design. The hand will not get tired during prolonged styling of even the longest and thickest hair.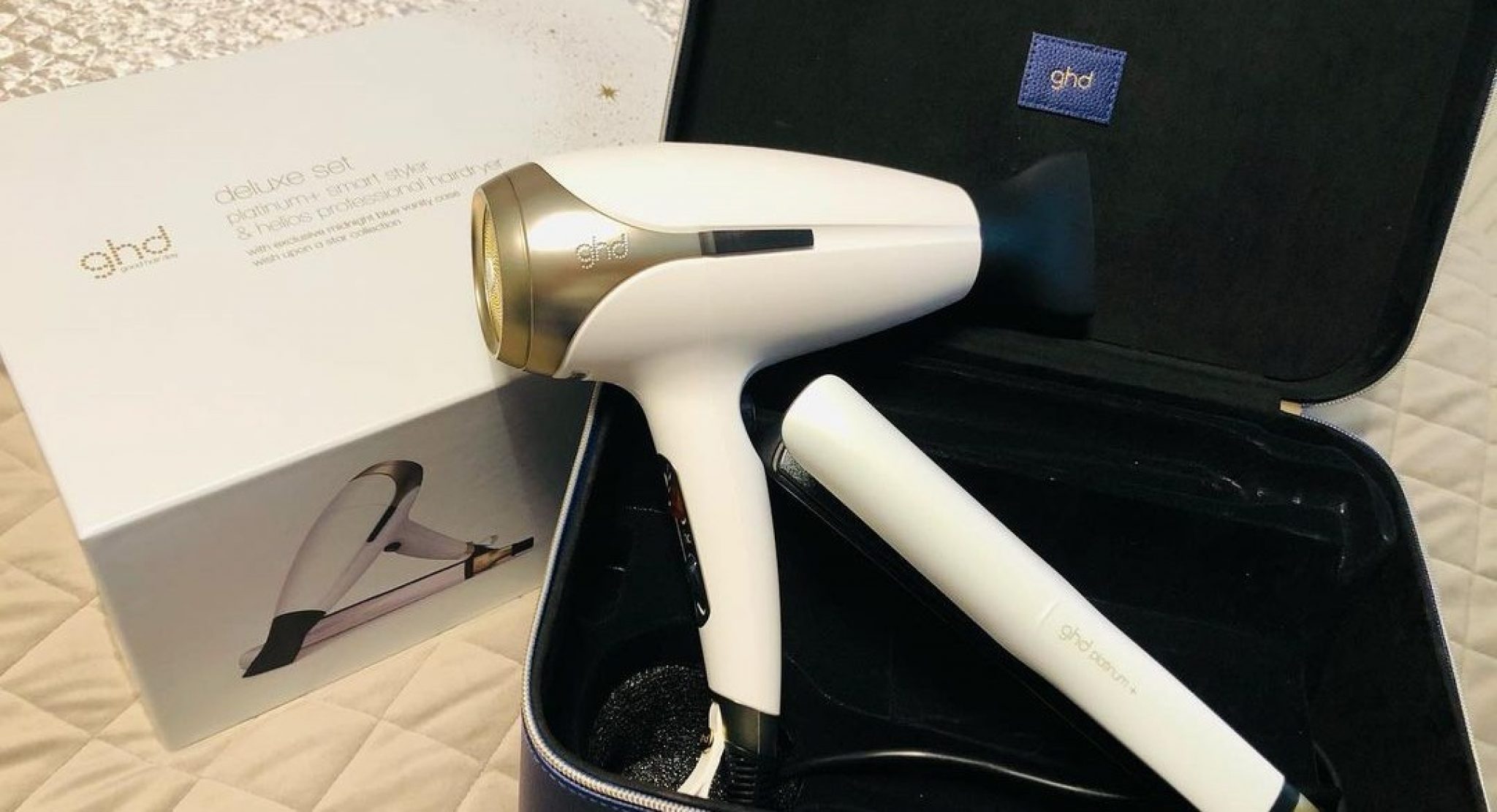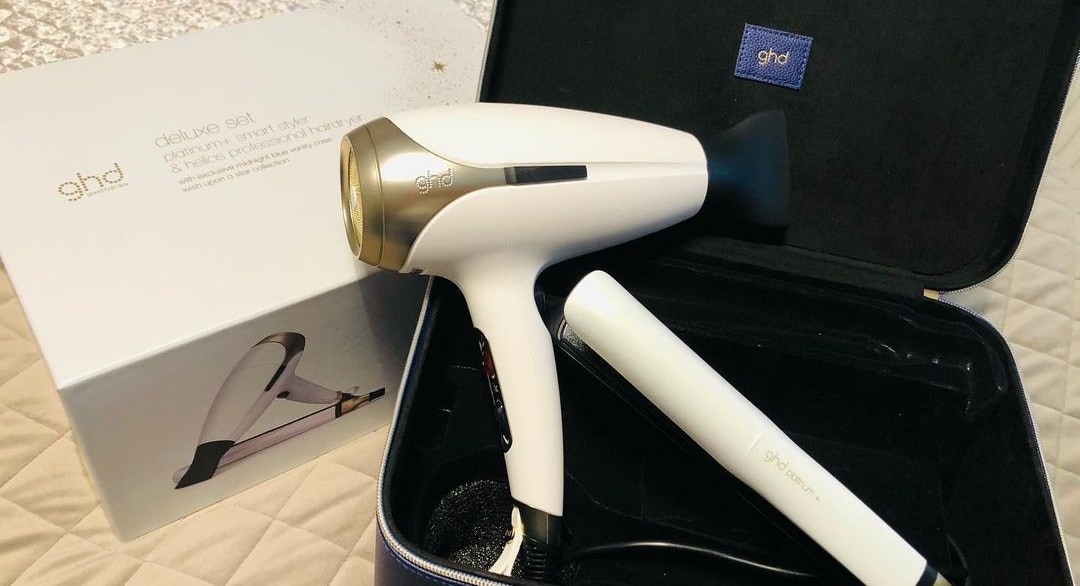 E. Accessories
You get two concentrators that can help you to make a perfect hairstyle. There are both Styling and Smoothing Concentrators in a kit.
PROS:
Two concentrators;
Low noise level;
Powerful.
4. ghd Wanderlust THD — Potent and Portable Dryer
ghd Wanderlust THD has a compact size, but not at the expense of power. With it, you can dry or style your hair quickly. The body of the device is traditionally made of durable plastic that can withstand impacts and accidental dropping on the floor.
Inside, there is a simple control box, fan propeller, electric motor, coil-shaped heating element, and overheating protection. After use, the hair becomes smooth and pleasant to the touch.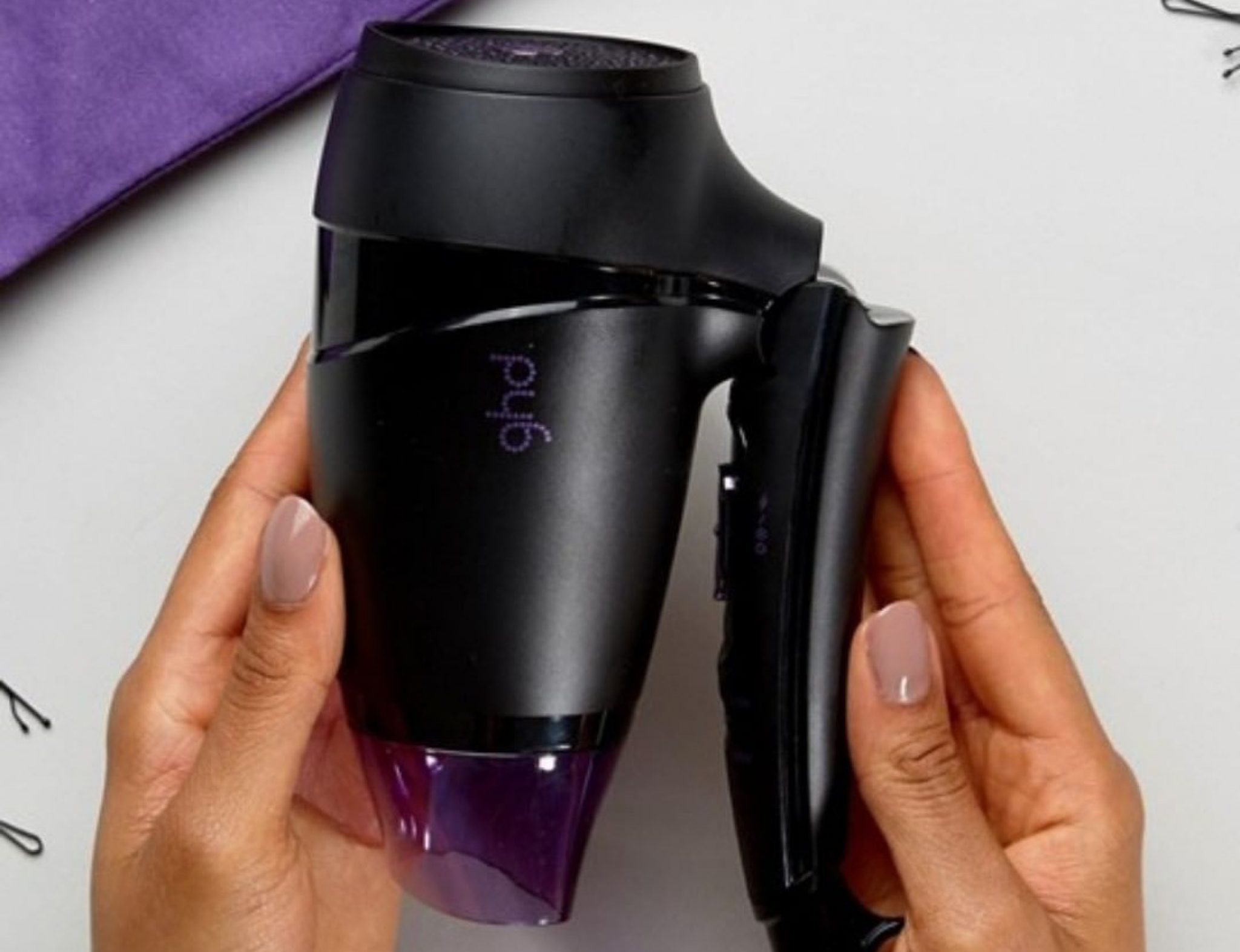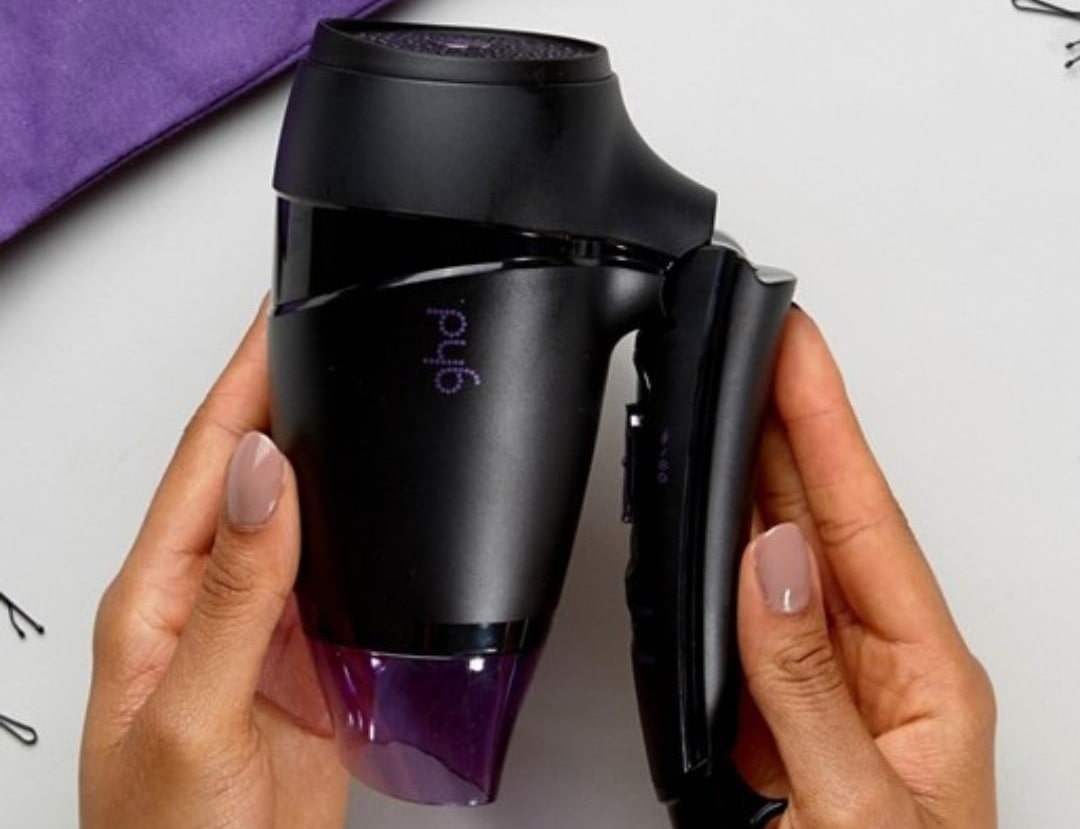 A. Wattage
The dryer has a powerful 1200W motor that provides reliability and fast drying. You can quickly deal with styling any hair type. The motor also provides stable long-term operation of the device without the need to repair it.
B. Temperature Settings
A small button on the body is responsible for regulating the temperature, and an additional regulator is located just below. You can choose between two modes.
C. Noise level
The hair dryer is quiet enough. The sound frequency is average; therefore, it won't be too noisy.
D. Weight
This model is not heavy, which makes it easy to use and operate. You can easily hold it with one hand and not get tired while styling your hair.
E. Accessories
This hair dryer is also a travel solution, so it doesn't have any extra attachments. You have a minimalist kit to create the styling you want without spending much time and effort.
PROS:
Portable;
Lightweight;
Easy-to-use.
5. ghd Glide Hot Brush — Convenient and Fast Styling
ghd Glide hot air brush is an excellent option for those looking for straight and sleek hair. This tool helps keep your hair healthier and saves your time. The brush is extremely easy to use as if you are combing your strands while getting them straightened. ghd Glide Hot Brush is equipped with an anti-static ionizer.
A. Temperature Settings
The brush heats up to 365°F, which is optimal. This temperature control prevents damage and breakage of the hair.
B. Weight
This brush is made of ceramics, so it will be a little heavier than the usual hair dryer or styler. At the same time, it lies quite comfortably in hand for you not to experience discomfort.
C. Accessories
No accessories are included. The hairdryer brush is a one-piece instrument with a handy width.
It helps neutralize any impact that can cause frizz.
PROS:
Easy-to-use;
Anti-static ionizer;
Optimal styling temperature.
ghd Hair Dryer Buyer's Guide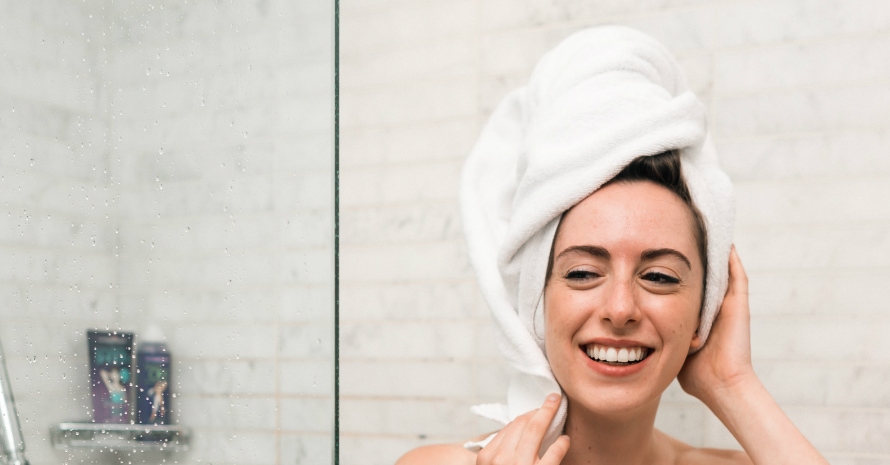 In this section, you will learn more about the good hair day blow dryer. It contains information on product use, disadvantages, and differences from other brands.
All these points will also be useful as you choose a suitable hair dryer model.
What makes ghd hair dryers different
ghd hair dryers offer professional quality care. The perfect blend of design and salon styling, all our hair dryers dry your hair exceptionally fast, making it easy to style every time you use your hair dryer. The brand actively uses technology for hair care, so this is not just a hair dryer but also a tool that helps your hair stay healthy and beautiful.
Most of the ghd models can be used in several modes. You can typically find two engine modes (normal for soft styling and robust for fast styling). There are also two or three temperature modes (no heating, gentle drying mode, maximum heating – fast drying).
These hair dryers are also equipped with a cold air button for quick short-term temperature changes. So you can easily find a comfortable temperature for yourself and not damage your hair.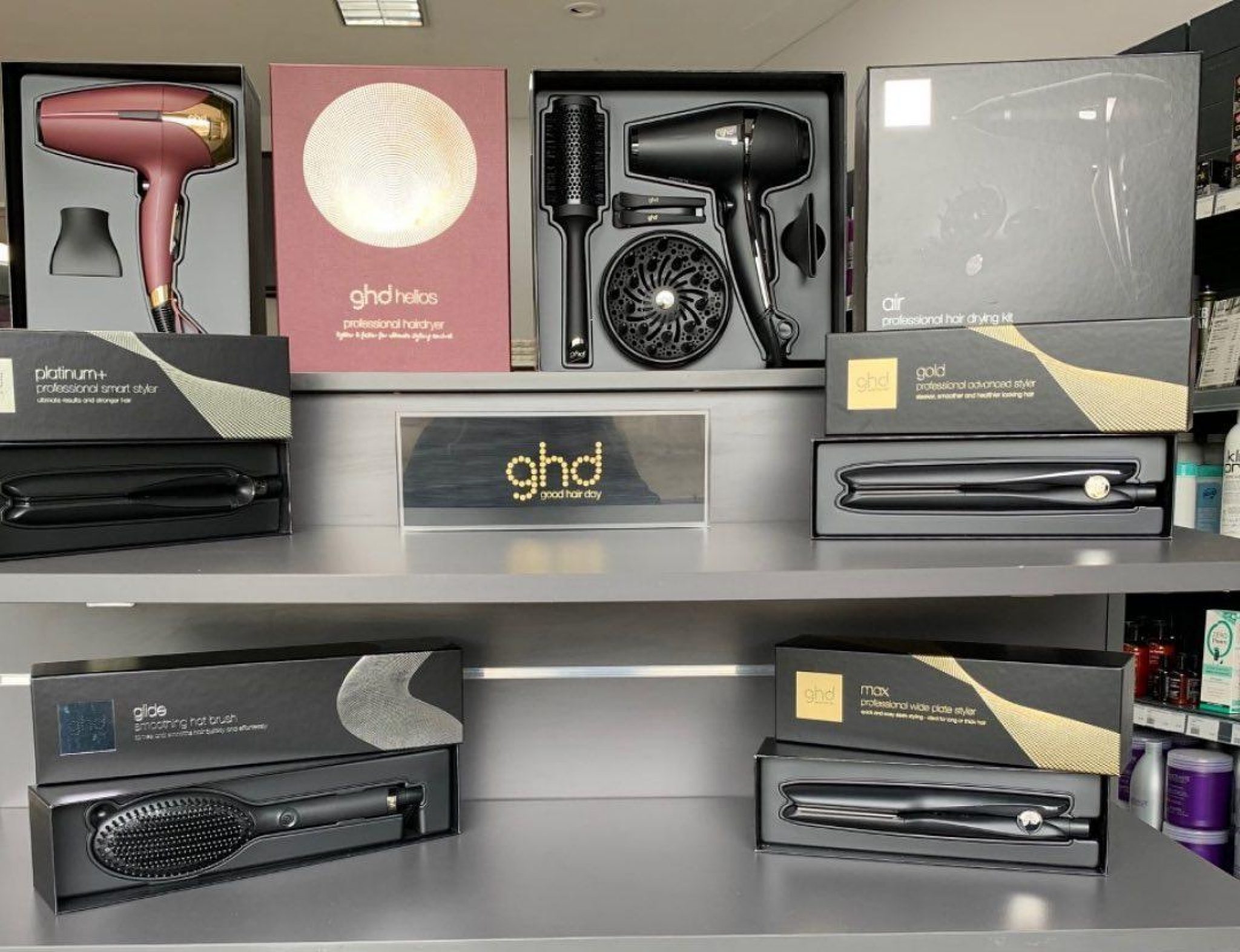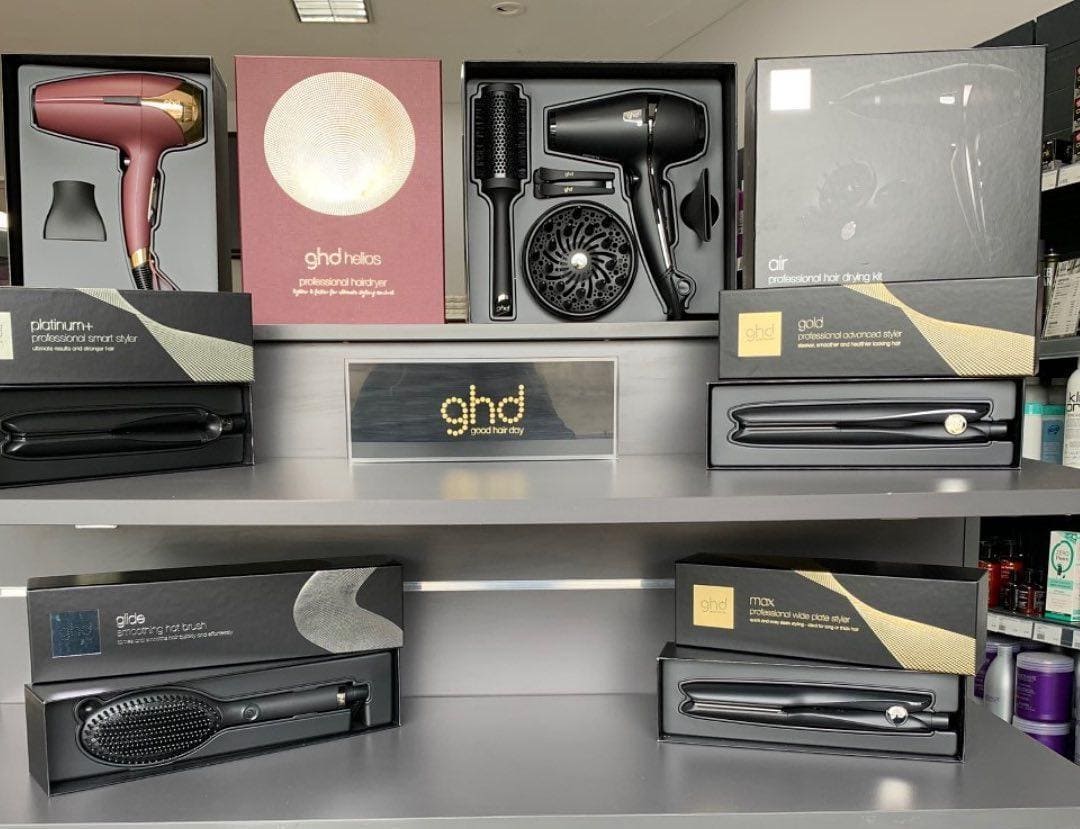 What are common disadvantages of ghd hair dryers
There aren't many disadvantages to ghd hair dryers. They are usually made from durable, high-quality materials. However, I can name a few complaints I`ve heard from my clients.
The lack of additional accessories
The kit usually comes with a concentrator nozzle that will help you direct the air, making it easier to straighten your hair with a hairdryer. However, the users would like to see more additional tools such as diffusers and others.
Unpleasant sound
Some models can be quite noisy due to the high-frequency sound. It can be quite inconvenient if you want to listen to music, speak, or do something else.
Heavy construction
Some users also note that hair dryers can be heavy. In any case, this factor depends on the chosen model. Pay attention to this aspect to use the most convenient styling tool for you. The brand produces both standard sizes and hair dryers that are easy to take with you as you travel.
How to use ghd hair dryers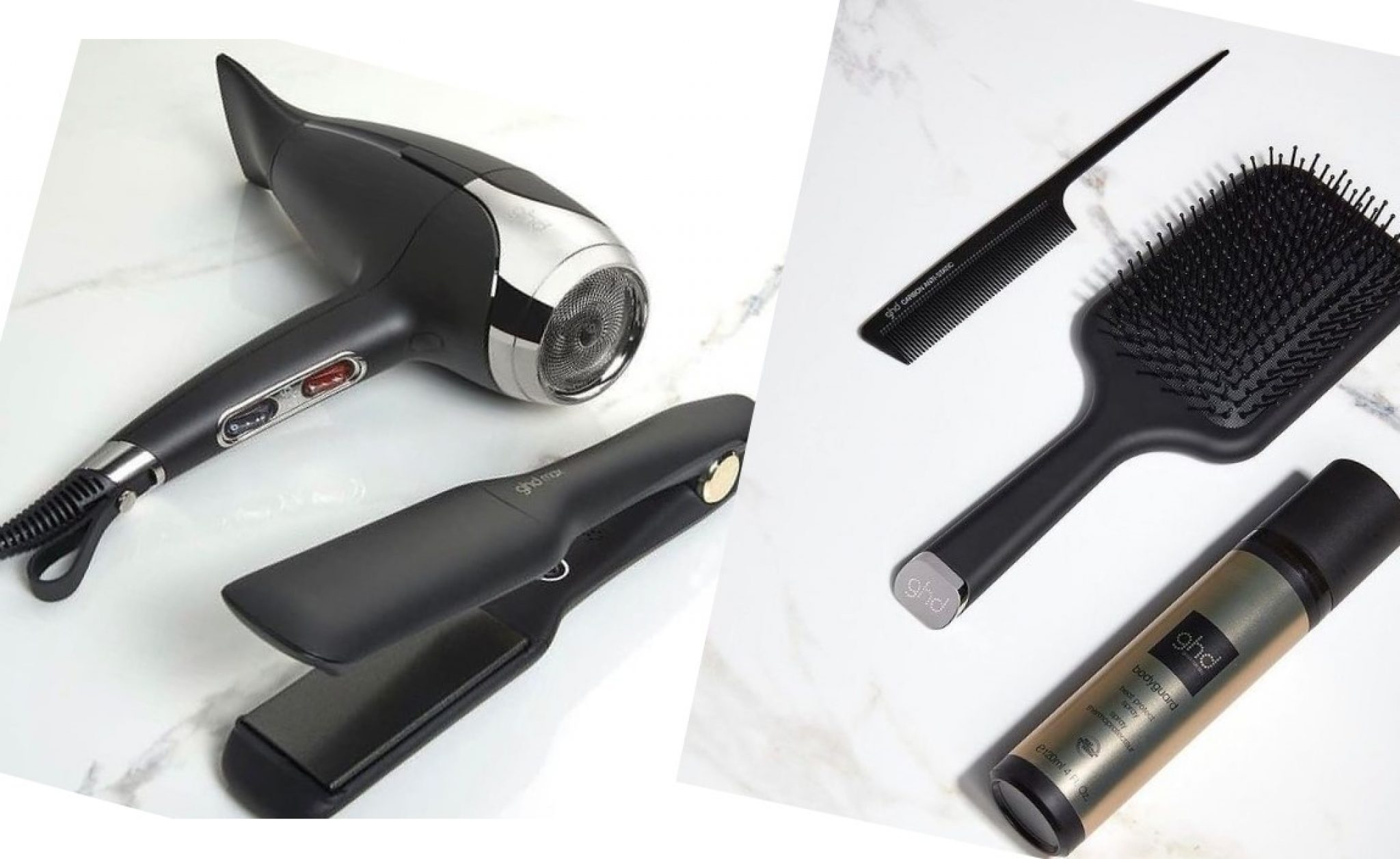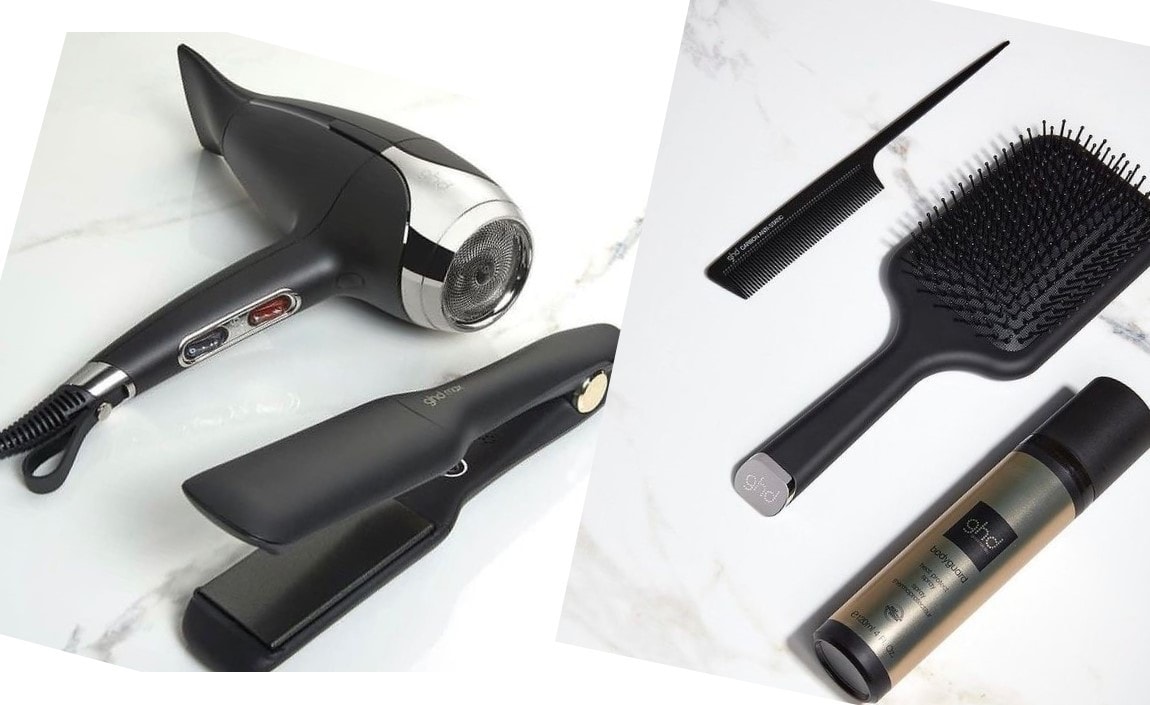 A hair dryer with a concentrator tip looks like a regular hair dryer with a tapered end on the nozzle. Its outlet is smaller than the central part of the hair dryer, so the hot jet is more powerful and targeted. As the name suggests, the attachment concentrates a narrow stream of air on a specific part of the strand, warming it for better pliability.
A hair dryer from this brand is suitable for:
straightening;
smoothing;
reducing the effect of fluffiness;
twisting the ends;
giving light volume.
The device is directed vertically to the hair during drying and is passed from the top to bottom along each strand. With the help of a comb, you can twist the ends in or out in one motion and create volume by lifting the hair at the roots. Choose the direction you want, hold the comb, and wait until the hair completely dries. If there is a cold setting in the hair dryer, fix the styling with it by holding it over the hair for 10 seconds.
ghd Hair Dryer FAQ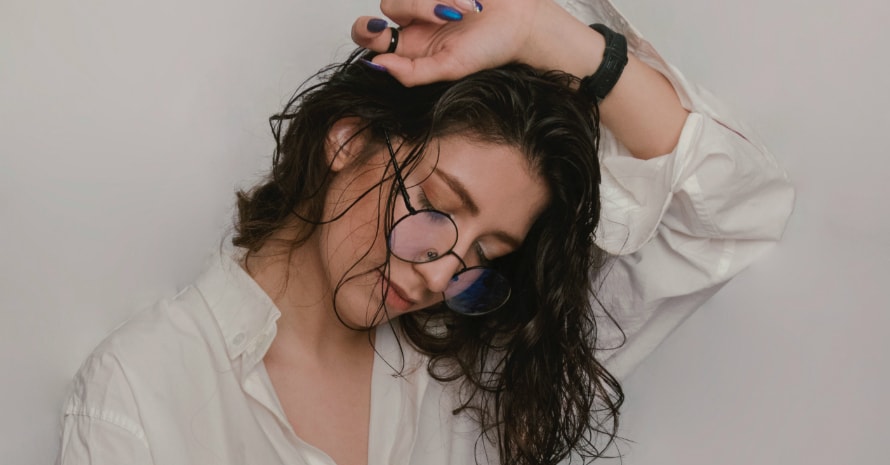 Here you'll find the answers to the most popular questions about the devices from ghd. Hopingly, they will help you to get more information.
Do ghd hair dryers go with a diffuser?
Most models are provided without a diffuser in the kit. They usually have only a concentrator. However, you can buy it separately to create curls using ghd hair dryers.
Can I straighten hair with a ghd hair dryer?
It is possible to straighten hair with such hair dryers. To do this, you need to use a concentrator. It is an elongated nozzle that helps direct air to a rough area, for example, closer to the comb.
Where are ghd hair dryers made?
The company is based in Leeds, UK. The brand moved to the mass market segment not so long ago. Its products are manufactured in China.
Take Care of Your Hair with ghd Products
I have compiled these ghd blow dryers reviews for you to get details about the best models this brand has to offer. I've also highlighted the pros and cons of ghd products for your convenience.
My favorite ghd Air Hair Dryer can come in handy to get salon care in your home. As you already know from ghd hair dryer reviews, this hair dryer is equipped with ionic technology to help solve the problem of frizzy hair. It's also quite powerful, which enables you to get through styling quickly and easily.
You are welcome to share your experience with using ghd dryers. What styling rituals do you have? Please, tell us about it in the comments box.
Last update on 2022-12-11 / Affiliate links / Images from Amazon Product Advertising API