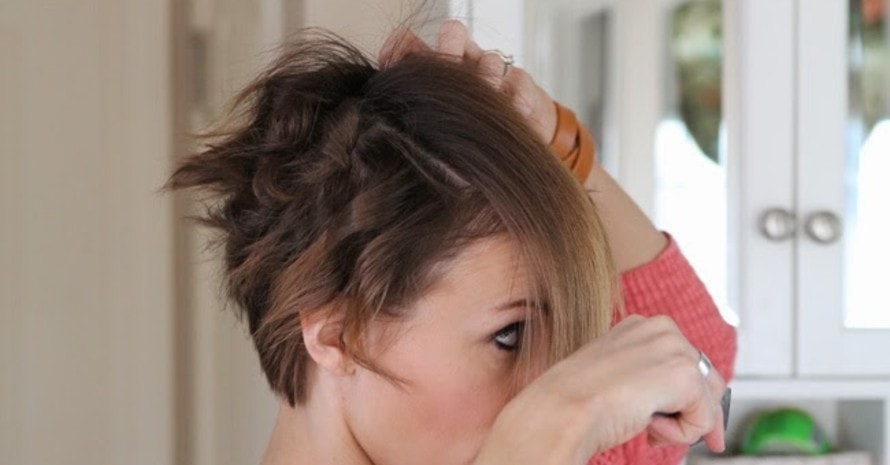 You can create lovely, neat, or messy curls with a straightener, even on short hair. Using this tool, owners of bob or pixie haircuts can add extra volume to their locks. To do this, it is not necessary to visit a beauty salon; you can do it at home.
In this article, I will dispel a myth that curls suit long strands only as well as tell you how to curl short hair with flat iron quickly and without unnecessary hassle. Also, here you will find answers to some popular questions from my readers.
Curling Short Hair with Straightener: Step-by-Step Tutorial
Before you start styling, you should make sure that your tool is suitable for curling strands. I recommend using ceramic or tourmaline straighteners as they are gentle on all hair types. The devices with narrow floating plates are better suited for making wavy short hair with a flat iron.
Ensure your model is powerful enough to handle curling, as straightening requires less heat and, therefore, power. Now that you are convinced that your tool is suitable for the task at hand, you can start curling.
Step 1: Apply heat protection
You should never style wet hair; let it dry naturally or blow-dry it. Otherwise, the high temperature of your flat iron can seriously damage the locks' structure and make them brittle and dull. A heat protectant should be applied to washed and dry strands.
Choose it depending on your hair type. These can be foams, mousses, gels, serums, or DIY sprays. I recommend combing the locks with a brush with fine, dense teeth for even distribution of a product, paying special attention to the ends.
Step 2: Divide your hair into sections
Although you can style short hair with flat iron without dividing it into strands and get a slightly messy look, I still recommend styling in several stages.
Therefore, you should collect part of the hair at the crown into a ponytail using an elastic band or clip and divide the rest of the locks into several small strands. The thinner the sections, the smaller the curls will be.
Step 3: Use your flat iron
By the time you start curling, your straightener should be warmed up enough. Choose a temperature based on your hair type and thickness. Pinch a small strand in the roots' area and, turning the device in the direction opposite to your face, smoothly slide it down to the ends.
Repeat this step with the rest of the hair, including the section at the crown. Avoid treating the same strand multiple times.
You can create different short flat-ironed hairstyles by changing the direction of movement of the straightener. For example, for a slightly sloppy and messy look, you should alternate your movements' direction so that the curls fall in different ways.
For more classic hairstyles, locks should be styled in one direction. To pin curl short hair with a flat iron, roll a strand into a spiral and warm it up. Fix it with a pin and let it cool to get a tighter curl. If you want a more natural look, comb the locks with a large-toothed brush.
Also Read: What Flat Iron to Pick for Coarse Hair
Step 4: Secure the styling
To keep your hairstyle in shape longer, you should fix it after styling. Modern stores offer various sprays, mousses, gels, waxes, and even powders to choose from.
You should pick them depending on the type of your locks, as well as heat protection. For example, owners of thin hair should use sprays; with their help, you can fix curls for a long time and add extra volume to the strands in the root area.
Pro tips
Curling locks using a flat iron on short hair negatively affects their structure, so you need to take safety measures. I recommend using the straightener to create curls no more than twice a week and avoiding maximum temperatures if possible.
Do not treat the strands too close to the roots so as not to get burned and do not hold them between the plates for too long; on average, 5-10 seconds is enough. Try to avoid exposure to the sun, as heat styling tools make hair shafts more vulnerable to UV radiation.
FAQs on Using a Flat Iron to Curl Short Hair
I have introduced you to the general recommendations for curling short hair, so I will move on to the answers to my readers' questions.
Can I curl short hair with a straightener?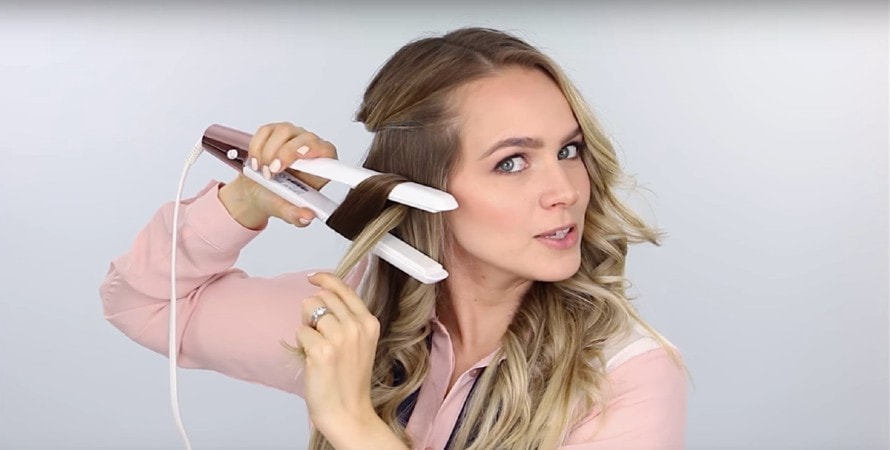 In general, I think that using a straightener is the best way to curl short hair. With it, you can quickly and safely make both classic and slightly casual styling.
The key to success is to divide your hair into many small sections. Their width should be less than when curling long hair, no more than 0.5-1 inches.
Also Read: Best Flat Irons for Traveling
Can I curl a short bob with a flat iron?
In my opinion, almost all short haircuts can be curled, except, perhaps, a pixie cut and its variations. So even with a short bob, you can get playful curls. If your hair is less than 4 inches long, start styling at the top of your head and work your way down to the back.
Can I get beach waves on short hair?
Yes, you don't need to divide your hair into sections for it. You can simply work on small strands, starting with the ones closer to the face and moving towards the back of the head.
To get a more messy look, you can twist each lock into a spiral and warm it up with flat iron. Comb the finished hairstyle with a wide-toothed brush.
Can I curl short black hair with a flat iron?
Of course! To start, you should dry and straighten your locks with a hair dryer and comb or straightener at low temperatures. After that, put your flat iron on a more intense heating mode and curl the sectioned hair as described in my guide.
Stay Beautiful with Any Hair Length
Don't let the length of your hair stop you from creating playful curls. Now you know how to use a flat iron to curl short hair, and you will always be on top.
Using any hair styling tools requires some skill from you, so I recommend you practice a little so that the curling process does not take you much time, and the result is always pleasing.
If you have short hair, please share your curling tips. Do you use a flat iron, prefer a curling wand, or no-heat methods?
Also read: